Nissan has confirmed a limited first offering of 100 Nismo variants of its Z sports car will be coming to Australia and existing customers will be given first dibs ahead of its arrival in late 2023.
From Monday August 7, 2023, Nissan dealers will contact customers currently on the wait list for a regular Z and offer them the opportunity to transfer their order to the Nismo variant.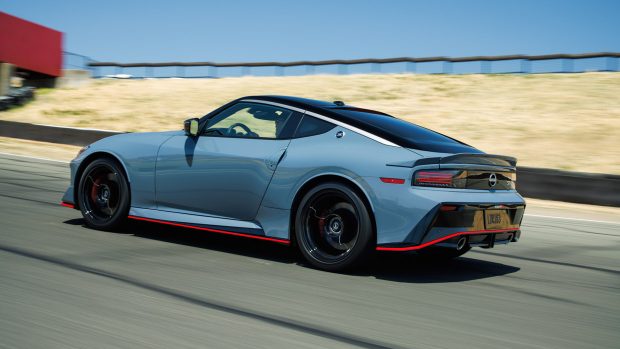 The remaining cars will be available to reserve on Thursday, August 11 at 11am on Nissan's website. The order will require a $1000 deposit and be subject to a sales contract with a Nissan dealer
The auto-only Nismo variant will start at $94,000 before on-road costs – putting it well north of the regular Z which starts at $75,800 in both six-speed manual and nine-speed automatic guise. Once on-road prices are accounted for, the Z Nismo will cost more than $100,000.
Further, the 2024 Z Nismo becomes the most expensive Nissan Z car ever sold in Australia, although 1995's $93K 300ZX 25th Anniversary would cost $182,000 in today's coin.
Quicker to go, quicker to stop
Nissan has taken a fairly comprehensive approach to the Nismo variant, bumping up the output from the 3.0-litre twin-turbo V6 engine from 298kW/475Nm in the regular model to 309kW/520Nm.
Accompanying this extra grunt is a revised engine oil cooler setup which should aid longevity on the track.
To the disappointment of some fans the Z Nismo is only available with the nine-speed automatic, though Nissan says the unit found in this top-spec variant is quicker shifting thanks to revised clutch packs and has more of a focus on track use with a new 'Sport+' drive mode.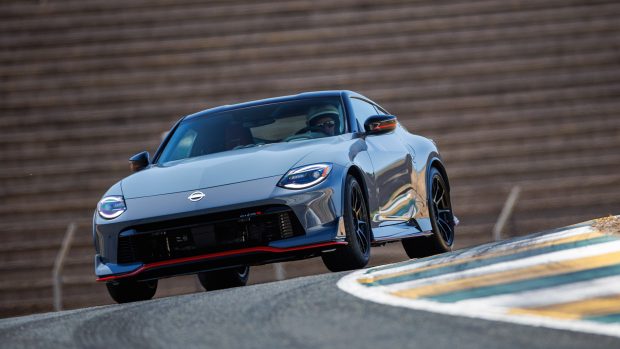 Adjustments have also been made to the engine management system which combined with the transmission means engineers were able to reduce the downshift time by almost half.
Like with the regular Z, Nissan has quoted no 0-100km/h time but says the Nismo is quicker off the mark.
The front rotors now measure 380mm, representing a 25mm increase in size along with 2mm extra in width, accompanied by 350mm discs at the rear, plus track-ready brake pads have been fitted all round, with the overall goal to increase not just longevity on the track but also brake-pedal feel.
Wider tyres, lightweight wheels
As a more track-focused variant than the regular Z, the Nismo adopts a revised suspension setup with stiffer spring rates, along with unique sway bars and revised dampers along with stiffer bushings in the suspension and steering rack to increase lateral rigidity.
Nismo engineers have fitted additional bracing in the front, rear and under the floor to increase the overall rigidity by 2.5 percent.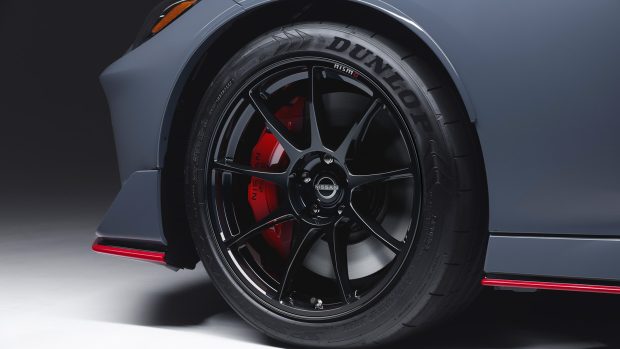 Sitting at each corner are Nismo-exclusive 19-inch lightweight gloss black alloy wheels wrapped in Dunlop SP Sport Maxx (similar to those used on the GT-R) which stretch 10mm wider than the standard model.
With these combined efforts engineers aimed to create a "one-shot" steering system to provide a more accurate turn-in and require less adjustment mid-corner.
G-Nose styling returns to the Z
Nissan – or perhaps Datsun – fans may recall the ionic G-Nose or 'Grand Nose' which adorned the 240Z, and like the classic the modern interpretation of the Z Nismo expends further forward than the regular model.
Complimenting the bumper design are canards at the edges to create vortexes over the wheels to aid aerodynamics, as do the reworked side skirts, while further down the car a large rear wing and restyled rear bumper can be seen.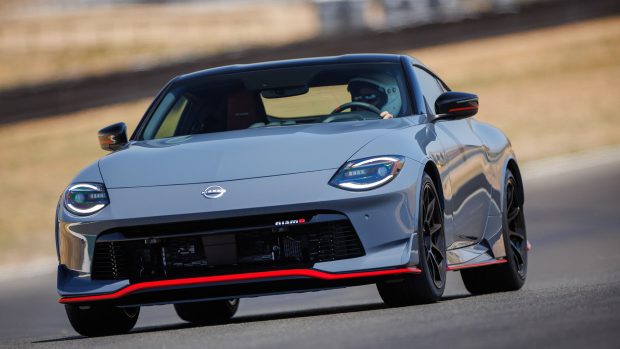 Styling-wise, the aesthetic has taken a leaf out of the book of its big brother, the GT-R Nismo with red assents running around the bottom edge of the body kit.
Nissan will offer buyers the option of three different colour schemes including Black Diamond Metallic, Brilliant Silver with a Super Black roof, Everest White with a Super Black Roof, or Stealth Gray with a Black roof.
Inside, buyers will find Recaro seats trimmed in a combination of Alcantara and leather with an a combination of black and red colouring, which carries over to the Alcantara steering wheel.
Other Nismo touches include unique graphics in the digital driver's display, Nismo logos throughout and red colouring for the start-stop button and other switchgear.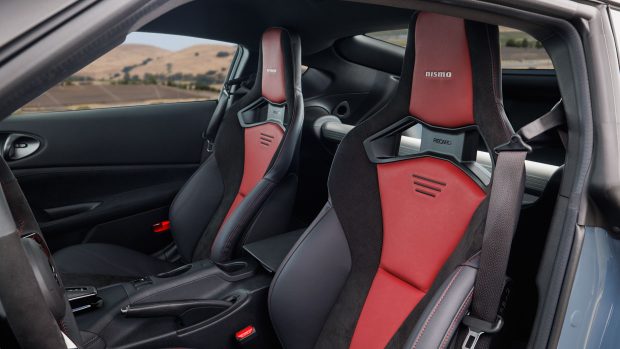 What does the regular Z include in 2024?
Those looking to save almost $20,000 and opt for the regular Z, which forms the basis of the Nismo variant, will be happy to learn it still offers quite a bit of kit.
This includes the following
298kW/475Nm 3.0-litre twin-turbo V6 engine
Mechanical limited-slip differential
19-inch alloy wheels
Heated leather-accented seats
12.3-inch digital driver's display
8.0-inch touchscreen
Wired Apple CarPlay and Android Auto
Active noise cancelling in the interior
Front and rear parking sensors
Adaptive cruise control
Blind-spot monitoring
Forwards AEB with pedestrian detection
Nissan Z 2023: prices in Australia
All prices listed are before on-road costs.
Z manual: $75,800
Z automatic: $75,800
Z Nismo automatic: $94,000