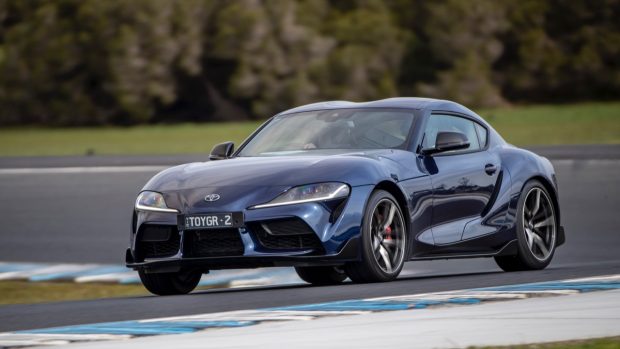 It's now 17 years since the last new Toyota Supra graced this earth – abandoned during a sports-coupe purge that also killed the Celica and MR2. But if you're an Aussie, it's a staggering 26 years since this evocative nameplate vanished. If it wasn't for grey-imports of the final A80 model, the Supra could well have faded into history, much like the once-common Celica.
But thanks to a much-publicised joint venture with BMW, the Toyota Supra is back, this time as an A90-generation and wearing a 'GR' badge (for Gazoo Racing) destined to grace a bunch of future sporting Toyota models. There's much riding on the hero Supra's shoulders to help revive Toyota's distant reputation for making great performance cars.
Following in the development-sharing tyre tracks that created the Toyota 86 (and its Subaru BRZ twin), the Supra coupe and BMW Z4 roadster needed each other to see the light of day. Yet unlike the nearly identical 86/BRZ, the Supra and Z4 are quite different in execution.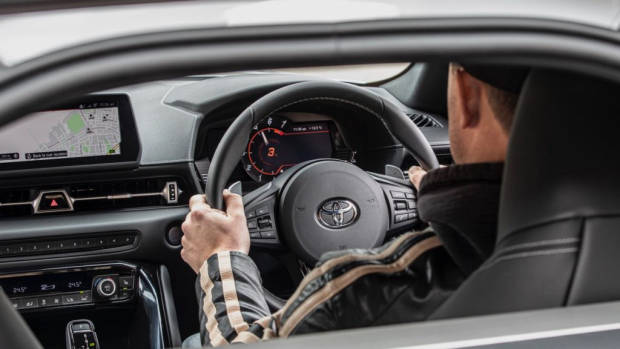 Manufactured in the same Magna Steyr factory in Austria, the Toyota and BMW share many structural hard points, including wheelbase length (2470mm), A-pillar and windscreen placement, the location of the front-mid-mounted engine and where the fuel tank sits. The flagship models also share drivetrains – BMW's revered 3.0-litre single-turbo straight six tied to an eight-speed ZF automatic transmission – which neatly maintains Toyota's heritage in building straight-six Supras, if not manual transmission models (for now).
Punching out 250kW from 5000-6500rpm and a chubby 500Nm from 1600-4500rpm, Toyota reckons the launch-control-equipped 1495kg Supra is buff enough to blast from 0-100km/h in 4.3 seconds. That's quicker than BMW's equivalent and isn't too far shy of what AMG's lustworthy rear-drive V8s are capable of (if not the latest all-wheel-drive examples). But as visiting chief engineer, Tetsuya Tada, pointed out at the A90 Supra's Phillip Island launch, "numbers are one thing … feeling is what matters".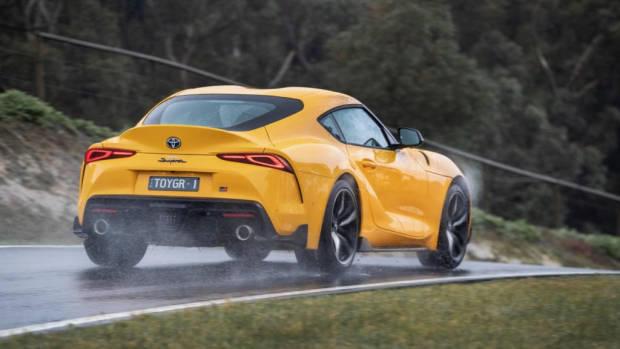 Toyota claims it heavily influenced the packaging of the Supra and Z4, with the aim of achieving what Tada san calls a 'golden ratio' in terms of the relationship between wheelbase length, track width, and centre-of-gravity height. Not only is the resulting number flattering – a ratio of 1.6:1, or the same as a Porsche 911's (says Toyota) – the result is a car that mixes the agility of a surprisingly short wheelbase with the planted stance and roadholding of broad tracks and low (119mm) ground clearance.
We drove a top-spec Supra GTS (on forged-alloy 19s with Michelin Pilot Super Sport tyres – 255/35ZR19 front, 275/35ZR19 rear) out on the road, as well as that car and an 18-inch-wheeled Supra GT at the Phillip Island circuit. While the first similarity between the Supra and a 911 on Aussie country roads is tyre roar on coarse surfaces, the overriding impression with the Toyota is what a terrific sports-biased grand tourer it is.
Leaving the suspension in Normal mode allows the Supra GTS to breathe with the road. Its body control remains taut yet it dispatches scarred surfaces with a suppleness that perfectly suits the turbo six's lusty, wafty torque delivery. In this sort of environment, Sport mode introduces too much vertical movement as the Supra pitches and reacts to lumps that Normal damping would smooth over. Thankfully, the Supra's individual model allows separate adjustment of steering, damping, drivetrain and ESC calibration – delivering a hugely accomplished and rapid GT that is both suave and satisfying.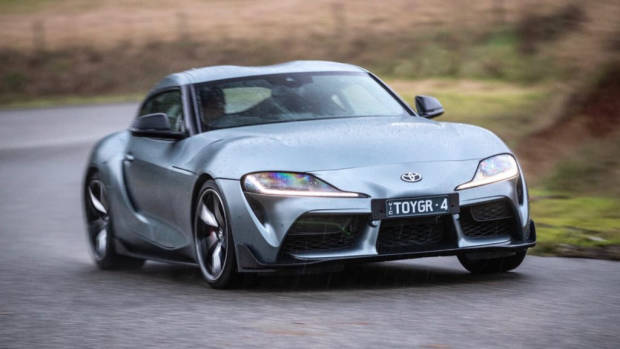 On the road, the Supra's dynamic balance is neutral and confidence-inspiring, with a huge amount of rear-end purchase for fantastic corner-exit thrust. And then there's that superb BMW-developed, Toyota-tuned engine, which has so much stonk and so many ratios that you never feel short-changed. Sure, the Sport-mode acoustic synthetics might be a tad too much for some, however you do gain extra crackle from the exhausts on overrun. And while the lack of a manual gearbox option is disappointing, the ZF auto is near-faultless in its shift intuitiveness and smoothness.
At the track, the Supra is seriously quick. You can really feel the short wheelbase in corners as the Supra pivots into place, perhaps with less incisiveness than its best rivals (think Porsche Cayman – Toyota's dynamic benchmark) but with satisfying playfulness and character. We weren't allowed to switch ESC fully off, though the hard-driven Supra rarely troubled its electronics. And the race drivers at hand said that even without it, the Supra's hugely grippy rear end requires determined provocation to boot the car sideways.
The dynamic difference between the GT and GTS isn't huge. The larger-wheeled GTS scores bigger rear brakes (345mm vented discs versus 330mm items on the GT) for slightly more positive pedal feel, though overall grip levels are virtually on par. And both enjoy the same luscious turbo-six wail from under the bonnet, as well as terrific seat support and a really fine interior.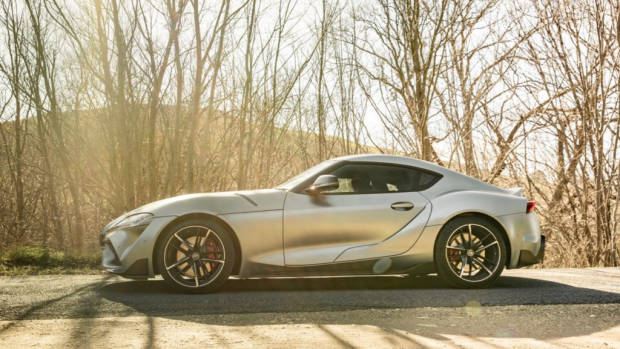 BMW switchgear abounds inside the Supra, though that's a good thing. Toyota should be chuffed that its instrumentation – a vaguely Blade Runner-esque circular central tacho flanked by a digital speedo to the left – is far superior to BMW's in both design and clarity. Likewise the Supra's excellent steering wheel with intelligently sized wheel-rim thickness and thumb placement. And with a liftback-style rear opening revealing a 290-litre boot, the Supra is relatively practical too, despite its puny door pockets and fairly minimal cabin storage.
The Aussie line-up starts at $84,900 for the Supra GT with a truckload of standard kit including adaptive LED headlights, heated electric seats, wireless phone charging and a full deck of safety gear. The $10K-dearer GTS adds the aforementioned larger wheels and rear brake discs, as well as red-painted calipers, alloy-faced pedals, a head-up display, a premium JBL 12-speaker surround-sound stereo, and the options of matte Nurburg Grey paint, Alcantara upholstery or red leather-accented upholstery. Otherwise, everything else is standard.
Toyota has even capped the servicing cost at just $380 a pop for the first five visits – each 12 months apart.

Toyota will have no problem shifting the 300 Supras allocated to Australia for the first 12 months, given that 150 were sold in just 22 minutes online, of which 80 percent were the GTS. And the new-gen Supra really does deserve this level of fandom.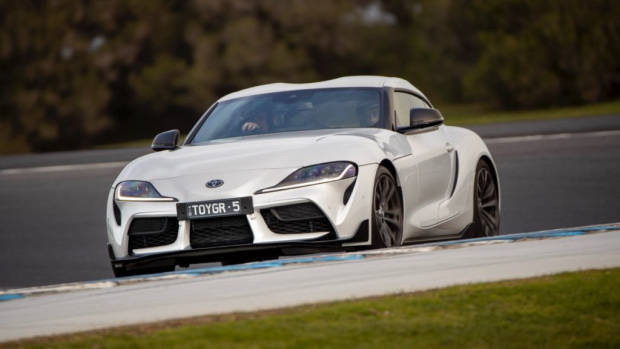 Regardless of what you think of the styling (it looks waaaay better in the flesh, with a sinister front, a chunky stance and plenty of intriguing curves), the new Supra is on the money. It's comfortable, accessible and relatively affordable, as well as fast, fluent and fun.
If Toyota can keep the momentum rolling with even more powerful models and alternative transmission choices, then the A90 Supra will truly be the halo product Toyota wants it to be for its fun-to-drive future.
Finally, 'oh what a feeling' will refer to something else other than resale value!