The Mazda CX-60 midsize SUV has been spotted during an official video shoot and months ahead of a global debut.
As the next model in Mazda's premium crossover offensive, the upper-midsize CX-60 has already been locked in for Australia with an expected release date in late 2022.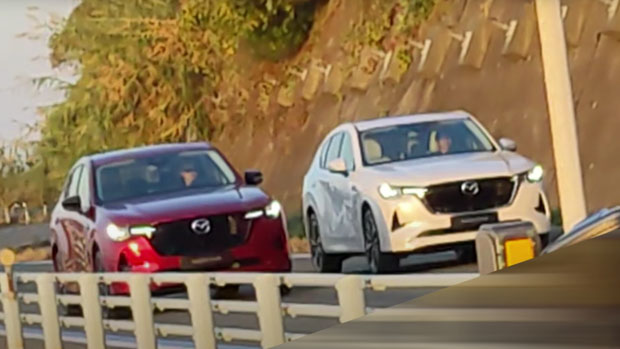 In footage shared by the Japan-based CSK Review Channel, a pair of CX-60s finished in red and white respectively are spotted driving down a road with a camera car in tow.
Little was done to hide the identity of the CX-60, with the SUVs even wearing a set of branding plates stating the model name.
The CX-60 is expected to be the most compact vehicle to sit on Mazda's new Large Product Architecture that utilises a longitudinal engine layout, supporting six-cylinder engines with rear-wheel drive – while AWD will be optional.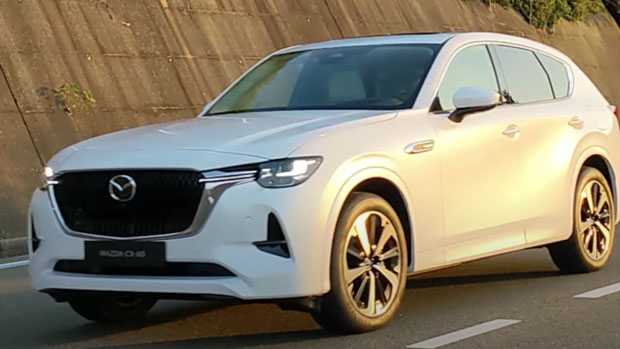 Mazda is expected to offer both petrol and diesel variants of this engine with both mated to a 48-volt mild-hybrid system and the effects of this change are seen in the images.
Primarily this is due to the long bonnet of the CX-60 which stretches further than a CX-5 or CX-9 that use transverse-mounted four-cylinder engines and get front-wheel drive by default.
No direct images are shown of the rear end of the CX-60, but the wider hind haunches and slim tail light design should balance out the shape of the SUV.
Mazda has evolved its Kodo design philosophy to suit the more luxurious CX-60 but clear hints of the facelifted CX-5 can be seen in the front bumper and even the Mazda 2 in the headlight design.
The CX-60 is the latest in a growing lineup of more premium focused vehicles that began with the Mazda 3 and continued on with the CX-30 and US-market CX-50.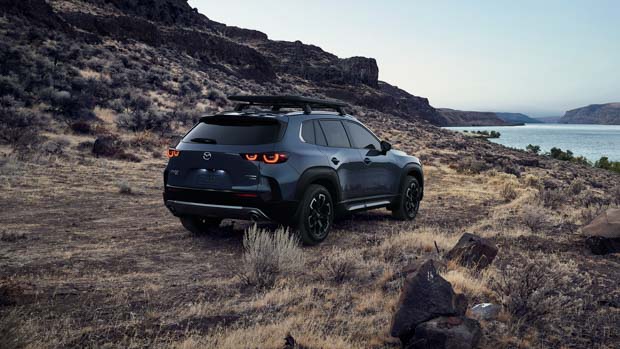 While the CX-50 is based on the same transverse, front-wheel drive platform as the CX-30 and Mazda 3 small car, the CX-60, CX-70, CX-80 and CX-90 utilise a more sophisticated large-car architecture supporting six-cylinder engines.
Expected to occupy the upper-midsize segment, the CX-60 and will go head to head with rivals such as the Audi Q5, BMW X3 and Mercedes-Benz GLC in Australia.
A widebody version of the CX-60, known as the CX-70, will also follow with a focus on the American market as we've seen with vehicles such as the CX-9 in the past.
More vehicles sitting on this architecture will follow with a CX-80 and CX-90 large SUVs already announced and a new Mazda 6 sedan potentially on the way.