Mazda's 2021 announcement that it would build its next generation of SUVs on a new rear-wheel drive (RWD) platform, with previously-unseen six-cylinder diesel and petrol engines – all with an element of electrification – came as something of a shock.
Such a level of engineering sophistication, accompanied by even higher-quality interiors and hidden refinements like double-wishbone front suspension, are not cheap and the first fruit of the new offensive – the CX-60 upper-midsize SUV – will hurtle into the luxury space in Australia, aimed at the Audi Q5, BMW X3, Mercedes-Benz GLC, Volvo XC60 and others.
Most of this Japanese marque's rivals are diving head-first into full electrification with bullish commitments for later in the decade and Mazda, too, will launch a modular EV architecture in 2025, underpinning a range of battery electric models to replace the MX-30.
Until that point, the CX-60 – and three unrevealed, larger siblings numbered from 70 to 90 – will allow Mazda buyers to dip a toe into the waters of electric driving with a four-cylinder petrol plug-in hybrid model, likely priced at about $90,000 when it is released in Australia in 2023 to compete with the Lexus NX 450h+, BMW X3 30e and Volvo XC60 Recharge PHEVs.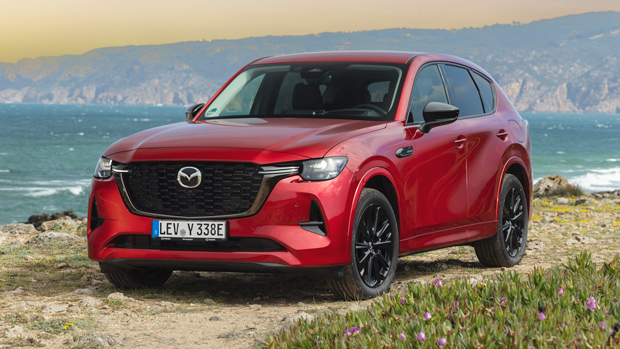 Promising about 60km of electric driving range from a 17.8kWh battery and a stout 241kW of combined power when the high-compression inline four-cylinder and motor are jointly engaged, the CX-60 promises the usual PHEV blend of EV-style zero-emission commuting with a longer range for weekend road trips.
Technologically the most ambitious of the CX-60 line, the plug-in hybrid will crown a lineup of four powertrains that will open at about $55,000 for a 138kW/252Nm 2.5-litre naturally-aspirated four-cylinder petrol (shared with many other Mazdas, including the CX-5), plus new – and interesting – straight-six engines: a 3.3-litre turbo diesel and a 3.0-litre Skyactiv-X petrol.
A staggered release in Australia will see the four-cylinder petrol drop at the end of 2022 (or beginning of 2023, depending on production staging), while the diesel, PHEV and six-cylinder petrol will follow, completing the Australian CX-60 proposition by the end of 2023.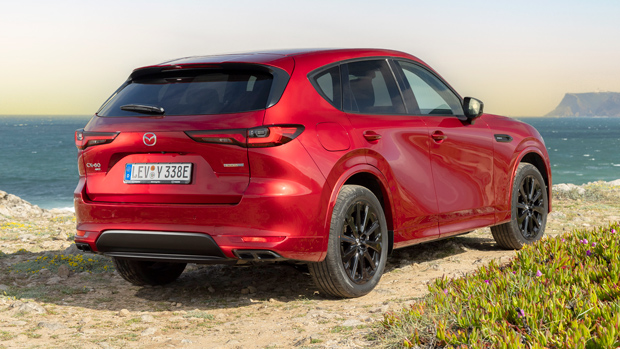 Previously revealed European specs called Exclusive Line, Homura and top-shelf Takumi will be Australianised, with local cars set to wear familiar badges like the sporty, black-pack GT SP while the highest grade will be named the CX-60 Azami in Australia, as part of an alignment to the existing CX-9 flagship nameplate.
To get an early taste of Mazda's next-generation leap, Chasing Cars travelled to Portugal to drive a pre-production example of a 2023 Mazda CX-60 plug-in hybrid broadly equipped in what will be GT SP specification locally.
What was revealed was one of the most efficient plug-in hybrid SUVs we've tested and a promising start for Mazda's upmarket push – along with a few expected rough edges that require ironing out before the CX-60 launches in Australia.
How does the CX-60 drive?
The Large Product Architecture (LPA) platform that sits beneath the CX-60 and three other unrevealed SUVs – the 60's fellow two-row CX-70, plus three-row CX-80 and CX-90 models – had plug-in hybrid support baked into it from scratch, though it's understood that a large battery for full electrification isn't possible. That will be left to Mazda's 2025 EV platform.
Beneath the floorplan in the middle of the vehicle – not under the boot like many PHEVs – sits a midsize battery with 17.8kWh of usable capacity. Mazda promises 60km of real-world range, which was delivered on our test. We left the CX-60 to its own devices and in an honest 69km of up-hill, down-dale driving, we spent the battery while consuming 2L/100km in the same time.
Had we forced the CX-60 into EV-only mode, 50-60km would have been achievable with no tailpipe emissions at all – as long as you don't trigger the accelerator's palpable detente that informs the system the petrol engine is required.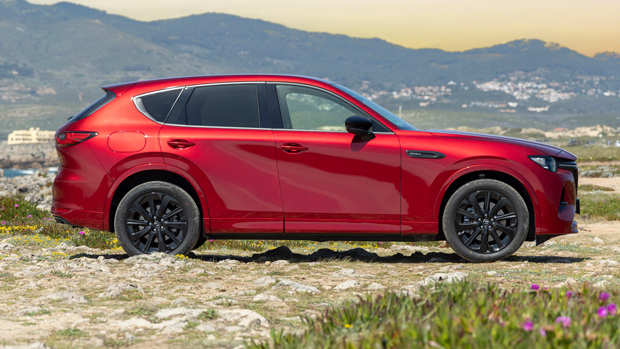 There's usually no need to light up the petrol on short drives, though, as the electric motor – which sits longitudinally in line between the 2.5-litre engine and the eight-speed single-clutch automatic – produces a not-too-shabby 100kW/250Nm by itself. Electric progress is swift enough if not quick. Those numbers best the BMW X3's 83kW output when in electric-only mode.
Charged daily it's probable that the 2.5-litre naturally-aspirated petrol four-cylinder engine that makes 140kW/261Nm could lay dormant, reserved for weekend drives further afield.
As with all plug-in hybrids, the lowest running costs and highest efficiency is promised to users who can reliably charge the vehicle, which takes about nine hours from a standard three-pin wall socket or as little as 2.5 hours via a 7kW wallbox.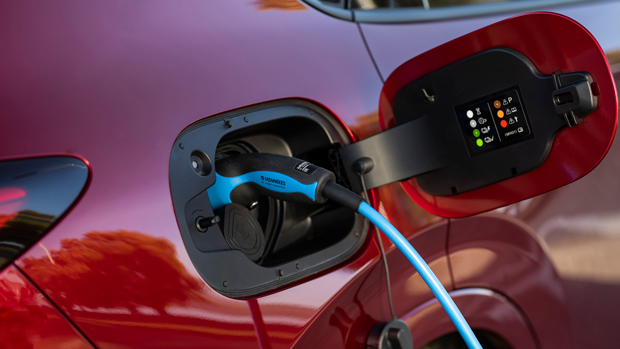 But the CX-60 is better than many of its PHEV rivals even with a 'spent' battery – which actually keeps maybe five percent of its energy available at all times, topped up by the petrol engine when charge falls low.
After we exhausted the battery (with limited petrol contributions) at 69km, it was clear that the full 241kW/500Nm combined shove of the engine and motors was available at all times. Many PHEVs – including the XC60 – feel sluggish when the EV battery is supposedly empty.
Through the CX-60's big new 12-inch touchscreen, drivers can also demand the engine acts as a generator for the battery to top the EV driving range back up to a selected percentage. That's important in Europe, where many cities are on the cusp of legislating strict zero-emission urban driving areas monitored by thermal imaging cameras that spy hot tailpipes.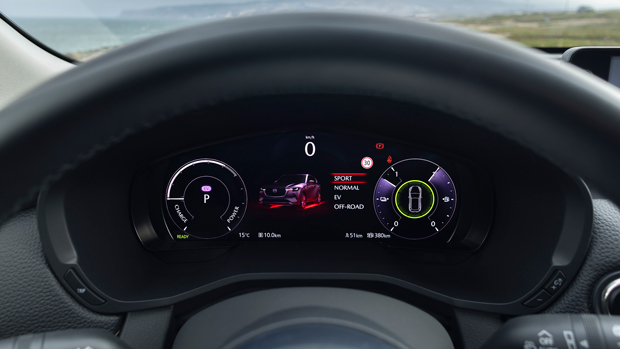 Charge up the CX-60 and it can be driven one of three ways: in normal mode, which biases electricity but will fire up the petrol engine with moderate acceleration; in EV mode, which saves the petrol only for very hard acceleration; or a sport mode which keeps both energy sources online at all times – basically harnessing electricity as a mega-turbo.
No doubt, there's a fair amount of complexity here, and while it all works as advertised – strong punch in a straight line is particularly enjoyable – there is a roughness to the transition between petrol and electric power that occasionally sends a less-than-pleasant kick through the chassis.
Trying to overtake in normal mode starts with an occasionally uncomfortable delay of a second or two while the system opens a clutch pack between motor and engine to restart the 2.5-litre and call up all available horses, almost like exaggerated turbo lag.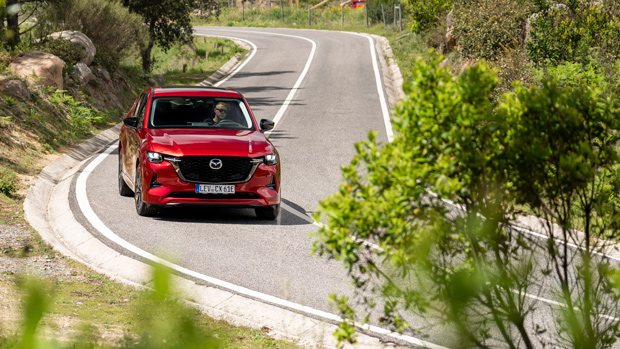 The trick here is to manually select sport mode in such circumstances, because when the engine and motor are both awake, the CX-60 accelerates with alacrity. It's the most powerful production Mazda yet, and works well with the standard all-wheel drive (AWD) system, which can send nearly 100 percent of torque to the rear wheels.
Senior Mazda engineers accompanying us on this early drive let us know there's still a lot of fine-tuning to be done to the plug-in hybrid system. Hastening the re-engagement of the petrol engine should be examined closely.
We haven't yet driven any of the three other powertrains for the CX-60 – and given the PHEV will be relatively niche in Australia (at least at first), it's hard to pass final comment on dynamics at this point.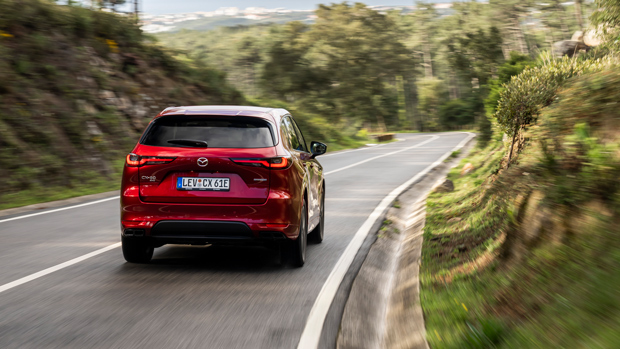 An educated guess would suppose that the entry engine – the CX-5's existing 2.5-litre naturally-aspirated four-cylinder petrol making about 138kW/252Nm – will feel quite modest, though with its light nose and rear-wheel drive (RWD) – not AWD – nature it may be something of a purist's choice.
We're awaiting the inline six-cylinder engines with real anticipation, with the 3.3-litre turbo diesel providing prodigious outputs of 187kW/500Nm. The numbers behind the 3.0-litre Skyactiv-X spark controlled, compression ignition petrol engine haven't been revealed, but these are expected to be about 230kW and 350-400Nm.
Like those engines, the plug-in hybrid uses an eight-speed automatic of Mazda's own design. The transmission eschews the traditional torque converter, which the brand opines generates too much inefficient slip, instead adopting an electronically-controlled clutch.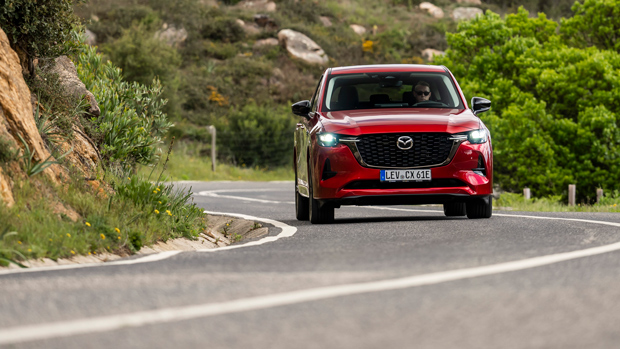 Single-clutch autos haven't been the last word in pace in the past (think Alfa Romeo Selespeed, or Fiat Duologic). Thankfully, Mazda's works seamlessly enough, though the workings of a gearbox like this are certainly complicated – or at least obscured – by the electric torque from the hybrid system. Let's see how it runs with the petrol and diesel options.
Unlike many of its luxury rivals, the CX-60 arrives with just one suspension setup – though the passive damper tuning is different for the available 18-inch wheels, and the larger 20-inch wheels fitted to our test car.
We've complained in the past that with the BMW X3, Audi Q5, Mercedes-Benz GLC and Volvo XC60 buyers need to select expensive optional suspension technologies to make the vehicle ride comfortably. Mazda claims its single-setting dampers are tuned correctly and that an adaptive suspension (or air suspension) are not necessary.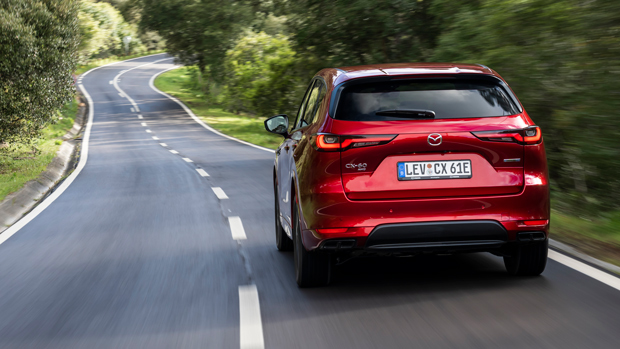 Well, we certainly think that the CX-60's suspension is superior to the 'base' ride quality of an X3 without adaptive dampers or an XC60 without air – but the Mazda does not beat the compliance and suppleness of the upgraded suspensions of the German and Swedish crossovers.
It's quite a firm tune, this, with acceptable body control but occasional abruptness from the large wheels and tyres falling into potholes or expansion joints – particularly the rear end. The front suspension is a double-wishbone configuration that is pretty refined, while there is a multi-link connection at the rear.
To achieve reasonable levels of control in the circa-2000kg plug-in hybrid, it's clear that the setup is fairly stiff and falls some way short of genuinely supple. Perhaps with 18-inch wheels or without the additional inertia of the weight of the ~200kg hybrid battery, ride quality will be better – and this car was pre-production, after all.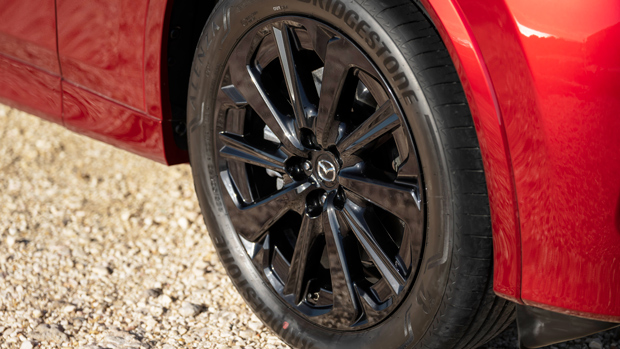 If we're not convinced yet on the ride, we like the handling – and the mid-weighted, if slightly muscular, steering. Like the damping, there are no user-defined settings for the electric power steering. Mazda knows best – thankfully, the parameters set are the right ones for the tiller, with decent feedback from the front end and appropriate weighting.
Like other Mazdas, body roll is present in the CX-60 – some lean is consistent with the brand's view of comfortable torso kinetics during cornering – but the chassis overall is sweet, giving the CX-60 the kind of hard-driven fun nature that eludes the XC60 and GLC in particular.
Though speeds were somewhat limited on our 100km first drive in the hills of Sintra, Portugal, it's clear that the chatty CX-60 chassis will rank among the X3, Q5 and Genesis GV70 for 'fun to drive' in this segment – a good thing. This should be even more the case for the six-cylinder cars, which will have a more unified-feeling powertrain and are also down 100-200kg in mass.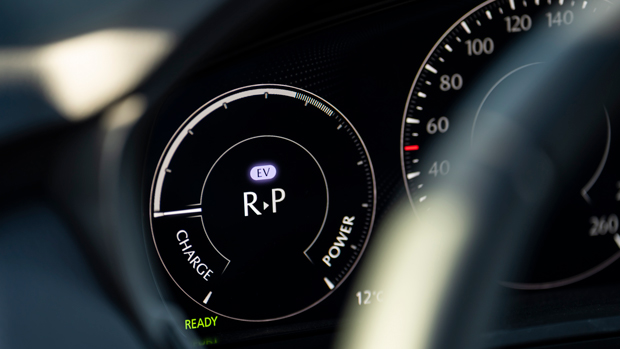 Cabin quietness has been a strong suit for Mazda in recent years (a remarkable turnaround, given the din in a Mazda interior a decade ago), and the CX-60 upholds this virtue even on large(ish) 20-inch wheels and wide Bridgestone Alenza tyres – but we did note some wind noise from the vicinity of the side mirrors.
A significant improvement has been secured in driver assistance tech for the CX-60 when compared to previous Mazda SUVs: there's evidently better logic, and greater processing power, in the system: lane keeping assist locks this vehicle to the centre of the lane, rather than bobbing from side-to-side as in the CX-5.
That makes highway driving a lot less fatiguing – as does the smooth adaptive cruise control. The CX-60 also has autonomous emergency braking (forwards, junction and reverse), plus blind spot monitoring with mirror-based signalling – this is good, though the GV70's camera-based monitoring is more intuitive.
How is the CX-60's interior?
Our first experience of the new CX-60 was of the European-market Homura grade, which does service as the sporty, middle-tier grade in what will be a three-level lineup on the Continent.
Mazda Australia, though, sets its own agenda with specification and locally, the vehicles will not carry the Exclusive-Line, Homura or Takumi branding used for most markets.
Locally, the black pack-adorned Homura we tested will be known as the GT SP, aligning itself with Mazda's increasingly consistent, high-end luxury-sports models that have proliferated across its range, including to the facelifted CX-5 GT SP we tested recently.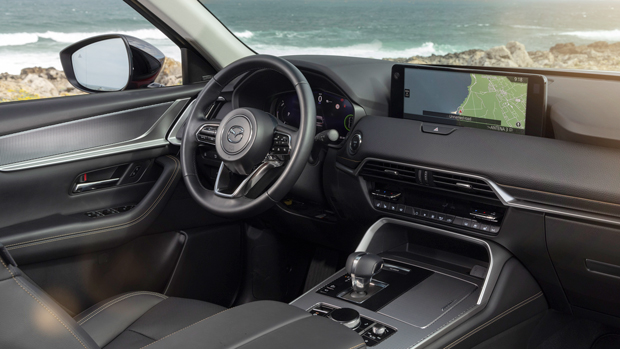 Consistency is also the reason the top-end CX-60 Takumi will be called the CX-60 Azami in Australia, borrowing branding used for the highest-specification CX-9 three-row SUV locally. Expect to see Mazda's other top-tier models adopt Azumi labelling soon.
The GT SP-equivalent car we tested sported a low-key interior finished in black leather with silver/black metal accents, and copper stitching. Teutonic in appearance, the GT SP's interior gives the Mazda an understated cool that will do battle with the BMW X3 M Sport and AMG-line versions of the Mercedes GLC.
It was a shame that there was no example of the CX-60 Azami (née Takumi) at our early drive, though, as this luxurious Mazda trades heavily on this grade's additions in its marketing. Bundling white nappa leather with real maple wood trim and kimono-inspired textile trim on the dash – replaced by grained leather in the GT SP – the Azami will likely have the most plush interior of any Mazda ever launched.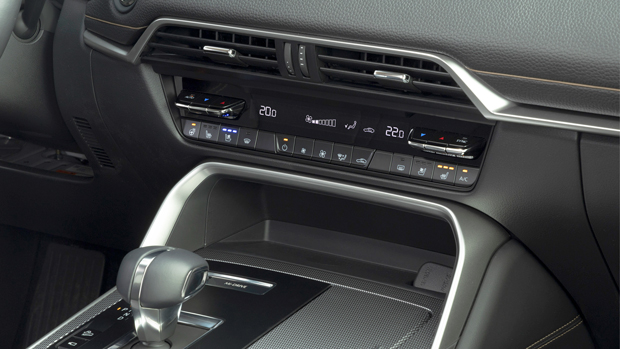 The Europeans will only get the white interior for their version of the Azami grade but senior Mazda Australia executives say that there may be a dark theme also on the palette for Australian customers.
We'll have to imagine the richness of the Azami for now – but the GT SP certainly whetted our appetite with high-quality materials and astoundingly good cabin build quality for a pre-production vehicle. This bodes well for the tightness of the finished product. Tight shut lines and no give in the centre console showed us the CX-60 is better-built than a GLC.
Design-wise, the CX-60 cabin adds to themes from other interiors of 'Mazda Premium' products – the cars borne of the brand's upmarket push that went official in 2018. The ante is upped here: previous Mazda Premium models like the 3 small car and CX-30 small SUV were upper-mainstream vehicles targeting Volkswagen; the CX-60 aims higher at Audi and company.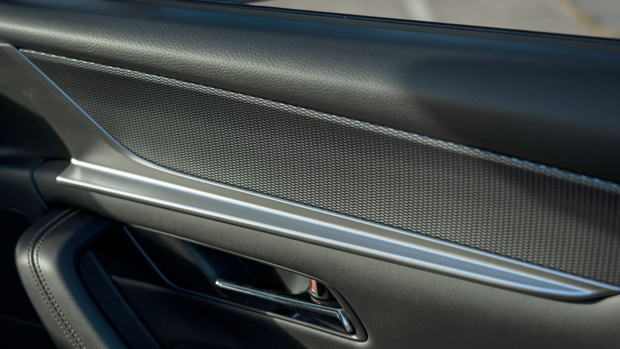 Like its Mazda siblings, though, the CX-60's cabin is based around a wide dashboard that is relatively unadorned by superfluous detailing – and it's an interior where (subtle) buttons still do most of the inputting. The new 12-inch screen has touch capacity only for Apple CarPlay and Android Auto, which are wireless – but were not activated on our test car.
Mazda's own attractive and understated operating system is driven through the kind of rotary dial and shortcut keys between the seats as was once common in German luxury cars. Those makers have now committed fully to touchscreens, but on bumpy Australian roads, we still appreciate the 'redundant' commander dial.
Joining the touchscreen is a large and now fully-digital instrument cluster, with elegant detailing and particularly beautiful typography – something Mazda does well. This display conveys digital representations of analogue dials well – and there's a semi-immersive assisted driving view – but where's the full map option to match Audi's Virtual Cockpit satellite images?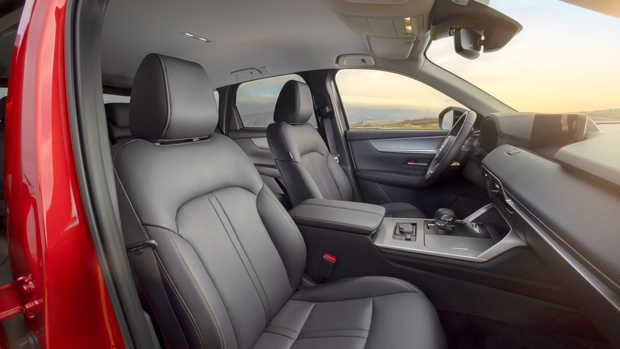 The steering wheel continues to be an attractively thin-rimmed leather affair with delicate shortcut buttons and paddle shifters. The small gear selector takes cues from the MX-30 Electric, and the quality stereo continues to be sourced from Mazda's long-time audio partner Bose.
All new are the seats, addressing a long-running bugbear of ours with Mazda's otherwise comfortable crossovers. These pews are much better than those in the CX-5: the squabs are finally long enough for longer-limbed drivers and the backrest is very supportive, despite only having in-out lumbar adjustment – most rivals also have up-down lumbar movement. Cooling and heating is standard up front for most grades.
The seats – and power steering column, and mirrors – are linked to a new driver personalisation function that uses a rearview-mirror facial camera and manual height input to calculate your driving position. We tried it – some aspects were right, but the seat base slid way too far back compared to our regular driving position set by an expert. What the system can't compensate for at this stage is limb proportion.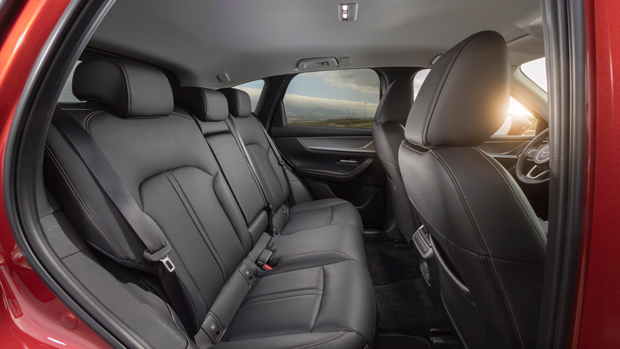 Within Mazda's lineup of new large SUVs, the CX-60 is the smallest, being the two-row narrowbody concentrated on European customers. A CX-70 will be a bulkier two-row widebody – mainly for America – while the CX-80 and CX-90 will be narrow then wide three-row SUVs respectively.
The CX-60 might sit on a 'large' architecture but it's best-described as upper-midsize. Certainly, back seat space is pretty generous: two six-foot adults can sit one behind the other and there's noticeably more width here than a CX-5 or CX-8.
In row two, air vents and seat heating are standard, while there is also a plush centre armrest – and soft door trims carry all the way back here. The rear seat squabs are comfortable, too, being long enough and sufficiently up-angled to support the legs.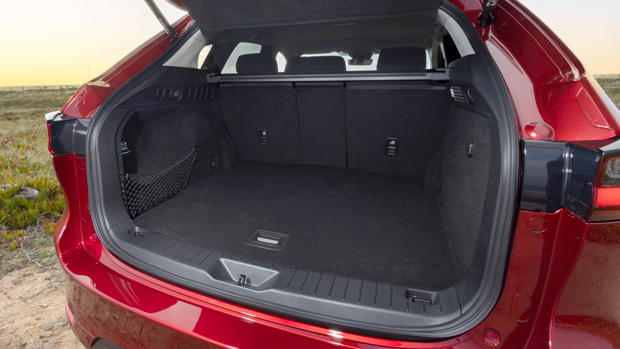 Behind a power tailgate is a wide – if not hugely deep – boot that measures 570 litres. The CX-60's relatively conventional proportions should make this an easy space to pack.
Under the boot floor, the European-specification car we drove had just a tyre repair kit and the subwoofer for the Bose stereo – no word yet on whether local cars will have a space saver or full size spare wheel and tyre.
What are the CX-60's running costs?
We don't know yet what the CX-60 will cost to service in Australia – and there are so many mechanical changes here compared to existing Mazda models that they're not much to go off. Still, bet on the Mazda being competitive with its rivals on scheduled maintenance.
The major question here is whether Mazda will finally abandon its 12 month/10,000km service intervals to adopt longer 15,000km maintenance windows to echo BMW and Audi – and Mercedes-Benz allows customers to go even longer between services.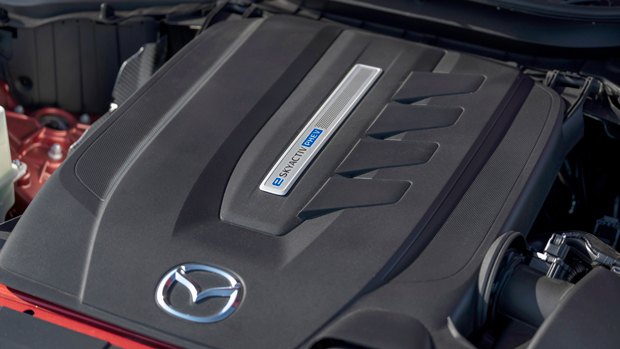 Warranty-wise, expect Mazda's standard Australian five year, unlimited kilometre warranty to apply to the CX-60 with longer coverage for the high-voltage components of the plug-in hybrid system.
The one running cost we can clearly pin down from our drive is efficiency, which is a strong point for the CX-60 as far as plug-in hybrids go. Mazda promises 60km – or 69km WLTP – from the 17.8kWh battery, which is consumption of 29kWh/100km. That's high – but on test we managed more like 25kWh/100km, or 22kWh/100km with a very small contribution from the petrol engine.
The other side to PHEV consumption is what happens when the battery is drained and you're mainly relying on the petrol engine. Well, the CX-60 is pretty good at regenerating power to the battery once this occurs; we recorded combined consumption of 6.6L/100km with the battery at its lowest allowed state of charge over about 40km of mixed driving – comparable with a Toyota Kluger hybrid.
The final verdict
The Mazda CX-60 is an ambitious project for the Japanese marque: this SUV is tasked with lifting brand perception up and into the upmarket space alongside well-loved badges like BMW's roundel and the Mercedes three-pointed star.
Whether it's achieved this lofty goal really requires consideration of all the available powertrains – especially the premium-tier six-cylinder engines that Mazda has spent years developing for release in this car.
The plug-in hybrid that we've tested here delivers strong efficiency with or without charge in the battery; it charges fairly quickly, for a PHEV; and there's excellent punch with the two powertrains operating simultaneously.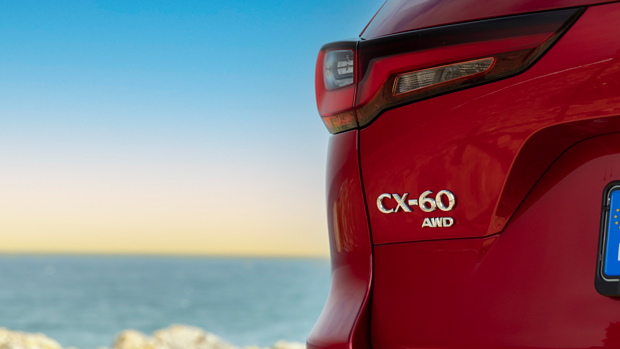 But like so many plug-in hybrids, there is an underlying limit to how refined a system can be that requires a second combustion-fuelled powertrain to kick in to make you go faster. The powerful, torquey six-cylinder powertrains will likely be much more sweet and smooth in this regard, given there will be no fully-electric variant of this vehicle – in this generation.
Inside, the CX-60 shows real promise. We look forward to inspecting a top-shelf Azami in time, but the GT SP-equivalent grade has a polished, well-finished cabin that is comfortable to spend time in and it's clearly well-made.
We'll drive the other powertrain and variant combinations in time, which will allow us to round out our perception of the new CX-60. For now, the plug-in hybrid has good potential as a frugal, high-tech solution in a world of high petrol prices – especially in the European market to which it is most clearly targeted.