Mazda Australia delivered a coup with the specification of its new CX-60 luxury SUV, dropping two less desirable engine configurations ahead of the reveal of the vehicle while scoring three powertrains that will suit Australian tastes.
Initially slated to launch in Australia with a naturally-aspirated, non-turbo four-cylinder petrol engine making around 140kW of power, plus a non-turbo six-cylinder petrol engine, Mazda's local arm convinced product planners and engineers to settle on a more appropriate Australian powertrain lineup.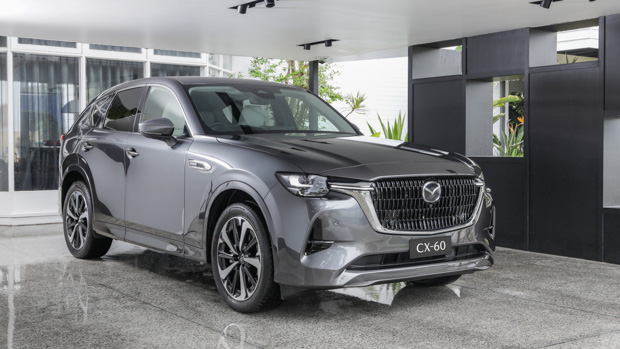 Instead, Mazda today confirmed full engine specifications – and prices – for its localised CX-60 that will be released in Australia in June 2023 after Australian validation and testing on the BMW X3 rival is complete.
When it arrives mid next-year, the CX-60 will be priced from $59,800 before on-road costs for the six-cylinder petrol version, with six-cylinder diesels costing $3000 more – while the plug-in hybrid is a $12,500 step over the petrol.
Non-turbo, four-cylinder engine dropped from the lineup
The CX-60 was initially due to launch in Australia with a version of the smaller CX-5's 2.5-litre, non-turbo four-cylinder petrol engine, making around 140kW of power and 250Nm of torque.
This low-output engine was scheduled to be the first CX-60 powertrain to launch in Australia, around early 2023, with the more desirable six-cylinder and PHEV engines following months later.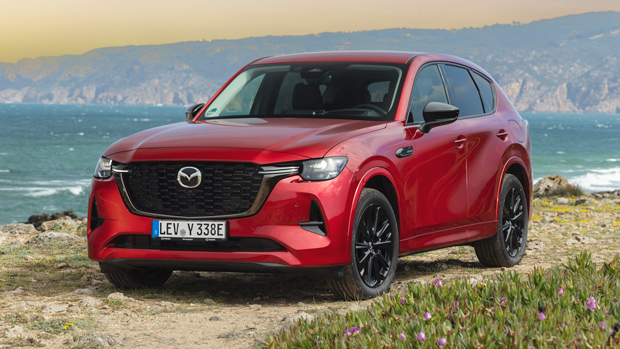 Mazda Australia made the call to abandon that strategy in favour of bringing in the two sixes and PHEV powertrains at the same time in June 2023 – a little later than expected – while dropping the non-turbo four-pot entirely.
That decision now means that the most affordable CX-60 packs a 209kW/450Nm turbo six-cylinder petrol – much more 'donk' than the 140kW atmo-four would have done, and a better fit to rival the set of luxury SUVs the CX-60 will fight against.
Australia scores turbo version of Mazda's new six-cylinder petrol
All engines have a hybrid system of some kind, with the most affordable units both being large-capacity, 3.3-litre inline six-cylinder engines. In a win for Australian buyers, both the diesel and petrol six-cylinder engines will be turbocharged.
Speaking with Chasing Cars at an event to reveal pricing for the 2023 CX-60, Mazda Australia director of marketing Alastair Doak confirmed that Australia had been given the chance to choose a turbocharged version of the six-cylinder petrol.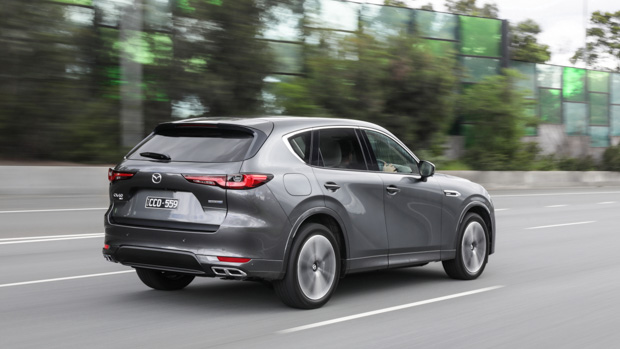 When the CX-60 was revealed in 2021, the 3.3-litre petrol was slated to be naturally aspirated, which it will in fact be for Europe – being fitted with Mazda's spark-controlled, compression-ignition Skyactiv-X technology.
However, Australia joins the United States in selecting a non-Skyactiv X version of the 3.3-litre engine. We get a Skyactiv-G unit with a single turbo, allowing the G40e-badged petrol six to produce 209kW of power and 450Nm of torque alongside a 48-volt mild hybrid system.
Fuel consumption for the turbo-petrol six-cylinder engine has not yet been disclosed by Mazda.
As expected, diesel is a 550Nm torque monster
The Europe-focussed straight-six diesel that we already knew was on its way for use in the CX-60 (and larger CX-80 three-row model) has been confirmed for Australia.
The single-turbo 3.3-litre diesel unit makes 187kW of power and 550Nm of torque – healthy boosts over the 140kW/450Nm 2.2-litre diesel that does service in the existing Mazda CX-5 and CX-8 models.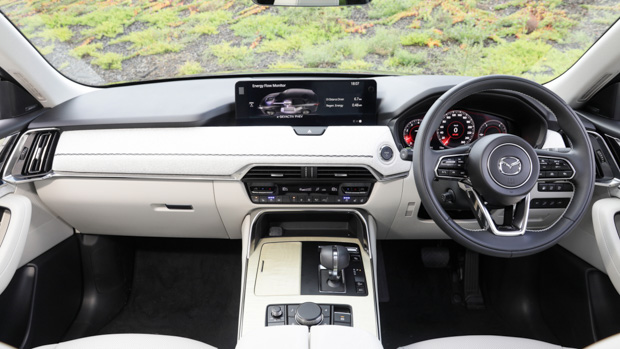 Like the other CX-60 engines, the 3.3-litre diesel uses an eight-speed automatic transmission with a clutch pack rather than a traditional torque converter, and it is AWD.
Mazda has claimed fuel use of 4.9L/100km on the ADR81/02 combined economy cycle for the diesel, which is badged as the D50e engine.
PHEV is the sole engine based around a four-cylinder
While the standard petrol and diesel engines are six-cylinder units for the CX-60, packaged longitudinally under the new SUV's attractively lengthened bonnet, the plug-in hybrid powertrain is based around Mazda's familiar 2.5-litre, non-turbo four-cylinder petrol. A six-cylinder PHEV could emerge in future.
That engine makes 141kW of power but is supplemented by a powerful 100kW/250Nm electric motor, allowing the CX-60 P50e PHEV system to make a combined 241kW of power and 500Nm of torque.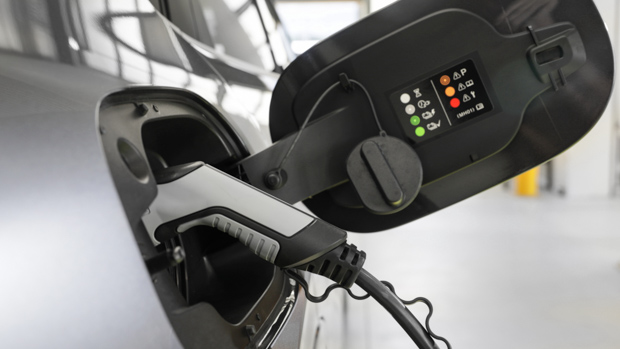 The P50e's 17.8kWh usable battery also allows it to travel 60km (WLTP) on a single charge without waking up the petrol engine.
Chasing Cars has already driven the CX-60 PHEV and you can find our road test of that vehicle here.
Mazda CX-60 2023: prices in Australia
All prices listed are before on-road costs.
Evolve six-cylinder turbo petrol: $59,800
Evolve six-cylinder turbo diesel: $61,800
Evolve four-cylinder plug-in hybrid: $72,300
GT six-cylinder turbo petrol: $67,800
GT six-cylinder turbo diesel: $69,800
GT four-cylinder plug-in hybrid: $80,300
Azami six-cylinder turbo petrol: $73,000
Azami six-cylinder turbo diesel: $75,000
Azami four-cylinder plug-in hybrid: $85,500