Mazda is primed to launch the CX-60 midsize SUV in Australia with a 2.5-litre naturally aspirated four-cylinder petrol engine ahead of already-announced six-cylinder petrol and diesel engines, plus a 241kW plug-in hybrid (PHEV).
Details of the entry-level powertrain are yet to be confirmed by Mazda Australia, but the engine is widely understood to be the 2.5-litre non-turbocharged high-compression four-cylinder petrol used in several current Mazda models.
The 2.5-litre 'G25' Skyactiv-G series engine is available in the current-generation CX-5 midsize SUV, CX-30 small SUV, Mazda 3 small car and Mazda 6 large car. It was recently announced by Mazda Japan as the entry powertrain in that market for the CX-60 luxury SUV, where it is set to produce around 138kW of power and 250Nm of torque.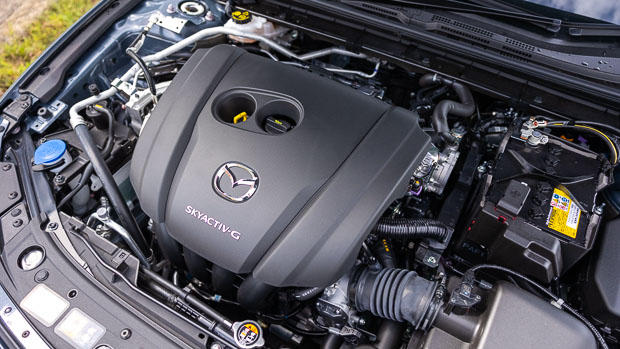 With vehicle supply sourced exclusively from Japan, Mazda Australia will launch the vehicle in the latter half of 2022 with a diverse range of PHEV and six-cylinder engines expected to follow quickly.
Chasing Cars has driven a late-stage prototype of the CX-60 plug-in hybrid and our road test will be published later this week.
$55,000 price leader to eschew turbocharging
With the CX-60 being the first vehicle in its onslaught of more premium Large Product Architecture, the decision to launch the midsizer with a relatively modest engine echoes a similar decision by Lexus to equip its latest NX midsize SUV with a non-turbocharged entry-level petrol engine.
The base-model Lexus NX 250 produces 152kW/243Nm and is priced from $60,800, whereas the 138kw CX-60 G25 variant is expected to cost about $55,000 before on-road costs.
Most rival luxury SUVs, though, use a turbo four-cylinder as their base powertrain, with examples ranging from the new $68,350 Audi Q5 35 TDI (120kW/370Nm) through to the Volvo XC60 B5 Momentum (183kW/350Nm) priced at $69,490.
It is significant that Mazda has not opted to utilise the turbocharged version of this engine, given the 2.5-litre turbo petrol seen in high-specification CX-5 grades, and all CX-9 variants, makes much more generous 170kW/420Nm outputs.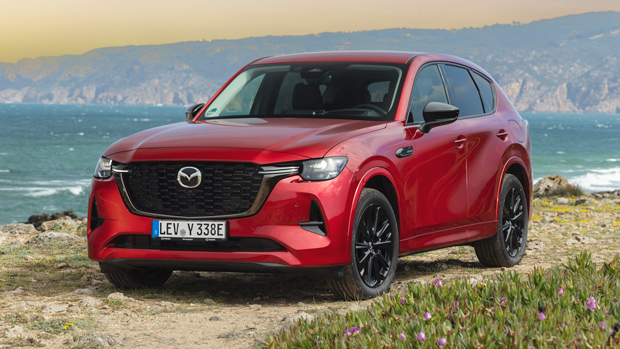 The non-turbo 2.5-litre is understood to be equipped with rear-wheel drive (RWD) only, while the six-cylinder 3.3-litre turbo diesel and non-turbo 3.0-litre petrol coming later have AWD. Only the BMW X3 is available in this segment with a pure-RWD entry-level configuration, whereas Audi's new base Q5 is front-wheel drive.
With the four-cylinder petrol arriving around the $55,000 mark, it's likely that the six-cylinder engines will attract a premium of $5,000-$15,000, while plug-in hybrid vehicles in this segment typically command around $90,000.
PHEV, inline-six turbodiesel and Skyactiv-X petrol to follow
The months following the initial launch of the CX-60 with the 2.5-litre engine will be followed by the arrival of the PHEV powertrain which features the same engine backed up by a 100kW electric motor for a total system output of 241kW/500Nm.
Australia will then see the introduction of a 187kW/550Nm 3.3-litre turbo-diesel straight-six engine, likely followed by the 3.0-litre petrol straight-six with expected outputs of around 230kW/350Nm.
All powertrains in the CX-60 range are equipped with an eight-speed single-clutch automatic transmission designed in-house.