A senior European executive at Mazda has downplayed the likelihood of a rear-drive, straight-six-powered Mazda 6 successor – or a two-door coupe – based on Mazda's newly-developed Large Product Group Architecture.
Up until now, reports have suggested the fourth-generation Mazda 6 sedan or wagon would switch to a longitudinal-engined, rear-drive layout with a potential global on-sale date sometime during 2023.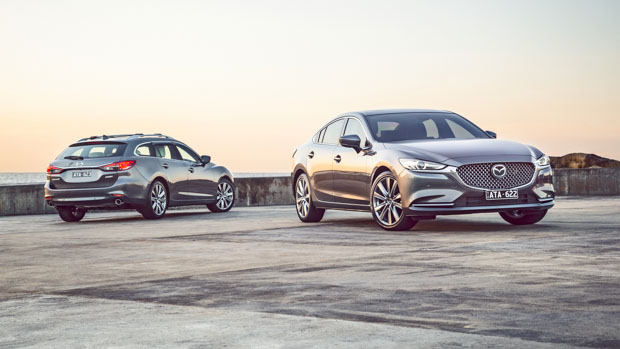 But in an interview with Autocar magazine, Mazda Europe development and engineering boss Joachim Kunz poured water on the idea, saying that the company's priorities lay elsewhere for now.
"It would be very nice … to have the FR [front-engine, rear-driven] concept and a six-cylinder engine for a Mazda 6 successor or a large sports coupé. We would like to have it. But at this point in time, it's most important to sell SUVs."
"This SUV trend is continuing, and even more for Mazda. It's what's selling best," he said.
These sentiments were given further weight by Mazda Australia's marketing director Alistair Doak. Speaking to Chasing Cars at the facelifted CX-5 launch, Mr Doak said "it's a very small market, the traditional sedan market. When we launched the first-gen Mazda 6 back in 2001, at some point in its life we [were doing] 1600 cars a month. Now we're doing 200 a month.
"So you would say, well, where's the priority? You have to prioritise your investment in production facilities, but more importantly in engineers. Some people actually have to bring these ideas from CAD to showroom. And all that takes effort and time and resource … you have to put your money where you'll get the best return to business," he said.
And unfortunately, that doesn't appear to be in a new-generation Mazda 6.
A more premium-focused, new-generation Mazda 6 would've done battle with the likes of the BMW 3 Series and Mercedes-Benz C-Class in the premium segments, rather than competing with existing rivals such as the Toyota Camry and Volkswagen Passat.
Mazda is currently in the process of launching a premium line-up of longitudinally engined vehicles sitting on its new Large Product Group Architecture – starting with the recently unveiled CX-60 midsize SUV, and continuing with a series of forthcoming SUVs – the CX-70, CX-80, and CX-90.
While the Mazda Europe executive's comments do not bode well for a new-generation premium Mazda passenger car in the immediate future, Mr Kunz represents the European arm of the Japanese company and Mazda's intentions elsewhere in the world could play out differently – especially in the US now that Mazda has its own production facility there, which already builds the US-only CX-50 SUV.
The disappointing news about the Mazda 6's future comes after extensive hints from the company that suggested a new sports coupe or premium sedan could be on the way.
In 2017, Mazda released the Vision Coupe concept which debuted the brand's modern Kodo design on a sleek sedan body style, with the elongated bonnet hinting at a longitudinal straight-six engine underneath.
So what will Mazda do instead? Now that a Mazda 6 successor appears to be on the back bench, only time will tell, however Mr Doak ensures us it will be worth waiting for.
"We'll do other exciting things," he said. "Don't worry – it'll be a lot of things. There will be other exciting things."