Late last year, spy photographers captured images of the Mazda CX-60 midsize SUV rolling down a mountain road in Japan during an official video shoot.
Subsequently, Mazda itself teased a single headlight which all-but confirmed that the vehicles spotted filming in the Japanese mountains were production-ready CX-60s.
The blurry images of the undisguised CX-60 provided an insight into how Mazda's pitch upmarket would translate into the real world and now new renders have provided a coherent interpretation of the new design.
Set to launch in Australia in late 2022, the CX-60 will be the first vehicle to sit on Mazda's Large Product Group architecture pitched at further upmarket against rivals such as the Audi Q5 and BMW X3.
Breaking down the design
In the two images released by Russian media outlet Kolesa.RU, already revealed styling features like the headlight and side pods are seen grafted on the end of the long bonnet.
Mazda's new longitudinal rear-wheel-drive-biased platform has seen the CX-60 adopt a longer bonnet to house an all-new generation of straight-six engines and plug-in hybrid powertrains.
The elongated design provides more premium proportions than Mazda's current crop of transverse, front-biased models like the CX-5 midsize SUV.
While the front is to be expected, the rear angle of the CX-60 has not yet been caught undisguised so the renders of the back are based on covered up prototypes in Japan.
From this angle, we can see a new tail-light design with a smoothed-over rear diffuser flanked by quad-tail pipes which allude to the enhanced performance credentials of the CX-60.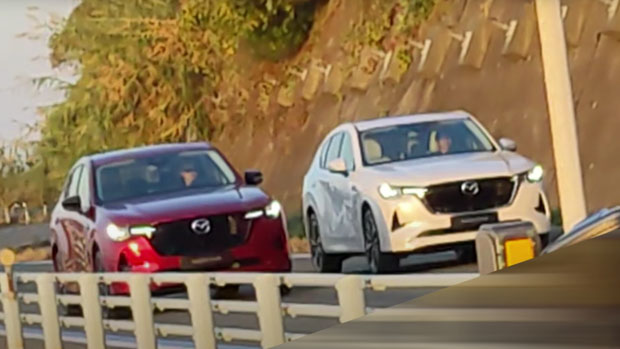 What else can we expect?
Mazda has confirmed the CX-60 will arrive in Australia in late 2022 with a plug-in hybrid powertrain that combines a 2.5-litre four-cylinder engine with an electric motor slated to produce a combined output of "in excess of 223kW." 
Diesel and petrol six-cylinder engines are also likely to be available in the CX-60 but so far neither have been locked in for the Australian market.
More details will be confirmed closer to launch but Mazda's success in Australia has historically seen our market gifted a wealth of models and options to choose from.