As the first of a range of new models to be launched on Mazda's Large Product Architecture, the all-new Mazda CX-60 will launch with a plug-in hybrid drivetrain when it is released in Australia in late 2022. 
Mazda today confirmed that Australian buyers will be able to select a new plug-in hybrid powertrain when the CX-60 is released in Australia.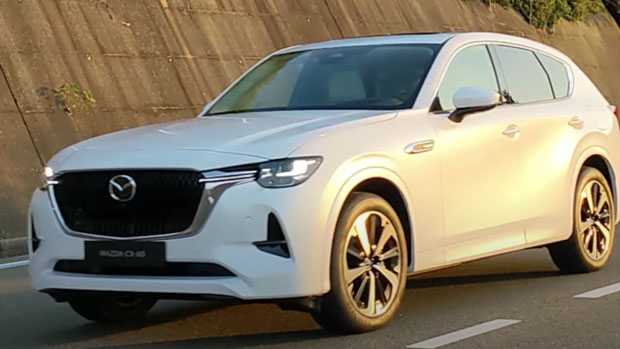 The existing CX-5 midsize SUV, plus the CX-8 and CX-9 large SUVs, will be retained alongside Mazda's new-generation crossovers.
Mazda have also taken the opportunity to tease the CX-60's headlight design, which appears to be very similar to an example of the new SUV that was photographed by spotters on a film shoot in late 2020.
Plug-in hybrid the first engine confirmed for Australia
The plug-in petrol-electric setup combines a 2.5-litre four-cylinder engine with a "performance-enhancing" electric motor resulting in a combined power output "in excess of 223kW," the brand says.
Later, a larger CX-80 SUV will join the lineup to compete with vehicles like the BMW X5 – while the CX-60 will be closer in size to an X3.
The CX-60 joins the CX-70, CX-80 and CX-90 as members of the Large Product group and will be the first of these cars to reach Australian shores.
Six-cylinder engine also likely
A straight-six engine is likely to be available in the CX-60 but it is so far unconfirmed for the Australian region.
Both petrol and diesel versions of this engine have been developed, with the diesel gaining a 48-volt mild hybrid system for greater efficiency.
Chasing Cars understands that the CX-60 and CX-80 are narrower SUVs designed for Europe and Japan and are more likely to have a diesel engine in those markets – but the modular nature of the new platform would mean a petrol could be substituted in for Australia.
Meanwhile, the CX-70 and CX-90 models are wide-body – akin to the current CX-9 – and are mainly intended for the North American market, though they are also possible for an Australian market launch later.
The straight-six will also be offered with turbocharging in some markets and a plug-in hybrid model will also be available. America is likely to get both, however these engines for Australia are still on the table.
Australia may also receive four-cylinder engines for the CX-60, though a final confirmation of full engine specifications is yet to be provided by Mazda.