Mazda has announced a new CX-80 large SUV as one component of a set of five new premium SUVs to be introduced in 2022 and 2023.
The CX-80 will be a three-row SUV and will likely be larger and more premium than the CX-8 large SUV currently on sale in Australia.
While primarily designed for Europe and Japan, Mazda Australia has confirmed the CX-80 is under consideration for our market.
The CX-80 is part of Mazda's Large Product Group that also includes the new CX-60, CX-70 and CX-90 large SUVs that are said to sit on a new longitudinal chassis more suited to a luxury vehicle. So far, only the CX-60 has been locked in for Australia, but the others are on the table.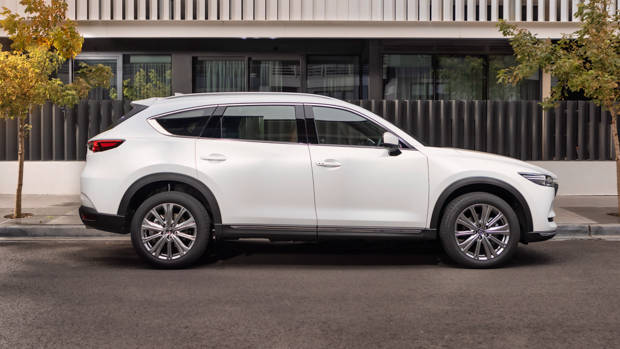 Announced alongside a new CX-50 midsize SUV, which is not coming to Australia, Mazda is making an ambitious attempt to target upmarket brands such as Audi, BMW, Land Rover, Mercedes-Benz and Volvo.
As a result, CX-80 buyers can expect a focus on improved material quality, six-cylinder engines and more advanced technology than what's found in the CX-8.
With its focus on the Japanese market, the CX-80 is likely to utilise a straight-six Skyactiv-D diesel engine paired with a 48-volt mild hybrid system.
In addition, Mazda will likely offer the CX-80 with a turbocharged four-cylinder plug-in hybrid to target the European market due to aggressive emissions laws.
Like the existing CX-8 and CX-9 models, the CX-80 will function as the narrow-bodied large SUV in Mazda's lineup that will sit under the CX-90 in the lineup in terms of both price and size.
We expect the CX-80 to slightly outgrow the CX-8's measurements (1720 mm high, 1840mm wide and 4900mm long) but likely not by much, as Mazda has pointed out it wants the SUV to be easy to park on tight European roads.
More information will be released as Mazda gets closer to the official launch date of the CX-80.