A significantly refreshed interior headlines changes for the 2015 Mazda 6 mid-size sedan and wagon, along with adjusted pricing and the availability of sophisticated new driving assistance safety technology across the range.
It's only in its third year with us in Australia, but the cabin of the third-generation 6 had started to date quickly – mostly as a result of a lack of modern infotainment. That's been rectified for this model year, with the 7-inch MZD-Connect touchscreen from the newer Mazda 3 and Mazda 2 brought across to the 6 for the first time – and it's fitted to all cars.
With it, the screen adds satellite navigation, a large reversing camera, and internet radio integration to the entire range.
Interior trims have also been upgraded in a general effort to increase refinement levels – a feat paired to increased sound deadening, which has made the 6's cabin 25% quieter on motorways and 10% quieter on country backroads.
Aesthetic changes to the body are very minor – but alloy wheel designs and the grille have been refreshed.
Under the 6's long bonnet the 2.5-litre naturally aspirated petrol four carries over as the default engine. The punchy 2.2-litre turbodiesel four remains an option on all models bar the base Sport.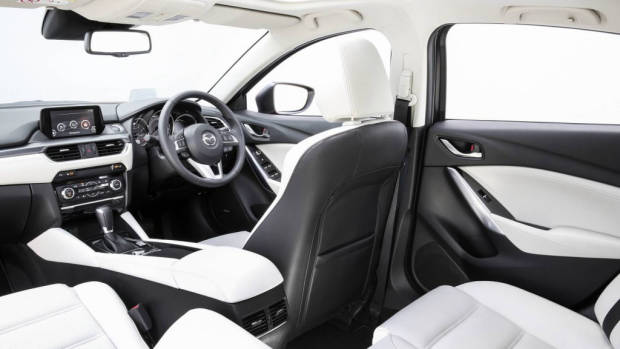 Opting for the wagon body style carries a $1,300 penalty – and the diesel will set you back another $3,000 again.
Impressive new driving assistance safety technology also debuts for the 6 – and it's all standard on the flagship Atenza. Lane-keeping assist – the active function that nudges the car back into the lane – joins LED headlights that combat oncoming highbeams; autonomous emergency braking that works up to 30 km/h forwards and 8 km/h backwards; and rear-cross traffic alert are swiftly becoming necessary inclusions. The tech is about a $1,200 option on other models, though the safety pack in the base car foregoes the rearwards braking function.
Mazda recently implemented price cuts, meaning the effects of Australia's free trade agreement with Japan are less pronounced here. But, getting into a 6 is now $80 cheaper, with the Sport moving down in price to $32,540. The mid-range models step up, however, with the Touring up $720 to $37,280, and the GT up $520 to $42,720. The Atenza falls $390 to be one of the segment's best deals at $46,240.
2015 Mazda 6 range: pricing
All prices are RRP list prices, before on-road costs or options.
Sport: $32,540
Touring: $37,280
GT: $42,720
Atenza: $46,420