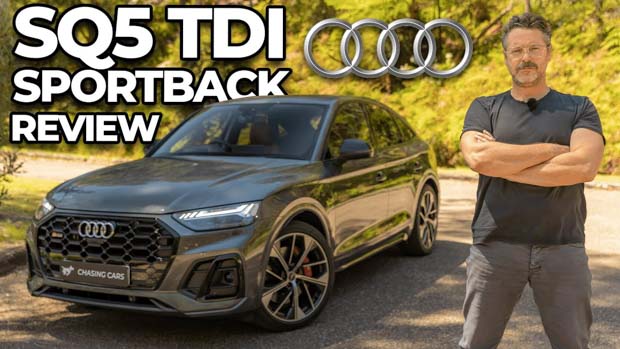 With Sportback versions of other Audi SUV models achieving great things when it comes to sales, the Ingolstadt marque has belatedly created a Sportback version of its big-selling Q5 premium midsize SUV – hoping to add some lustre to its five-year-old Q5 line-up.
With the handsome new Q3 Sportback accounting for around half of Australian Q3 sales and the E-Tron Sportback actually outselling its wagon-shaped sibling, there's a good chance the three-model Q5 Sportback range will achieve 25 percent of total Q5 volume (like Audi Australia expects), even though it can't match the styling elegance of its slope-backed stablemates.
While both Q3 and E-tron Sportbacks were designed and unveiled simultaneously with their wagon siblings, it took the Q5 Sportback four years to join the second-gen Q5 wagon, and it shows.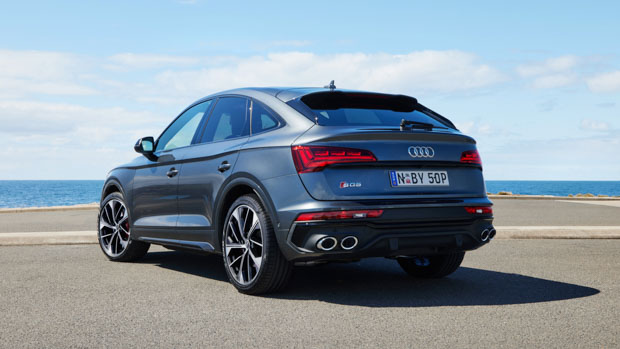 There's nothing inherently wrong with the Q5 Sportback's shape but in sharing the same roof height at the B-pillar as the wagon, its roofline has to fall quicker to give it a coupe look whereas the wagon forms a more interesting and shapely flourish when tying together its rear-end appearance.
The good news for anyone favouring the Q5 Sportback over a regular Q5 wagon is that it carries a minimal price premium. In the case of the SQ5 version you see here, the additional outlay is just $4400, whereas the Q5 45 TFSI quattro Sportback adds $8700 to the cost of a Q5 45TFSI wagon due to its standard S-Line package.
Despite our slightly disparaging assessment of the Q5 Sportback's shape, our test SQ5 Sportback looked pretty good dressed in no-cost Daytona Grey pearl-effect paint, no-cost black 21-inch alloys with polished facings, an $1100 black styling package, and pricey OLED digital rear tail-lights ($2500) that alter their internal lighting signature depending on the drive mode selected.
How does the SQ5 Sportback drive?
While the standard SQ5 Sportback is an accomplished performance SUV on a twisty road, our test car's sports-tuned adaptive air suspension ($2250) and rear quattro sport differential ($2990) definitely amp its level of dynamic ability, while improving its ride quality.
The sport diff in particular does a terrific job of pointing the hefty 2010kg SQ5 Sportback into a corner. It's torque-vectoring ability transfers drive to the outside rear wheel, pivoting the nose towards the corner apex and completely dissolving any potential understeer … providing you wash off enough speed with the SQ5's powerful brakes (featuring 370mm front discs with six-piston calipers, shared with the RS5).
And then there's the AWD system which is split 40/60 for front-to-rear drive bias, but can send up to 85 percent of drive to the rear wheels when necessary.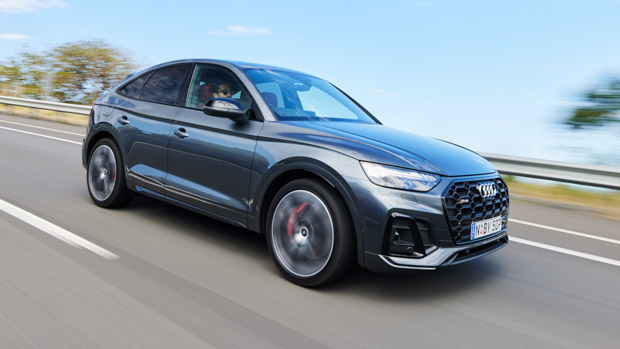 For an SUV packing a far-from-light V6 diesel up front, the optioned SQ5 quattro feels borderline chuckable on challenging roads – combining genuine handling poise with strong grip and excellent power-down punch.
Even the SQ5's steering is impressive, with brisk turn-in and a trio of useful weighting options that include a 'Dynamic' setting which is still light and crisp enough to use everyday. And all this is backed by a degree of finessed bump absorbency that's far beyond what you'd imagine would be possible in a vehicle on 21-inch wheels wearing 255/40R21 Pirelli P Zero tyres.
In almost all situations, the air-suspended SQ5 is composed, calming and quiet, which blends beautifully with the hugely torquey personality of its smooth 3.0-litre diesel V6, tied to a superb eight-speed automatic transmission as well as a seamless idle-stop system working with a 48-volt mild-hybrid battery set-up.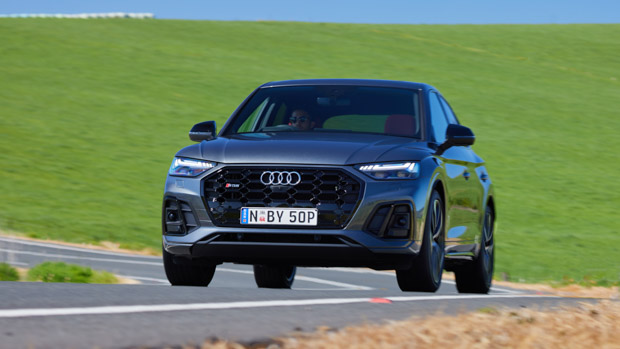 Audi's latest SQ5s feature an extensively upgraded V6 that now includes a small electric compressor to bolster bottom end grunt – completely eliminating lag – with a turbocharger that gives it the elasticity to rev comfortably to 5000rpm (even though max power of 251kW arrives at 3800-3950rpm) while spreading 700Nm across a broad plateau (1750-3250rpm).
The net effect is effortlessly rapid acceleration and all-round response – nailing 0-100km/h in a claimed 5.1 seconds – backed by the aural delights of a muscular induction gargle and enhanced by an actuator in the exhaust system.
Among the SQ5's more interesting electronic safety systems are side collision assist, front and rear AEB, rear cross-traffic assist, driver attention assist, and rear hazard lights that will strobe if a car closes in too quickly on the SQ5's tail end.
When tested back in 2017, the regular Audi Q5 received a five-star Euro NCAP safety rating, achieving an impressive 93 percent for adult occupant protection and 86 percent for child protection.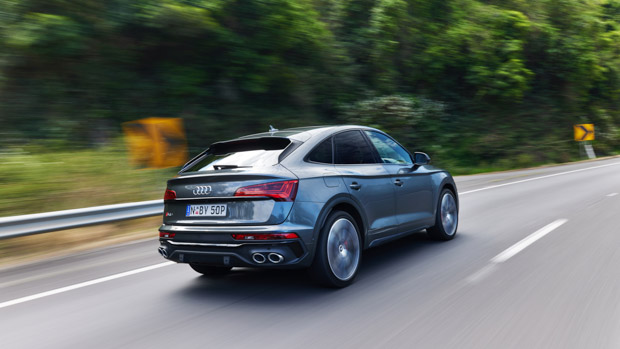 How is the SQ5 Sportback's interior?
If you've recently enjoyed the high-quality ambience and cohesively considered plushness of an Audi Q5 interior, then the MY22 SQ5 Sportback's latest interpretation should impress you immensely.
It's not a daringly designed set-up but it's certainly a well put-together one. Tactile switchgear and furnishings combine with supple, diamond-quilted Nappa leather upholstery for the electric sports front seats – coloured Magma red in our test car with grey stitching – to make the SQ5 a genuinely comfortable place to be in any of its outer seating positions.
Only the oddly sized, lidded tray that sits where the old MMI controller used to be for the multimedia doesn't quite fit the brief, and perhaps nor does the very glossy carbon-fibre decorating the dash in our test SQ5 – a $1200 option – or the flimsy-feeling cupholders in the centre-rear armrest.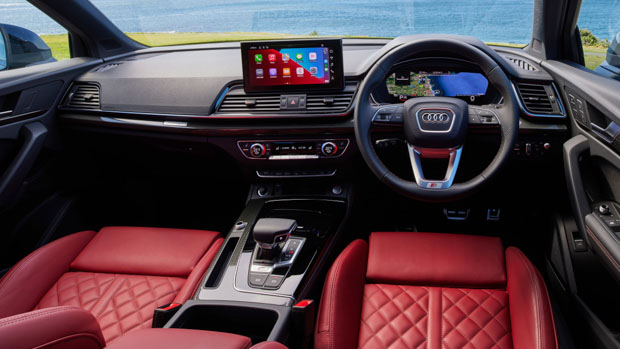 The outer rear seats are almost as supportive as the front pair, at least for under-thigh and general long-distance comfort, if not lateral support in hard cornering. They're also on runners so you can adjust them forwards when carrying small kids, though you wouldn't wish the uncomfortable centre-rear position on anyone.
The best thing about the Sportback's interior, however, is that it gives little away to its wagon sibling for space. Rear seat headroom is reduced by just 16mm, meaning there's still plenty for most adults, and boot volume is 510 litres below the luggage cover, compared to 520 litres in the wagon.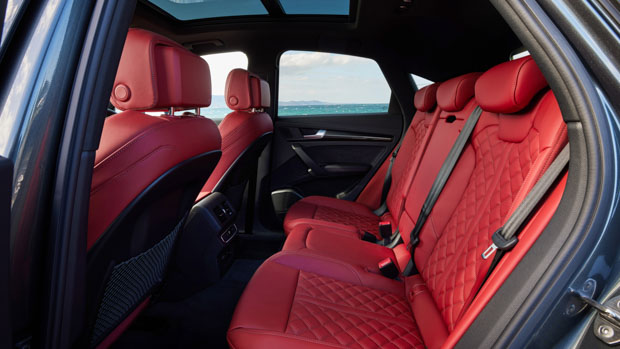 Our favourite parts of the SQ5's interior, though, relate to its door storage (fully carpeted bins capable of housing 1.5-litre water bottles, front and rear) and its 19-speaker, 755-watt Bang & Olufsen 3D surround-sound audio system with 16-channel amplifier.
Working in conjunction with a slim 10.1-inch touchscreen and wireless Apple CarPlay (but wired Android Auto), this brilliant audio system is standard in the SQ5 and gives even 30-year-old music a crisp, high-definition sound stage.
What are the SQ5 Sportback's running costs?
The official ADR81/02 government combined fuel consumption figure for the turbo-diesel SQ5 quattro is 7.1L/100km, though we averaged 9.7L/100km in fairly spirited driving.
Recommended servicing is every 12 months or 15,000km, with Audi's five-year service plan capped at $3170, making the SQ5 just $30 more expensive to service than a 2.0-litre Q5 45 TFSI Sportback over the same 75,000km distance.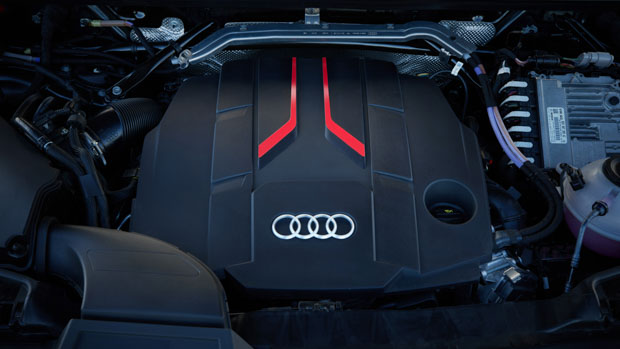 Audi's warranty is a below-par three-year/unlimited-kilometre coverage, though it should be relatively easy to get a dealer to extend this to five years/unlimited kilometres, as per Volkswagen's warranty and those of Audi's key rival, Mercedes-Benz.
Audi also offers a three-year paint warranty and a 12-year corrosion and perforation warranty.
The final verdict
The pragmatic types among us would probably never consider a coupe version of a premium midsize SUV, yet the SQ5 Sportback argues a better case for a sloped rear roofline than almost any other coupe-SUV on sale.
It offers virtually all the space of an SQ5 wagon with a reduced level of soccer-mum stigma, though that description is hardly applicable to any SQ5. As a fast and polished premium wagon, the SQ5 is deeply impressive.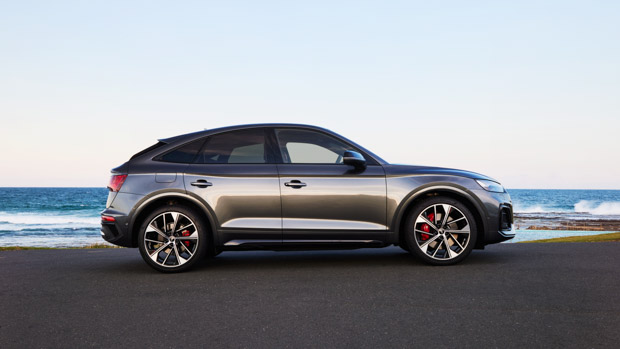 Where questions arise is whether you consider the SQ5 Sportback's shape to be more alluring than the wagon's. A quick Chasing Cars office poll awarded zero votes to the Sportback version – we would all pocket $4400 and buy the wagon – even though the SQ5 Sportback is far from unattractive.
Thing is, it's just not as cool as other Audi Sportback models, which kind of defeats the purpose for developing a coupe-SUV in the first place.