Budget-minded Dacia models could come to Australia badged as Renaults under plans being considered by Ateco – the recently-appointed local importer of the French manufacturer.
Romania's Dacia brand sits in the Renault-Nissan-Mitsubishi Alliance under Renault's management, and it concentrates on building cheap-and-cheerful hatchbacks, commercial vehicles and SUVs for buyers in Europe, South America and other markets.
Continuing to focus on cheap and easy-to-produce combustion engines – in contrast to parent brand Renault's commitment to exclusively shift to electric powertrains by 2030 – Dacia could be a good fit for Australia where EVs have around 2 percent market share.
Dacia's vehicles commonly share platforms, engines and much of their technology with older Renault products in order to build cheap cars with "a unique, genuine, no-frills experience", according to the brand itself.
Inexpensive they may be, but quality at Dacia appeared to be on the march when the brand's latest-generation Sandero hatch – that costs just £8000 in the UK – claimed What Car magazine's prestigious Car of the Year award in January 2021.
But in a blow for the brand, What Car's editors revoked the coveted trophy just three months later after Euro NCAP announced that the Sandero scored just two stars in crash and safety testing.
Currently, Dacia sells cars under its own name in the UK, EU and Eastern Europe, however in some markets like South Africa, Dacias are branded as, and sold alongside Renaults, which could happen in Australia. 
Dacia Duster could sell well in Australia
Globally, Dacia's passenger car lineup currently consists of compact vehicles including the Sandero hatch, Logan sedan, Spring micro SUV and the halo Duster small SUV. The Romanian marque also recently introduced the Jogger, a compact seven-seater like the European-market Kia Carens. 
The most likely of that bunch to make it to Australia is still the tough-looking Duster, which would compete with the Kia Stonic, Hyundai Venue and MG ZS were it to come to Australia.
In the UK, the Duster is offered with a suite of engines from a 67kW/130Nm 1.0-litre three-cylinder petrol engine to the range-topping 110kW/250Nm 1.3-litre turbo petrol four-pot that powers the Australian-spec Renault Arkana SUV.
The base model Duster with steel wheels, and 67kW engine (£14,295) costs 30 percent less than an entry-level Renault Captur (£20,590) in the UK.
Ateco was evaluating the current shape Dacia Duster for a potential Australian launch this year. However, our side impact standards (ADR 85) leap-frogged the rest of the world meaning the Duster may be ruled out along with other cars that have already fallen like the Lexus IS, Alpine A110 and Nissan GT-R.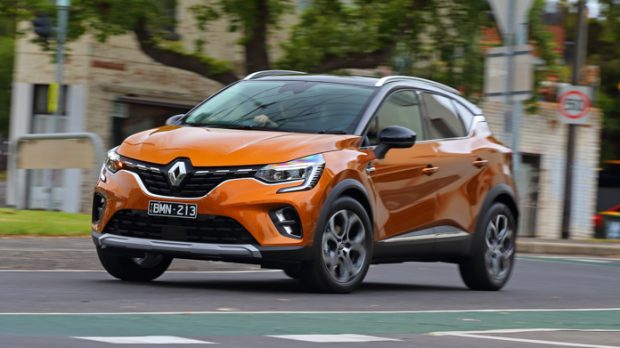 Questions over crash and safety test performance
The revocation of the Sandero hatchback's Car of the Year award over the car's subsequent two-star Euro NCAP score isn't the only concern that has arisen about Dacia's safety performance.
The Duster scored a mediocre three stars in Euro NCAP's crash and safety testing in 2017, and newer Dacia models have been challenged by more stringent safety requirements implemented by Europe's crash-testing body since then.
In 2021, the brand's new Spring small SUV received a one-star rating with poor 49% adult and 56% child occupant protection.
The 2021 Logan sedan fared slightly better, with a two-star result and scores of 70% and 72% respectively for adult and child protection, while the Sandero Stepway raised hatch earnt the same result.
Australia's notoriously stringent crash-testing body ANCAP Safety would, without doubt, closely examine any Dacia models that Renault chose to send to Australia – and the low cost of the vehicles could make 'surprise' compliance testing by ANCAP more likely.
Bigster midsize SUV and Oroch ute attuned to Australian tastes
The Duster may be on hold for now, but it's a future Dacia product that could really make a mark in Australia. Unveiled in 2021, the Bigster is a concept study on a midsize SUV, measuring 4.6 metres long with Toyota RAV4-esque proportions that uses "no chrome or imitation aluminium" in the cabin, just sustainably-sourced recycled plastics.
It is possible that Ateco and Renault would choose to wait until the next-generation of Dacia vehicles is ready before embarking on an Australian importing plan – possibly meaning better safety performance could be engineered in.
Dacia says the eventual Bigster production model (likely for a late 2023, or early 2024 reveal) would use alternative fuels – in this case the ability to run on LPG or Ethanol – and a petrol-electric hybrid powertrain, perhaps the same as will feature in Renault's forthcoming Austral SUV.
Were the Dacia to offer an entry-grade Bigster for 30 percent less than the Volkswagen Tiguan or Toyota RAV4 it could have serious sales potential with the right mix of marketing, engines and spec levels. 
The other funky vehicle comes from Dacia's South American portfolio. For fans of the Subaru Brumby (1984-1994), the hatch-based Duster Oroch ute is similar to that bantamweight commercial vehicle. 
Based on the Duster's Dacia B0 platform, the Oroch features four seats, 1.6 or 2.0-litre engines and a 1350mm long tray capable of handling a 680kg payload. 
While it would never compete with the Ford Ranger or Toyota Hilux, the Oroch could be a way for Renault and Dacia to enter the popular ute segment in Australia.