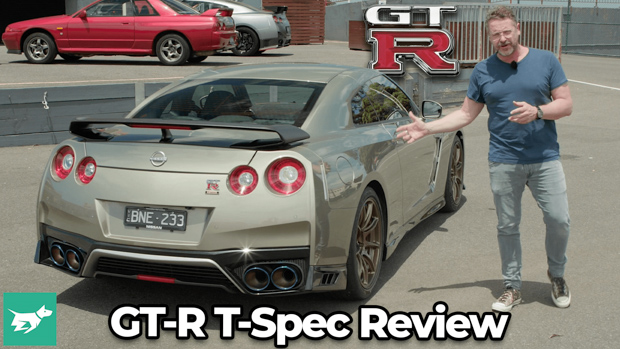 It's hard to believe that the R35 Nissan GT-R has been with us for 14 years, yet there's still something premature about saying goodbye to the GT-R in Australia (for now) because it feels like it has loads of life left in it.
While it remains on sale in other markets, the R35 GT-R has fallen victim to a new ADR85 side-impact regulation that has managed to claim a bunch of cars from all walks of life (Audi R8, Lexus IS and Mitsubishi Mirage, to name just three), which means this MY22 GT-R is the nameplate's farewell to Oz.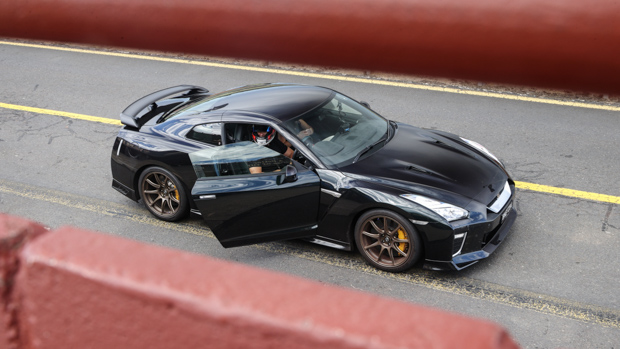 All cars needed to be complianced before October 31 last year, and need to be sold by 30 June 2022, though shifting the MY22 GT-R from showrooms is hardly an effort. On the day of the car's launch in mid-December, Nissan Australia said there "may be one left", meaning the 50 or so cars that arrived – around 30 T-Spec models, with the rest being MY22 Nismo SVs – are already spoken for …. and in some cases already being advertised for up to $1 million on the second-hand market!
So rather than this being a test of 'what's new to buy' in GT-R land, it's more of a celebration of a legendary model that has matured superbly over time. There isn't any doubt that this final MY22 GT-R is way better than when the R35 launched in Australia back in February 2009 (following its late-'07 release in Japan), though much of that improvement was achieved with an extensive mid-life facelift in late-2016.
What the T-Spec brings to the GT-R is modest but worthwhile. On the outside it features two unique colours – Millennium Jade (inspired by a similar hue that graced the R34 GT-R Nur) and Midnight Purple (a kind of retro 'flip' paint that appears dark green in some light, and metallic purple in direct sun) – contrasted against gold RAYS forged-alloy 20-inch wheels measuring 9.5-inches wide at the front and 10.5 inches at the back.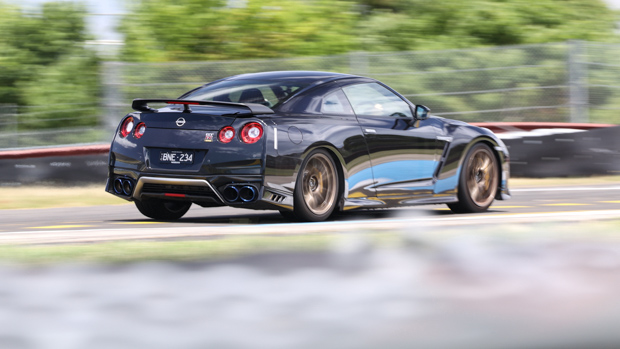 Behind the gold rims are uprated brakes – 410mm carbon-ceramic rotors up front and 390mm carbon-ceramics at the rear, each with Brembo calipers – and the T-Spec's bootlid wears a beautiful carbon-fibre spoiler. As with other GT-R models, the T-Spec features a blue titanium exhaust system.
Inside there's acres of green colouring, some T-Spec badging and some tasteful quilting. But what this GT-R T-Spec is really about is driving. Hard.
How does the GT-R T-Spec drive?
Given the limited nature of T-Spec availability in Australia, it's perhaps no surprise that we were given our only taste of the car at Sandown Raceway in outer Melbourne – a track known for being a 'power' circuit and for its terrific kinked back straight, but not for its level of run-off (there's almost none – it's mostly walls).
So given that last aspect, it's also no surprise that we were handed the GT-R T-Spec with its suspension dampers set one level down from Race (they're brutally hard at full-whack) and its ESC system still engaged.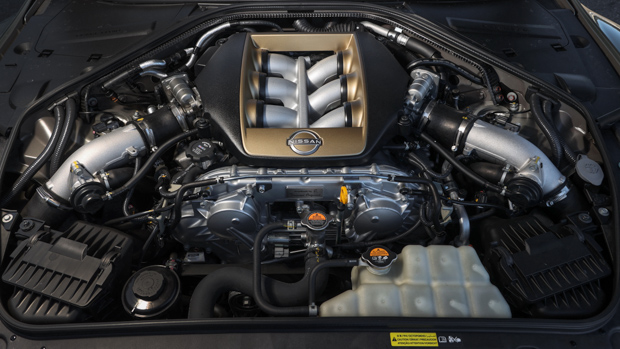 While all that provides a perfect stage for the T-Spec to demonstrate its fabulous acceleration and the better-than-ever exhaust blare and overrun crackle from its quad titanium pipes, as well as the resilience of its carbon-ceramic brakes in hauling up more than 1700kg of AWD beast, it means there's no opportunity to enjoy some opposite-lock amusement exiting Sandown's bends.
What's most noticeable about the GT-R is how firm its suspension still is – the mid-level damper setting allowing a degree of jiggle over bumps on the back straight – and how light and crisp the steering is, certainly more so than I remember. What hasn't changed is the purchase of its AWD platform and tyre footprint – Dunlop SP Sport Maxx GT600 SSTs measuring 255/40R20 front, 285/35R20 rear – though the GT-R still wants to break traction and drift its tail out if you ask for too much power too early.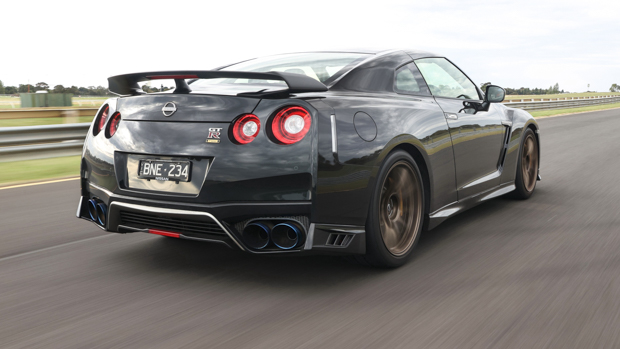 How much are we talking? These days the VR38DETT 3.8-litre twin-turbo V6 puts out 419kW at 6800rpm and 632Nm from 3300-5800rpm (though the Nismo SV amps those outputs to 441kW/652Nm). Driving through a six-speed dual-clutch gearbox that's no longer clunky like it used to be when the R35 was new, the T-Spec offers unrelenting thrust and a lusty, muscular personality that's a lot more suave than I remember – especially given its 0-100km/h potential of around 3.0 seconds (Nissan no longer quotes a figure).
Top speed hasn't changed (it's still 315km/h) but what has is the lens through which we view the R35 GT-R in 2022. What was once a big-boned, overfed monster at 1700-plus kilograms is now par for the sports-car course – especially for an all-wheel-drive, two-plus-two coupe. So in a way, much like holding onto clothes that eventually become fashionable again, the GT-R's beef is no longer such an issue … though compared to something like the similarly ballistic Porsche 911 Turbo, the 1760kg GT-R T-Spec still weighs around 100kg more.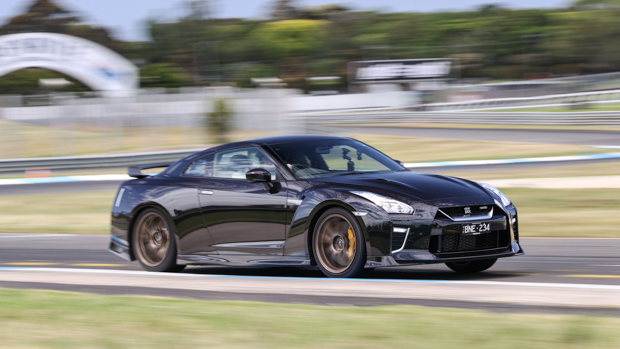 As for active-safety features, the GT-R is rooted in the school of thinking that leaves the driver in complete control, without having technology interfere aside from traction- and stability-control. As such, there's six airbags, front and rear parking sensors, and a reversing camera but nothing in the way of AEB, lane-holding assistance, blind-spot monitoring or adaptive cruise control.
How is the GT-R T-Spec's interior?
When the R35's cabin was given a comprehensive makeover in 2016, it went from having almost a Patrol-esque flavour about its oversized design to a much slicker aesthetic all its own – even though the underlying architecture remained the same.
So what the T-Spec does is build on all of that beautifully built, sensibly arranged goodness and add an element of Hollywood glamour to this supercar superstar.
The overall theme is 'green', which might sound putrid and cartoonish but is actually really quite tasteful. The green has almost a mid-century vibe and the textures are beautiful – particularly the perforated suede centres in the green leather seats (with subtle ruching around the bolsters) and the swatches of Alcantara covering the entire dash top and the roof lining.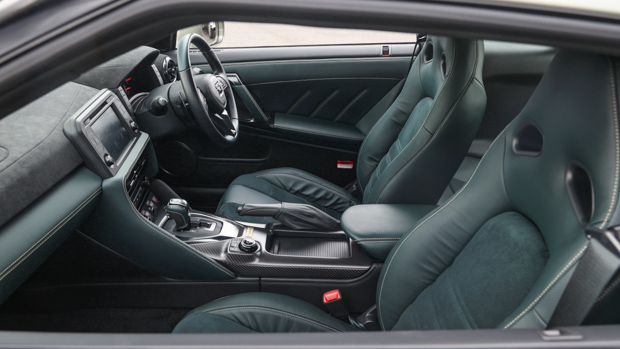 There's also loads of relatively subtle exposed white stitching, as well as a quilted section along the centre of the roof lining, and even the A-pillars are covered in suede – all contrasted with thick grey carpeting along the bottoms of the doors in a very retro fashion.
The T-Spec's stereo is the same as a regular GT-R's in being a Bose 11-speaker set-up (including dual subwoofers mounted in the rear backrest) operated by an 8.0-inch touchscreen, and the T-Spec also shares its packaging with every other GT-R. That means an almost impossible 'plus-two' rear seat that's actually quite comfortable but has zero legroom to work with, as well as a usefully shaped 315-litre boot.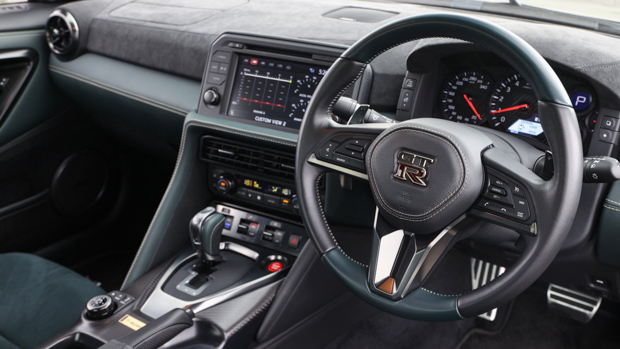 What are the GT-R T-Spec's running costs?
The official ADR81/02 government combined fuel consumption figure for the Nissan GT-R is 11.7L/100km, though we couldn't provide a real-world fuel average because we only tested the car on a racetrack.
Recommended servicing is every six months or 10,000km with no capped pricing available, while the GT-R's warranty is the same as any other Nissan – five years with unlimited kilometres.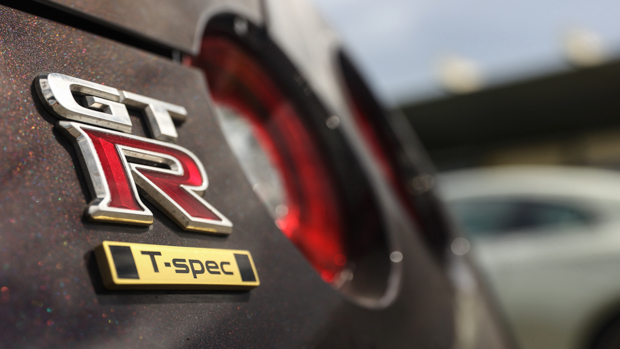 The final verdict
From its early 2009 launch until November 2021, Nissan Australia managed to shift 982 examples of the R35 GT-R, which is actually quite good for such an exclusive car. And given the speed with which the MY22 models have sprinted out the door, interest in the R35 GT-R clearly remains strong … if not to the feverish, headline-grabbing level enjoyed by the R35 back in 2007.
Despite all the years under its belt, the R35 GT-R remains a rapid, characterful, brutal performance car, and rounding off some of its rough edges has failed to dampen the excitement of driving one hard around a racetrack, or indeed anywhere.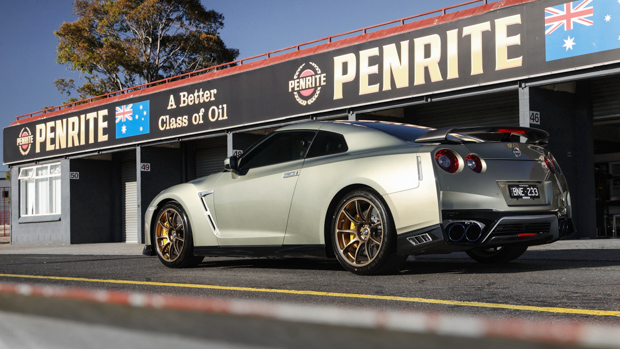 Of course, without the freedom of disengaging stability control at Sandown raceway meant we didn't get to relive the joys of GT-R oversteer out of tight corners, but it's a memory that will linger for a lifetime.
As for the R35 itself, I've never found it as intimate as the finest R34 models – certainly not the lightweight N1 – but there's just so much lusty, hard-edged charm going on here that the MY22 GT-R exits our market right at the top of its game.