The Toyota GR Corolla has been revealed in full today with the highly-anticipated five-door hot hatch packing 220kW of power and a rally-style flexible-torque all-wheel-drive (AWD) system.
Utilising the same menacing hardware as its GR Yaris sibling – albeit with more power – the GR Corolla will be released in Australia between October and December 2022.
Becoming the fourth model to sit within Toyota's high-performance Gazoo Racing (GR) sub-brand, the GR Corolla will join the likes of the GR Yaris three-door hatch along with the GR 86 and GR Supra coupes in Australian showrooms.
Toyota is also expanding its nascent GR Sport branding that sees mainstream models fitted with limited performance-enhancing parts – witness the C-HR GR Sport small SUV and Land Cruiser 300 Series GR Sport 4WD.
GR Corolla set to target Golf R, i30 N
When it arrives locally, the 220kW GR Corolla will face off against a competitive field of hot hatches and performance cars including the AWD, 235kW Volkswagen Golf R ($65,990), as well as FWD rivals like the 206kW Hyundai i30 N (from $47,500), the 206kW Ford Focus ST ($from 44,690), and the inbound next-generation Honda Civic Type R.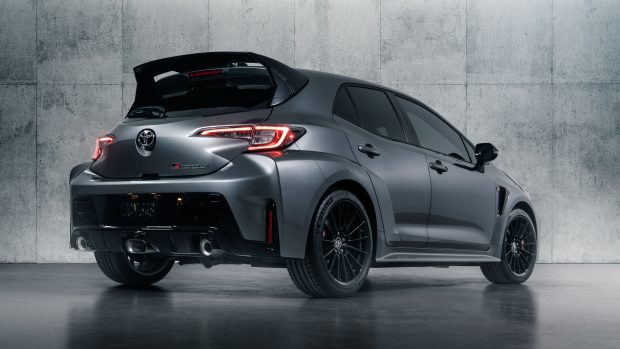 Out of that set, the GR Corolla will be the only vehicle with an AWD system offering a user-set torque split, with one mode allowing 70 percent of the engine's torque to be directed to the rear wheels only.
Toyota Australia has not revealed pricing for the GR Corolla, which will be positioned above the GR Yaris ($49,500) and twin LSD-equipped GR Yaris Rallye ($54,500) in the lineup. Expect to see the five-door hatch priced at or around $60,000.
More power than a GR Yaris
Toyota will power the GR Corolla by way of a more powerful version of the GR Yaris's 1.6-litre turbo-petrol three-cylinder engine. This time, it will be tuned to 220kW of power at 6500rpm and 370Nm between 3000 – 5500rpm.
Those figures represent a 20kW power increase and an identical torque figure to the GR Yaris, which should go some way to compensate for the Corolla's 195kg-heavier 1475kg kerb weight thanks to the added heft of five- versus three-doors – plus the Corolla's more sophisticated front end.
Engineers have made some efforts to keep the weight down by fitting a carbon-fibre roof to the GR Corolla which has seen the hot hatch gain just 55kg compared to a FWD Corolla ZR, despite the fitment of a litany of chassis bracing and an AWD system.
Drivers will harness this grunt through a six-speed manual transmission, which is the sole transmission choice available at launch – though an eight-speed torque converter automatic is rumoured to follow in 2024.
Toyota has fitted its GR-Four multi-plate clutch system which offers variable torque distribution that can switch between a track-focused 50/50 split or a more rearward 30/70 bias on the fly.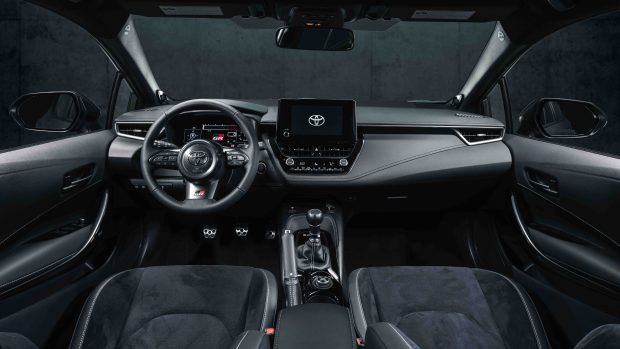 Australia is expected to receive a single variant of the GR Corolla fitted with front and rear torsen limited-slip differentials which was only available on the top-spec GR Yaris Rallye.
Engineers have fitted 18-inch ventilated aluminium rotors at the front with four-piston callipers while at the rear smaller 16-inch discs are used with two-pistons stoppers.
Sitting at each corner at a set of black 18-inch alloy wheels wrapped in 235mm Yokohama Advan Apex V601 tyres in a square stance.
GR Yaris-inspired looks with a triple exhaust
Toyota's designers have taken strong inspiration from the GR Yaris when designing its Corolla sibling with a wide-open grille to allow for maximum cooling, linked together with breathing holes on the bonnet and behind the front wheels.
To compensate for the wider stance chunky wheelarches have been fitted providing a more rugged rally-style appearance which is complemented by the spoiler trailing off the roof.
But the most eye-catching part of the design is the triple exhausts with a rounded design on either side and a large flat breather pipe in the centre.
Manual handbrake returns
Toyota has only offered a glimpse into the interior of the GR Corolla but the interior features leather-bound and heavily bolstered seats with suede inserts in the centre.
The headrest is adorned with GR branding which continues over to the leather-bound steering wheel which sits beside a manual shifter.
A manual handbrake will also make a return in a nod to the GR Corolla's rally- and circuit-bred performance, following extensive testing with a hydrogen-powered prototype in Japanese endurance racing.
The official list of inclusions and pricing is yet to be finalised for the Australian market but expect more details to emerge close to its arrival date later this year.