Toyota has confirmed the GR Corolla will be fully unveiled on Friday and released a series of teaser images to build anticipation.
The long-awaited reveal of the GR Corolla will take place at 12.30pm (AEST) on April 1, with the hot hatch expected to make its way to Australia towards the end of 2022 or early 2023.
The GR Corolla is expected to generate a similar level of excitement among hot hatch enthusiasts as its baby sibling GR Yaris achieved last year. Its popularity saw Toyota overwhelmed by demand and temporarily suspended future orders in Australia.
As part of the lead-up Toyota has released two more teaser images of the GR Corolla showing off aggressive body lines and tell-tale badging.
The first image shows the front three-quarter panel equipped with a contrasting black side pod on the dark metallic base coat, likely in place to serve as an aerodynamic device or for cooling.
Another close-up image (likely taken near the front left wheel) shows the side skirt branded with 'GR–FOUR' badging, confirming the GR Corolla will send its grunt through all four wheels.
Everything we know about the GR Corolla
The timing of the reveal lines up with a recently leaked US dealer bulletin indicating the GR Corolla would go on sale in the region in October 2022.
Australia is expected to receive the hot hatch before the end of 2022, but supply shortages could push the launch date out to early 2023.
The GR Corolla is expected to share the bulk of its hardware with the GR Yaris, including its 1.6-litre turbo-petrol three-cylinder engine – though it could be tuned beyond the 200kW/370Nm outputs of its three-door sibling.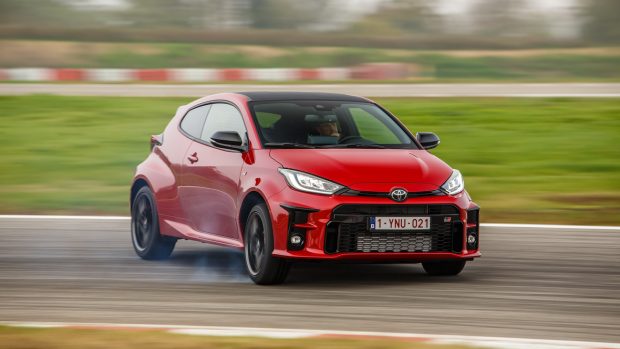 Like the GR Yaris, the GR Corolla should arrive with a six-speed manual transmission that will be joined by an eight-speed automatic in 2024.
But the party piece of the new Gazoo Racing hot hatch will be its all-wheel-drive system, which is expected to utilise the same Haldex-style setup as the GR Yaris, with variable power distribution that can send up to 70 percent of power to the rear wheels.
With potentially more grunt and certainly more weight to slow than the Yaris version, Toyota will likely gift the GR Corolla larger brakes than the already sizeable 356mm front and 297mm rear discs found on the smaller hatch.
This eagerly-awaited hero Corolla understandably has performance enthusiasts hungry for full details. With the reveal only days away we won't have to wait long to see what Gazoo Racing has created. Stay tuned to Chasing Cars for more news on the GR Corolla.