Japanese tuning house Jaos has revealed a modified version of the Toyota Land Cruiser 300 Series which beefs up the style and the substance of this iconic off-roader.
Jaos previously released its take on the closely-related Lexus LX at Tokyo Auto Salon which evolved the Japan-only Off-road grade into something even more capable.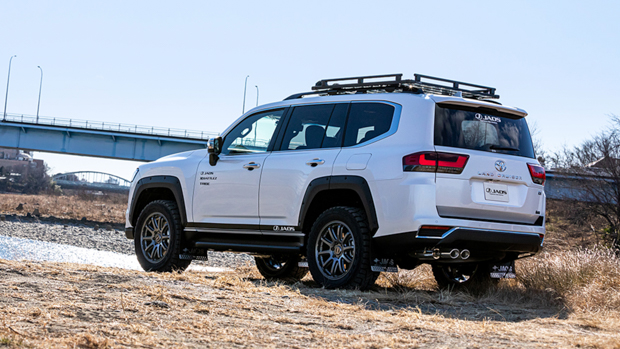 The modifications made to a range-topping LC300 Sahara ZX are largely subtle for a tuning house, save for the huge Jaos Battlez muffler sitting under the rear bumper.
Designers have added a tough-looking black front bumper and darkened the side sills, grille and rear bumper, with the latter also dressed in carbon-look accessories.
Jaos has raised the height of the 300 Series with Battlez Ti-W coil springs that increase the ride height from 235mm to 275mm.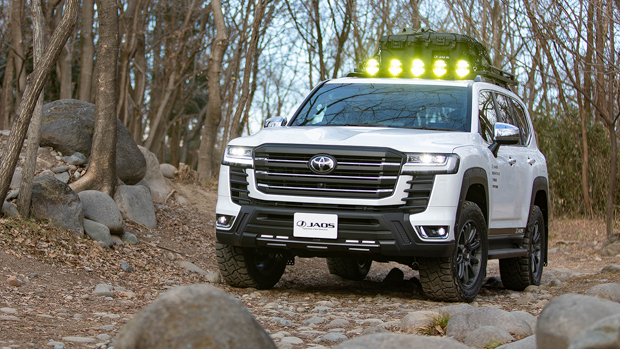 The modified LC300 wears a set of Jaos Trube Cross 20-inch wheels finished in Matt Gun metallic and wrapped in chunky Toyo Open Country tyres.
Additional modifications include a roof rack tray complete with four yellow spotlights and more subtle accessories such as mudguards and door handle protectors.
The Sahara ZX-based Jaos LC300 does offer some increased off-road capability with its raised suspension but those who intend to go off the beaten track should also consider the GR Sport.
The GR Sport adds some crucial upgrades including the e-KDSS adaptive anti-roll bar system, front, centre and rear diff locks along with 18-inch wheels wrapped in thicker and more durable tyres.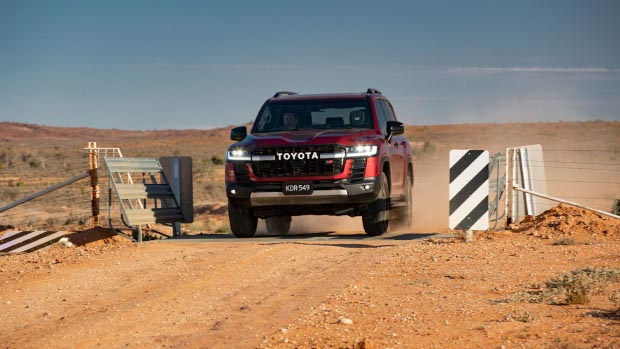 Australian availability
At the time of writing, Jaos has only shared a few of the aforementioned parts for sale on its website but more are expected to follow.
The modification are now available in Japan with Australian distribution unclear – but Jaos parts have historically been available through several local outlets.
Toyota Land Cruiser 300 Series 2022: prices in Australia
All prices listed are before on-road costs.
GX: $89,990
GXL: $101,790
VX: $113,990
Sahara: $131,190
GR Sport: $137,790
Sahara ZX: $138,790