The Alfa Romeo Tonale small SUV was revealed overnight and the crossover was immediately confirmed for Australian deliveries in the first half of 2023.
Trailing a European market launch by nine to 12 months, the Tonale will come to Australia initially as a series-parallel hybrid that will do battle directly with the Lexus UX 250h – but also the Audi Q3, BMW X1, Volvo XC40 and Mercedes-Benz GLA.
Set to be Alfa Romeo's first new model since the Stelvio midsize SUV debuted in 2016, and the first Alfa debut under Stellantis management, the Tonale will compete in the popular small luxury SUV segment.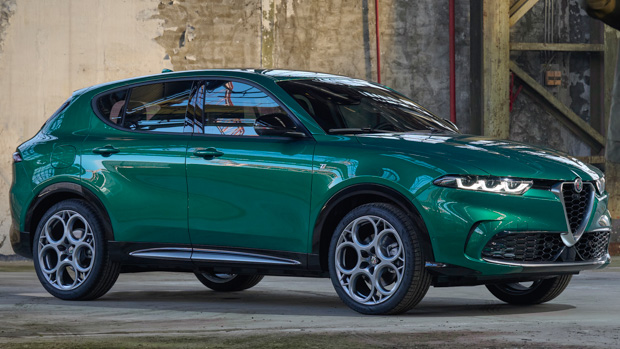 That should see the Tonale landing locally around $50,000 before on-road costs, while the larger Stelvio crossover – which will remain – currently starts at $64,950.
Two trim levels will be offered for the Tonale, with both wearing heritage badges. An entry-level model will be badged Super, while a higher-specification variant will be known as the Tonale Ti.
Both variants are expected to feature a 10.25-inch central touchscreen running a new Android-based operating system, and a large digital instrument cluster known as the "Cannochiale cluster" that can display high-resolution mapping, media and drive mode graphics.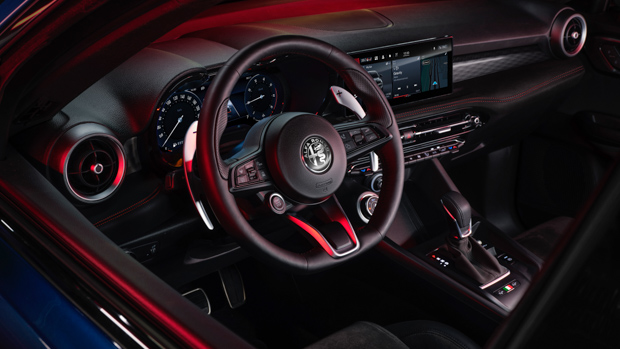 4G connectivity and voice-activated Amazon Alexa search will be built into the vehicle, while every Tonale will be assigned a non-fungible token (NFT) that will remain with the vehicle, documenting its specification, purchase and service history while transferring to subsequent owners.
Powered by a petrol-electric hybrid powertrain based around a new 1.5-litre turbocharged four-cylinder engine, it is likely that the Tonale will produce 120kW from its engine alone, while a small electric motor mounted to a seven-speed dual-clutch automatic transmission will contribute an additional 15kW/55Nm.
Like its major rivals, the Tonale has a transverse engine layout and runs a front-wheel drive (FWD) configuration by default – though a variety of all-wheel drive (AWD) powertrains are available overseas.
The AWD offer is led by a 205kW 1.3-litre turbo plug-in hybrid that will launch in Europe and some Asian markets and is "under study" for Australia.
Whereas the plug-in hybrid has electric AWD, by way of an electric motor fitted to the rear axle, American and Mid-east buyers can also select a 2.0-litre turbocharged petrol four-cylinder that makes 190kW and utilises mechanical AWD.
The 190kW engine is capable of development for right-hand drive but will be built only for left-hand drive applications at first, ruling out Australian deliveries for now.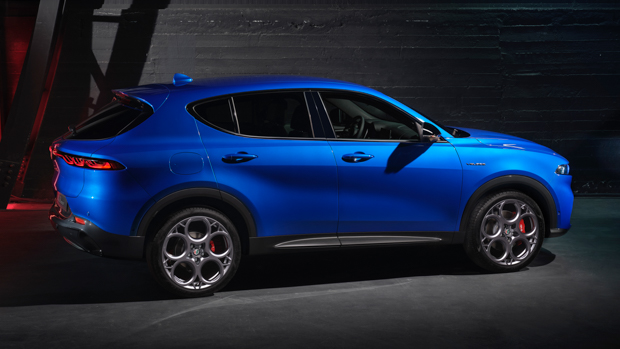 Alfa Romeo's decision to skew the Tonale heavily towards low-emission hybrid powertrains is a nod to tightening CO2 restrictions in Europe that strictly penalise traditional engines.
All-electric powertrains for the Tonale are under close consideration, but Alfa Romeo says it is still studying the nature of consumer demand in the small luxury SUV segment.
Both Volvo and Mercedes-Benz already sell versions of their XC40 and GLA crossovers with full battery-electric powertrains.
A senior Alfa Romeo source said that an all-electric powertrain was under consideration for a future Tonale Quadrifoglio sports SUV that would be a high priority for Australia, given our market's world-leading propensity for performance vehicles.
An Australian release date for the Alfa Romeo Tonale has been set for the first half of 2023, with local features, pricing and additional details due closer to that date.