The new Mercedes-Benz GLA fundamentally changes what the three-pointed star's smallest SUV is all about, pushing comfort and a higher driving position to the forefront.
Although the Mercedes-Benz GLA-Class was a real success in Australia, finding thousands of buyers seeking a pint-sized luxury crossover offering more ruggedness than an A-Class, there's been a real pivot to the philosophy of the new second-gen version, which launches in Australia this week.
In anticipation of the new GLA arriving in Australian dealerships, we've been testing the 2021 Mercedes-Benz GLA 250 4MATIC – the mid-spec, all-wheel-drive version that is expected to account for the majority of sales. Priced at $66,500 before on-road costs and options (around $73,000 driveaway), the all-paw GLA certainly isn't cheap, particularly in light of its chief rival, the Audi Q3 40 TFSI Quattro, which costs $52,800. So, is this a true Benz?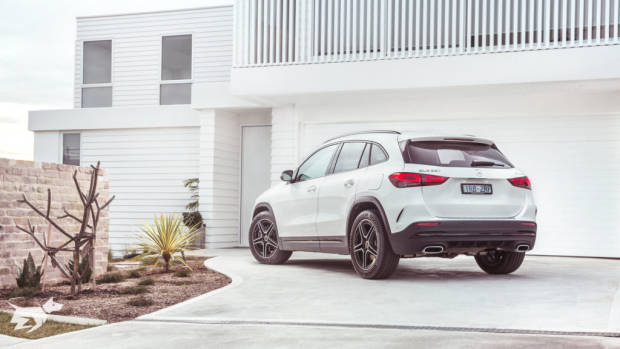 Well, the new GLA hits much higher notes than the previous car in terms of perceived quality. Flying out of the blocks with a sophisticated interior with far better materials than before, cutting-edge (but complicated) levels of technology, and a more resolved exterior design, it's clear that the second-gen GLA has responded to customer feedback but is also a more serious effort all-round.
The first GLA was something of a toe in the water for Benz in the then-nascent category of city-sized SUVs. Small crossovers are now one of the strongest segments in the market – and with Audi's new Q3 so well received, and new threats like the Volkswagen T-Roc arriving, Mercedes-Benz have thrown many high-end features into the GLA. The Australian specification is particularly generous, both outside and in – there's nothing entry-level about the appearance of the GLA.
LED headlights, a diamond-stud grille, full keyless access to all doors, aluminium roof rails and handsome 19-inch twin five-spoke wheels mean the GLA presents very smartly. Non-metallic black is the only standard colour; a flat white costs $500 while metallics are generally $1,490.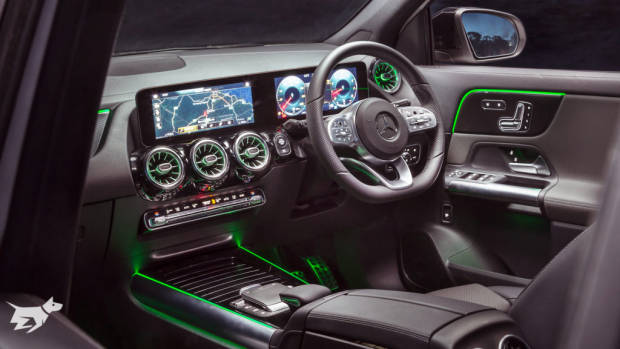 But while the curvy GLA's exterior is reasonably pleasant to the eye, it's the interior that really wows. The new GLA picks up Mercedes-Benz's new corporate interior, resplendent with dual 10.25-inch screens that sit side-by-side, ahead of the driver and in the centre of the dash. On the GLA they appear more integrated into the dash than in the A-Class hatch, where they sit very proud.
But the new tech isn't actually the biggest change to the GLA's interior. That would be the materials, which are far more plush than the previous version. While the door tops could still have more give, hard plastics have been banished from sight, with real and artificial stitched leather covering most surfaces. Certainly, the GLA feels like a Benz miniaturised in here.
While our GLA 250 was equipped with the optional Sports Package ($2,490), endowing it with a slightly racier steering wheel, AMG floor mats, paddle shifters and privacy glass, along with grey/black leather seats, the GLA offers more customisation possibilities than most small Benz models in Australia. Right at the end of the styling spectrum, you can specify an Exclusive Line trim with beige leather and open-pore wood. Those seeking maximum seat comfort will look to the $1,190 Multi-Contour pews that are only available with the 'Exclusive' GLA.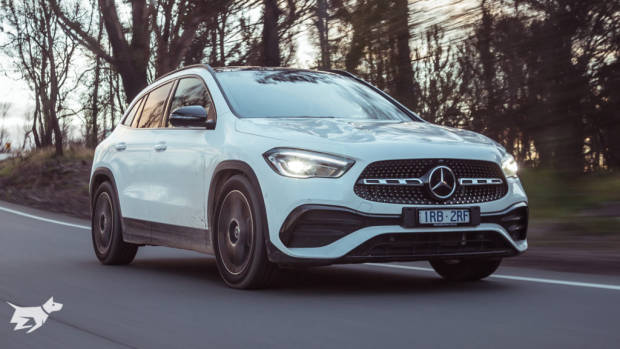 What is common to all GLA specifications is the much higher ride height, which has been bumped by nearly 10cm. The previous car sat remarkably low for a crossover, but this time around, the GLA joins its fellow Mercedes-Benz GLA brethren by offering a more commanding view out over the road. Visibility, as a rule, is excellent – but the sporty, funky demeanour of the old gen has been replaced by pragmatism here.
By pushing the wheels out to the corners, space in the second row has been freed up. Even though Mercedes-Benz sell at least six larger SUVs than this, the GLA's 40/20/40 folding back seat is now more usable, with good headroom and legroom for six-footers. $790 buys a sliding mechanism for the rear seats that is admittedly standard in many rivals. Despite being shorter than the previous car and the new A-Class, boot space is up 12L to 435L.
What hasn't changed though is the sparkling pep of Mercedes-Benz's two-litre turbocharged petrol four-cylinder engine. You can choose a cheaper GLA – namely, the GLA 200 – but this is a front-wheel-drive version that uses a 1.3-litre engine co-developed with Renault that, in our experience in other MFA2-platform vehicles, isn't particularly smooth. We'd go straight for the Benz engine in the 250 4MATIC.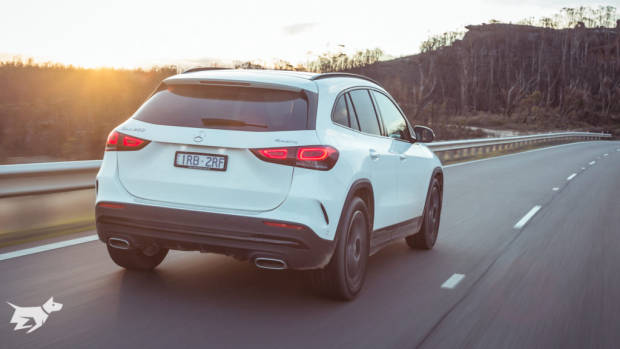 That's because the 250's smooth two-litre engine makes 165kW of power and 350Nm of torque, which is absolutely sufficient in a vehicle of this shape and size. The turbo-four is quite strong off the line and offers heaps of overtaking punch out in the country, accompanied by a surprisingly pleasant raspy exhaust note. Fuel consumption, which is rated at 7.5L/100km, delivered a decent 8.5L/100km in the real world.
There are no more GLA diesels for Australia, though there are two higher-performance AMG versions imminently arriving in Australia. The AMG GLA 35 uses a higher-output variant of the GLA 250's engine, producing 225kW/400Nm. Meanwhile, the hero AMG GLA 45 S uses a bespoke two-litre to make bonkers numbers of 310kW/500Nm.
All of the two-litre engines share a new eight-speed dual-clutch automatic gearbox, which is mainly imperceptible … aside from when merging onto freeways, when we found it had a tendency to shift down, before guessing again and shifting down further. That said, our tester was brand new, and this behaviour might settle after learning its driver better.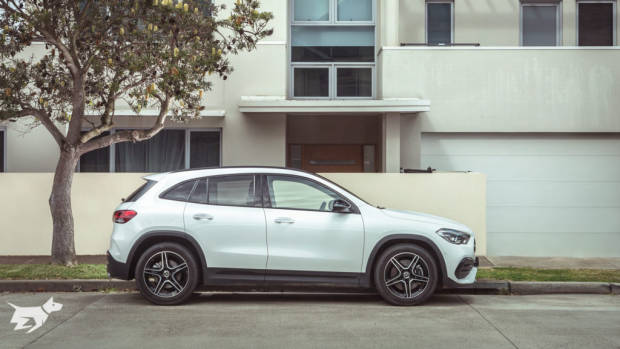 The GLA's handling, which was quite spirited and fun in the old lower-riding version, has naturally been impacted by the decision at HQ to raise the height of this vehicle. The centre of gravity has commensurately moved upward, and as such, this new GLA needs a little more patience when cornering quickly – though not too much. It's still quite capable of being pushed, and we imagine the AMG variants will be even more sorted.
The beauty of the GLA 250 is that it balances real-world usability with a genuinely good ride quality. Though it sits on 'lowered comfort suspension', in reality it is pliant, not quite bouncy, but simply doing a bang-up job of soaking up the imperfections that are so common on Sydney roads. Despite wearing big-ish 19-inch wheels, the GLA's tyres are large, with plenty of sidewall. They aren't low profile and you reap the benefits when you hit a bump.
Mercedes-Benz charge more for the new GLA than some rivals do with their entry-level luxury SUVs, but equipment is mostly better in the Benz, with some exceptions. The entry-level, $55,100 GLA 200 includes 19-inch wheels, full keyless entry, LED headlights, the dual MBUX screens inside, satellite navigation, wired Apple CarPlay and Android Auto, climate control, wireless device charging, a nine-speaker stereo, active lane keep assist, blind spot monitoring, semi-autonomous emergency braking, door exit warning and traffic sign recognition.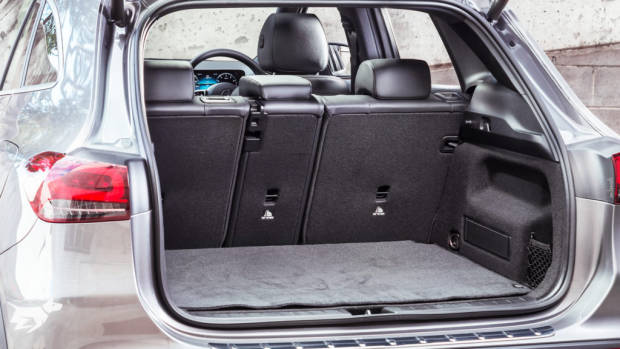 The GLA 250 ($66,500) steps up to the better engine and AWD, while also adding twin-five spoke 19-inch wheels, an alarm, electrically-adjustable heated front seats with memory, a panoramic sunroof, a larger 51 litre fuel tank (compared to 43 litres), an Off-Road package, variable steering ratio and remote engine start.
The two AMG variants – the fast AMG 35 and faster AMG 45 S – will cost $82,935 and $107,035 respectively, with all prices excluding on-road costs.
To fill out the GLA 250's equipment you'll need to look to options, which can see the cost heading north quite rapidly. Our test car came to over $78,000 before on-road costs, which we think is a little too steep for a small SUV.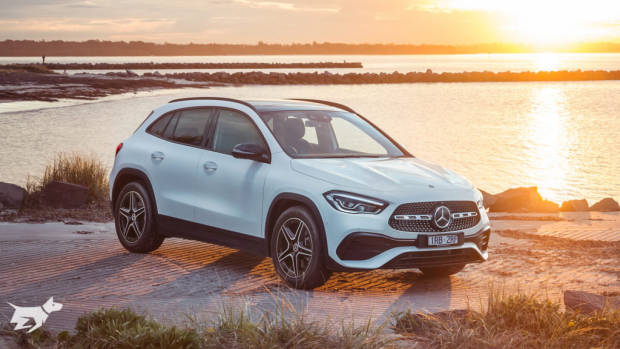 We also think it's a shame Mercedes-Benz didn't work the Driver Assistance Package ($1,990) into the base price, given that it equips this car with adaptive cruise control, front and rear cross traffic alert, automated lane change and route-based speed adaptation.
From the remaining options – of which there are many, both style and convenience-orientated – we'd recommend the classy Exclusive Package ($2,990) and the Innovation Package ($3,490), which adds augmented video overlay for the satellite navigation, a 12-speaker Burmester stereo, and a head-up display.
We continue to give Mercedes-Benz Australia credit for their decision to lead the core of the luxury segment into five-year warranties – a move BMW and Audi are yet to follow.
While the new GLA is quite fundamentally different to the original vehicle to wear this badge, we think Mercedes-Benz's changes to this vehicle are well judged and well timed. It's now more luxurious inside, easier to live with thanks to the extra room, and more of a bona-fide, high-riding SUV. If you lament the loss of the more car-like demeanour of the original, the A250 hatch does a similar job at a much lower ride height, and you can read that review here.