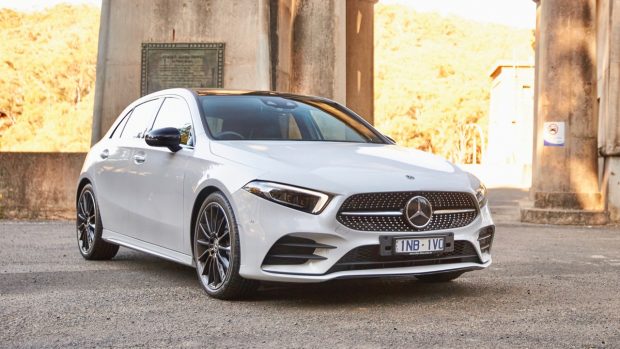 The second Mercedes-Benz A-Class to utilise a conventional small-hatch form factor is athletic to drive and plush to ride in, if you specify the right engine and choose carefully from the options catalogue.
While the new Mercedes-Benz A-Class is technically a fourth-generation car – the descendant of an entry-level Benz badge that dates to the tallboy five-door first introduced in 1997 – it doesn't feel like a fourth-gen product.
A dramatic change in Benz's thinking around the A-Class saw the car adopt a VW Golf-style hatch shape for its third-generation in 2013, so this all-new 'W177' shape really presents as the follow-up to that car – an opportunity to build on the successes of the outgoing 'W176' and right a few of that car's wrongs.
For us, the primary goal of an entry-level luxury car to achieve is to present as a bona fide example of what the brand can do. In the case of the A-Class, it needs to be a miniaturised C-Class, rather than a built-to-a-budget special to get buyers in the door.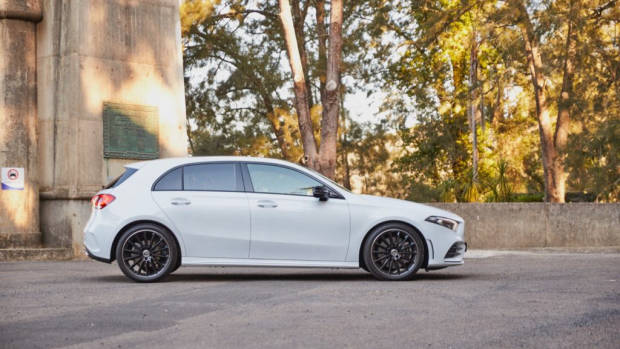 A tasteful, tech-laden interior
The previous A-Class left an aftertaste of the latter thanks to so-so interior quality – but step inside the new, 2019 A-Class, whether in hatch or sedan form, and there is no doubt that you are sitting inside a cabin that is worthy of the Mercedes-Benz star.
Plush, comfortable seats covered in supple leather. Soft-touch materials nearly everywhere you look. Heavy, deliberately-weighted switchgear. A veritable tech feast. It's pretty clear Mercedes-Benz took criticism of the previous car's interior to heart and dedicated significant spend to getting this interior right.
Standing in direct contrast to the dull interior on the BMW 1 Series – the A-Class's natural rival – the Mercedes-Benz seduces its driver and passengers with an interior experience that is both bang-up-to-the-minute on the tech front, and genuinely comfortable in the traditions of an old-school Benz.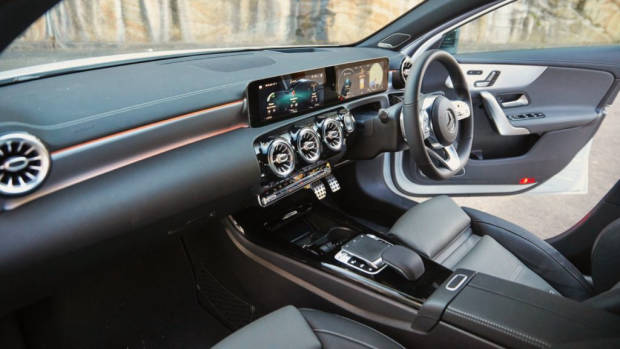 We hasten to add that our test vehicle was an A250 4MATIC fitted with nearly every option, but even the base A-Class in Australia has a well-equipped cabin and while elements like seat trim vary, the craftsmanship is excellent regardless of spend.
Common to all A-Classes is the Mercedes-Benz User Experience (MBUX) infotainment system which combines two crisp 10.5-inch widescreens, with the driver's display catering to critical car readouts while also being able to serve several customisable layouts, which include a full-screen map. The second screen sits mid-cabin and offers more traditional menus for entertainment and navigation functions.
As infotainment systems go, MBUX is a complex one and it does require some time learning all of its features. We found ourselves up to speed within a few days and quickly found that the twin trackpads on the steering wheel – one for each display – were a novel and interesting way to interact with the car. Sophisticated speech recognition and the availability of smartphone mirroring tech completes the package.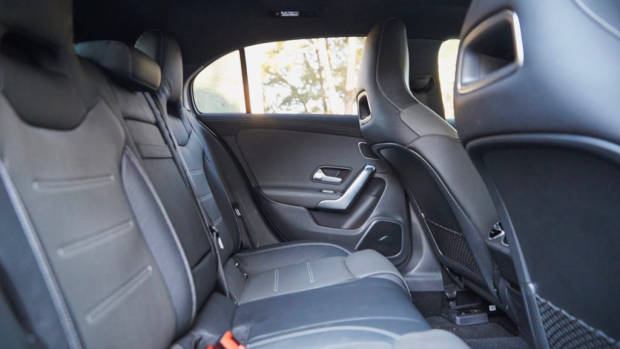 For those sitting up front it's an immersive experience but the back seat offers decent room for kids or pets. It is just about big enough to take a six-footer, with headroom notably increased over the previous A-Class, but tight legroom and toe room limit the utility. It's a small car, after all! Benz offer many, many larger vehicles if second-row space is key. The 370-litre boot is decently spacious.
In Australia the cool dual screens are standard, but to get the best from the A-Class you do need to tick a few option boxes, even on the A250. Frustratingly, worthwhile features are scattered about in various packages, so you end up having to add two or three. Softening the blow is the fact that these packs aren't overly expensive.
We think the AMG Exclusive package ($3,190) makes sense, adding better leather for the seats, plus heating and cooling for the front pews – plus adaptive dampers, ambient lighting and rear air vents. The Seat Comfort package ($1,290) goes further, adding full electric adjustment and memory up front. Sound junkies will appreciate the Communications package ($2,490) that adds a high-end Burmester stereo and a head-up display.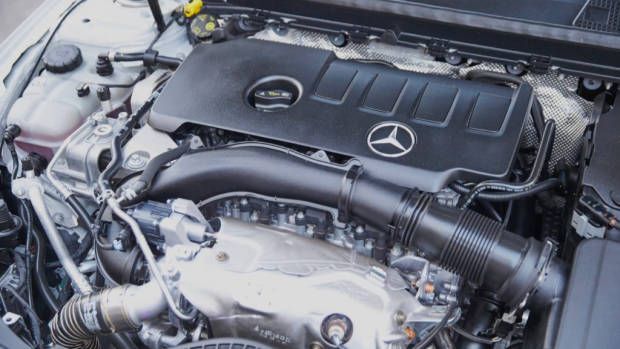 Solid driving dynamics and a compliant ride
While we're pleased to report that Mercedes-Benz has upped the interior game of the A-Class by a substantial degree, the increased spend inside hasn't been at the expense of dynamics… if you choose the right engine, that is.
The two cheapest A-Class grades – the A180 and A200 – utilise a small Renault-sourced 1.3-litre turbocharged four-cylinder petrol that is underwhelming and not really good enough to do duty as a Benz engine. We've driven the A200 overseas and reported on it here.
The A250 is the most affordable grade to introduce a Benz-born-and-bred engine, and it's a pretty good one. Two litres in displacement, with a turbo bolted on, the 'M260' engine produces 165kW/350Nm in this guise and presents as a torquey, flexible powerplant.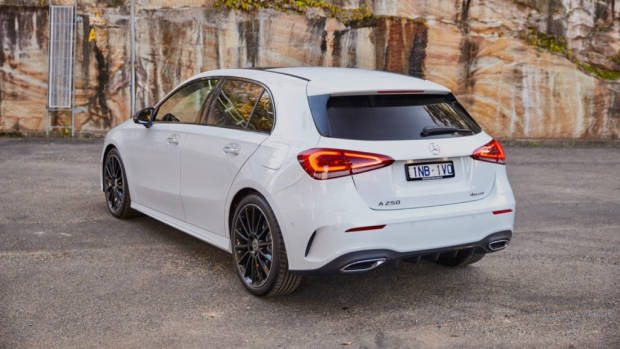 Around town, the A250 feels effortless, intelligently swapping the cogs of its seven-speed dual-clutch automatic to keep the engine close to 1800rpm, where the peak twist of 350Nm comes on smoothly. Speaking of the dual-clutch, most of the time it's fine but quick on-off throttle applications, like those used in a tight carpark, can counfound it.
A quick prod of the throttle shows the two-litre turbo to be responsive, jumping into gaps in traffic with ease. The light but relatively quick steering is a boon to twirl in the suburbs, making urban manoeuvres and parking a breeze.
The A250 is also the first model in the A-Class range here to gain a more expensive independent rear suspension – the cheaper cars have a torsion beam setup. Compared to the jarring ride in the A200 we drove in the UK, the fully independently-sprung A250, combined with optional adaptive dampers, delivers a sporty but still Benz-like ride. It's firm but totally compliant – a perfect balance.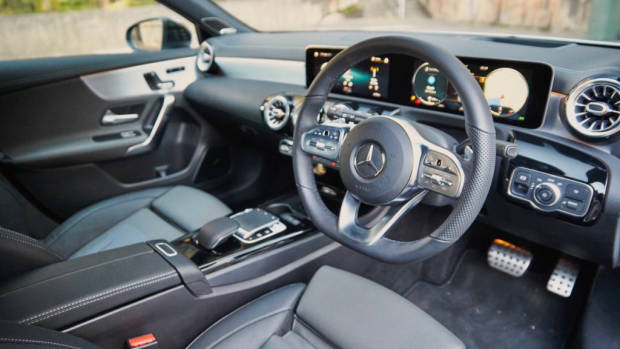 On the open road, the A250's turbo four is totally adequate but rapid overtaking is hindered by the engine's strained top-end. It runs out of puff at high revs, preferring to drive along on low-end torque. It does so, most of the time, and is a quiet and composed motorway cruiser, allowing you to enjoy the punchy (optional) Burmester stereo and those excellent seats, which are available with heating and cooling.
Find a tight, hilly road, though, and the A250 is totally in its element. Falling somewhere between today's warm and hot hatches, the little Benz devours corners with decent grip from the Bridgestone Turanza tyres and real input from the Haldex-type 4MATIC all-wheel-drive system. Push understeer can be defeated with throttle applications, as torque is fed rearward, subtly tightening your line while cornering. It's quite lovely.
The forthcoming AMG variants – there will be two – should amp up the A-Class's dynamics even further. There is a 225kW/400Nm A35 and a bonkers 310Nm/500Nm A45 to look forward to.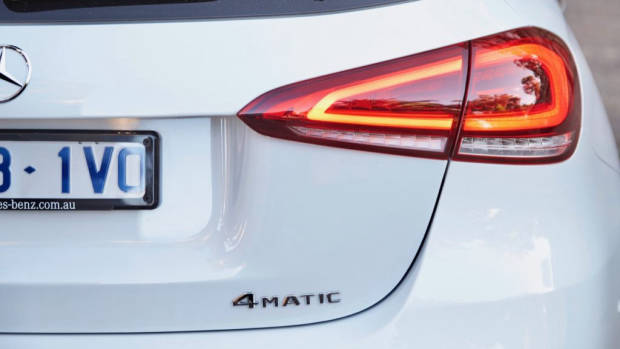 Generous safety tech and reasonable running costs
Safety-wise, the basic package includes autonomous emergency braking, forward collision warning, blind spot monitoring, active lane keep assist, and traffic sign recognition. An extra $1,790 spent on the Driver Assistance package adds in adaptive cruise control and lane change assist. $990 more on the Vision package grants you a 360-degree camera, better LED headlights and a sunroof. We'd definitely tick the last package.
Ongoing costs are relatively easy to judge because Mercedes-Benz Australia offers published servicing prices, and a discount if you buy an up-front pack. The maintenance intervals are annual or every 25,000km, and the first three services cost $2,550 as you go, or $2,050 basically 20% off – if you pay for them when you buy the car.
We came away from the A250 4MATIC feeling positive about it. For those downsizing from a larger and more opulent Benz, or for those stepping up into a premium car for the first time, a properly-specified A-Class feels like the real deal. It feels like a real Mercedes-Benz. Just don't skimp on the engine or on the suspension, and we reckon you'll really like it.