When the five-cylinder Audi RS3 was announced in April, Mercedes-Benz were not impressed that the Audi's 270kW and 465Nm had stolen the A45 AMG's crown as king of the hot hatches.
As it happens, the crown will not be surrendered. The 2016 round of specification improvements to the Mercedes-Benz A45 AMG include a significant power and torque bump that sees Affalterbach's smallest model back on top.
Some serious tinkering has occurred with the A45's ultra-high pressure two-litre turbo four-cylinder. The changes see AMG increase power by 15kW to an RS3-beating 280kW. Torque improves by 25Nm to a ragged 475Nm.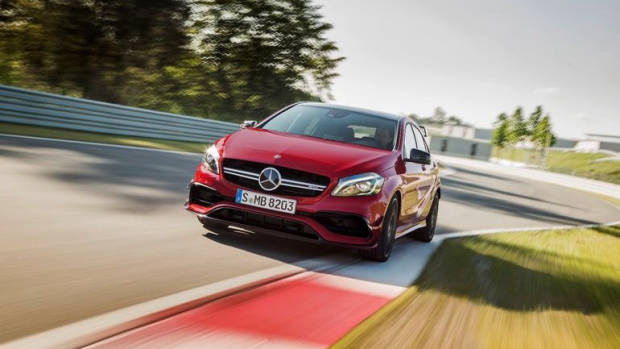 The brutal figures reach the ground through the Mercedes-Benz 4MATIC all-wheel-drive system, via a seven-speed double-clutch automatic gearbox. With Launch Control enabled, the A45 AMG's 0-100 sprint falls by four-tenths of a second to just 4.2 seconds.
Less obvious are further refinements to the A45's gear ratios, suspension calibration, and gearbox settings for smoother drivability—when you're not challenging the Ingolstadt-designed Audi at the lights.
Inside, the seven-inch tablet-style COMAND screen increases in size to eight-inches. Better smartphone integration will be on offer in the 2016 model—the A-Class will work with both Apple CarPlay and Mirrorlink systems to reduce driver distraction.
Plus, all A-Class models will feature squab adjustment in the lower front seat cushion, allowing 60mm of additional thigh support.
The updated 2016 Mercedes-Benz A45 AMG price will be announced with further details for the wider Australian A-Class update towards the end of 2015.