With aircraft traffic down 98 per cent at the height of the COVID-19, Sydney's once-bustling Kingsford Smith International Airport was – and is – a quiet place, waiting for the worst to pass and for the world to be let back in.
With only the occasional departure to other Australian cities or international arrival bringing Australians home to the security of this content, Sydney Airport has been left with some extra room on its hands.
The kind of room that lets you fully exploit the performance of a car whose giant capabilities outrun the space offered by virtually any race track globally, let alone locally.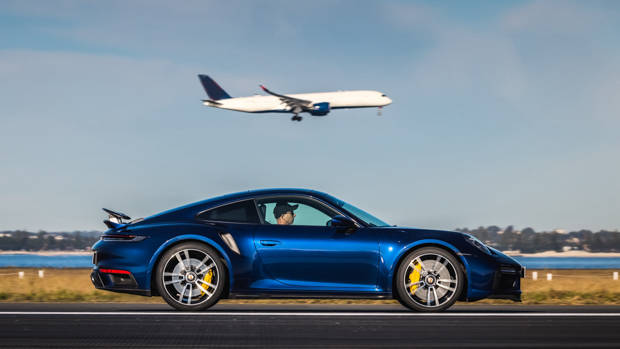 Call it a silver lining of the COVID-19 pandemic – or a once in a lifetime opportunity – as Chasing Cars was handed the keys to a box-fresh 992-generation Porsche 911 Turbo S on a closed Runway 16L at Kingsford Smith.
It's a rare moment that such clichés stand up to scrutiny – but trust us, they do. A closed runway is nothing particularly new, but when that runway sits pointing into Botany Bay at an airport more familiar with servicing Airbus A380 super-jumbos than this lithe, agile two-door supercar.
The Turbo S is 1,000 times smaller and 340 times lighter than the aeroplanes that normally ply this runway. The amount of space around you when you're sitting on the centreline in a 911 is just vast – and even at high speeds later on, there is very little to hit out here – as long as you stop before you run out of runway.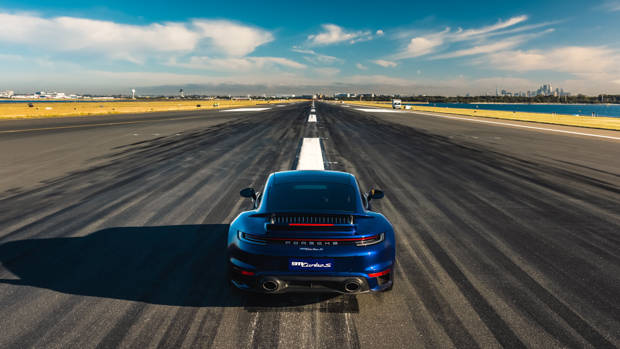 Deliveries of the latest Turbo S kicked off a couple of months ago to a discerning set of Porsche customers. A 3.8-litre twin-turbo six-cylinder engine sits aft of the cabin, producing 478kW of power and 800Nm of torque. By the time the wheels hit the road, you'll be spending over $500,000 for this precision instrument.
Sitting atop the broad 911 range, Porsche's flagship sports car is valued by those who desire astonishing supercar performance but wrapped up in the (relatively) sedate aesthetic of this brand's classically-styled grand tourer.
Indeed, the precise car we were firing down the runway was almost a Q-car. Black on black – but with Lizard Green stitching on the seats and trim, with matching instrumentation – this 911 Turbo S was ordered before the pandemic but delivery was not taken, our instructor regaled.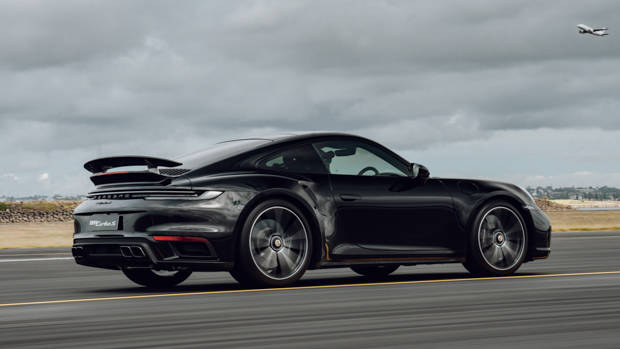 That person's loss is another's gain – black-on-black-on-green sounds unusual, but in the flesh it worked remarkably well.
Enthusiasts know exactly what this rear-engined, twin-turbocharged flat-six coupe is, but to the untrained eye it's just another Porsche 911. Not that any 911 is a slouch, but the Turbo S shocks the uninitiated with just how quick it is.
Our mission was simple. Line up near the centre of the commencement of 16L and point the car between the piano keys. They're slippery.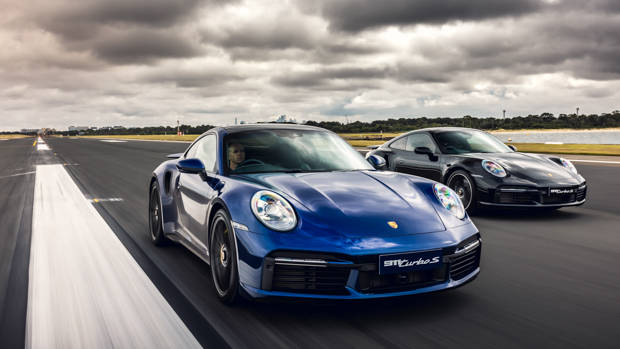 Then it's a matter of engaging the Sport drive mode, squeezing the brake very firmly, depressing the throttle fully, instructing the car that we want maximum launch acceleration. The revs hover obediently near peak torque, though you can alter this point with the paddle shifters.
Why not Sport Plus? Well, with so much space we want the slipperiest profile. Launching in the second-tier Sport mode will keep the rear spoiler down and the profile as low as possible…
Release the brake. We're off. My jaw crashes open at the initial force. This is a true back-of-seat car: you're basically catapulted at the horizon for the first couple of seconds and by the time you've processed that experience, you've already flown into triple digits.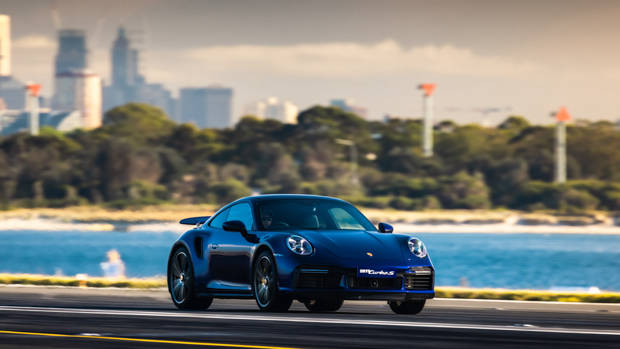 After 100km/h flicks up in 2.7 seconds, your progress tails off only slightly, with the Turbo S surgically working through its eight-speed 'PDK' dual-clutch automatic gearbox fluently. 
Compared to lesser non-GT 911 turbo engines, all of which are now turbocharged, the twin-turbo 3.8-litre utilised by the Turbo S has amazing breadth, pulling hard through the mid-range and top-end, barking through the rapid upshifts.
200km/h appears just 6.2 seconds after 100, and all is remarkably calm. And stable. The steering tracks incredibly straight, engineered in – but we're also running down a runway with aligned corrugations running from start to finish.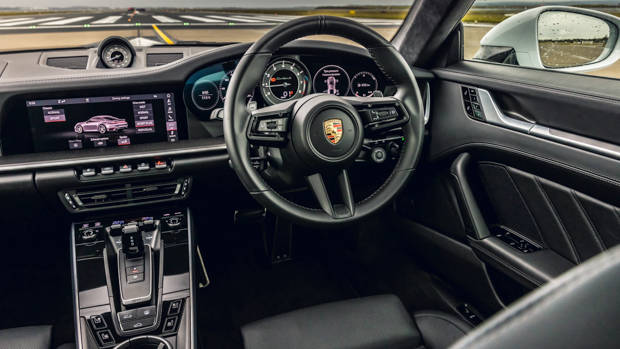 We've already covered a couple of kilometres but there are a couple left, so it's time to settle in for the longer push to the triple-century.
Taxiway signs are thundering past now as I exceed the highest speed I've ever driven – 260km/h in a fast BMW station wagon on a Bavarian autobahn.
Full throttle still and the Turbo S hunkers down, with only a slight feeling of buffering through the small, round steering wheel as Botany Bay gets closer and closer, the last few taxiway exit options pass, and I glimpse 310km/h on the digital instrument cluster ahead of me.
Brake!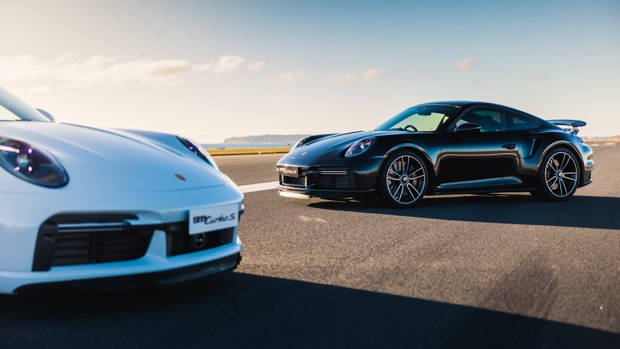 And that's the second-most shocking feeling of the experience, after the face-pulling initial acceleration. The 911 Turbo S wipes off speed promptly from the high-highs we'd hit.
That's a product of enormous, strong brakes. Our black Turbo S was fitted with standard Porsche Ceramic Composite Brakes – ten piston aluminium monoblock front stoppers with 420mm discs, and four-piston units at the rear measuring 390mm. All are vented and cross-drilled. And they work.
From there, the mandatory 60km/h speed on the taxiways feels like crawling through a carpark. As does the commute back to the office in my Volvo estate…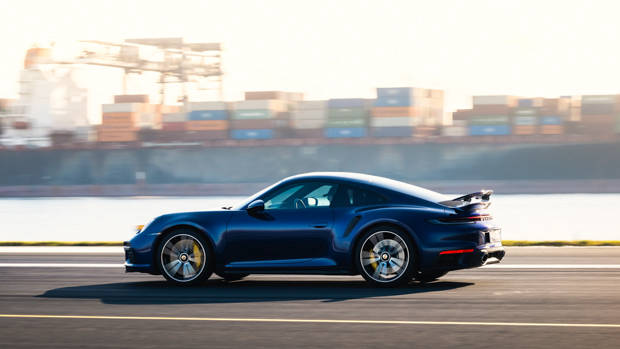 No doubt 2020 – and the first part of 2021 – has been a challenging experience for Australia and the world.
And there's no doubt Porsche's method of 'launching' the 911 Turbo S was an indulgence.
But with so few planes in the sky needing infrastructure like this, grabbing this opportunity like this was just too good to pass up. Once in a lifetime, indeed.
Porsche 911 Turbo S 2021: Australian price and specs
Turbo S coupe: $473,500
Turbo S cabriolet: $494,500