Porsche has pulled the covers off its lightest road-going 992-generation 911 yet, the S/T.
Weighing in at just 1380kg, the 911 S/T has been priced in Australia from $660,500 before on-road costs. That makes the newcomer $160,000 more expensive than the track-focused GT3 RS flagship and $271,900 more expensive than the more road-centric GT3 Touring.
Porsche will make just 1963 units of the 911 S/T in celebration of the brand's 60th anniversary of the 911 sports car.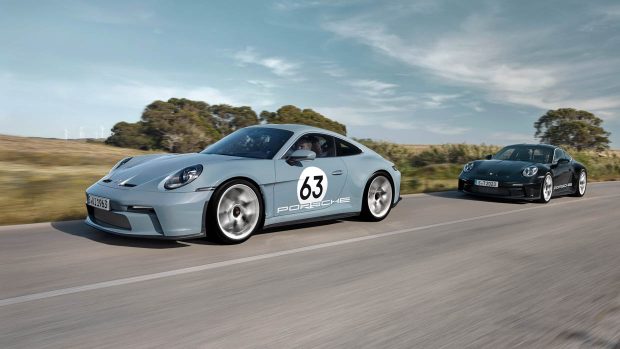 What makes the 911 S/T worth an incredible $660K?
The heart and soul of the new 911 S/T is the 4.0-litre naturally-aspirated flat-six engine also found in the current GT3 RS, which produces 386kW/465Nm and is mated exclusively to a six-speed manual transmission.
The sprint to 100km/h is claimed to take just 3.7 seconds according to Porsche, with the variant boasting a top speed of 300km/h.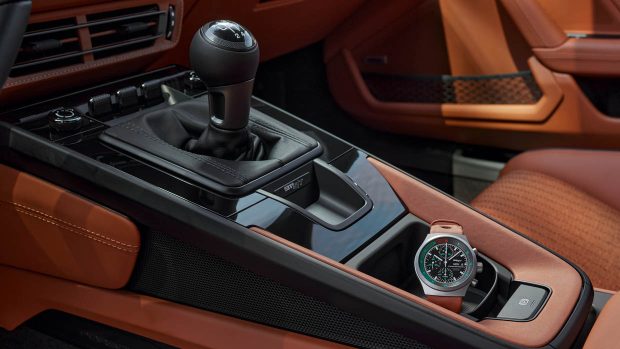 The 911 S/T manages to be considerably more lightweight thanks to the front bonnet, roof, front wings and doors made of carbon-fibre-reinforced plastic (CFRP). The roll cage, anti-roll bar and shear panel are also made of this material.
Magnesium wheels, carbon-ceramic brakes and lightweight glass also feature for the S/T. A lightened clutch and single-mass flywheel, along with a lightweight exhaust system makes the S/T even more honed and lighter on its feet.
Porsche says the S/T, much like the GT3 Touring, has been developed for public road driving rather than the racetrack, however as standard, the model does come with CFRP race-style bucket seats (normal sports seats are a no-cost option).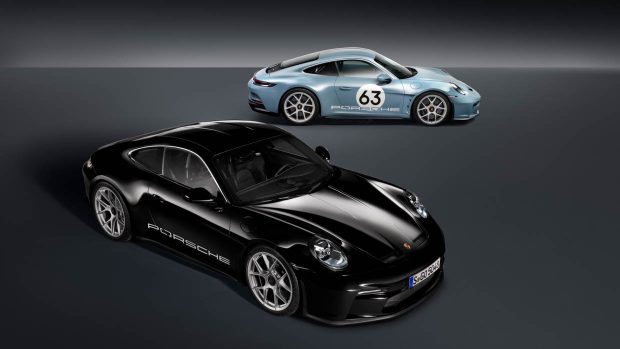 Australian-delivered Porsche 911 S/Ts will come fitted with a tyre fit set, LED headlights with dynamic lighting system, auto dimming mirrors inside and out, a front axle lift system and park assist as standard.
Porsche 911 (992) 2023: prices in Australia
All prices listed are before on-road costs.
Carrera coupe PDK: $259,100
Carrera cabriolet PDF: $280,700
Carrera S coupe: $298,100
Carrera S cabriolet: $319,800
Carrera 4 coupe: $276,500
Carrera 4 cabriolet: $298,400
Carrera 4S coupe: $315,500
Carrera 4S cabriolet: $319,800
Targa 4: $298,400
Targa 4S: $337,400
Targa 4 GTS: $387,700
Carrera GTS coupe: $334,900
Carrera GTS coupe manual: $334,900
Carrera GTS cabriolet: $368,100
Carrera 4 GTS coupe: $354,200
Carrera 4 GTS cabriolet: $387,700
50 Years Edition: $426,100
Sport Classic: $598,300
Carrera T manual: $280,600
Carrera T PDK: $280,600
Turbo coupe: $431,000
Turbo cabriolet: $452,000
Turbo S coupe: $506,200
Turbo S cabriolet: $527,500
GT3 auto: $388,600
GT3 manual: $388,600
GT3 Touring manual: $388,600
GT3 Touring PDK: $388,600
GT3 RS: $500,200
S/T: $660,500 (NEW)