For a car that didn't exist two years ago, the Porsche Taycan has rapidly established itself at the top table of the EV landscape and Porsche showrooms. Now an eighth variant (yes, really) has landed in Australia sporting the brand's familiar and revered GTS badge.
These Gran Turismo Sport grades trade on upping a model's sportiness while retaining enough comfort to remain a practical daily-driver. The template's simple: a bit more performance, choice sporty style upgrades and some go-faster and stop quicker parts.
The Taycan GTS doesn't stray from the formula, resulting in the most track-focussed offering in the range.
Key is Porsche's top-level Performance Battery Plus as standard. It's a 93.4kWh unit giving the GTS a range of 485km – the highest of any Taycan in standard guise. Power's a mighty 380kW – or 440kW with overboost when using launch control – plus a seat-pinning 850Nm of twist.
No, it won't outsprint the face-strippingly fast Taycan Turbo or Turbo S, but the GTS costs a good chunk less, feels at home on a race circuit and hardly embarrasses itself on the acceleration front – it's a 3.7 seconds to 100km/h car. It's clichéd to call the GTS the range sweet spot, but at first quick road and track test it's hard to define it in any other way.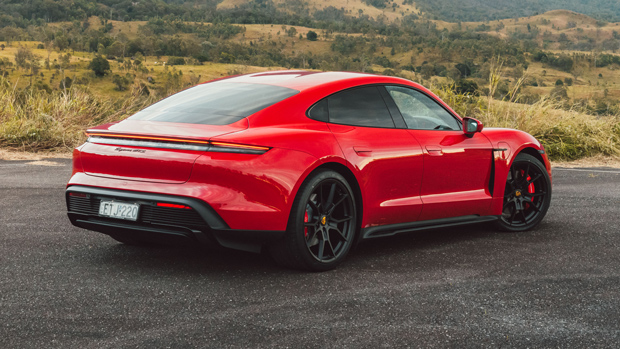 You'll only find a Taycan sedan GTS – the mild off-road wagon-like Taycan Cross Turismo (the Chasing Cars electric car of the year) remains a three-tiered car: 4, 4S and Turbo. The GTS squeezes in above the entry-level Taycan RWD and 4S, but below the Turbo and Turbo S in the sedan line-up. At $241,900 it's a sizeable price jump over a 4S AWD ($198,800), but over $40,000 less than a $284,600 Turbo.
While the Turbo/Turbo S crowd inhabit the luxury, exclusivity and 'mine's faster than yours' space, the GTS cosies up to buyers who'd rather project a sporting and racing bent. And a preference for blacks over showy chromes.
A high gloss black rear diffuser and black SportDesign side skirts are exclusive to the GTS, while standard are a SportDesign front bumper, black Porsche logo integrated into the light strip, tinted LED matrix headlights and matt black Taycan rear badge. Even Turbo S buyers (who've already spent $352,600) are asked to drop more for these GTS inclusions.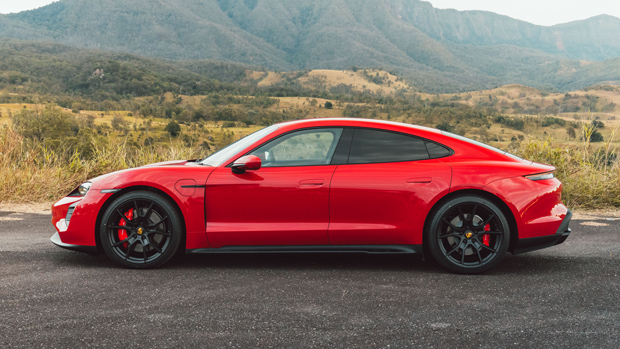 Buyers also secure lightweight satin black 20-inch wheels from the flagship Turbo S and larger front brakes than lesser Taycans – 390mm rotors with six piston callipers, up from 360mm.
These aren't for show: the GTS is a more rapid beast than next-rung-down Taycan 4S. It scores the Taycan Turbo models' electric motors – one on each axle – albeit 'adapted' to the GTS, while the adaptive air suspension and Porsche's electronic shock absorber system (PASM) have been specifically tailored with handling and dynamics squarely in mind. Not that any Taycan in the range wobbles in corners, it's just the GTS ups the focus.
The sound boffins have even modified Porsche's Electric Sport Sound – this artificial note apparently sounds different to other Taycans, but it's still very space-shippy.
How does the Taycan drive?
Like all Taycans, far better than an electric beast weighing this much deserves to. Thing is, the GTS remains just as lardy as a Turbo S – 2295kg. That's 155kg over a 4S and 245kg more than a Taycan RWD, both featuring smaller battery packs. If you were hoping your GTS would be the lightweight version, you'll be disappointed.
The weight's well disguised. Acceleration is ferocious – anything dipping well under four seconds to 100km/h will scratch almost everyone's performance itch. A generation ago Ferrari's flagship F50 supercar (with F1-derived V12) couldn't match a Taycan GTS's acceleration, despite weighing a tonne less. Ludicrous, when you think about it.
We tested the GTS on road and track in line with its sporting-yet-everyday remit. As is typical, we were given GTSs optioned to the eyeballs (to the tune of an extra $48,000), including Porsche Dynamic Chassis Control Sport (PDCC Sport) with active anti-roll bars ($6870), rear-wheel steering ($4300) and larger 21-inch wheels ($5520). We can only report as we find, so the extent these options added to the drive experience can only be guessed at.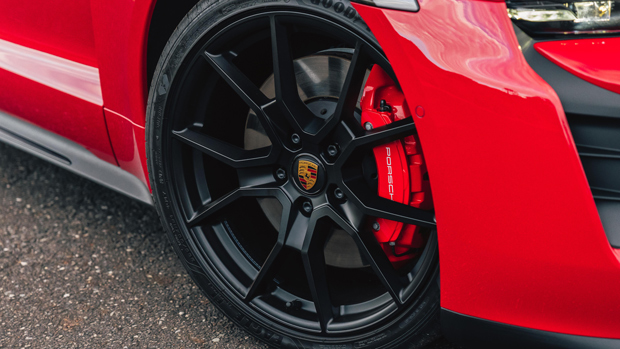 Leave it in Normal mode and it's a serene, whisper quiet car to navigate urban areas or cruise highways, as a good grand tourer must be. The suspension's impressively forgiving, its three-chamber adaptive air suspension shuffling through spring rates in the blink of an eye to suit the surface. Ride is never harsh, even on the skinny bands of rubber coating the giant alloys.
Shift into Sport or Sport Plus mode on the quick-access steering wheel dial and it changes personality. It sounds a bit fruitier – though still not like a proper combustion car – it stiffens up and steering feels more attack-mode.
A tap on the throttle brings rapid response, spinning the butterflies in your stomach in a strange mix of joyous surge and almost nauseating organ squeezing. If you want more acceleration than this on the road you really need your head read.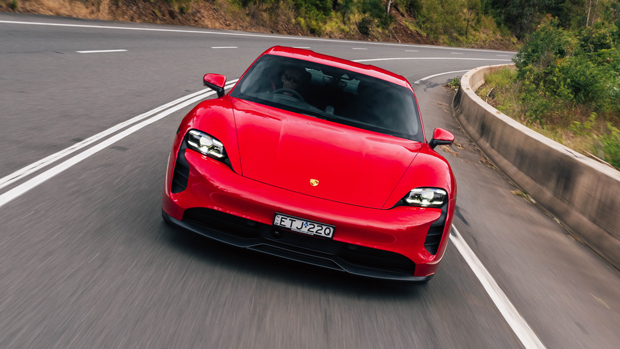 The short twisty road section we used reveals an EV that feels lively, confident, incredibly balanced and with grip for days. It seems video-game like. Prod the throttle between turns and it zips up to speed, then stomp on highly effective brakes before letting it roll into the corner.
There's lovely steering weight, the GTS sits ludicrously flat and the grip's comical.
Stomp on the throttle on exit and it happily tears away, unperturbed by any road bumps. You feel these a bit through your backside, but the Taycan barely allows them to stall progress or divert from the desired course.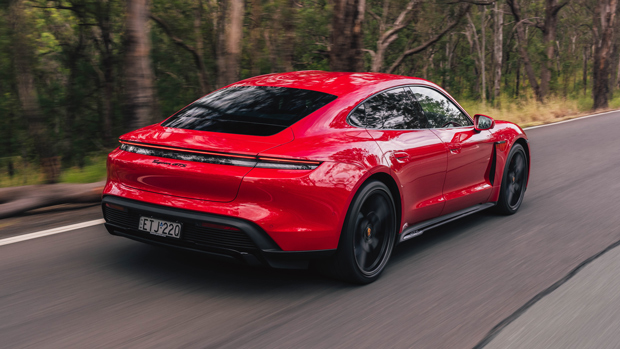 You need a track to experience it properly, and Norwell Motor Complex on the Gold Coast allowed us an all-too-short half hour to experiment. Here the acceleration can (of course) be better explored, and in Sport Plus mode in particular, there's a better sense of the playfulness on offer.
Porsche has set the GTS's brain up to bias more power and torque to the rear motor, so when coming out of corners it feels more akin to a rear-drive sports car. I've not driven other Taycans on track, but on this brief try the GTS suggested it was well tailored to those who favour greater driver involvement with the rear end sliding a bit when really pushing.
But a reality check came from driving Porsche's new 911 GTS at the same track on the same day. As clinically brilliant as the Taycan GTS is, its weight and electric hearts are no match for the purist, rear-drive nature of a 911, especially with the GTS's manual shifter.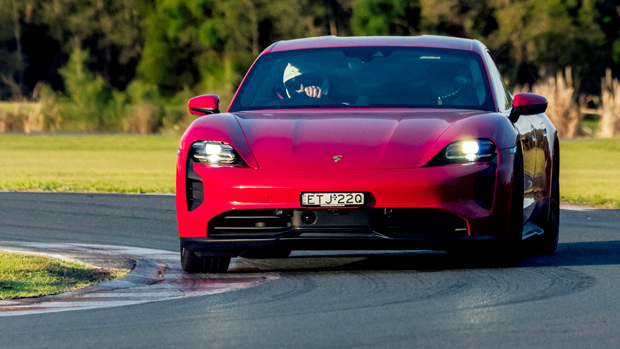 Driving the Taycan GTS immediately after the 911 GTS highlighted the weight differences when cornering.
The EV's tyres had a lot more to protest about, and the turn-in and darty nature (plus the raspy engine note) of the 911 were much missed. This takes little away from the Taycan's brilliance, but did highlight the difficulty in making an EV that can rival 'proper' sportscars.
How is the Taycan's interior?
It feels racier than other Taycans with their abundance of leather and grand tourer flavour. Instead, Porsche has swathed the GTS's cabin in its Alcantara-like Race-Tex trim for seats, steering wheel, door panels, roof lining, lower dashboard and centre console.
It looks and feels superb and fulfils the sportiness remit, especially that suede-like texture as your hands caress the steering wheel.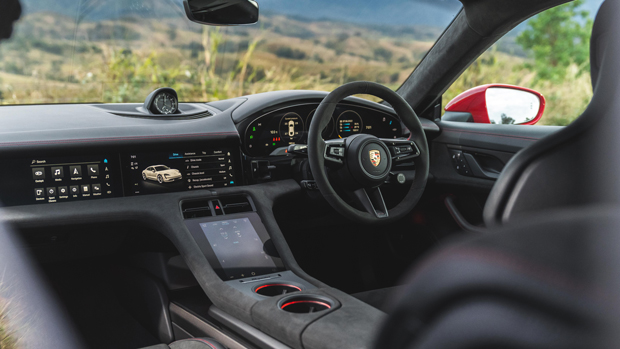 Ours had an optional Carmine Red GTS interior package ($8370) with red stitching throughout, GTS logo on the headrests, red seat belts and carbon for the steering wheel and cabin trim.
There are many, many ways to push your GTS towards $300,000 if you choose. It also added a third rear seat ($1000), ambient lighting ($890) and puddle lights ($600), while to heat the rear seats (heating and ventilation are standard up front) is an extra $910. We can argue amongst ourselves if these should be standard or not.
As with all Taycans, the GTS cabin feels properly Porsche. You sit low, layout's very driver-centric and quality superb. There's screen overload with a customisable 16.8-inch curved driver display, 10.9-inch central infotainment screen and a vertical screen below for climate and battery info.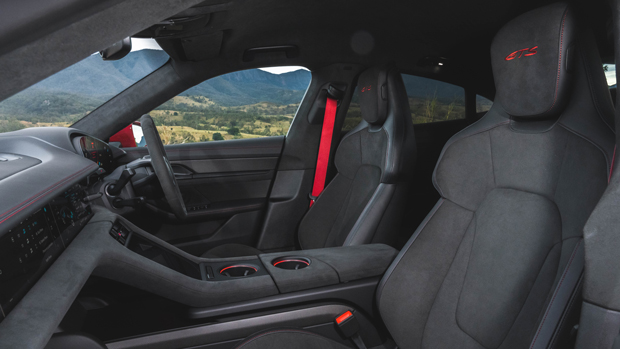 For good measure, a $2150 option gives the passenger a screen right in front of them too. There's a lot of light pollution to take in, and it feels a bit sci-fi overload.
It's incredibly flash and clean, but physical buttons for the climate and air vent direction would be wonderful.
The 18-way electric sports seats give oodles of chances to find an ideal driving position, while Bose surround sound, four USB-C ports, wireless Android Auto (finally!) to go with wireless Apple CarPlay, head-up display and lengthy (for a Porsche model) driver assist systems impress. Sadly, still no wireless phone charging.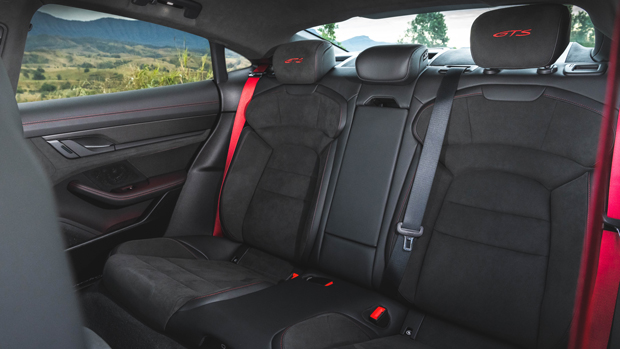 There's acceptable rear leg room but it's no Panamera, while head room for adults is fine as you sit very low in bucket-type chairs. It's at its comfiest with two individual rear seats – the middle seat where optioned isn't really adult suitable – but three kids along the back should be no problem.
A frunk holds a few shopping bags while the boot's a not huge 366 litres – you'll need to pack lightly for your grand tour. The roomier Taycan Cross Turismo with its 405 litre boot isn't coming in GTS guise to Australia, though it exists in other markets.
What are the Taycan's running costs?
With current petrol prices looking like cricket scores, a decent Taycan inclusion is a three-year Chargefox subscription. This gives free access to any charger on its network – including the Taycan-preferring 350kW ultra rapid chargers – when you swipe your card at public charging stations.
The GTS's Performance Battery Plus gives a range of 485km – the longest of any standard Taycan – which can be charged at a 350kW public charger from 5-80 percent in 22.5 minutes 'under ideal conditions.' The Taycan's maximum charge capacity is 270kW, and we've seen up to 260kW at public chargers on previous tests.
Porsche says it takes 93 minutes to go from 5-80 percent using a 50kW DC public charger (the most common type), or nine hours from 0-100 percent using an 11kW AC charger – such as a home wallbox.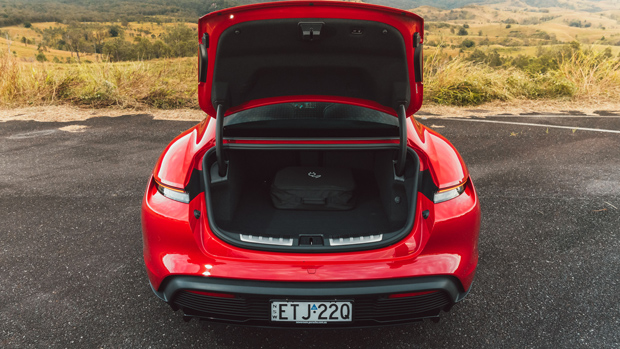 Pleasingly, the GTS is the range leader in economy, proving even more efficient than the entry-level Taycan RWD with its single motor. Consumption is quoted at 25.9kWh/100km – thirsty for an EV – but our road-only trip saw a more palatable 22.3kWh/100km. The track test chewed through a lot more.
Services are only every two years or 30,000km, and Porsche says each dealer will charge differently so can't provide a price for services. If you have to ask, etc. Porsche's warranty is poor for the industry at three years, but the battery is covered for eight years or 160,000km.
The final verdict
The GTS is the Taycan for those seeking more sporting kudos, more track day acceptance… even a bit more mongrel. And the Taycan GTS does that job superbly.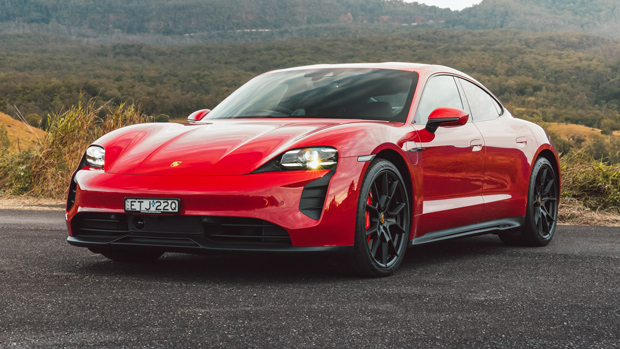 It's hard to go wrong with any in the Taycan range, but the GTS's larger battery, bespoke tuning and racier styling help its 'sweet spot' claim: it feels more dynamic and involving to drive without stuffing up ride quality.
If you plan track time it's the pick, but the $40,000-cheaper Taycan 4S and $80,000-cheaper Taycan RWD offer much of the experience for far less coin.