Among hordes of Porsche 911 variants – pretty much all of them great – the GT3 has long been the enthusiast's benchmark. Lighter, more agile and more hardcore than the rest of its ilk, the beauty of any GT3 is that it's simultaneously a fantastic track car as well as a surprisingly liveable road car.
That duality of purpose has been the driving force behind the latest GT3 – the first based on the new-generation 992-series 911 that launched internationally in January 2019. Indeed, Porsche's fundamental aim was to "further enhance its performance without compromising everyday usability."
Offered in three models – the standard GT3, the GT3 with Touring Package and the GT3 70 Years Porsche Australia Edition – each with a 4.0-litre naturally aspirated flat six based closely on the motorsport version from the 911 GT3 R race car, the 2022 GT3 is defined by a wealth of incremental but important enhancements that contribute to its excellence as both a supreme piece of craftsmanship and a stunning driver's car.
The differences between a regular 911 and this GT3 are many, starting with a completely revised front end with bespoke front air intakes including a pair in the front bonnet that draw air through the front radiators and over the car to enhance air flow. There's also 0.5-inch wider forged-alloy wheel rims at the front (20 x 9.5-inch), joining massive 21 x 12.0-inch rims at the rear, and 10mm wider tyres at both ends, the rears being huge 315/30ZR21s.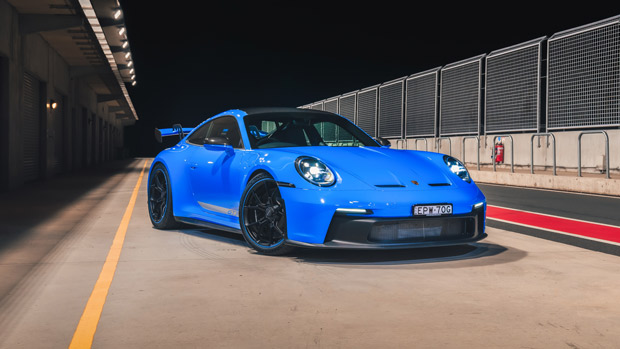 Another obvious change is the 'swan neck' rear wing that's adjustable in four positions – the standard position offering a 50 percent improvement in downforce; the performance track setting expanding that to a 150 percent improvement at 200km/h … which sounds academic until you realise the new-gen GT3 can reach the double-century in 10.8 seconds.
Tested solely at Sydney Motorsport Park in an exclusive demonstration of Porsche's Level 4 'Master' track experience, even if you can't afford a 992 GT3, this very car will be among a small fleet of new GT3s assigned permanently to the Level 4 course in Australia from 2022.
How does the 911 GT3 drive?
We can't definitively say that the new-generation GT3 is a more liveable car overall because we only drove it around the GP circuit at Sydney Motorsport Park (formerly Eastern Creek Raceway). And when I say 'only', I mean as fast as our own limits would allow – unimpeded by pace cars or even co-drivers.
Firstly, the hardware. The new GT3 scores a unique double-wishbone front suspension from the 2017 Porsche 911 RSR Le Mans race car to improve camber stiffness in high-speed corners, counteract dive under hard braking and to remove lateral forces from the dampers during hard cornering. The rear suspension features additional ball joints on the lower wishbones as well as torque vectoring and rear-axle steering to make its turn-in even sharper. And for supreme track performance, wheel camber and anti-roll bar stiffness can be adjusted front and rear.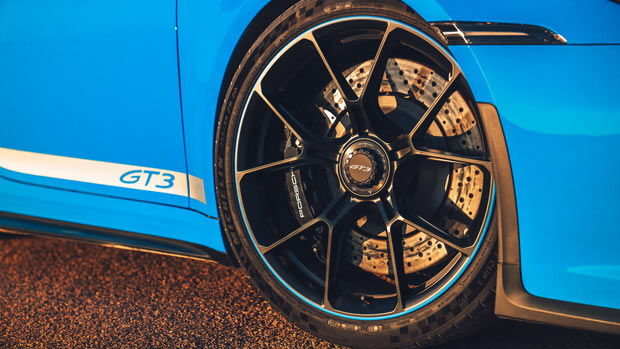 The new GT3 also features larger brakes (massive 408mm ventilated front discs, up from 380mm, with six-piston aluminium monobloc calipers, combined with 380mm rear discs with four-piston calipers) and it rides on revised Porsche Active Suspension Management (PASM) with 20mm lower springs than a regular 911 Carrera, and adaptive dampers with either Normal, Sport or Track settings – all in conjunction with other dynamic parameters such as steering weighting, throttle response, transmission mapping, ECU tune and ESC calibration.
According to Porsche, the combination of the new GT3's multitude of incremental improvements is enough to slice 17.5 seconds from the previous GT3's Nurburgring lap time, while making it slightly faster than the old GT3 RS.
Around Eastern Creek, the result is an astounding level of poise and resilience. No 911 in my experience has been as exquisitely balanced or as capable of changing direction in extreme dynamic situations without raising a sweat, lap after lap. It's only when you realise just how early you can get on the power exiting a corner that the 911's rear-engined DNA once again shows its superiority, and yet you can really lean on its front end as well. Hard.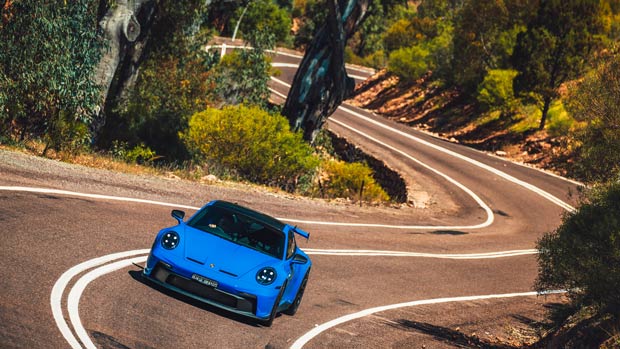 Where the challenge in older-generation 911s was placing it perfectly to get the best from its rear-engined layout, the challenge in today's 992 GT3 is having the confidence to approach the limits of its dynamics – given the threshold has been raised to such an astounding level. That said, the GT3's vast footprint, and superb steering connection and response, are so encouraging in wringing the best from its chassis and engine that this machine becomes one hell of a companion.
The new GT3's uprated brakes are also incredibly effective – withstanding continual abuse, lap after lap – and we're only talking about the 'stock' grey-iron set-up. Apparently most GT3 owners who take their car to the track stick to the standard brakes because they're more cost-effective to replace when they eventually reach retirement (the brakes, not the owners), though the optional ceramic-composite brakes (410mm front, 390mm rear) save around 50 percent in weight.
And then there's its engine – always the heart of any 911, let alone a GT3. The 4.0-litre flat six is essentially the 911 GT3 R race engine with a different exhaust system and ECU tune, resulting in 375kW at 8400rpm and 470Nm at 6100rpm, and an unburstable nature entirely in keeping with its motorsport heritage. With a useable 9000rpm redline and a new stainless-steel sports exhaust system weighing 10kg less than before, the GT3 uses its elasticity to stunning effect, thrusting as hard as any naturally aspirated road engine has any right to.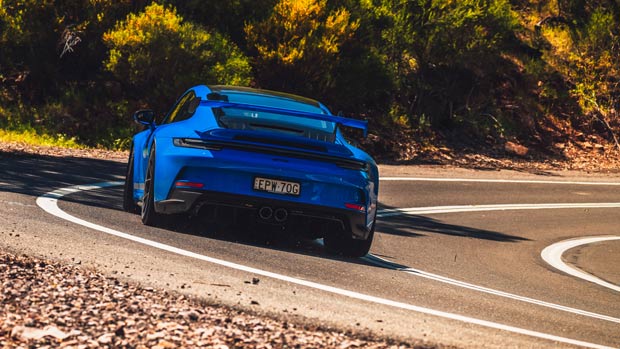 Unlike the regular 911 line-up, the GT3 offers six-speed manual or seven-speed PDK dual-clutch transmissions – the reduction in ratios saving weight, with the manual weighing 17kg less than the PDK. Porsche claims 0-100km/h in 3.4 seconds for the PDK (3.9sec for the manual), with a top speed of 318km/h (320km/h in the manual).
As for active-safety kit, Porsche very much believes in giving the driver maximum control, rather than masking any dynamic deficiencies with safety aids. As such, the GT3 features an excellent ESC system, outstanding brakes, rear parking sensors with a reversing camera and front, side, and curtain airbags but doesn't offer lane-keep assist, rear cross-traffic alert or other safety aids offered on mainstream vehicles.
How is the 911 GT3's interior?
The 992-series Carrera grades lifted the 911's cabin game by a significant margin, not only in the richness of its materials, and available trim alternatives, but also in terms of cabin tech.
The beauty of the GT3 version is that it builds on that rock-solid core architecture by adding a huge dose of race-car capability and flavour without spoiling the high-end vibe.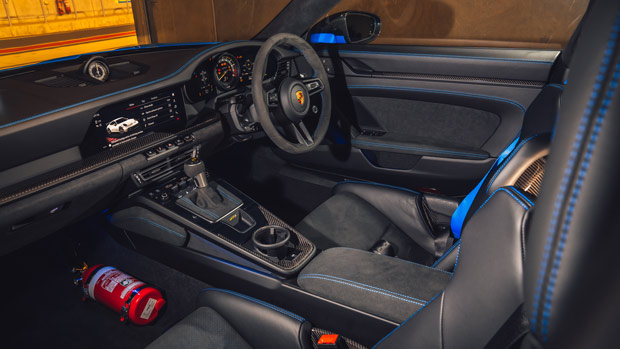 Our test car featured an optional Clubsport package that includes a bolt-in roll bar behind the front seats, a six-point harness belt for the driver (the passenger's equivalent costs $880 extra), preparation for a battery disconnect switch, and a motorsport-spec fire extinguisher bolted to the front passenger floor).
Given that such a high proportion of Australian-market GT3s are taken to the track – indeed, the GT3 outsells the Turbo in our market, which is unusual – then the Clubsport set-up could almost be seen as 'normal'.
The optional lightweight full-bucket seats ($11,250) are fixed, meaning they only offer manual fore-aft adjustment, though they do also include electric height adjustment. For anyone of a vaguely mainstream body size, they're both huggily supportive but also comfortable – blending commuting ease with corner-carving grip. Our test car offered no back seat whatsoever, though any 992-series 911 is barely a two-plus-two, with space in the rear only for very small children.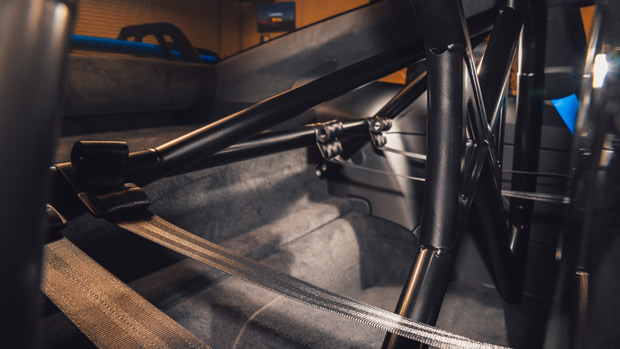 As for the finish, swathes of suede-effect material covers the steering wheel and lower dash area, giving the GT3 an interior warmth you wouldn't expect in a race car for the road – enhanced in our test car by $11,210 worth of additional leather trimming, including the entire dash and door tops.
Our Shark Blue GT3 (the colour alone costing $7500 more) also featured a Bose surround-sound stereo ($2970), whose bass and clarity do their best to overcome the even more delicious noise wailing from the engine and exhaust.
What are the 911 GT3's running costs?
The official ADR81/02 government combined fuel consumption figure for the seven-speed 911 GT3 PDK is 12.4L/100km, with the six-speed manual's corresponding figure being 13.3L/100km.
Recommended servicing for the 911 GT3 is every 12 months or 20,000km.
Porsche's warranty is three years/unlimited kilometres, in conjunction with a three-year paint warranty and a 12-year rust warranty.
Like all Porsches, the factory warranty for the GT3 can be extended up to 15 years at extra cost.
Running costs scorecard
Consumption
Below average
The final verdict
Without having driven the new GT3 on the road, it's hard to give a definitive verdict on just how broad the band-width is on this most lustful of all 911s. But given that the previous model was such a fantastic all-rounder, and the new-gen model is even better again on the track, with a clear focus on making it a better road car as well, it's hard to imagine the 992-series GT3 not being a road-and-track knockout.
In terms of its racetrack prowess, however, it's like an exquisite piece of beautifully crafted furniture or clothing that also happens to double as a seriously hardcore race car that never quits, no matter how challenging the course. As a track weapon, it's outstanding.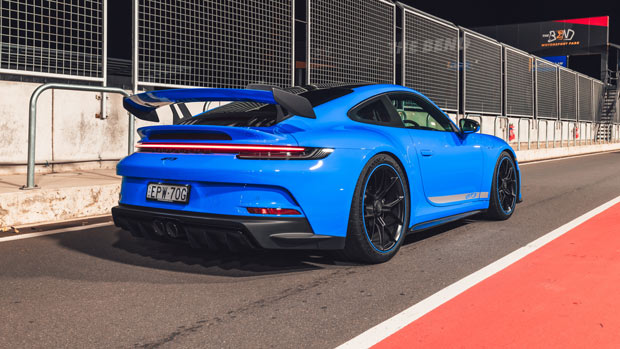 Viewed objectively, some of the GT3's options should probably be standard on a car that starts at $369,600, but part of the pleasure of ordering your own 911 is speccing it to your desired taste, not inspecting a chockers equipment list that's available to everyone.
This is not a regular car – rather, it's a seriously special machine – and given that Porsche hardly needs to try and attract an audience for a car as superlative as the new 911 GT3, queries about value for money are irrelevant.
Even with an as-tested price of $429,590 (before on-road costs), you can bet in the not-too-distant future that this Shark Blue GT3 will probably be worth even more. It certainly deserves as much.