The Porsche 911 GTS Coupe has a manual gearbox. If I'd written that line pre-millennium it'd be like saying a bicycle has wheels. I mean, of course it does, right?
But this is 2022. Manual 'boxes in anything – sports car, family SUV or a poverty-spec Toyota Corolla – just aren't really a thing anymore. Fewer drivers seem to care, and car companies love the simplification – read: cost savings – of providing just one transmission, purists be damned, Our conventional, dual-clutch or CVT auto will save time, fuel, and left legs, they say.
An antidote is the new 911 GTS Coupe armed with a seven-speed manual. It's the only three-pedal 911 Australians can buy outside a GT3 ($370,000, and good luck on that waiting list) or 2023's ultra-limited Turbo-based 911 Sport Classic – $600,000, and good luck being invited to buy one.
The GTS arrives to expand an already expansive 911 model range. This Gran Turismo Sport is something of a bridge gapper between the Carrera S and Turbo models, bumping up power, torque, abilities and features with a solid emphasis on an extra level of sportiness.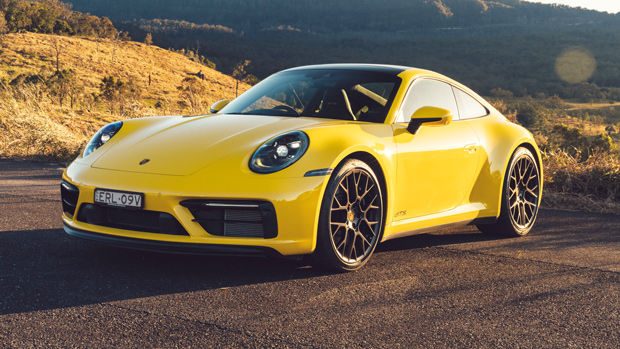 Prices climb to suit. A 911 Carrera GTS with rear-wheel drive starts from $314,800 plus costs. Yep, it's a lot. You can start your 911 journey with a base Carrera for $241,200, and I'll pub argue with anyone who says you really need more than this exceptional entry-level car…. if only it was offered with three pedals. A 911 Turbo starts from $404,900, if exclusivity and bat crap-crazy acceleration are your bag.
The rear-drive Coupe is one of five GTS models launched, and the only one available with no-cost option manual gearbox. If you want it with an eight-speed PDK dual-clutch, which is the only transmission available on the others in the range, Porsche will make it happen. An all-paw Carrera 4 GTS is $334,000; the Cabriolet GTS is $347,700 with two driven wheels or $366,900 with four; while a Targa 4 GTS also costs $366,900.
Power comes from a bi-turbo 3.0-litre flat six-cylinder; the same found in the Carrera S but the GTS badge buys an extra 22kW and 40Nm. Totals are 353kW and 570Nm to ensure each GTS can crack 300km/h and 0-100km/h times guarantee supercar status. It's 3.3 seconds the all-paw Coupe; 3.5 the '4' Cabrio and Targa, and 3.6 the rear-drive drop-top.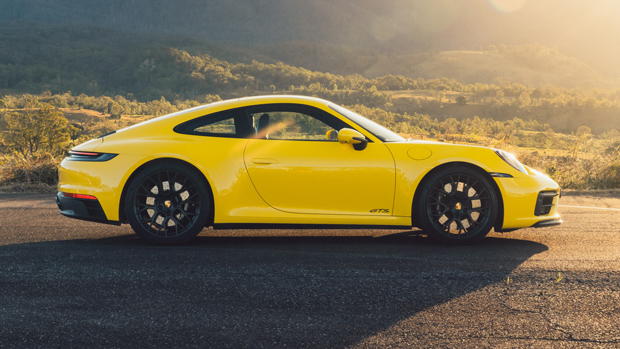 Smart folk know driver involvement is more important than cold acceleration figures, so won't mind (too much) the rear-drive GTS Coupe manual can only do 100km/h in 4.1 seconds with a human in charge – the PDK version mocks us with its 3.4 seconds effort.
The classic 911 shape isn't sullied with too many aero add-ons on the GTS. It oozes elegance and subtle muscle thanks to the 992-shape's wide arches and included SportDesign body package, while it sits 10mm lower than a 911 Carrera.
Black highlights help identify the GTS grade. Satin black coats the front spoiler lip, rear lid grille slats, badges and centre-lock alloy wheels, while the twin exhaust exits are high gloss black stainless steel.
How does the 911 GTS drive?
The GTS's manual gearbox isn't an afterthought – it's a work of driving delight. The stubby gear shifter is addictive to short throw through the cogs, Porsche totally nailing the mechanical feel that would push you towards buying this three-pedal GTS. You find yourself changing gear for no real reason but to feel it snick into place again.
Of course the engine's a riot to match. It's a howler, and in Sport and Sport Plus mode the (GTS-specific dual-flow) sports exhaust sounds angrier, Porsche helpfully removing some interior sound insulation to make the experience rawer. The merest of turbo lag is felt – though a human driving a manual can take some of the blame – but the torque hit is phenomenal, throttle response brilliant at higher revs and the noise wonderfully brutal for a turbo motor.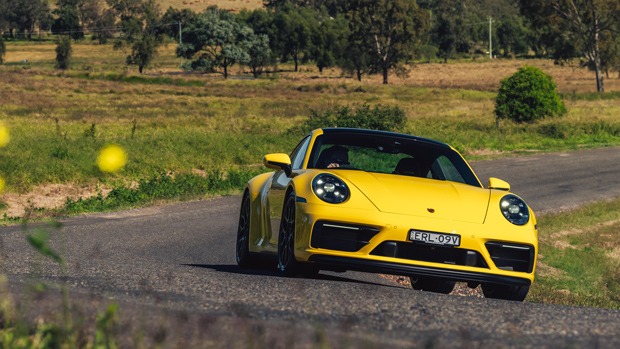 Pop the steering wheel dial to Normal mode and the GTS' next trick is how easy it is to live with in town. Really. Porsche Active Suspension Management (PASM) is fitted, its shock absorbers mopping up bumps at lightning speed. Despite mighty alloys taken from the 911 Turbo S – 20-inch front and 21-inch rear – road comfort and noise are impressively suppressed.
Tingles come with the first sniff of twisty roads. It's a blessing having the manual shifter because all else seems too easy. Steering response is sublime, helping lightning direction changes and you never need wrestle the GTS – it simply sticks, turns exactly where you point it and pulls away from corners with just a hint of rear end movement depending on how greedy you get on the throttle.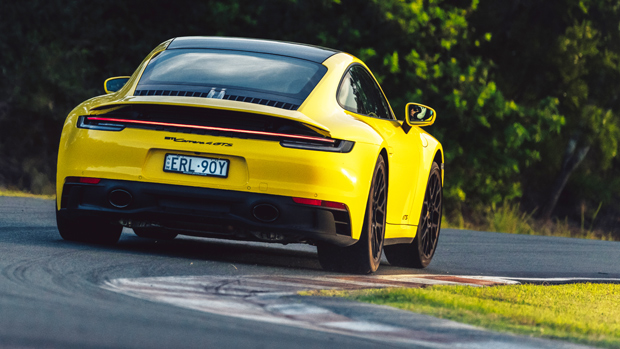 On track we sampled the rear-drive manual Coupe and all-wheel-drive 4 GTS Coupe with PDK. Both were joyous – and the dual-clutch a revelation – but of course the three-pedal version with a manual shift from the gods added welcome involvement.
It felt more playful and easier to flow through turns; perhaps because it's 85kg lighter (1510kg vs 1595kg), or maybe it's just the fuzzy feeling of nailing a rapid gear change or heel-toe downshift that gives a more personal connection to a car.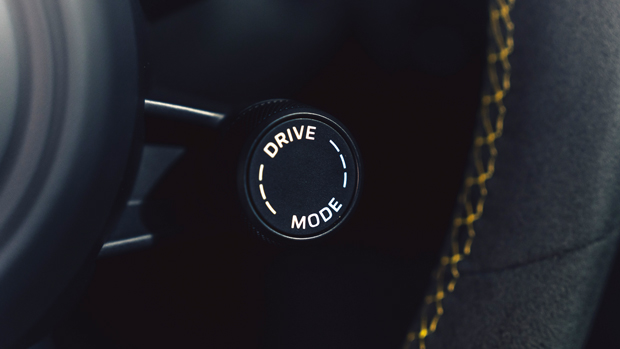 GTS buyers score, as standard, Porsche's Sport Chrono package with driving mode switch, and Sport Response button. This is your 'up to 11' setting where you're gifted "engine and transmission response to maximum performance" for 20 seconds.
In Sport mode the GTS rev matches your down shifts, saving you the effort of heel-and-toe. Then you remember you're in it for the purist feel, dive into the menu and are able to turn it off so your own feet can enjoy the work.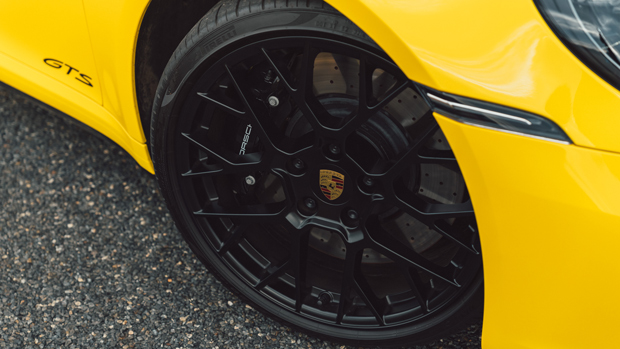 And what a track car. Hurling over $300,000-worth of 911 around a track with minimal run-off is daunting, but the GTS immediately lets you know it's on your side. You can take things easy on the throttle, brakes and steering and still fly rapidly between corners, the car communicating clearly and offering mighty control and grip through giant 305/30 rubber on its 11.5-inch x 21-inch rears.
Brakes are the same as a 911 Turbo's – 408mm up front with six-pot callipers and 380mm out back with four-pots. Ceramic brakes are optional, but hardly seem necessary unless you're planning the Nürburgring 24 Hours. The standard brakes have a lovely firm feel and proved fade-free during our track outing.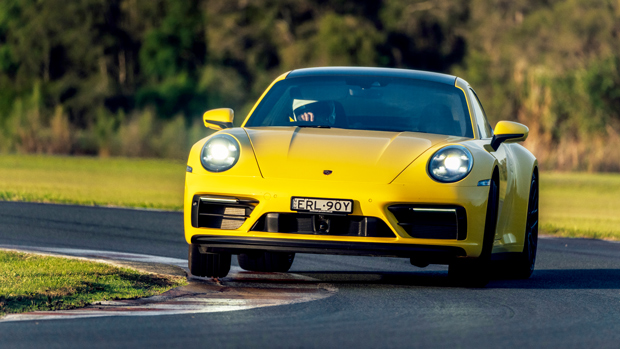 Manual downshifting while hard braking, in a 911, in a GTS, is one of life's great pleasures I've discovered. The PDK may do it quicker and neater, but it's lovely being busy and knowing you can hold revs at the redline to keep lapping up that wailing six-cylinder.
I'd love to tell you what an out-of-the-box GTS is like, but Porsche optioned our tester to the rafters, including its chassis. Porsche active anti-roll Dynamic Chassis Control ($6750) and rear-wheel steering ($4720) were fitted – Mark Webber would no doubt notice the upped agility and stability, but we mere mortals could probably make do with the standard setup.
How is the 911 GTS's interior?
Squint your eyes and you'll think you're in a GT3, which is a very good thing indeed.
Standard fit is Porsche's Race-Tex interior package, meaning your main touch points and more are swathed in racy Alcantara-like material. It coats the seat centres, doors, centre console and – most importantly – the steering wheel and gear shifter. Excuse the cliché, but it makes any drive feel like you're about to go racing.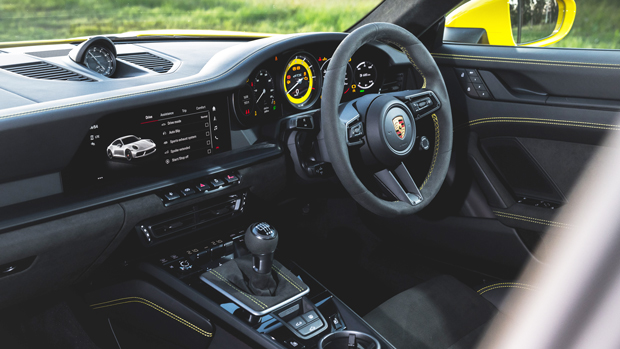 Seats are what Porsche calls Sports Plus with four-way electric adjustment. Our tester had the too-expensive ($5910) 18-way Adaptive seat upgrade, bringing memory settings for chairs, steering wheel and mirrors. Headroom's decent, and you sit low, snug and planted in a driving position that's hard to criticise. The whole effort is brilliantly driver-centric – as you'd expect from sixty years of 911 evolution.
If your intentions are particularly naughty, GTS Coupe-only lightweight carbon fibre bucket seats with carbon weave finish are cost optional. These motorsport-specific seats would of course dip the daily driveability of the GTS, while omitting the rear seats. On that note, don't try selling a 911 as a family car to your other half. The '+2' back seats are really emergency only – leg room just isn't a thing.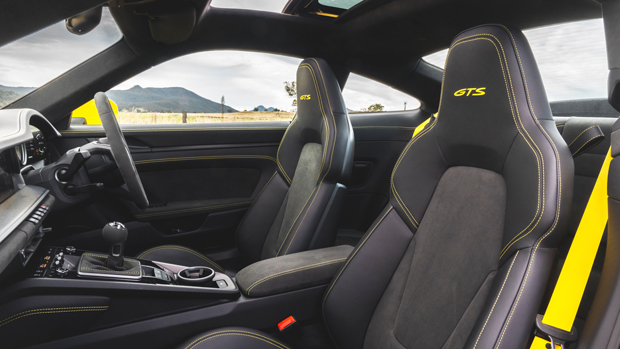 As with all '992' 911s, the cabin and layout are a superbly executed blend of heritage and latest technology. Best example is a centrally-mounted analogue tacho instead of a full digital dash. The rest behind the steering wheel is digital – speedo, vitals and data – and neatly customisable too. Keeping Porsche's classic font for the speedo numbers (which go up to 330km/h, by the way) shows why you shouldn't mess with a good thing.
A 10.9-inch screen runs Porsche's latest 6.0 PCM system, and sits flush above a centre console with tactile switches, appreciated simple climate controls and then that lovely round gear knob.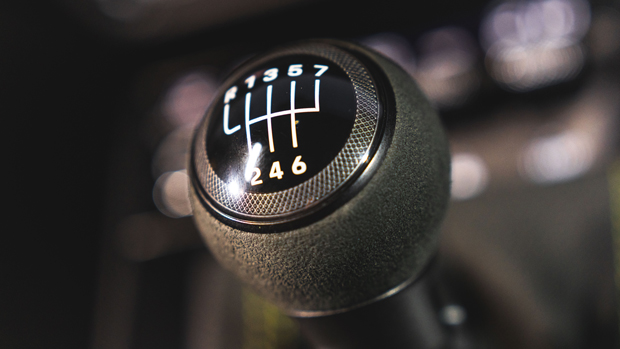 Wireless Apple CarPlay, wired Android Auto, digital radio, navigation and Bose sounds are included – though annoyingly no wireless charging – while "Hey Porsche" voice control means you can say things like "I'm cold" and it automatically raises the cabin temperature.
Other inclusions are heated front seats and steering wheel, keyless access and go, auto emergency braking, lane change assist and a surround view camera. If you want a lifting system for the front axle to avoid speed bumps, that's another $5070. It may be cheaper to just respray the bumper…
What are the 911 GTS's running costs?
Combined fuel economy is 10.7L/100km with the manual gearbox – the PDK returns 10.1L/100km. Our road test, although brief, saw just over 11L/100km. Not terrible for the fun offered, but with prices of Premium as they currently are, your big spending doesn't end after buying a 911 GTS.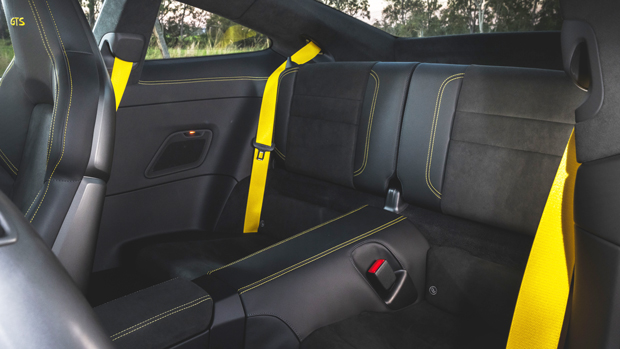 Services are annual or every 15,000km: Porsche says each dealer will charge differently so can't provide a price for services. Let's just say it'll be more than a Toyota service centre.
Porsche steadfastly refuses to up its Australian warranty from the current three years/unlimited kilometres, which is below the industry average. The factory warranty can be extended up to 15 years for an extra charge.
The final verdict
Porsche's 911 range is so comprehensive that not having a manual gearbox in a non-GT model is a massive oversight for those who covet proper driver involvement. The GTS – in rear-drive Coupe guise only – remedies this, and it's a revelation. When sticks are this good it's almost criminal to fit the PDK, no matter how clever that dual clutch is.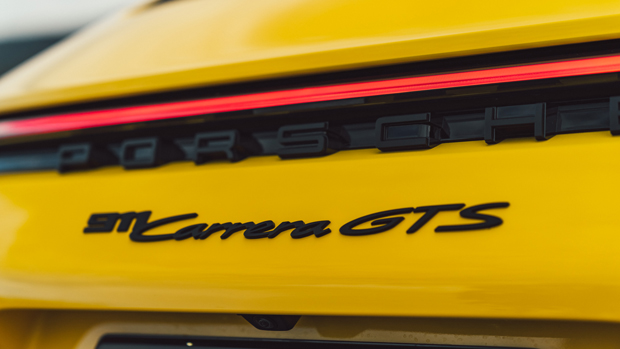 It's hard to bet against the GTS being the 911 range's sweet spot, if you can stomach the $314,800 plus entry fee. It's a supercar with pure styling, choice go-fast and go-slow bits, racy interior, and, with three pedals, that little bit more soul.