Four years after the Toyota 86 burst onto the Australian sports car scene in 2012, the two-door will receive its first facelift at the 2016 New York Auto Show.
It's an update that takes the airbrush to almost every exterior panel of the 86 – and some tinkering under the bonnet has resulted in a modest power and torque boost for manual models.
The aesthetic changes outside will be significant. Only two pictures have been released to the media at this point but it's clear the 86 will be taking on a much meaner stance. At the front end, the 86 exchanges its meek looks for an aggressively wide front air dam, racier gills and new LED-integrated headlights.
Out back, the rear bumper and diffuser pick up a similar thread to up front, and there are restyled taillights across the range with a signature LED pattern.
New wheel designs keep the kicks fresh.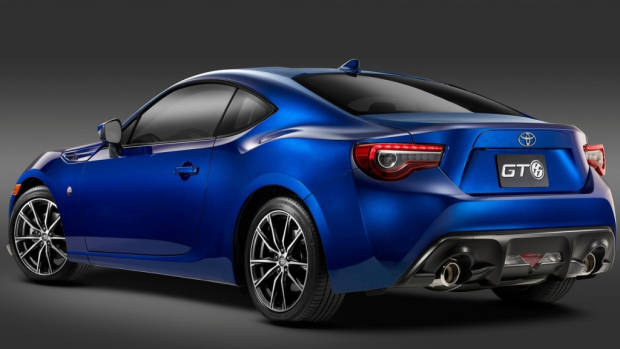 Buyers that opt for the six-speed manual will be in luck. The two-litre boxer four will remain the sole engine but stick-shift variants will see a 4kW power increase and 9Nm torque increase taking outputs to 151kW and 214Nm—three to four per cent higher than today.
Automatic cars won't benefit from that change, with outputs holding steady there at 147kW and 205Nm.
Small changes will be noticeable inside. The most significant of these is that audio controls finally make their way onto the steering wheel, while upholstery and trims will get a refresh.
The 2017 Toyota 86 will arrive in Australia towards summer 2016-17 with pricing anticipated to stick to similar levels as today, with an entry GT model kicking off around $30,000.