In 2012 the motoring world experienced a rare event: the emergence of an all-new, affordable, rear-drive, two-door sports car in the shape of the Toyota 86 and Subaru BRZ twins-under-the-skin.
Possibly the most surprising part was the two companies behind the initiative were Toyota and Subaru – both Japanese carmakers that were at the time focussed on SUVs and maximising profit margins.
The sports car recipe Toyota and Subaru came to was a two-door, low-slung coupe with rear-wheel-drive, a high-revving engine capable of 100hp/litre and the option of a manual gearbox.
When the Toyota 86 lobbed in Australia back in June 2012 it boasted a startlingly low entry-price of $29,990 before on-road costs – look through the classifieds today and you'll struggle to find a well cared-for GT manual for much less than $23,000. Those are some of the best residuals on the market outside utes…
Since the twins launched, the BRZ and 86 were treated to a mid-life refresh in 2017 which brought a new engine tune, updated exterior styling and fresher cabin technology.
The second-generation cars were first seen in late 2021, though the BRZ's Australian launch took place in January 2022 and we're still waiting on a production-ready Toyota 86.
How did the Toyota 86 and Subaru BRZ get started?
Following Toyota's investment in Subaru's holding group Fuji Heavy Industries in 2005, the two companies decided to produce a vehicle that represented the new-found pairing. In 2006, Toyota and Subaru began working on what would become the BRZ and 86.
Each company had involiables – mainly driven by Toyota which has a rich history producing sports cars such as the 2000GT, Celica, MR2 and Supra – and they came to an agreement to produce the lowest, lightest sports car that could that was still attainable and reliable.
For Toyota this kick-started the growth of its performance-oriented Gazoo Racing program that has since turned out amazing, bespoke vehicles including the A90 Supra, GR Yaris and soon-to-be-revealed AWD GR Corolla.
Subaru's most significant input was the 147kW/205Nm 'FA20' flat-four engine chosen for its low stack-height in the pursuit of getting the centre-of-gravity as close to the deck as possible.
In 2017 the twins scored new intake and exhaust manifolds which boosted power to 152kW and torque to 212Nm and lessened the infamous torque dip between 3000-4000rpm.
From launch in 2012 until they were withdrawn from sale in December 2021 a total of 27,958 first-gen BRZs and 86s found homes over the span of almost 10 years on-sale in Australia. The 86's biggest single sales year was 2013, when 6706 of the sports cars were purchased.
Where does this leave the BRZ/86?
The second-generation BRZ and 86 are taking more individual development paths than the first cars, for example Subaru transitioned to parts from its global platform at the rear end including a hollow sway bar mounted directly to the chassis.
Toyota has reportedly delayed the release of the second-gen 86 to work on the suspension and dynamics to further differentiate it from the BRZ.
Among other changes, the new BRZ and 86 moved to a larger 2.4-litre flat-four producing 174kW of power and 250Nm of torque, though the 'FA24's' architecture is very similar and it will accept many of the same aftermarket parts developed for the original's FA20 engine.
Additionally, lighter weight components including an aluminium bonnet, front fenders and hubs have made their way onto the new BRZ. The chassis has also been revised with a 50 percent improvement in torsional rigidity.
The transmissions have also been reworked, with a more positive shift action achieved from the six-speed manual transmission and slicker shifts for the six-speed automatic.
If you want to read about how these changes have affected the BRZ driving experience, you can watch our detailed review here.
The new sports car is already proving popular with Australia's first 500 car allocation already fully sold out.
Will Subaru and Toyota keep working together?
Toyota and Subaru have kept their relationship strong, with some of Toyota's hybrid know-how making its way into Subaru's Forester midsize SUV and XV small SUV. The hybrid powertrain systems including the motors and batteries are manufactured by Denso – a Toyota-owned company – for Subaru's applications.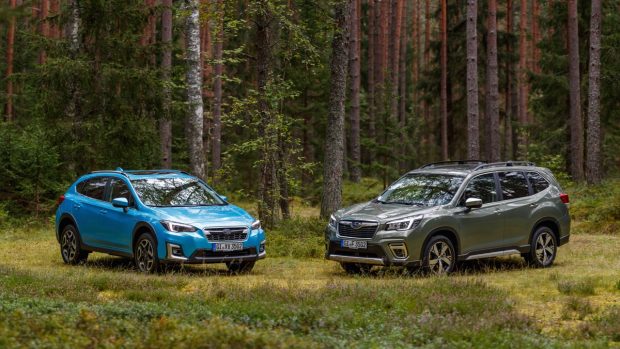 Notably, the Forester's hybrid powertrain feels a generation behind Toyota's RAV4 in terms of efficiency as Chasing Cars found out when we compared the two midsize SUVs.
One area where Toyota and Subaru have resisted collaborating is AWD systems – the Toyota GR Yaris uses an in-house developed 'GR-Four' system which share zero parts with the symmetrical AWD Subaru uses in its WRX sports sedan. 
The two companies will be working more closely in the future after a 2019 agreement that promised collaboration on future battery-electric vehicles.
This BEV sharing is already coming to fruition with the Subaru Solterra and Toyota BZ4X electric midsize SUV concepts both sharing the same e-TNGA underpinnings, similar 450km range figures and 150kW DC fast-charging capacity. 
Hopefully Subaru and Toyota will continue their partnership for the next decade and develop another new sports car for the next-generation of car enthusiasts.
Subaru BRZ 2022: prices in Australia
All prices listed are before on-road costs.
BRZ Coupe manual: $38,990
BRZ Coupe S manual: $40,190
BRZ Coupe auto: $42,790
BRZ Coupe S auto: $43,990