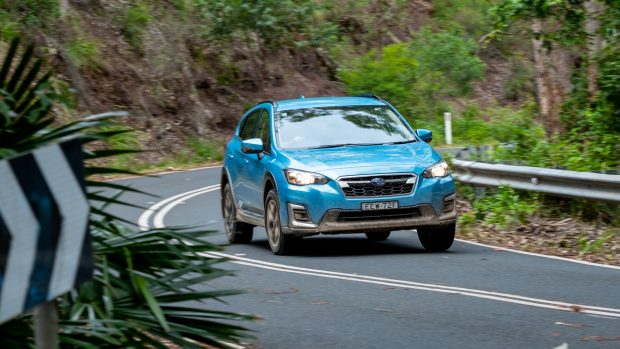 For most Australians, hearing the word "hybrid" conjures up a natural association with Toyota – probably not fellow Japanese manufacturer Subaru. Despite their outdoorsy image, Subaru has persisted with a combustion-only range in recent years while preparing hybrid options that are now available in Australia. Given how natural a fit this fuel-sipping tech is for eco-aware Subaru buyers, the new Forester Hybrid and XV Hybrid options look like interesting offers.
Experience often pays when it comes to complex technology, though, and we found that the Toyota RAV4 Hybrid, with its powerful electric motor, trounced the Forester Hybrid in our recent comparison. We found the Forester's 2.0-litre engine, teamed to a weak motor and small battery, was just too modest for a vehicle of that size. The same combination is found here, in the smaller, lighter XV. So, does it make for a better fit here?
We're fans of the regular, petrol-powered XV here at Chasing Cars: though it's no straight-line blazer, its size, ride height, chunky aesthetic and good value for money endear it to us. However, there's immediate risk here for the new XV Hybrid model, which lists at $35,580 ($40,324 driveaway). That places it within $900 of the top-shelf XV 2.0i-s petrol, despite the hybrid packing much less equipment.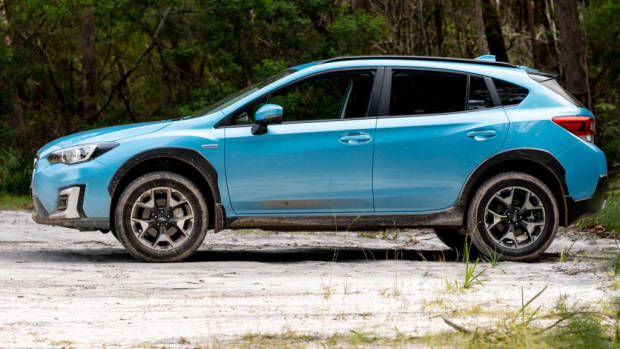 The Hybrid grade on test teams a two-litre four-cylinder boxer engine with an electric motor. It arrives to compete directly with the also-new hybrid iteration of the Toyota C-HR, which we loved – watch our C-HR Hybrid review – but the Subaru also fulfils the brief of offering a greener alternative for buyers already set on an XV. We've had good things to say about this funky, chunky crossover, so our expectations going into this test were positive: sprinkle some better fuel economy on this competent small wagon. What could go wrong?
Perhaps we're a little too used to Toyota hybrids, where the partial electrification results in drastic fuel consumption reductions in the real world. Our long-term RAV4 Hybrid routinely returned sub-6L/100km in the city while our testing of the C-HR Hybrid revealed a capacity to keep economy below the 5L/100km mark with a light pedal. Unfortunately, the Subaru misses those benchmarks by some degree.
The culprits here are the XV Hybrid's tiny battery and weak motor. Unfortunately, the battery is really very small, while the motor produces a very paltry 12kW/66Nm – barely enough to move the XV off the line. Depress the pedal to a normal degree off the line and the petrol engine fires up almost immediately, negating the ability to save fuel at this crucial point where engines are at their least efficient. Both Toyotas, it must be noted, have stronger motors and a more battery capacity – especially the new RAV4.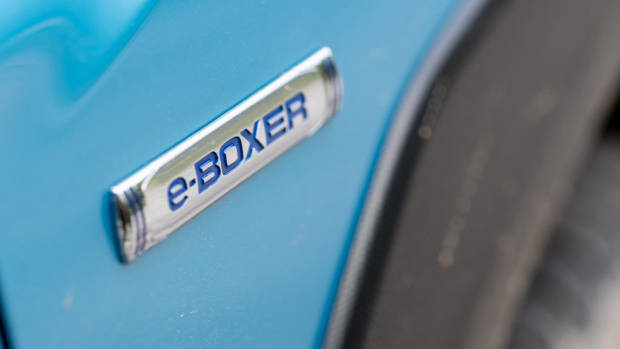 In practice, this equates to very marginal fuel savings in the XV Hybrid. In our testing, the standard XV two-litre petrol returns about 10L/100km in town. The hybrid? We recorded 8.8L/100km in the same conditions. An improvement, no doubt – but far adrift from Subaru's optimistic claim of 6.5L/100km. For reference, 8.8L/100km is basically on par with the non-hybrid, non-raised Impreza hatch we also reviewed recently.
Based on those numbers, if you drive the Australian average of 14,000km per year, you'll save about $250 per year if petrol costs you a conservative $1.50 per litre. Given the $35,580 Hybrid is based on the $31,610 2.0i-L petrol-only grade … it'll take you about just under sixteen years to recoup the difference. The economic argument, then, is quite weak.
Where the hybrid does provide a small, measurable benefit is at town speeds: because the electric system supplements the existing 2.0-litre engine, you do get a little torque boost. The engine produces 110kW/196Nm on its own – and while the electric motor's 66Nm of torque is insufficient to move it off the line at a normal pace, it does help when you're already moving and you want to jump into a gap in traffic. Overall, the combined system offers quiet, easy motivation at low speeds, though on country roads you'll still need to carefully plan your overtaking: with a 10.7 sec 0-100km/h time, it's not fast.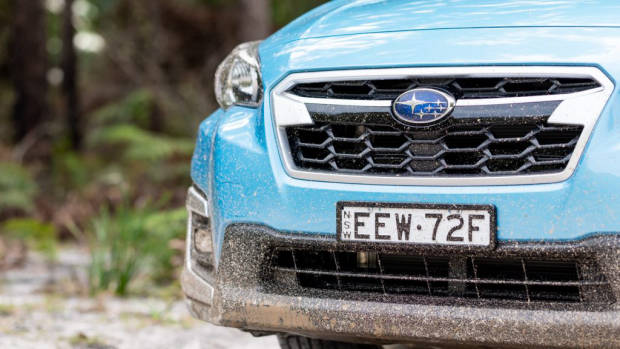 Subaru has stuck with their CVT gearbox for the XV Hybrid, which is fine, but the game has moved on. Compared to Toyota's gearbox especially, the Subaru system flares revs constantly and occasionally shudders like a learner manual driver on a burnt-out clutch.
Luckily, Subaru's saving grace is its excellent symmetrical all-wheel-drive system which does wonders off-road. It works just as you want it to and, unlike Haldex-style systems, doesn't wait until grip disappears to shuffle power between the axles. With 220mm of ground clearance, you're not likely to beach an XV, and Subaru's AWD system for hybrids is also more robust than Toyota's new eFour AWD system, which uses electric motors on the rear axle which need to be kept 'alive' by the engine working as a generator when off-roading. Subaru's highly competent AWD technology is standard across the XV range – not just on the hybrids.
Back on tarmac, the XV's ride and handling is generally well-judged. At city speeds, the suspension works well, with the chunky 225/60 R17 Yokohama rubber providing a soft edge when hitting bumps. However, more significant impacts bring the overly stiff rear springs to light. This effect is amplified at speed, with the dampers struggling to keep up with the springs – though with the boot loaded up, this underdamped, overly stiff effect diminishes, and the Subaru handles country curves well enough.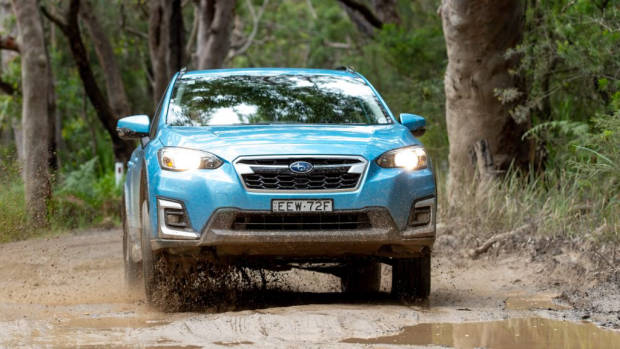 Another benefit is that the Hybrid is the most affordable XV model that bundles Subaru's EyeSight adaptive safety suite as standard – though we'd be more comfortable if every grade had this. EyeSight includes a twin camera-based system offering AEB and forward collision alert, adaptive cruise control, lane departure warning, and high beam assist. Blind spot monitoring, rear cross traffic alert and reverse-gear AEB are also included.
Styling is one of the XV's high points. The generous black cladding complements the overall shape of the car well, and raised ride-height gives it purposeful appearance. It looks excellent covered in mud, too. However, we would stay away from the Hybrid exclusive light-blue hue pictured here – which we ended up referring to as my-little-pony metallic. A litany of colours are available, which is a credit to Subaru: we'd opt for the grey, red or orange, each of which complement the XV's shape particularly well.
Inside, the XV Hybrid is pretty sparse – another consequence of basing the electrified model on the lower-end L grade, rather than the much more generous top-end S. Despite its quasi-premium pitch, open the door of the Hybrid and you're confronted with manually adjustable seats, hard-touch plastics, and a miniscule seven-inch touchscreen without integrated navigation. The software is easy to use, at least, and wired Apple CarPlay and Android Auto are standard. Higher grades receive a larger eight-inch screen.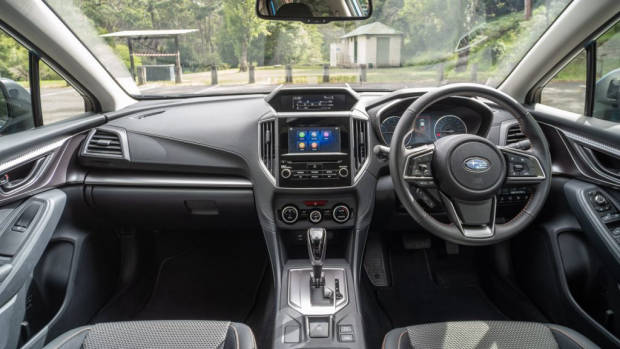 The front seats are comfortable, though, wearing soft but supportive cloth cushioning. Cabin materials, although hard to the touch, feel sturdy. Height adjustment is left out for the passenger, though, and those in the back do without air vents (and USB charging), which reduces utility for families. Space in the rear, though, is very generous. Subaru increased room by 40% over the first-gen XV, and despite being a taller tester than most, at six-foot-two, I had ample leg and headroom behind my own driving position.
Under the light manual tailgate sits a 345 litre boot, which is fairly average for this class and well-shaped for carrying suitcases – and there is no load lip at all, meaning heavy items slide straight in or out. But where you'd hope to find a spare wheel – particularly on a vehicle so well equipped to drive off-road – you find only the batteries for the hybrid system. Toyota manages to fit a spare: hopefully this is rectified in a future update. And it matters, with editor Baker sustaining a puncture in the also spare-less Forester Hybrid the week previously.
All XVs, the Hybrid included, are covered by Subaru's five-year, unlimited-kilometre warranty that matches what we consider to be the industry standard. Servicing is required a little more regularly and at a higher cost than competitors, though, with 1 year/12,500km service intervals and a standard service costing $350. The second-year sees a more involved $588 service, the fourth year a whopper at $788.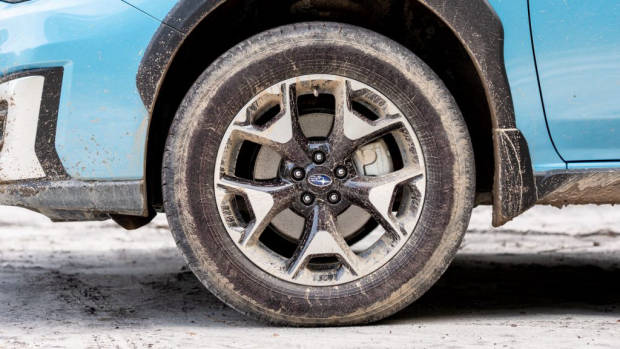 The long and short of it is that you'd have to closely consider whether the XV Hybrid achieves what you're hoping it will. While it does offer a marginal improvement in fuel economy, it's nowhere near sufficient to offset the cost.
All of that being said, we still like the Subaru XV. This is a well-sized, practical little crossover with character and good looks. We'd just be smart with our money and buy a more generously specified petrol model, in either the Premium or 2.0i-S grades. They're more complete cars that will make more sense in the long term.