Subaru has now fully unveiled its first fully-electric vehicle known as the Solterra midsize SUV.
The Solterra has been built in a partnership with Toyota who previously unveiled its own version of the SUV known as the BZ4X. 
Built on the e-Subaru Global Platform, the Solterra features the first electric version of the symmetrical all-wheel drive system without the use of a mechanical driveline.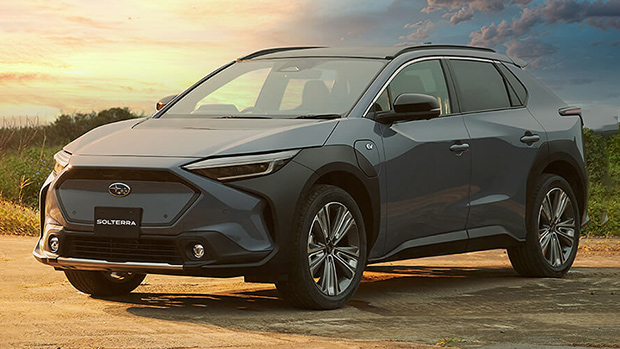 But the car is unlikely to come to Australia any time soon, with Blair Read, general manager of Subaru Australia saying that nothing has been confirmed.
"Whilst Subaru Corporation is yet to confirm a timeline for the Solterra in Australia, we are working very closely and future electric projects form part of ongoing dialogue between Subaru Australia and the factory."
The Solterra will launch in markets including Japan, United States, China, Europe and Canada by the middle of 2022.
Specifications
The Solterra measures in at 4690mm long, 1860mm wide and 1650mm tall with a wheelbase of 2850mm, making it very similar in size to the Toyota RAV4 midsize SUV.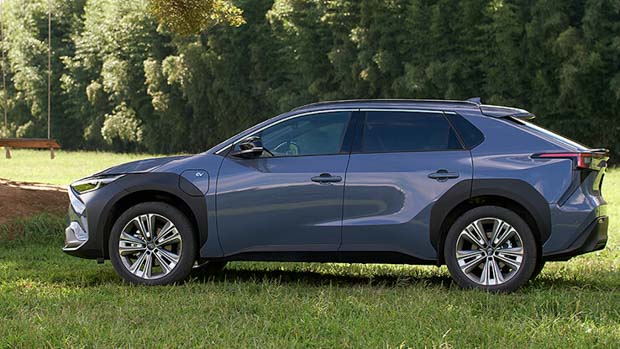 Unusually for a Subaru, the Solterra is available in both front- and all-wheel drive – meaning if this SUV came to Australia it could be the first non-AWD Subaru sold since 1997.
The front-wheel drive model weighs in at 1930kg while the dual motor all-wheel drive edition is 90kg heavier at 2020kg – definitely no lightweight.
Subaru will offer the Solterra globally in a choice of two grades with pricing not yet released.
Powertrain and performance
Much like the BZ4X, the Solterra has two power outputs.
The front-wheel drive version makes 150kW of power from its single motor, while the dual-motors version (80kW each) combines for a total of 160kW.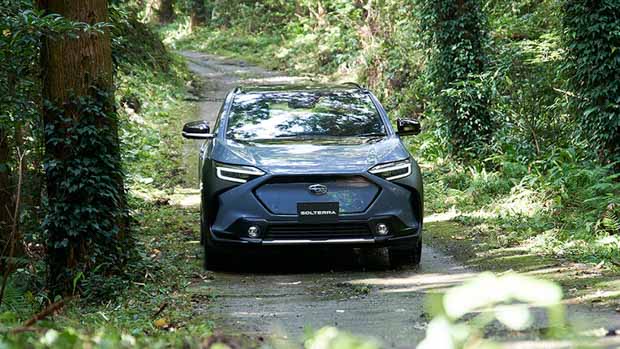 While the Solterra won't have sports car-like performance, the AWD version of its Toyota counterpart can launch itself to 100km/h in 7.7 seconds.
Energy is drawn from a sizeable 71.4kWh battery pack placed under the floor in a common skateboard design layout.
Range for the single motor Solterra will be 530km according to the conservative WLTP, while the dual motor variant will have a range of 460km.
Styling and design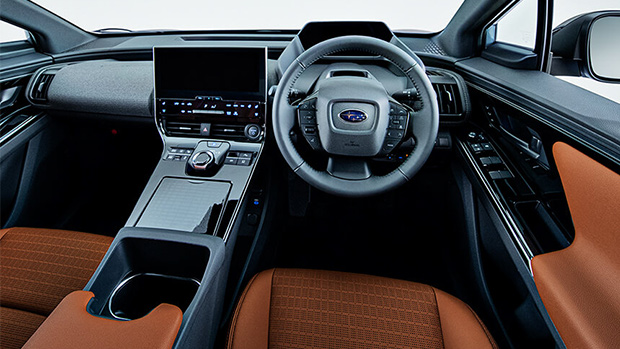 One look at the Solterra and one might immediately recognise the shape. Not only does the new Solterra look like a modern version of the Toyota RAV4, it also looks almost identical to the Toyota BZ4X with which Subaru shares most of its parts.
It is not yet confirmed whether the Subaru Solterra will also receive the futuristic yoke wheel which recently debuted on the BZ4X. It could possibly be a Toyota exclusive only.