After selling several thousand examples of its Levorg station wagon since that car's Australian introduction at the urging of customers in 2016, Subaru has opted to rename and reposition the new second-generation Levorg as the 2022 WRX Sportswagon locally — a decision that was not taken in Japan where the car still wears Levorg branding.
Indeed, the launch of the new WRX in sedan and wagon forms — conducted on genuinely challenging country roads in the Victorian high country — included considerable debate among road testers present about whether the Sportswagon is worthy of wearing the WRX badge, given the weight of its heritage.
The answer to that question is a simple one in our eyes: yes, the WRX Sportswagon is a WRX, but only if you cough up $57,990 on the range-topping tS variant, which trades a quite shambolic suspension tune for a far superior setup with excellent adaptive dampers that transform the driving experience. More on that below, in our driving dynamics discussion.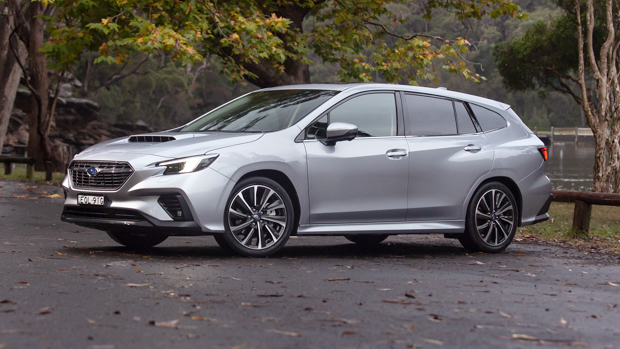 Buy the tS and you're buying a vehicle that is really quite appealing. Wearing aggressive styling with an almost laughably wide bonnet scoop, evoking the classic first-generation of WRX that launched in the mid-1990s amid world rally fever driven by famous Subaru WRC driver Colin McRae, the WRX Sportswagon looks pretty cool.
It's also usefully family-sized despite not looking dowdy. While still not totally cohesive, the lines are an improvement on the awkward Levorg if not an attempt to replicate the handsome heights of the fourth-generation Liberty wagon, introduced in 2003, that still holds a hallowed place in the minds of Subaru loyalists.
In Australia, the buyer who might have purchased a Liberty GT wagon in the past has largely moved on to the front-wheel drive Skoda Octavia RS ($51,590) or all-wheel drive Volkswagen Golf R wagon ($68,990), with both VW Group estates echoing the Liberty's semi-luxurious positioning with high-quality driving dynamics.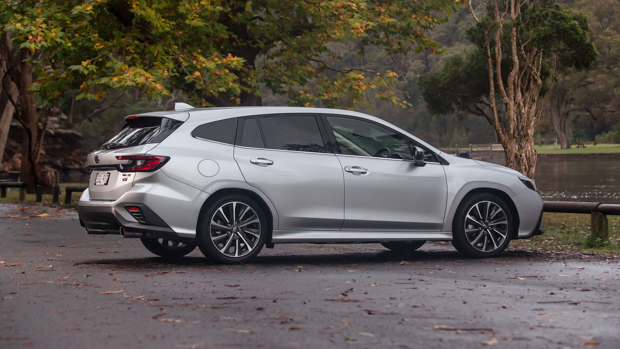 Subaru are unabashed in their claim that the new WRX is designed to appeal to the people that lusted after the first-gen car in the nineties but have now matured to middle age and need a practical and safe car that's still capable of the odd fast blast on a Sunday morning.
It's a softer car as a result, especially in wagon form (though the sedan, which is offered with a manual unlike the CVT auto-only wagon, is also far less of a mongrel than before) but if you carefully specify the tS, paying the $8000 penalty over the base model, the car lives up to its promise.
Compromise and buy the entry-level wagon ($49,990) or mid-spec GT ($55,490) — a trim designed to evoke the tremendous Liberty estates of years gone by — and if you're a keen driver you just won't be happy.
It's tS on adaptive dampers or bust.
How does the WRX drive?
The heart of the new WRX range is an improved 2.4-litre turbocharged petrol four-cylinder engine that makes a little more power than before (202kW) and the same torque as the old, 2.0-litre WRX (350Nm) – but unlike last time, Subaru has confirmed there will be no hotter WRX STi trim.
On the wagon front, the outputs are notable in themselves as the outgoing Levorg mostly made do with a smaller 1.6-litre engine, though a 197kW 2.0-litre was also available.
Like the Levorg, though, the WRX Sportswagon is unfortunately only available for purchase (globally) with an automatic transmission, and a CVT at that. Subaru claims that the upgraded Sport Lineartronic CVT — essentially a beefed-up version of the same transmission used in an Outback or Forester — will redefine your expectations of CVT 'boxes.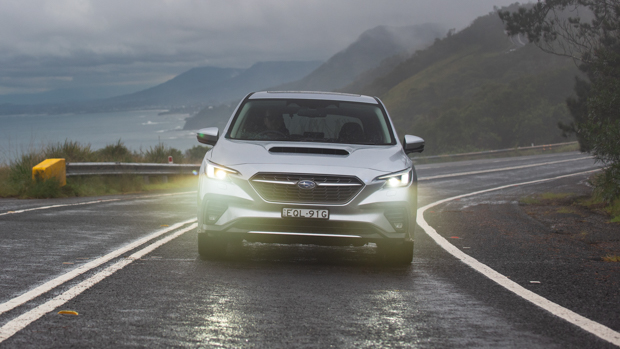 It does indeed — but that's not a very high bar. CVT automatics typically respond reasonably well to high torque, as in this vehicle, but it's evidently extremely difficult to completely dial out the elastic, clutch-slipping sensation of a CVT — and dozy throttle response — as while the transmission in the WRX Sportswagon is better than its application in other Subaru cars in these areas, it is far from perfect.
Interminably lethargic in the WRX wagon's comfort drive mode, the CVT finally wakes up and provides acceptable performance in sport sharp mode — which can be fettled through a cool custom drive mode palette in the tS variant — but while sport sharp makes it a more responsive drive at higher speeds, it favours high RPMs at low speed in this setting, making it a bit too noisy and jumpy in town. Imperfect, then.
The problem for Subaru when it comes to the automatic transmission is threefold: first, a manual isn't available for the wagon from the factory; secondly, there appears to be a dogged rejection of torque converter autos from Subaru HQ apart from in the unique BRZ coupe; and thirdly, that rival cars offer far superior transmissions.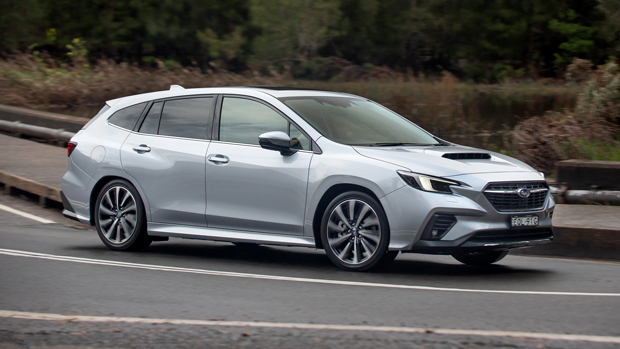 The Skoda Octavia RS, for instance, makes use of a more advanced dual-clutch automatic with wet clutches for higher torque acceptance and greater reliability. The Skoda might be 22kW down on the Subaru — not to mention it's also FWD — but it definitely feels quicker thanks to its snappily-shifting auto.
You do get used to the CVT, though, and in sport sharp it allows you to make use of the peach of an engine that has real thrust, especially in the mid-range. Digging into the throttle early on corner exit sees the AWD system hook up quickly and neutrally and the WRX Sportswagon can fire out of bends with huge zeal.
It's a shame that Subaru hasn't seen fit to equip its flagship performance car with a sports exhaust. Let alone the family-focussed wagon, not even the manual sedan has any notable growl. The boxer burble is dead, at least for now. Subaru Australia says an accessory exhaust is coming, but it's unlikely this system will have the factory-tuned perfection of a Hyundai i30 N, which sounds very naughty compared to the near-silent WRX. Even the studious Octavia has more attitude.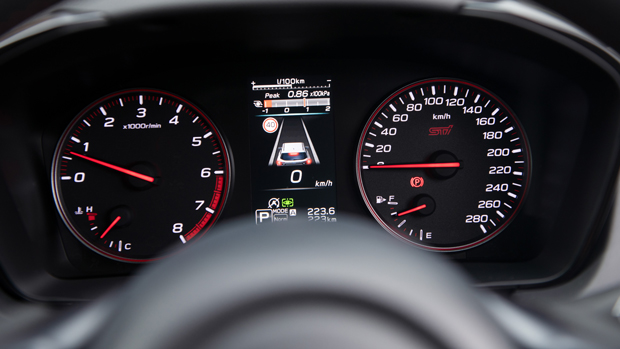 The steering, similarly, is accurate and quick with a natural-feeling ratio, and well-judged weighting in comfort mode, but road feel through the electric rack is basically absent. The wagon is also specified with insufficiently grippy tyres from the factory. The sedan scores 245/40R18 Bridgestone rubber but the wagon makes do with scrabbly 225/45R18 Yokohama BlueEarth boots. At least this is fixable by the customer, and the car would respond very well to a set of higher-end Continental or Michelin tyres.
One saving grace of the tS variant of the Sportswagon is its superb adaptively-damped suspension, which manages a rare combination of supple ride quality and good body control. Crucially, this is a setup that is ONLY available on the tS.
The old Levorg attracted negative attention for its loose rear suspension control, which could disrupt stability on high-amplitude country road crests in particular. In all specifications, the new WRX Sportswagon is suspended better than the Levorg, but there is a yawning gap between the competence of the suspension fitted to the lesser Sportswagons and the top-shelf tS.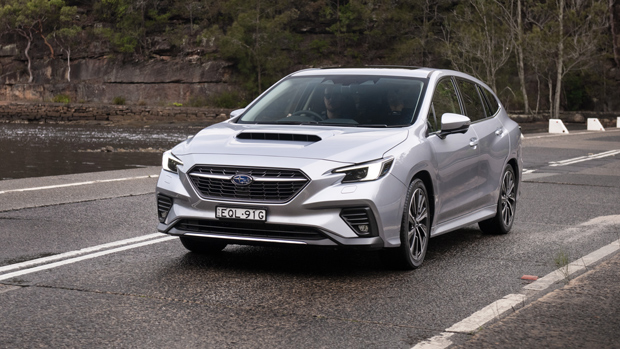 On fixed dampers, the base and GT variants really struggle to contain their 1607kg mass when sudden inputs are made through the steering wheel — fast changes of direction result in immediate, jerking ESC intervention. It's not unsafe, per se, but it stifles driver engagement straight away, and it's difficult to understand how this behaviour was allowed to leave the proving ground with a green light.
The base suspension also reacts badly to big hits on country road, requiring two damper strokes to recover, too slowly, from nasty undulations that are all too common on regional routes in Australia.
Credit to Subaru for launching the car on truly honest and difficult roads, but this choice mainly served to show that any buyer intending to tackle complex tarmac at pace must choose the tS, which basically feels like a different car!
On adaptive dampers the WRX tS Sportswagon takes lumps and bumps in its stride and is two or three times more agile in our estimation, as the front end more adeptly contains roll and avoids triggering ESC as a result. Corners can be strung together with fluency, and as a bonus, you're rewarded with better day-to-day ride quality in town too.
How is the WRX's interior?
Subaru has pursued increasing consistency with its interiors, and the WRX Sportswagon follows the popular new Outback in adopting a vertical slate touchscreen as the centrepiece of its cabin design.
The 11.6-inch unit is clear and bright – though resolution could be more crisp. Apple CarPlay and Android Auto are available (though only via cable, not wirelessly), and Subaru's TomTom-derived integrated navigation is very easy to use.
Sound quality from the six-speaker stereo is only average, though. Oddly, the Sportswagon is not available with the 10-speaker Harman-Kardon stereo fitted to some sedan variants, though even the sedan's H-K unit could have been tuned better from an acoustic standpoint.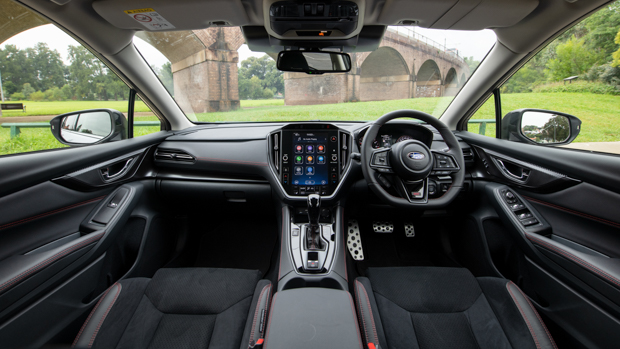 One thing Subaru does very well is laying out interiors and screens in a way that makes sense. You don't struggle to find controls and settings in this vehicle; the WRX Sportswagon is intuitive to use.
You also settle into a very good driving position, quickly. The seats are shapely and comfortable; in the tS, they're finished in fetching suede and cloth, while the mid-spec GT scores leather. Both those grades have extremely effective seat heaters and electric adjustment for the two front pews.
The steering wheel has a broad range of adjustment and also settles into a comfortable position with ease. It's leather-bound and has plastic paddle shifters for the (simulated) transmission on all grades.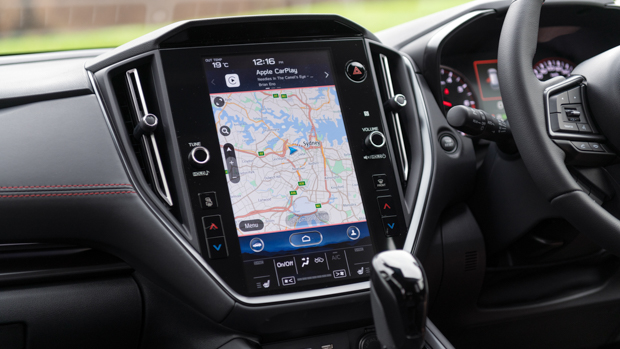 A pair of analogue dials and a relatively simple trip computer between them is increasingly old-school, especially in a new-for-2022 model; there's no option of a large digital screen here.
Unlike Mazda, Subaru is not suggesting that it is pushing into premium territory, and the cabin materials and plastics used throughout the WRX Sportswagon are only middling – which given the affordable entry price is fine.
That being said, the tS variant that we're clearly recommending in this road test is over $60,000 driveaway and some buyers may feel that perceived quality is not quite good enough to justify a price which almost touches entry-level luxury positioning.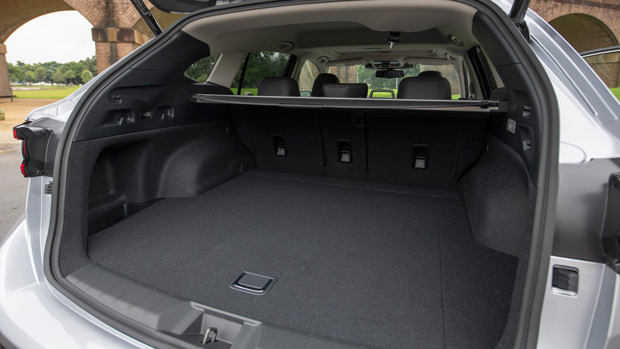 Storage is plentiful up front and we continue to appreciate the provision of large cupholders in Subaru products.
Move to the back seat and it's clear the WRX Sportswagon is family-friendly; despite this wagon not being that massive at 4.7m in length, the Subaru has more than ample space for six-foot adults (let alone children). You could seat a third person in the middle if you had to, though this is more comfortable as a four-seater.
We're yet to subject the WRX Sportswagon to our child seat fitment and soccer ball testing, though Subaru says the wagon has 492 litres of boot space – on par with many midsize SUVs.
What are the WRX's running costs?
We subjected a range of WRX Sportswagons to about 500km of driving in northern Victoria – mainly high-speed country work.
Premium-octane petrol is required, and against the tS variant's claim of 8.5L/100km, we managed to consume 8.9L/100km – not bad!
We'll have to report back later on what in-town fuel consumption is like, but we assume it will hover around the low double-digit mark if you spend much of your time in start-stop traffic.
The WRX range is covered by Subaru's five year, unlimited kilometre warranty in Australia which is about average for the industry now.
Servicing the WRX is required every 12 months or 15,000km – whichever comes first. Capped price servicing is available, totalling $2365 for all Sportswagon grades over the first five years/75,000km.
The final verdict
Subaru diehards hoping for a return of the svelte and polished Liberty GT wagons of days gone by may be a little disappointed by the WRX Sportswagon, but the tS does a reasonable impression of the estate cars that delighted many in the past.
It's just that rivals have cottoned-on to the recipe in Subaru's absence and in many ways have advanced the fast-wagon segment beyond where the 2022 WRX Sportswagon now sits.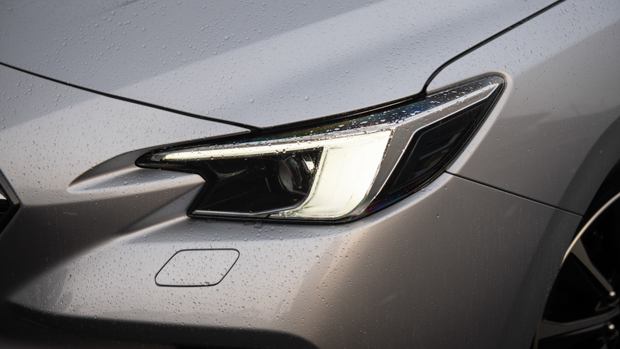 A few changes in development and this would have been a better car. Given the niche appeal of the wagon body style – this is a car for enthusiasts…with children – why wouldn't you offer the manual gearbox?
That miss is especially painful given the CVT automatic – while improved – is well behind best-in-class for performance. The Octavia RS and Golf R school the WRX Sportswagon on gearbox responsiveness.
The loose damping and hyperactive stability control tune of the base and GT grades needs a retune. It deserves to be done properly because the chassis beneath the WRX Sportswagon is actually very capable.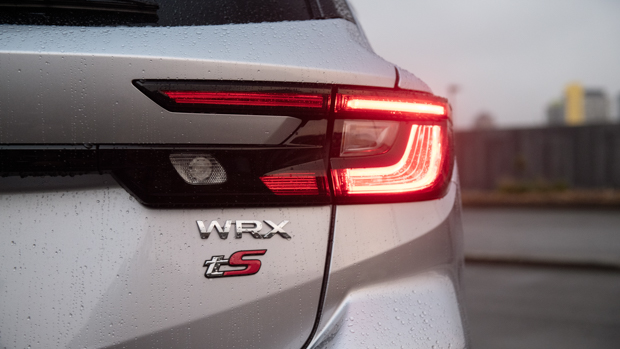 On adaptive dampers, the WRX Sportswagon is a different car – one worthy of a higher score than 7/10. It rides in a supple manner and has a much higher degree of agility and poise. Perhaps adaptive dampers should be extended across the range?
Certainly, it's a good thing that Subaru has extended the WRX nameplate to the wagon, as it's clear that (in tS guise) this vehicle is capable of proper performance driving, and it really does look the part.
Fine-tune out the downsides, and the WRX Sportswagon will be capable of even more.