The 2023 WRX STI has been previewed by Subaru's WRX S4 STI Performance Concept at the Tokyo Auto Salon earlier today, however this study's visual similarity to the production car is hard to ignore.
The WRX S4 STI Performance Concept was joined by a Levorg STI Performance Concept, BRZ GT300 race car, a BRZ kitted out with STI parts and an electric STI E-RA race car on Subaru's 2022 Tokyo Auto Salon stand.
As is typical fare for an STI show-car take on a WRX, the S4 Performance Concept adopts a massive STI parts like a carbon-fibre rear wing and a wider stance outside.
Perhaps most importantly, Subaru Tecnica International's signature 'Cherry Red' highlights are featured on the concept car's chin spoiler, mirror caps and STI grille badging.
Some may be disappointed to see the WRX's wheelarch cladding make it to this STI preview, though in the pictured grey paintwork their tacked-on effect is somewhat softened.
It is likely the yet-to-be-revealed WRX STI will take these body mods even further with fatter wheels and arches bridging the gap between this car and the 2017 Viziv Performance STI concept.
What does the S4 STI Performance Concept tell us about the WRX STI?
A lower WRX with a massive rear wing and an aggressive bodykit should get every car enthusiast excited, though this concept car doesn't hint at any hardware changes for the forthcoming STI aside from a louder exhaust, which Subaru describes as enhancing "the ultimate sense of unity".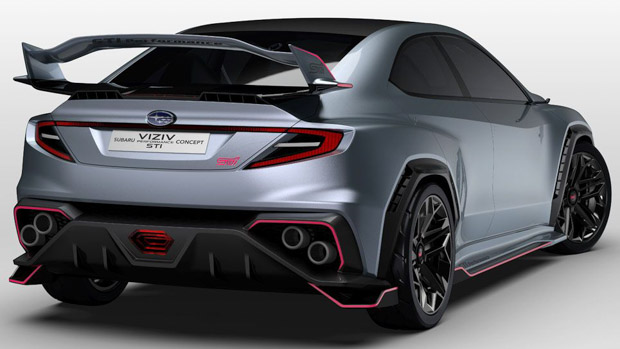 In terms of performance modifications, Subaru Japan isn't saying whether the forthcoming STI will produce more than the WRX's 202kW of power and 350Nm of torque, nor whether it will use the same 2.4-litre turbocharged flat-four engine.
In order to best the outgoing EJ25-powered WRX STI Final Edition, the new-generation STI will need to pack more than 221kW and 407Nm.
Following in STI tradition, we would expect the five triple-spoke wheels pictured to be a size larger than the standard WRX's 19-inch alloys and wrapped in stickier, track-focused rubber
The WRX STI will also get trick differentials – with a switchable, electronically controlled centre diff that can be altered to suit different conditions – and limited-slip hardware on both axles to maximise traction in challenging conditions.
Just like the WRX on which it's based, it's likely a new STI will offer a six-speed manual transmission – potentially as the only choice, though this concept appears to have an automatic transmission – making it a rarity among all-paw performance rivals such as the Volkswagen Golf R, Audi RS3 and Mercedes-AMG A45, but a direct rival for the forthcoming Toyota GR Corolla manual.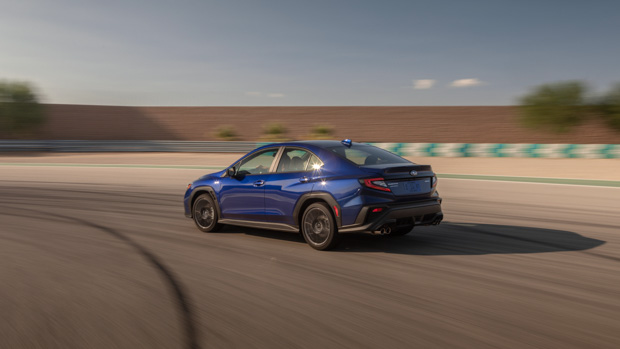 When will the WRX STI arrive in Australia and what will it cost?
The WRX performance sedan is slated to launch here in the second quarter of this year, following its global reveal last September.
So far the new-gen WRX STI hasn't even been teased, we've just had a taste with this Tokyo Auto Salon concept, though a full reveal is expected later in 2022, prior to it going on sale in 2023. 
Expect WRX STI pricing to start around $60,000 when it does launch in Australia to reflect the extra technology and development costs of an all-new niche performance model such as this.