Subaru has officially unveiled its all-new 2022 WRX sports sedan, which was revealed over the weekend in the US and is slated to arrive in Australia some time before July next year.
The fifth-generation WRX will be followed, in due course, by the full-fat WRX STi which will likely be revealed later in 2022, with an Australian on-sale at least 12 months after that.
While the WRX once existed largely in a segment of its own, this all-new, sedan-only version will face off against an army of rivals including the next-gen Honda Civic Type R, Hyundai i30 Sedan N and possibly the rumoured Toyota GR Corolla, not to mention the Skoda Octavia RS and a bevy of hot VW Golf models.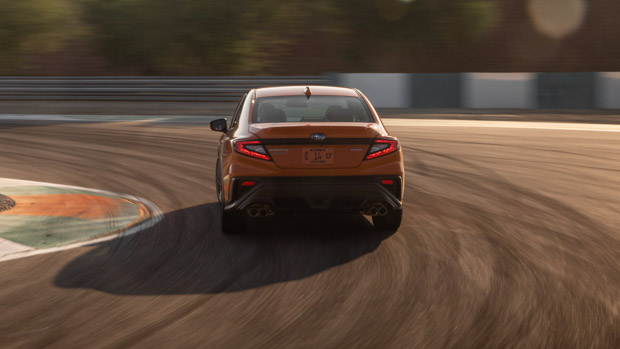 What's new among the 2022 WRX's performance hardware?
Subaru has replaced the FA20 turbocharged 2.0-litre flat four of the previous generation for a larger FA24 2.4-litre.
This engine is essentially a turbocharged version of the flat four featured in the upcoming BRZ coupe, and is closely related to the 194kW FA24 turbo offered in top-spec Outback and Legacy models in the US.
In the US-spec 2022 WRX, power only increases by 5kW to 202kW at 5600rpm compared to the previous WRX's 2.0-litre turbo boxer, despite the increase in displacement, while torque is an identical 350Nm.
But Subaru says the new engine is more about improved driveability than peak numbers, with the 2022 WRX spreading that 350Nm flat from 2000-5200rpm, compared to 2400-5200rpm in the old Rex. The FA24 turbo also offers increased responsiveness thanks to an electronically controlled wastegate and air bypass valves.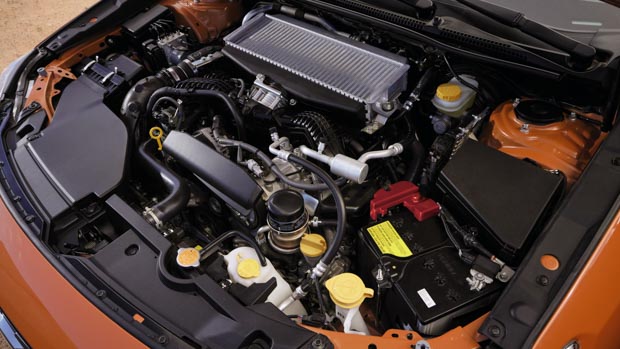 Coupled to either a six-speed manual or a continuously variable automatic transmission (CVT), driveability is further enhanced thanks to new gear ratios and improved shift feel for the manual, and snappier adaptive shift control for the CVT.
This new CVT (optimistically dubbed 'Subaru Performance Transmission') offers greater total range coverage, 30-per cent-faster upshifts (from 2nd to 3rd), 50-percent-faster downshifts (from 3rd to 2nd), and can perform rev-matched downshifts under braking.
For the CVT's eight 'fixed' gears in manual mode, all ratios have been lowered to improve response.
Being a Subaru, grunt is fed to a revised all-wheel-drive system with variable torque distribution on CVT models, and a centre differential with viscous coupling on manual models. Higher-spec WRXs with Drive Mode Select function also offer and AWD Sport mode that is claimed to further enhance cornering agility by controlling LSD torque.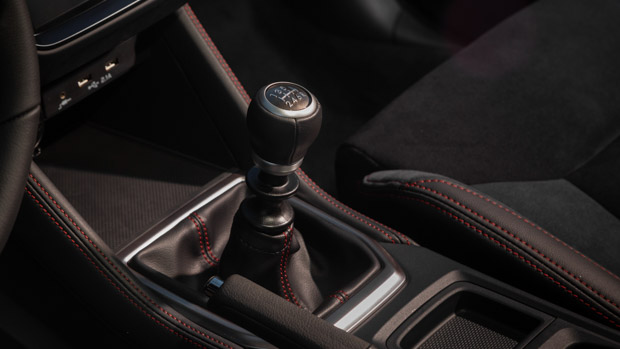 The 2022 WRX finally adopts the Subaru Global Platform that debuted under the current Impreza in 2017 (and also underpins the Forester and Outback)  but has yet to be tested in a high-performance application.
But the engineering numbers are promising. Subaru says the switch to its new-gen platform has seen a 28 per cent increase in overall torsional rigidity, and 75 per cent increase in rigidity at the suspension mounting points.
Budding rally drivers will be keen to learn that the suspension stroke has been extended to provide increased stability and lateral grip over rough surfaces such as gravel roads.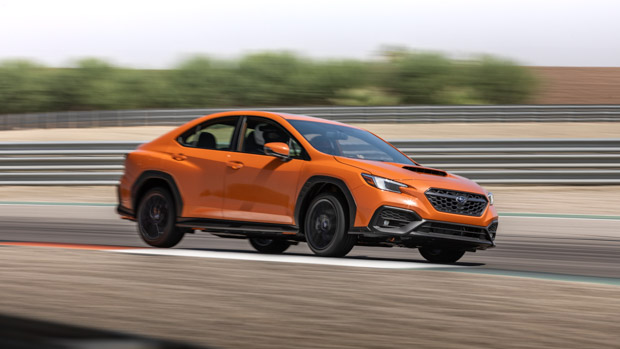 Additionally, Subaru engineers have adapted a similar change from the new BRZ that mounts the rear anti-roll bar on the body instead of the subframe to keep the new Rex flat through bends.
Optimised front suspension geometry reduces mass offset to the front suspension, while a new dual-pinion electric power steering system separates the driver's input shaft from the motor assist shaft, which is claimed to improve steering precision and provide more natural feel.
Subaru also offers adaptive dampers with Comfort, Normal and Sport settings for the first time in a WRX, though on US-spec models this is reserved for the range-topping CVT-only WRX GT. In conjunction with Drive Mode Select that lets you configure the steering weighting, damper settings, SI-Drive settings and more, Subaru says that up to 430 different customisation options are possible.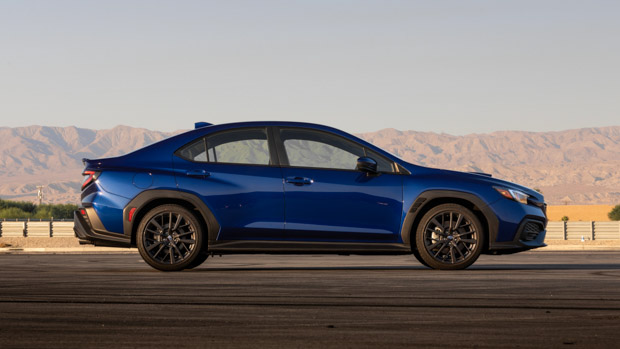 What is new on the outside of the WRX?
The 2022 WRX retains its sedan form, though its entire exterior has been substantially pumped, as if to more closely resemble Subaru's current lineup of rough-and-tumble SUVs.
The WRX has outgrown its predecessor in a number of crucial measurements including the 4,669mm length (+74mm), 1,826mm width (+31mm) and 2,672mm wheelbase (+22mm). The only area where the WRX shrinks is in overall height at 1,468mm (-7mm).
At the front, the LED headlights and grille resemble that of the facelifted Forester, with the lower bumper now made of aluminium to reduce the overall weight by 2.3kg.
Subaru has also opted for a contrasting darker colour scheme that flows from the front bumper into the wheel arches and finally to the rear bumper, which is entirely dominated by very aggressive new styling clearly inspired by Subaru's 2017 Viziv Performance Concept.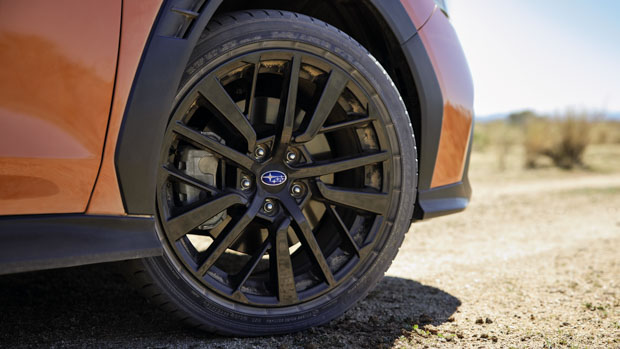 While the final 2022 WRX design retains elements of the 2017 concept teaser, the production version is far more toned down, albeit less so than almost all of Subaru's disappointing concept-to-production efforts.
However, one thing that has been left untouched is the iconic bonnet scoop which remains imposingly large and makes the WRX's performance focus abundantly clear.
The cladded wheelarches, on the other hand, may lend themselveswell to hardcore gravel rallying but the look is something you're more likely to see on a crossover SUV than a performance car and has so far proved divisive with Subaru fans.
Wheel sizes in the US are 17- and 18-inch,though the Australian specification has not yet been detailed.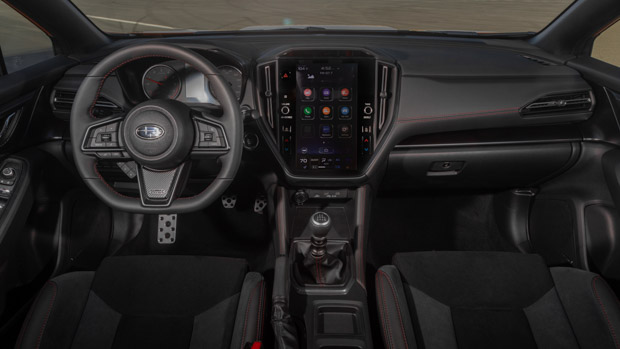 How new is the inside of the WRX?
The new platform and larger dimensions have had a positive impact on interior space and builds on the WRX's mantra as a practical performance car.
Occupants enjoy increased shoulder room, while the longer wheelbase provides more legroom for rear seat occupants. According to Subaru,boot space remains similar to before – the previous WRX offering 460 litres of luggage volume.
Sitting in the centre of the dash is a huge 11.6-inch portrait touchscreen with wired Apple CarPlay and Android Auto along with navigation. This can be paired with an 11-speaker, 504-watt Harman/Kardon sound system in high-grade models.
In the US, Subaru offers a top-spec WRX GT model with eight-way power-adjustable Recaro seats up front, which are trimmed in black Ultrasuede and feature some aggressive bolstering, while lower grades feature a similar design and cloth seats.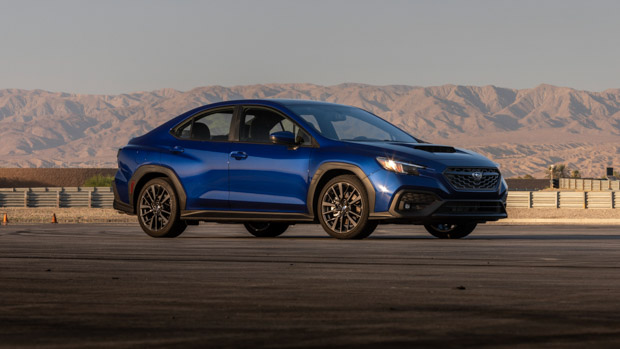 Is the 2022 WRX safer than before?
Subaru has added its latest Eyesight system to the WRX which includes a wider field of view for the autonomous emergency braking (AEB) along with lane departure prevention, adaptive cruise and emergency steering assist.
These safety systems are standard on CVT-equipped WRXs, though more details on what's available for the manual will be revealed closer to the launch.
The fifth-generation WRX will arrive in Australia during the second quarter of 2022, with official specifications and pricing details set to be revealed closer to launch.