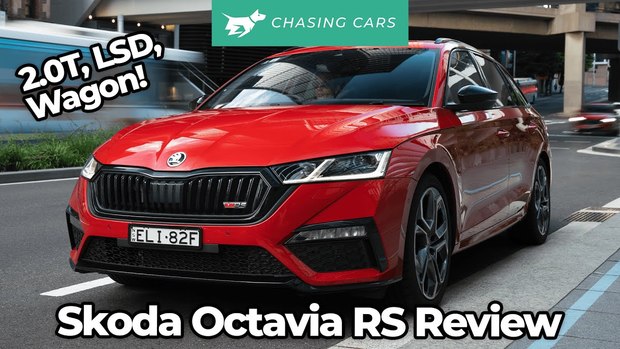 The formula that makes the 2021 Skoda Octavia RS a winner is a really simple one. Package one of the Volkswagen Group's most-loved engines in a long and low-slung body to successfully blend space and pace.
That's always been the Octavia RS recipe, but the most recent fourth-generation iteration has refined the combination better than any Skoda before it. Volkswagen's Czech brand has matured into a genuinely semi-premium offer with a vibe all of its own.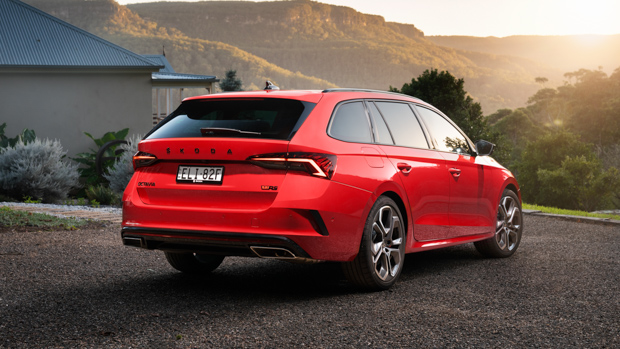 None of that will be a surprise to the growing number of Skoda faithful in Australia. The brand has cultivated a cult following and is on the verge of being quite mainstream these days. And the simple argument of Volkswagen engineering at a slight discount no longer captures the appeal. These days, cars like the new Octavia RS have a distinct Skoda-ness.
Leaving character to one side, though, the Octavia RS fills an appealing spot in the market, kicking off at $51,490 driveaway. Particularly as a wagon, this midsizer is effectively a stretched hot hatch, with a quick 180kW turbo engine, snappy dual-clutch auto and a mechanical front-end limited slip diff.
Tick the almost-mandatory $6,500 Premium package and you score the kinds of creature comforts that make this a family car you'll want to keep for years: dual electric heated front seats with massage, a driver cushion extension, heated rear seats, adaptive dampers, a premium stereo, a head-up display, tri-zone climate control, and a custom drive mode.
How does the Octavia RS drive?
Where the new Octavia RS shows the most dramatic improvement over its third-gen predecessor is in the maturity of its driving dynamics.
While the fourth-gen RS sits on the same MQB platform as the previous car, there's been considerable retuning of the suspension and steering.
This has had a dual effect. Firstly, the slightly hollow feeling of the old Octavia is gone; there is a notable feeling of solidity, and more refinement, to the new version. Secondly, the control surfaces are much more consistent now.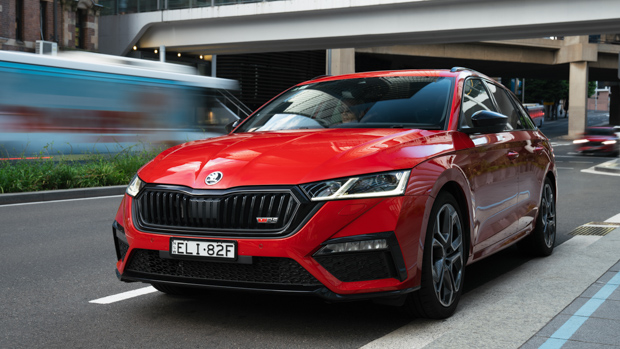 There was something of a mismatch between the damping, steering speed, throttle and brake inputs last time. Each of these is now blended sweetly, creating a really fluid driving experience.
The heart of the RS carries over, though. Volkswagen's familiar EA888 two-litre turbocharged petrol four-cylinder does service here in 180TSI guise, producing 180kW of power and 370Nm of torque. That motivation is sent to the front wheels by way of a seven-speed dual-clutch automatic and an electronically controlled, mechanically locking front differential. Broadly, it's the same setup as a Golf GTI.
This is a pretty serious powertrain for a family car of $60,000 or thereabouts. Make no mistake: the Octavia RS is quick in a straight line but especially point to point, with the Skoda making judicious use of its true front differential to find bite out of corners where even a keen front-drive fan thinks there will be none.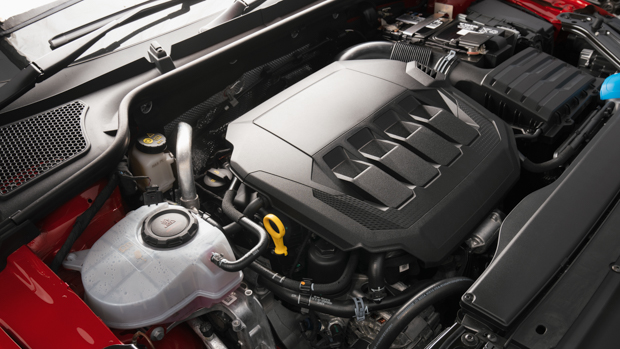 Good tyres help, and the Bridgestones fitted from the factory are up to the job. In particular, the axle-tramping tendencies of the old Octavia RS appear to have been banished. In a week of enthusiastic driving, the 2021 RS wagon put its torque to the road without issue.
Great-driving wagons (and liftbacks) that don't break the bank are becoming few and far between in Australia. In the absence of cars like the Subaru Liberty and hotter Ford Mondeos, the Skoda Octavia continues to provide a compelling non-SUV alternative.
With the Premium pack selected, the Octavia RS has selectable drive modes and adaptive dampers. We found that on a technical Australian backroad, the preconfigured 'Sport' mode (with faster throttle response and shifts, heavier steering and stiffer dampers) worked well.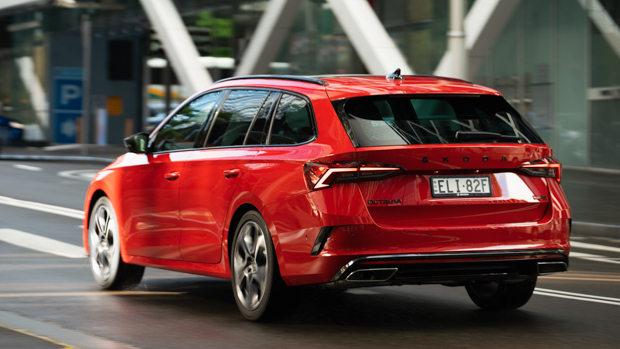 But in town, Sydney's heavy use of concrete road surfacing demanded a Custom mode to be set up, maintaining normal engine and gearbox response and steering, but slightly slackening the dampers somewhere between 'Normal' and 'Comfort'. That worked brilliantly.
The Custom mode also allows you to switch off one of the Octavia RS's only fails. By default, a V8-esque sound is pumped loudly into the cabin via the speakers when you accelerate. We're not set against engine noise amplification, but when it's a totally inaccurate noise, it's jarring.
Bizarro artificial sound aside, the Octavia RS has remarkably few vices. Keen, quick steering makes this midsizer feel agile and smaller than it is, while body control is excellent.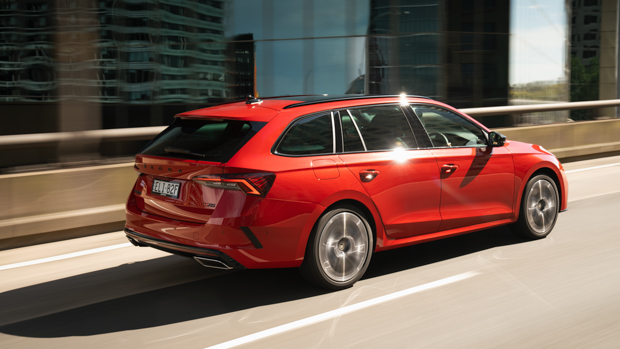 You can hold such a high pace on a difficult backroad that it's actually the interior plastics that struggle to keep up, with some rattling evident – but there was no sign of this in normal driving.
Visibility out is good, though we did note no 360 degree camera is available, and the reversing camera is a bit too fish-eyed to be truly clear. Still, frontal and reversing AEB is standard, as is solid lane keeping assistance, blind spot monitoring, rear cross-traffic alert, and fatigue detection.
How is the Octavia RS's interior?
Our test car was an Octavia RS wagon equipped with the $6,500 Premium pack, and our comments relate to that.
Given that package also includes a varied bunch of desirable kit, we think it's worth stretching to tick this, particularly as the only standalone options you can choose are paint colours and a sunroof ($1,900).
So equipped at $57,990 driveaway ($59,490 for the wagon), the RS appropriately bridges the mainstream aspirations of the more modest Octavias (from $32,990 driveaway) and something like an Audi A4 45 TFSI, which starts at $71,000 before on-road costs.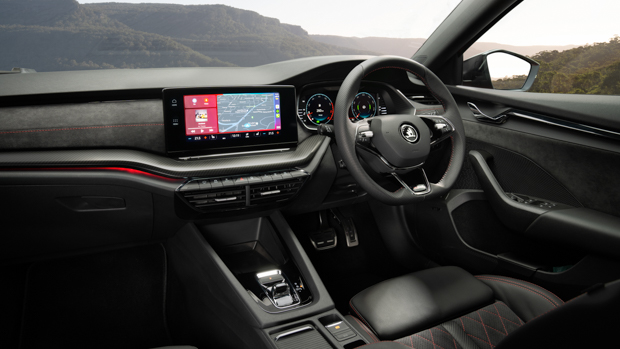 The interior reflects this. Mostly lined in leather, Alcantara and quality plastics, with a few genuine metal accents, the Octavia RS's interior punches towards premium in a pretty convincing manner.
As is typical for the Volkswagen Group, key touch points like the perforated leather steering wheel, the indicator stalks and knobs, and even the stubby-looking new automatic gear shifter have a hefty, expensive feel to them.
The bucket-esque front seats look good and offer an ideal amount of support without being so beefy and tall-bolstered that they aren't comfortable for long distances. The electric adjustment is generous and the massage feature helps receive fatigue on longer trips. Plus, the seat heating works effectively.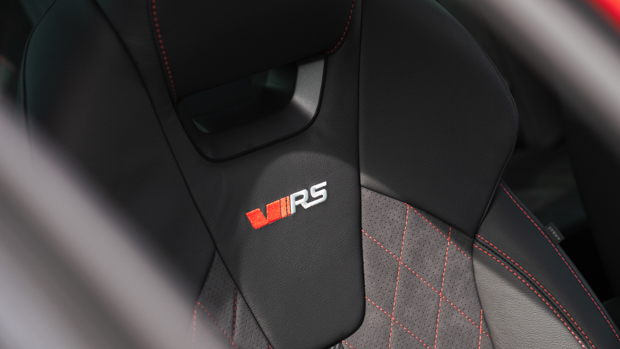 A major change has occurred in terms of dash and centre console design. Gone is the old integrated infotainment screen – it now takes the form of a slate atop the dash. Running the Group's latest software, it's very high-resolution, bright and crisp – though perhaps too many controls have been relegated into its menus.
These include climate control, which no longer has physical buttons and knobs. It also includes old hardware switches like ESC Sport.
Integrated navigation is standard and so is wireless Apple CarPlay and Android Auto. We were content to allow wireless CarPlay to start automatically on ignition, playing our tunes through the very clear Canton stereo. Wireless CarPlay is getting less choppy, though our connection did break up occasionally across a week of testing.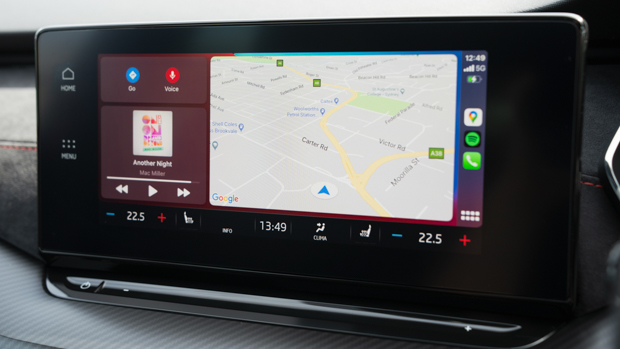 There has been some simplification of the Skoda's digital gauge cluster, with a few levels of customisation removed. For example, you can no longer run traditional gauges (tacho and speedo) with a map in between. A digital speedo sits there now. You can put media and compass information within thos gauges, though, so with the central touchscreen dedicated to maps, we felt like we had all key info in our line of sight.
We wish Skoda had avoided the naff carbon fibre-effect trim used on part of the seats and across the breadth of the dashboard on a trim piece. Brushed aluminium here – and simple leather on the seats – would have been clearly preferable.
Some plastic trim below the cabin beltline, and pieces like the rear door skins, are hard plastic. While perceived quality isn't quite up to the lofty standard of Skoda's Kodiaq three-row SUV, the Octavia RS is a pleasant place to spend time.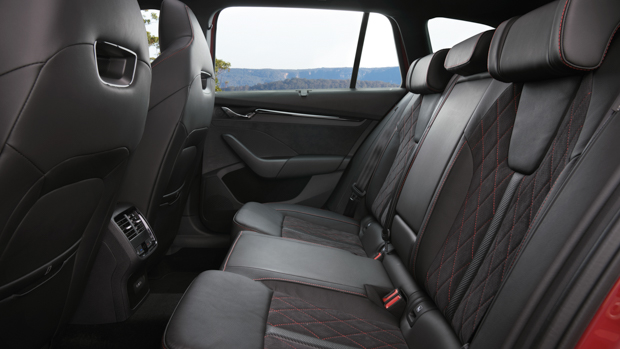 The back seats, too, are quite roomy. Certainly, there is sufficient headroom and legroom for adults, even if you option the panoramic sunroof that theoretically steals some roof height. The back seats are supportive and, with the Premium pack, heated. Air vents are standard.
A 640-litre boot makes the wagon the practicality star of the range, though the liftback version still packs 590-litres behind its practical hatch. A power tailgate is standard on the estate.
Bigger families will look to the Kodiaq RS SUV, which will soon delete its diesel engine in favour of the Octavia's 180kW petrol – but if you don't want or need the third row, the Octavia RS continues to be the pick.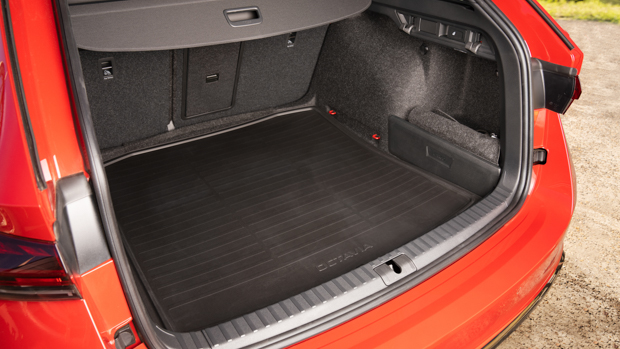 What are the Octavia RS's running costs?
The Skoda Octavia RS is simple and affordable to run, with considerable discounts available to those who purchase up-front servicing packs.
Scheduled maintenance is pencilled in for the Octavia RS every year or 15,000km – whichever comes first – and buying a transferable three or five year service plan makes sense.
Priced at $800 for three years or $1,400 for five years, the plans save $337 and $886 respectively compared to fronting up the cash when you put the car in for service. The five year pack, which averages to $280 per year, is seriously affordable for a vehicle of this sophistication.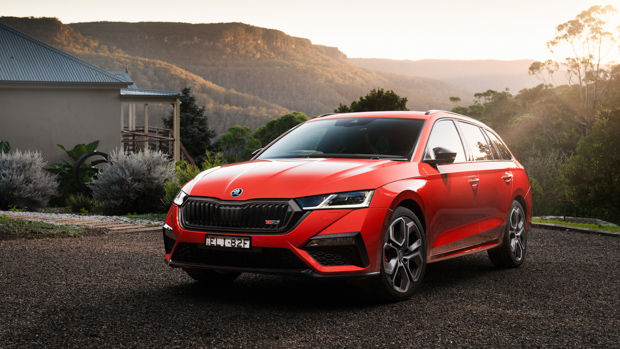 It's also possible to pay these service plans on a monthly subscription basis, though the savings aren't as decent.
Like other Skoda products, the Octavia RS has a warranty that lasts for five years with unlimited kilometres.
Fuel consumption is surprisingly strong despite the good performance on offer from the 180TSI motor. Our performance testing loop returned a result of just 8L/100km, while highway segments returned less than 6L/100km. If you mainly drive in town, you can expect around 9L/100km.
The Octavia RS requires 95-octane premium fuel as a minimum.
The final verdict
Just like the versions of this car that have come before, there is so much to like about the 2021 Skoda Octavia RS.
If we needed a sporty, practical family car to seat five and didn't want to stretch to something like an Audi A4 Avant, our eyes would go straight to the Octavia.
Couple the inherently enjoyable dynamics to the simple and affordable running costs on this car, and Skoda have another winner on their hands.
We'd happily own an Octavia RS, and we readily recommend it to our friends. If that's not an endorsement, we don't know what is.