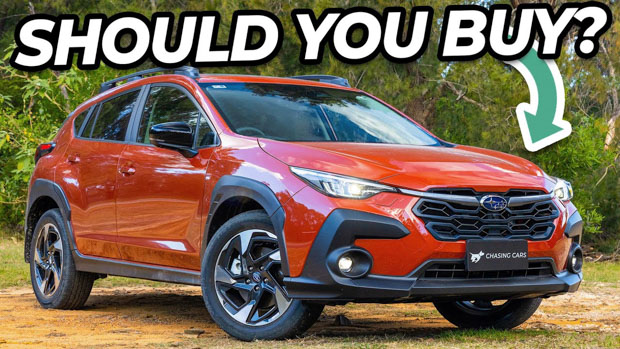 The Subaru XV has a new name for 2023, with the Japanese automaker now calling its AWD-equipped small SUV the Crosstrek across all global markets – including Australia.
We've been to the local launch of the updated SUV and have sampled the range, but now, we've taken on a high-specification 2.0S grade to test for six months…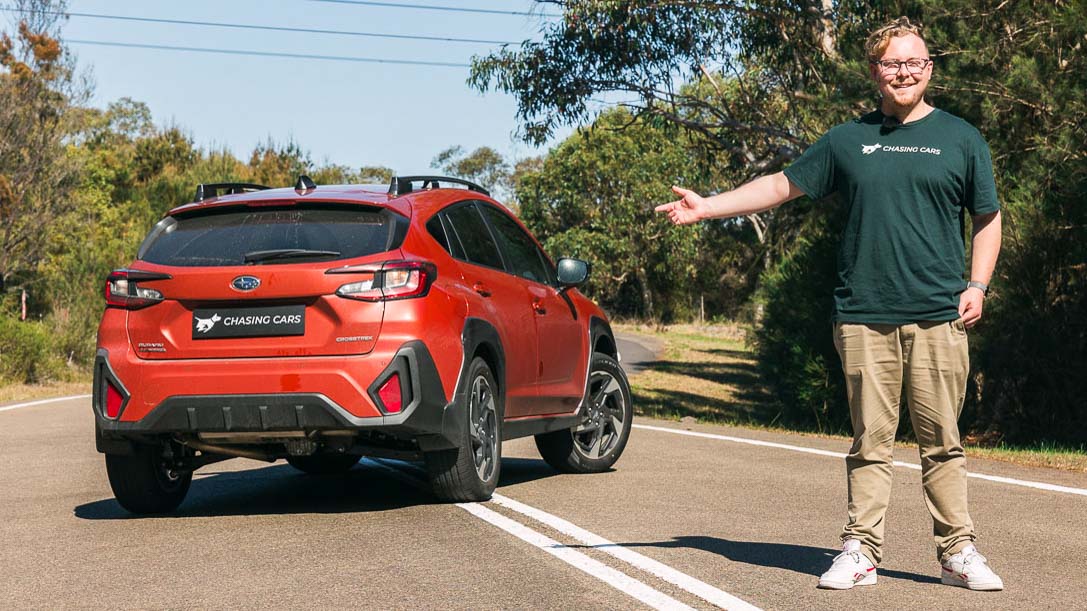 Priced at $41,490 before on-road costs, the 2.0S is relatively affordable for a top-shelf model in this segment and it has a long list of standard kit.
Resplendent in 'sun blaze pearl' orange, our Crosstrek S has a 11.6-inch centre touchscreen, a 10-speaker Harman Kardon sound system, a glass sunroof, satellite navigation and leather-accented upholstery.
But while the features are luxe, the S model soldiers on with an engine we've found underbaked in the past – this long-term test will give us the chance to see if those impressions are correct.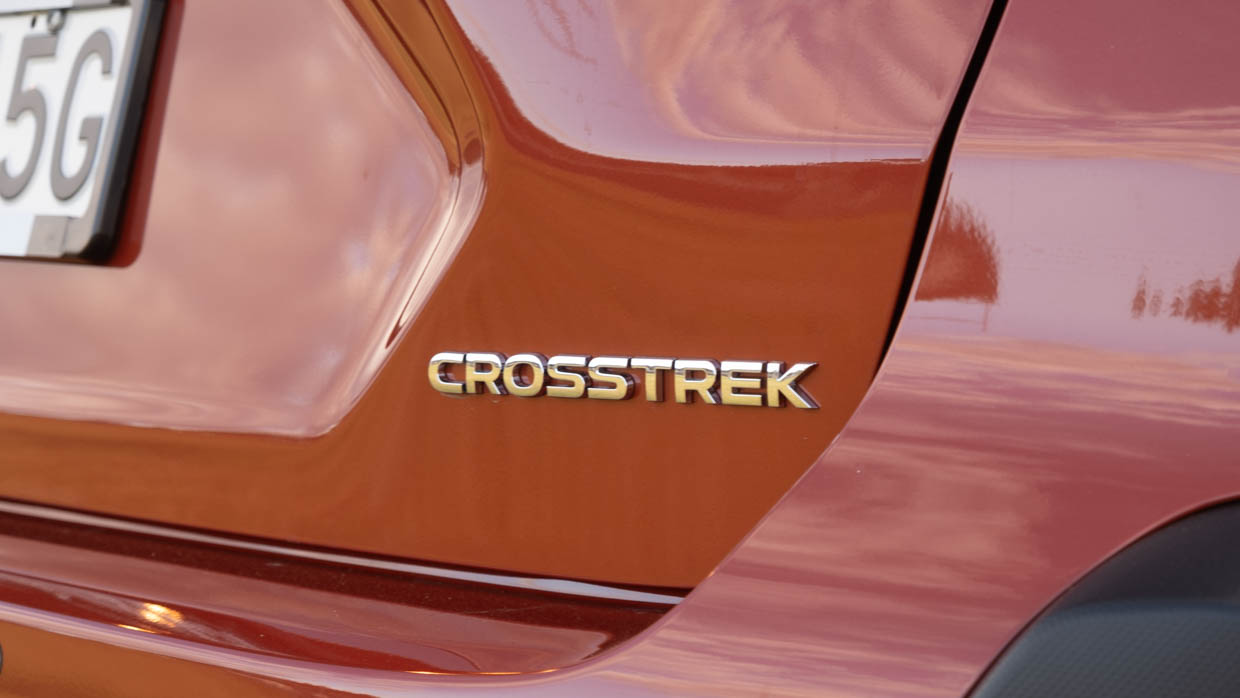 The Crosstrek is powered by a 2.0-litre naturally-aspirated flat-four engine that produces 115kW/196Nm and powers all four wheels through a CVT transmission – these outputs remain unchanged from the XV that came before it.
There is also a fairly mild hybrid alternative that costs $3600 more in S trim, and we'll make sure to sample that powertrain to see if it's worth the extra dosh. In previous-gen XV form, it wasn't.
The new Crosstrek competes in a very competitive small SUV market, with rivals such as the Toyota Corolla Cross, Kia Seltos, Hyundai Kona and the Skoda Kamiq – just to name a few.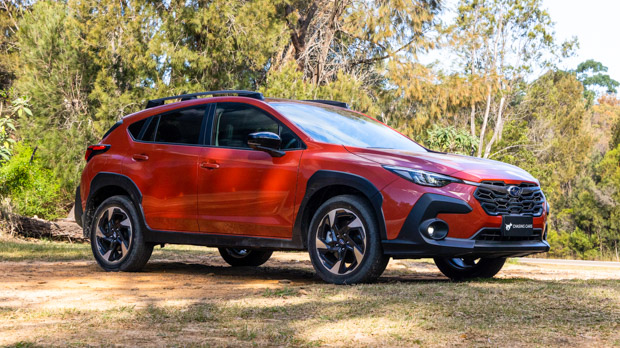 You can get into a Crosstrek from $34,990 before on-road costs for a base model L version while there is a possible sweet-spot in the middle-tier Crosstrek R, which costs $38,490 before on-roads..
For its starting price, the Subaru Crosstrek certainly has the upper hand in being able to offer an all-wheel drive practical package for under $35K – something that some other small SUVs can't match.
So here the journey begins with the new Crosstrek. Buckle in as we take the Crosstrek on some exciting adventures and big road trips to see what this small SUV is all about!
Navigate this long-term Subaru Crosstrek review
Month 3 – from dirt to the daily grind
Kilometres this month: 1577km
Fuel economy: 7.5L/100km
Running costs this month: $245.50
I live very close to the Chasing Cars Sydney office. Exactly three kilometres from door to door.
This unfortunately means that before and after work, I don't get the biggest opportunity to drive Subaru's small SUV. Some of my lovely colleagues live much further away, which might seem a complete pain with Sydney traffic, but for me, I wouldn't mind a slightly longer commute than just ten minutes.
After all, I just love driving, no matter the situation or where I am at the time.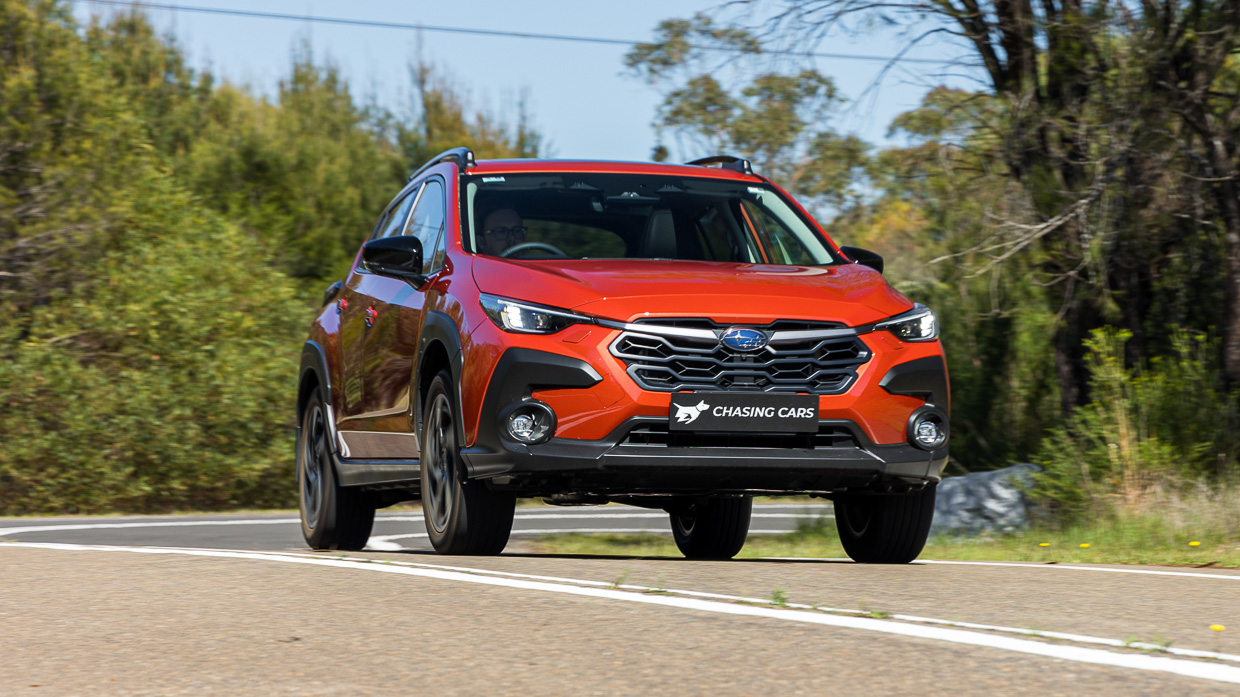 Day-to-day observations of the Crosstrek
You're probably reading these updates wondering what the Crosstrek is actually like to live with day-to-day, so I thought I'd explain how I use the vehicle and how it fits in with my lifestyle. For context, I'm a single guy living in the heart of the city with no kids. It's just me!
Jumping straight in, the first very liveable thing about the Crosstrek is that Android Auto phone connectivity is wireless, so I can simply leave my phone in my pocket and it syncs up quickly and effortlessly.
Of course, I can still plug my phone in to charge via either USB-C or USB-A ports, but for shorter trips, the wireless setup works very well.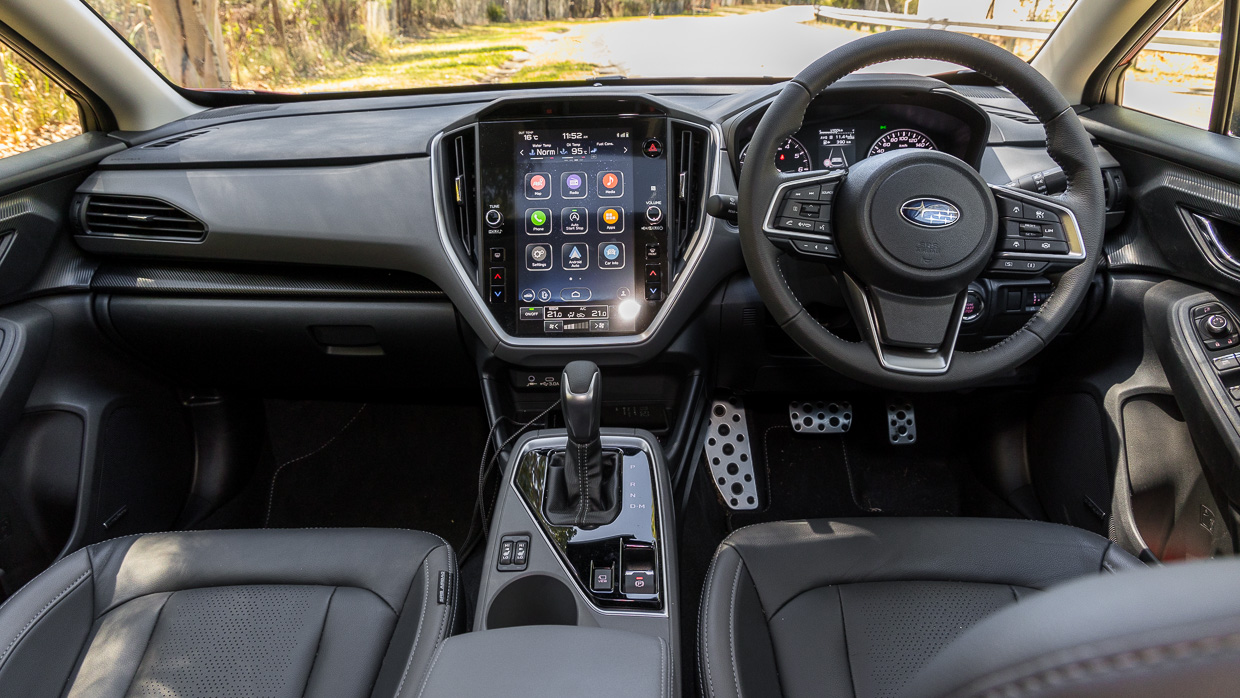 One slightly strange thing I have noticed is that 'my' Subaru Crosstrek revs quite a lot on first start up, which quickly had my Dad asking: "what is that noise?"
I've spoken with a few of my colleagues at Chasing Cars and also seen from other Subaru owners online that this is indeed very common with the brand's boxer engines which are said to run a higher RPM idle (and thus louder) to get the engine block warmer quicker, which also aids efficiency and protects the engine.
From my experience, the engine sits at around 2000rpm for a minute or two, before dropping back into a more quiet idle. It's worth noting that most, if not all cars do this to some degree, but it's just more pronounced in the Crosstrek.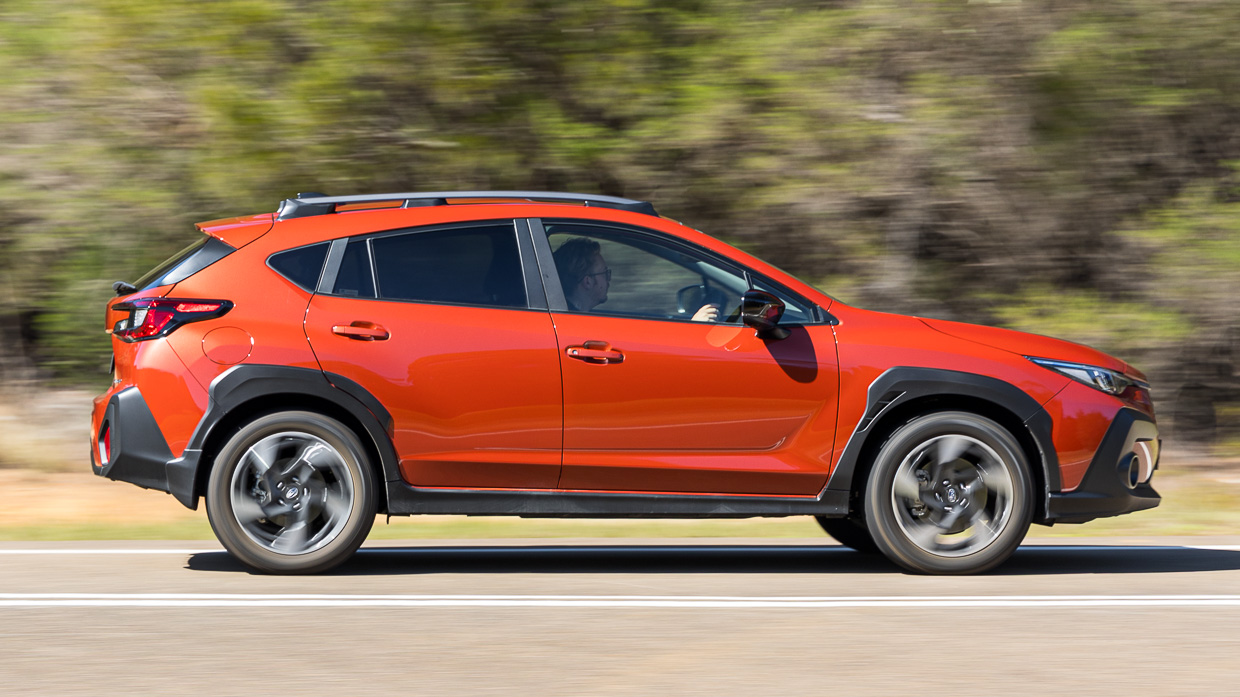 Although I have been a little critical in this long-term report so far of the Crosstrek's naturally-aspirated flat four engine, around town it's certainly peppy enough, and quite fun to steer once you get the hang of it.
You can happily drive the Crosstrek with one-third throttle and just potter around town pretty effortlessly, and this is honestly how the majority of people will drive, so that's a real win for Subaru. I find the seats to be particularly comfortable, with plenty of support and the leather feels premium, too.
Outside of the hustle and bustle of Sydney city life, I recently had the opportunity to go for a more spirited drive up my all-time favourite mountain roads just outside of Brisbane, and despite its softer-sprung nature, I found the Crosstrek to be a really fun driving package.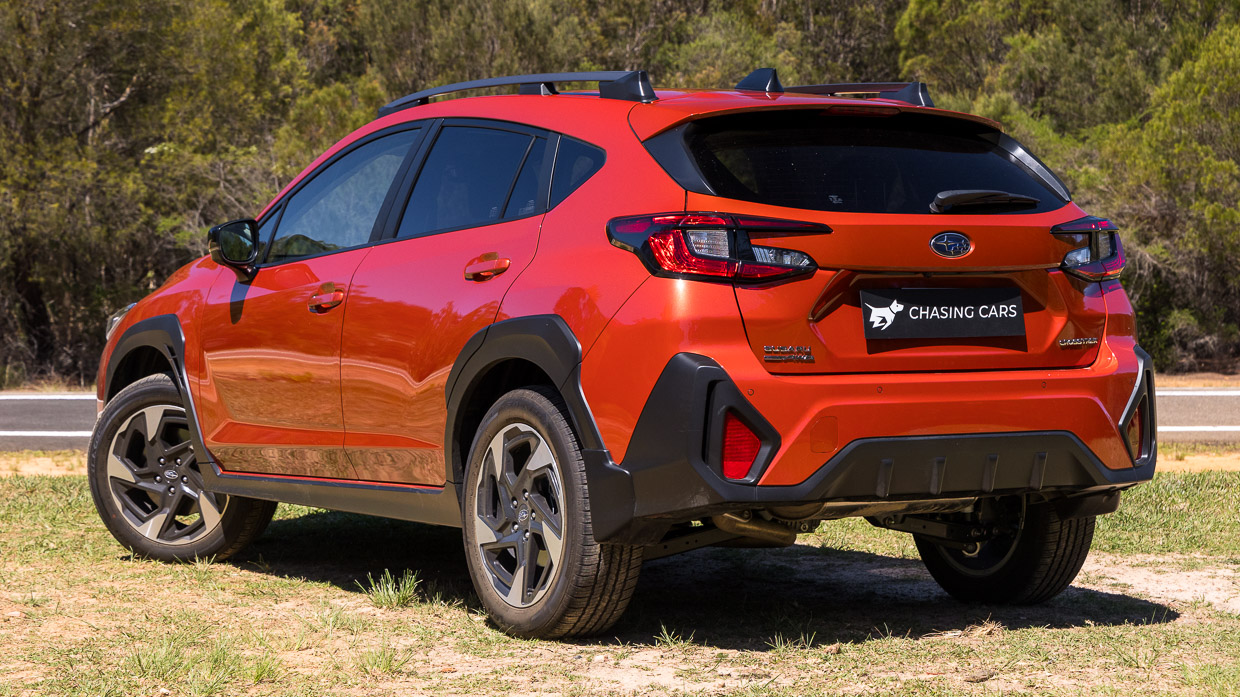 This car is by no means a sports car to rival its BRZ coupe sibling, even though the word sport is technically in the Sports Utility Vehicle (SUV) name, but this Crosstrek is enjoyable to drive through higher speed sweeping corners and has surprising levels of grip thanks to that iconic Subaru symmetrical all-wheel drive system.
I even managed to get the Subaru Crosstrek up the famous Goat Track near Mount Glorious which is a one-way dirt stretch that winds back and forth through the D'aguilar mountain range.
I half expected the Crosstrek to be a little unsettled on such loose surfaces, but the reality was far different. Not a sniff of oversteer or understeer. Just nice and neutral, which felt safe – very important attributes for a family vehicle such as this one.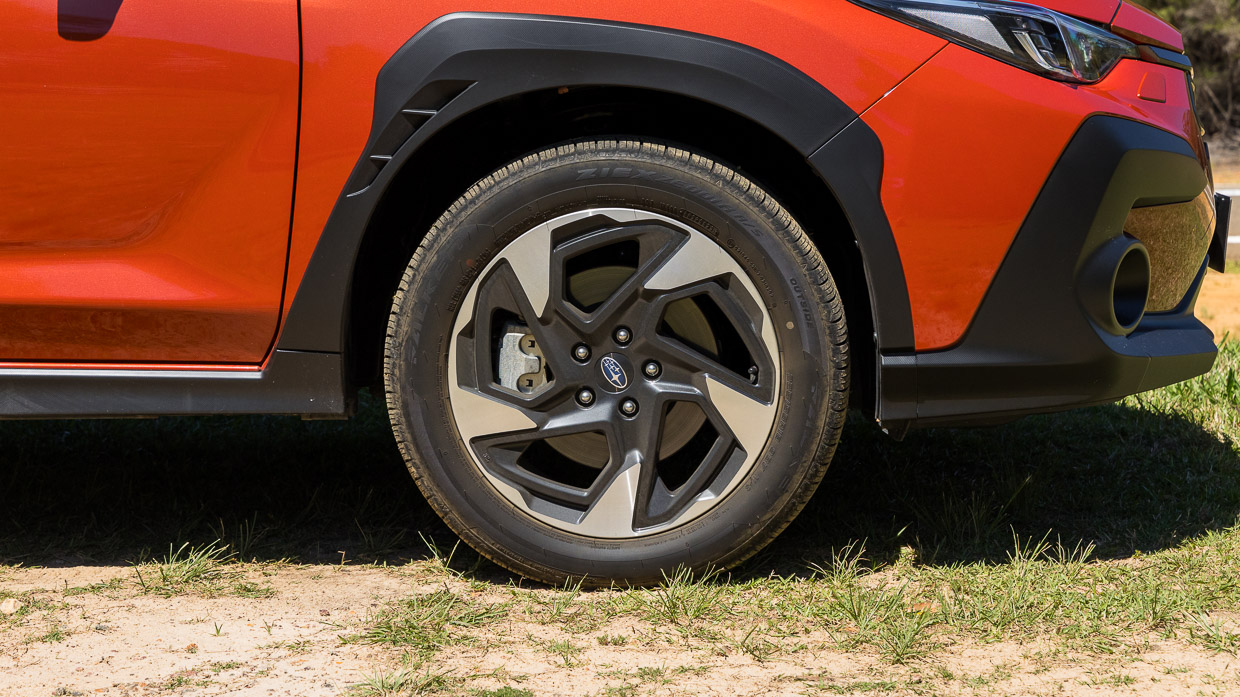 And when it rains, the Crosstrek once again gives a great sense of grip and sure-footedness that the average punter will very much respect and value. And if you happen to drive into a tricky situation, like a muddy and slippery campground, there is a very good chance you'll be able to drive straight out without an issue.
In the next update with the Crosstrek, we'll be comparing the 2.0S petrol variant with its hybrid Crosstrek sibling to see how they compare. What will be the difference with fuel economy? I can't wait to find out!
Month 2: road tripping to Brisbane
Kilometres this month: 1367km
Fuel economy: 7.8L/100km
Running costs this month: $224.00
It's that time of the year again. The annual pilgrimage to Brisbane, my home town. But this time I won't be doing it the easy way and flying. Instead, it'll be the mighty Crosstrek and me for a grand total of 1800 kilometres (there and back) with nothing but a few bits of luggage and the world's biggest Spotify playlist.
But unlike other times, such as with my Kia Picanto GT long termer, I'll be making a pitstop about halfway between Sydney and Brisbane in the small town of Raleigh, near Coffs Harbour, to visit a very good friend who is also a very good drifter.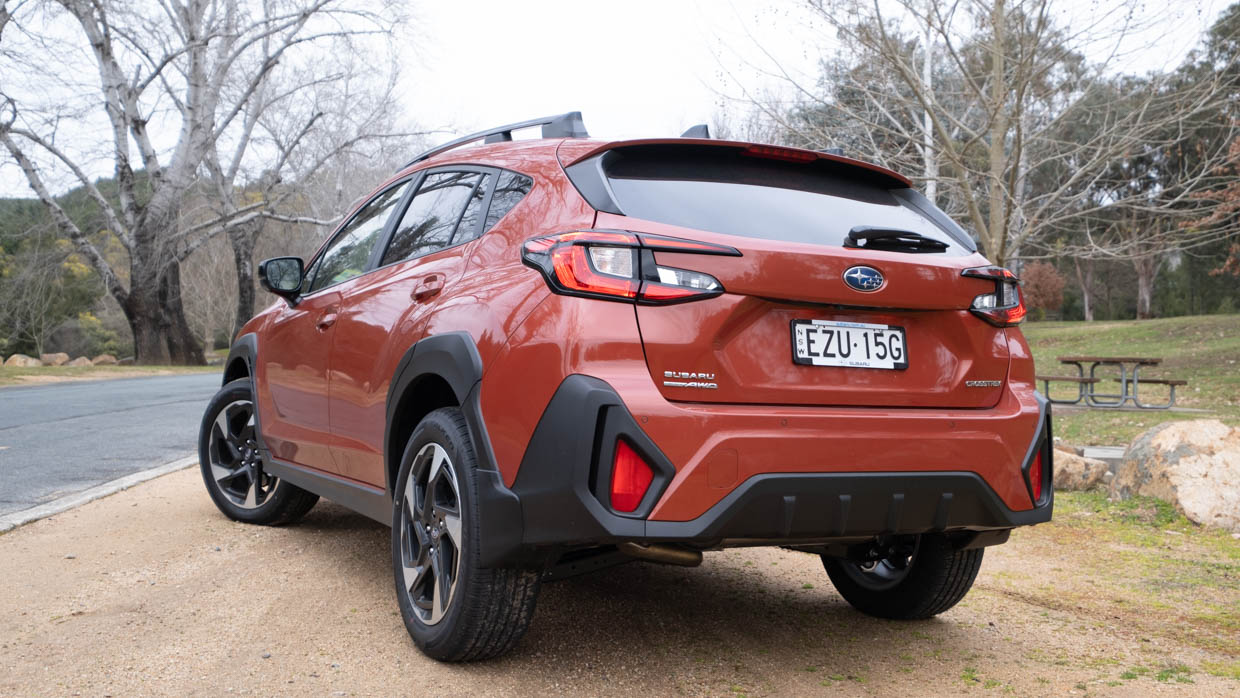 There is a small racetrack there, and it's tight and technical – a perfect way to completely scare passenger Zak.
As often as I now drive between the two large east-coast cities, it's always refreshing to do it over two days, rather than one.
So as soon as 3am hit, it was time to get up and go. A quick Maccas coffee, a bottle of water and some snacks would keep me going. After all, it was always the first two hours on the road that I found to be the hardest.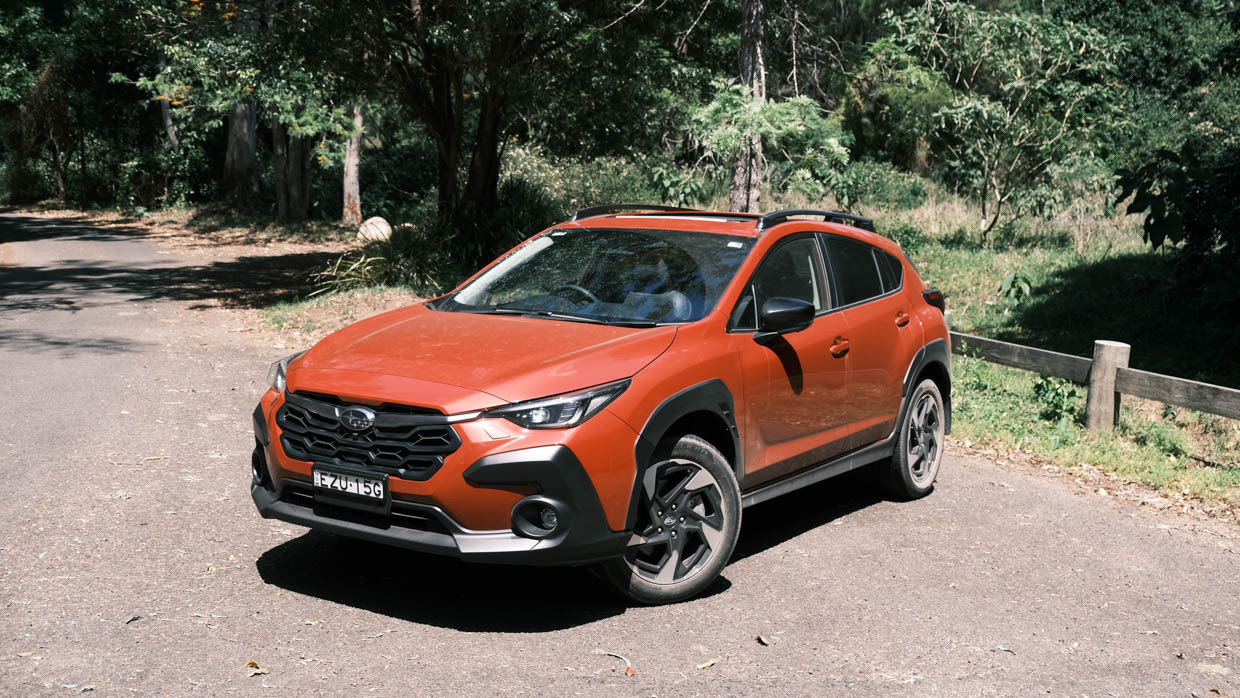 Despite feeling more and more sluggish, a quick stop into a servo for fuel and another coffee around Newcastle helped push me past the lack of sleep I was experiencing.
The softly-sprung Crosstrek ate up the kilometres with ease, and top marks for Subaru for making a really comfortable seat – I certainly never felt sore even after many hours on the road.
It's notable that production specialist Tom Place made similar remarks when he drove his Outback Touring long termer from Sydney to Adelaide. Subaru, it seems, has a knack for making cars that can go the distance.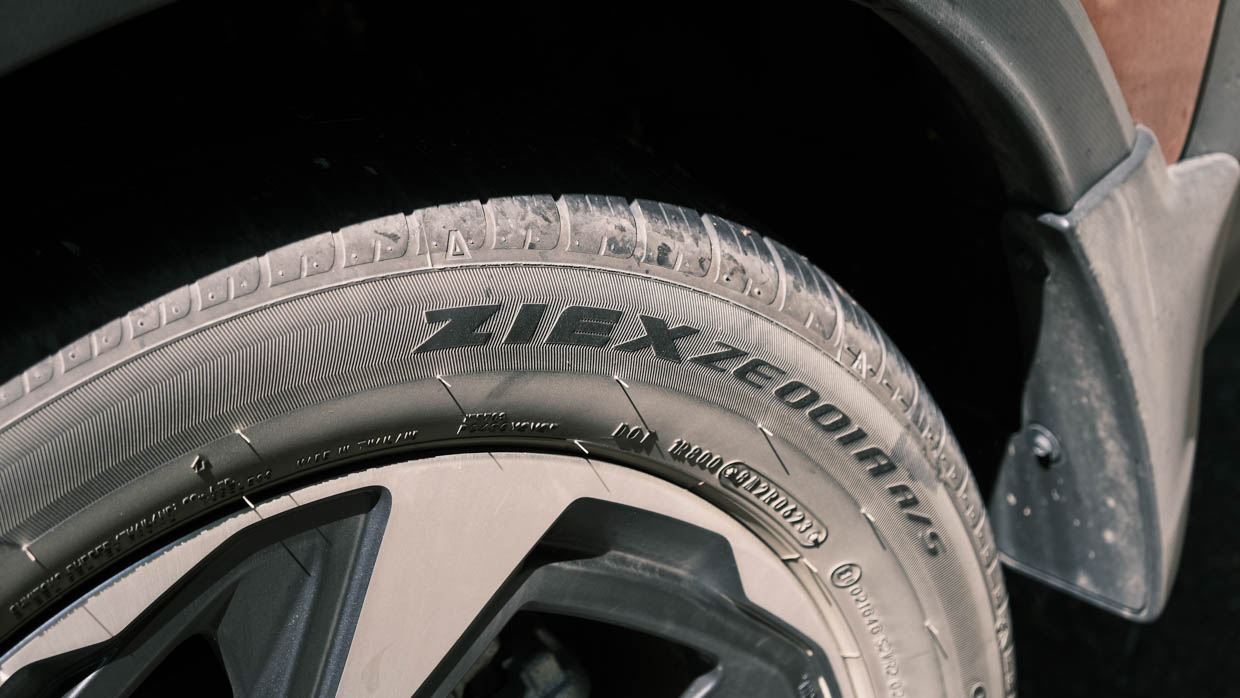 On the open stretches of Pacific Highway where there was nothing but trees, trees and more tarmac ahead, the Crosstrek settled into a nice rhythm, with its suspension soaking up some rough road work sections pretty easily. This Crosstrek really hit the mark here, and was quiet with minimal wind or tyre noise.
At first I wasn't too impressed with the fuel economy, averaging around 7.5L/100km, but after refuelling and resetting the trip computer, I got the economy down as low as 6.8L/100km – not a bad effort for an atmo 2.0-litre flat-four engine.
Rolling into Raleigh around 9am that same morning, I was keen to relax. The Crosstrek did a good job reeling in all those kilometres, and I was very impressed with the excellent ten-speaker Harman Kardon sound system and those leather seats.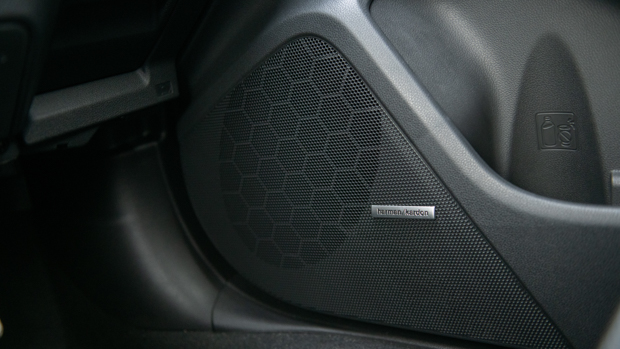 It was a stark contrast then when I hopped straight into a 380kW LS1 V8-powered Nissan Silvia driven hard around a track. But I loved it, making me feel alive!
Raleigh is a gorgeous spot and wouldn't look out of place in a Jurassic Park movie. The track has plenty of elevation and is very technical, which works out well for drift cars of all shapes and sizes.
After being covered in rubber and dirt, it was nice to get to the accommodation in the small town of Urunga, south of Coffs Harbour, to have a shower and get some rest.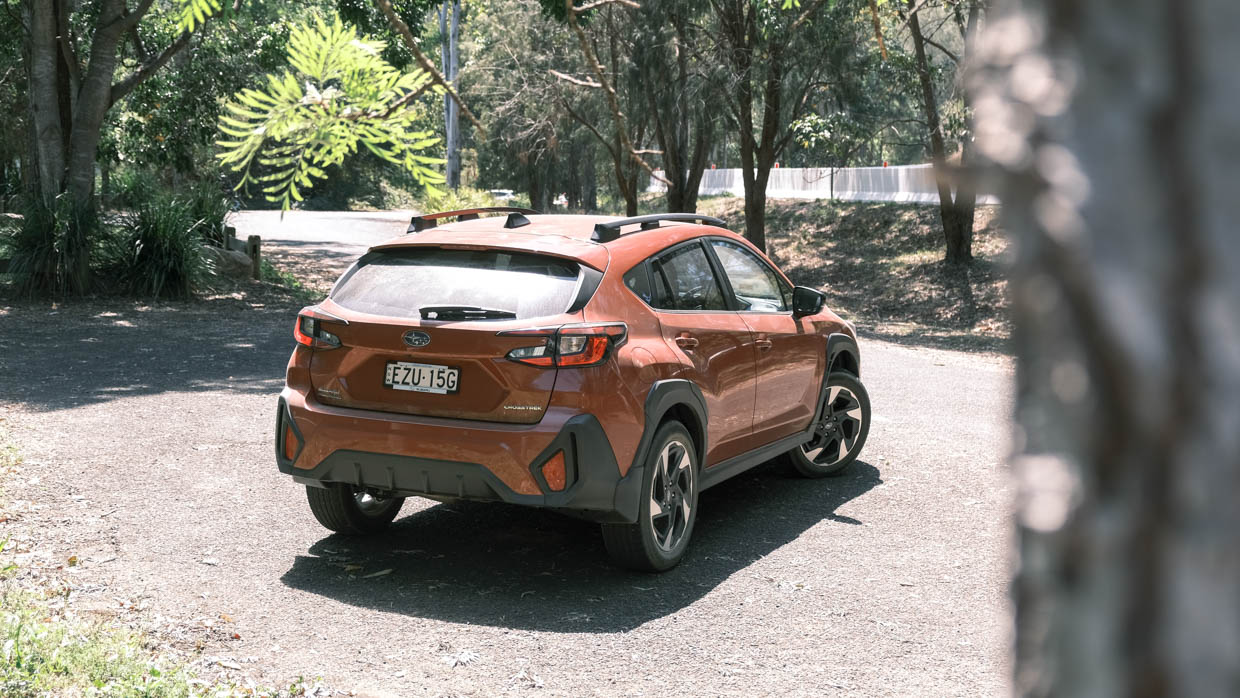 Early the next morning, I hit the road eager to get to Brisbane. Google Maps was telling me it would take over four and a half hours to get to Kangaroo Point, where my parents live.
Although great on the highway overall, I did notice a distinct lack of grunt which is often for overtaking manoeuvres and getting up to speed on highway entry ramps, for instance. It could do with a turbocharger or just more power, as I have been quite vocal about in the past. The 115kW/196Nm just isn't enough.
With a huge dose of caffeine and some not very healthy KFC in Ballina, I pointed the nose north once again and within a relatively short amount of time (or at least it felt short), I had finally arrived at the beautiful suburb of Kangaroo point, right on the banks of the Brisbane River.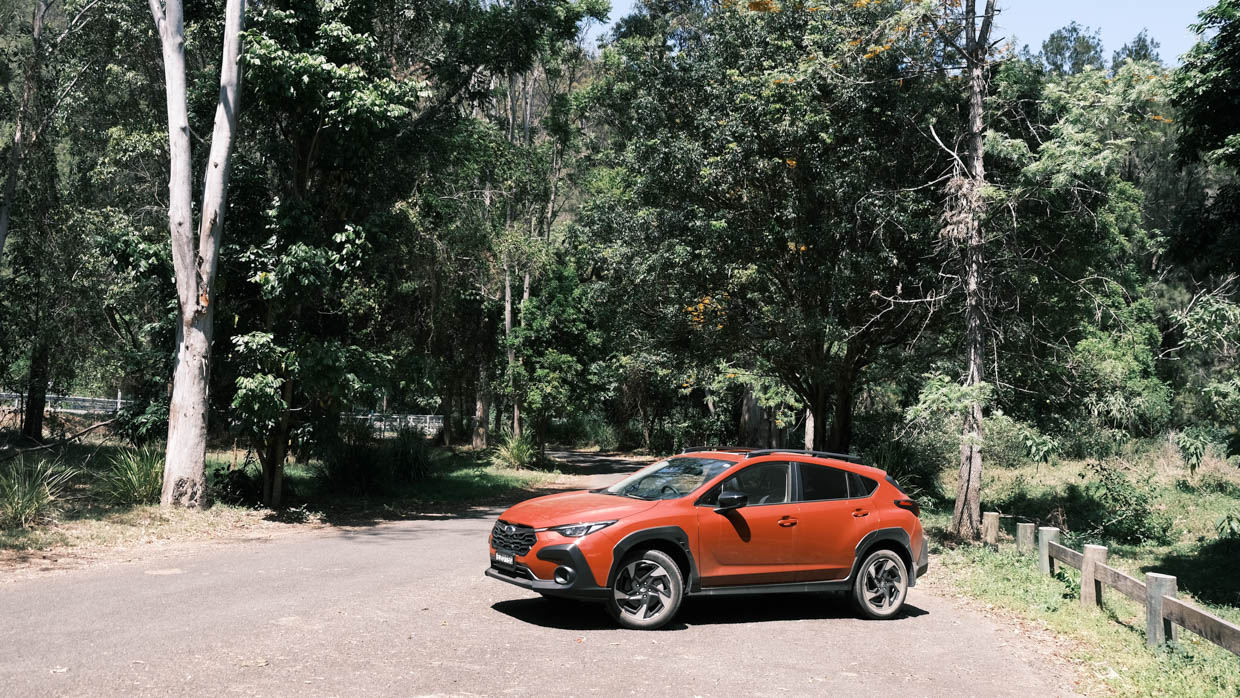 Reflecting on the journey, most of it was very positive, but some things that would make the Crosstrek even better would be a head-up display, a larger boot capacity and less touchy lane-keep software.
Now that I'm up here in Brisbane, it's given me some good time to reflect on everything Crosstrek. Has there been any rattles, squeaks or knocks from the car? Not at all, in fact this car is as tight as a drum. The build quality is very good, in fact.
But where to next? Well, in next month's update, I'm going to be taking 'my' Subaru Crosstrek for a drive off the beaten path to an area where this car has excelled in the past, and is likely to do so time and time again.
I'm very much looking forward to it.
Month 1 – comfortable, practical but a little soulless
Kilometres this month: 2326km
Fuel economy: 7.7L/100km
Running costs this month: $288.50
It's official: EZU15G is mine for the next half-year and I'm pretty bloody excited about it. It's always a pleasure to have a new car in the garage.
The timing is good because I've recently sold my pride-and-joy Ford Focus XR5. It, too, was bright orange – but unlike the brand-new Crosstrek the Focus had started to show its age after 70,000 kilometres of fun.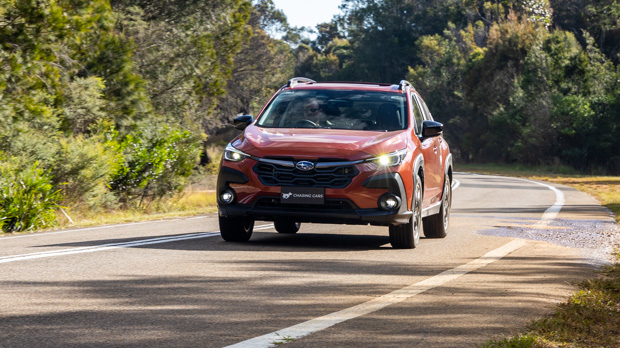 While it's no five-cylinder hot hatch, I am a fan of how the new Crosstrek sits. It's smart yet rugged in appearance and has an adventurous spirit about it. From the chunky plastic wheel guards to the sculpted front grille and LED lights, the Crosstrek really stands out.
Overall the proportions are similar to the previous XV but the massaging done to the body means the Crosstrek is the better looking vehicle in my books.
Considering just how much Aussies love the outdoors and camping, the Crosstrek seems to really fit in well on Australian roads – I have seen plenty of the previous XVs at hiking trails and camp sites in my time.
But what are my first impressions of EZU15G?
Within minutes of driving the new Crosstrek, it became apparent that this is a comfortable way to get around, although the seating position for the driver is a touch high for my liking.
The major touchpoints like the steering wheel and gear selector seem to be of good quality, although the leather on the steering wheel is tougher and harder than in other vehicles I have experienced. Still, this isn't meant to be a luxury car.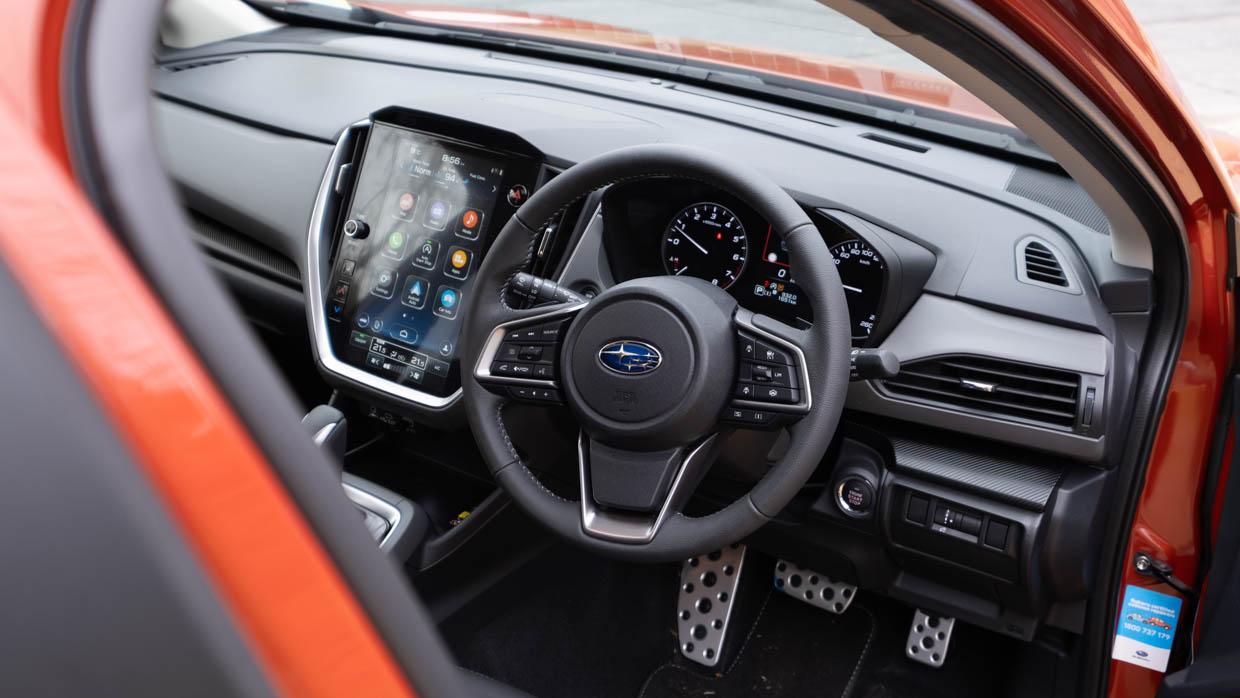 Connecting to Android Auto for mirroring is a choice of wired or wireless. Crank up a playlist and you'll notice that the Harman Kardon sound system sounds pretty crisp and is noticeably better than the six-speaker stereo found in the rest of the Crosstrek range. Music lovers will want to splash for the S.
But how does the Crosstrek 2.0S drive? In the city it's immediately sufficient. Zipping around town is what the Crosstrek is good at and is comfortable while doing so. The suspension is well tuned, not overly soft, and it manages to iron out some of the worst Sydney roads.
A few opportunities to drive on the highway have already come up and that environment reveals what we've thought was a Crosstrek/XV weakness in the past: the engine.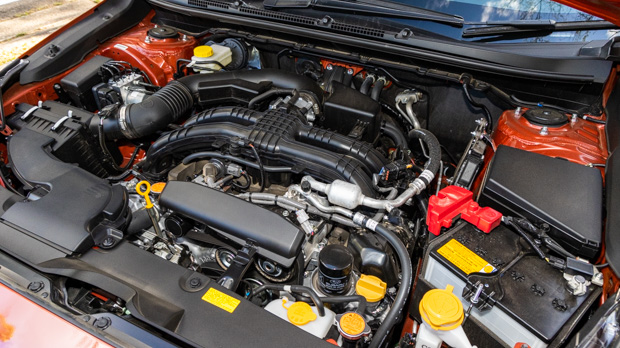 This vehicle's strong suit is not its powertrain. Both the engine and the CVT transmission lack character and refinement and, when accelerating, can be overly loud and thrashy.
On the highway and during light throttle applications around town, the engine and transmission is adequate, but from driving the Crosstrek on the launch to my time with the car now, my opinions on this powertrain remain unchanged.
So much more work could be done here.
I'll do more of an explainer piece about this powertrain as part of my long-term updates later down the track.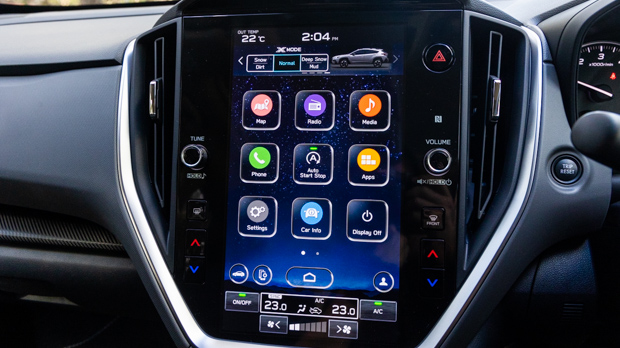 Any quirks or cool features?
One of the wins for the Crosstrek is the new 11.6-inch portrait touchscreen which bundles a stack of features into one screen with several partitions. I'm not usually a fan of on-screen climate controls, but here they work because the controls are big and clear.
There is certainly a lot going on with this screen setup but everything is relatively easy to use and find within the menus.
It's worth noting that it's very handy that auto start-stop can be switched off straight from the core menu.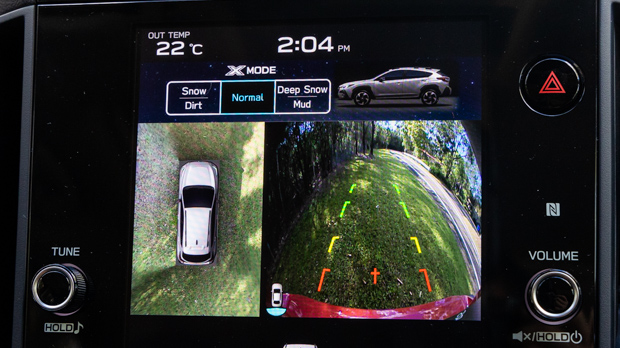 There is also an excellent 360-degree parking camera. I never appreciated how helpful this tech could be until I moved into a new apartment with a particularly unfriendly parking space, with a low wall and pole threatening to wreak havoc. They're obstacles easily spotted in this car.
But by being able to see all sides of the vehicle at once, it's a great tool to have. It also works well in low light (such as in my basement) which is a big plus.
Where to from here?
I've got a lot of plans for the Crosstrek, and will hopefully make the trek back home to Brisbane to see my family and friends, plus I'd like to take it up a trail or too, or even to the beach.