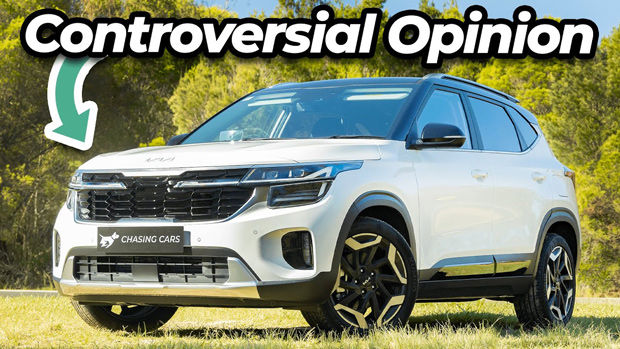 Boasting an impressive small SUV range, the Kia Seltos seems to be leading the charge for the Korean brand, wearing a fresh face, and getting some fancy new tech thanks to a recent update. 
First introduced in 2019, the Seltos quickly became a sales success for Kia. A facelifted model was introduced near the end of 2022, which brought some significant hardware changes to the range-topping turbocharged models on top of the mild exterior redesign.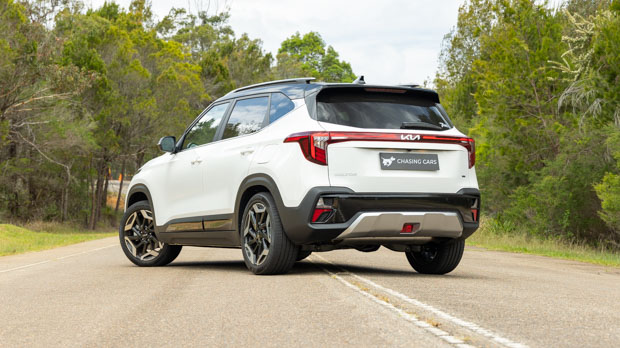 While the lower grade S and Sport grades retained the same 2.0-litre petrol four-cylinder engine that's paired with a CVT, the Sport+ and GT-Line variants not only received a revised version of the 1.6-litre turbocharged four-cylinder petrol engine, but swapped out the seven-speed dual-clutch transmission for an eight-speed torque converter automatic.
Like the last iteration, buyers not only have two engine and transmission options in the Seltos, but there is also the choice between front-wheel-drive and all-wheel-drive variants.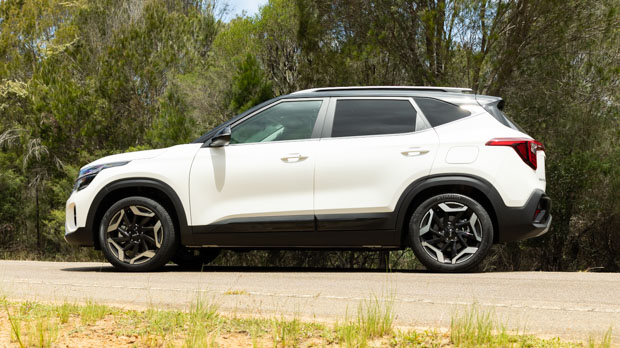 But in saying this, the choice isn't complicated; naturally aspirated models are exclusively front driven, and the turbocharged engine is always paired with an AWD driveline for maximum traction.
In terms of pricing, an entry-level Seltos S can be had from $31,690 drive away in NSW. The Sport+ AWD at $41,990 (NSW driveaway) represents the entry point for the more powerful engine and an all-wheel drive system.
At the top of the range is the GT-Line AWD, our long-term test subject and one that starts from $47,690 drive away in NSW, which is a reasonably hefty jump of $16,000 over the entry-level Seltos.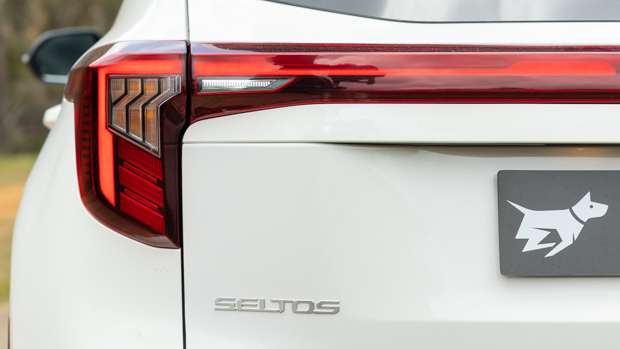 Given its driveaway price that isn't too far off $50,000, the Seltos GT-Line is nearing the top end of the small SUV segment, with the Skoda Kamiq priced from $35,490-$41,990 and the Toyota Corolla Cross from $33,000-$49,050, though this is before on-road costs are tacked on.
Over the next six months, Chasing Cars will find out whether or not the Seltos GT-Line AWD is worthy of its asking price and endeavor to answer reader questions on the vehicle along the way.
Why it's here
As a sales standout in the small-SUV segment, we've gotten our hands on the most lavish Seltos Kia sells in Australia to see if it's a worthwhile investment for the average Australian.
Navigate this long-term Kia Seltos review
We'll update this review with new entries over time as journalist Andy Sluys details his experiences in the Kia Seltos GT-Line AWD.
Month 5: the final verdict
This month: April 2023
Kilometres this month: 2499
Running costs: $375.89
As you can probably tell from the mileage reading, things didn't slow down for the Seltos during its final month in Chasing Cars' tenure.
As Curt's trip fell into the start of April, the majority of mileage came from his trip down from Sydney to Bendigo in country Victoria, but I also managed to get a couple of interesting trips in before handing the keys back.
The first of which was down to Merimbula, where I got to see the stunning sights of the South Coast in glorious weather.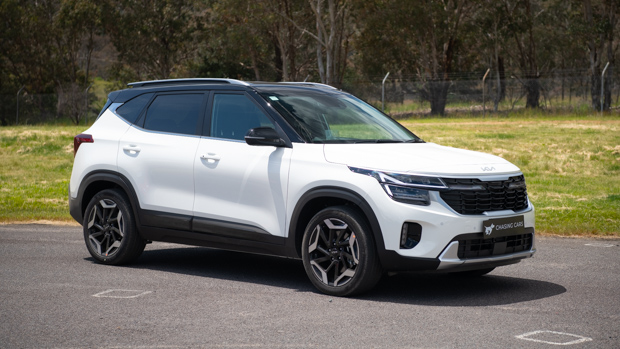 The Kia's other major outing this month was a trip up to Newcastle to watch the first round of the Supercars Championship.
But today I'm not talking about how the Seltos drives – there's probably been enough of that across the four updates so far. Instead, we're going to be tying up loose ends regarding issues that have arisen during our tenure, and coming to a final verdict on the Seltos.
Since the last update, the Seltos has appeared in a small SUV megatest, which saw it go up against 17 other small SUVs that are currently on sale in Australia.
To ruin a bit of movie magic, this megatest was actually shot right at the beginning of our Seltos loan, and a couple of issues that arose meant it was sent home to Kia again right after the event.
As is the case with all cars at a Chasing Cars megatest, the Seltos was subjected to performance testing, which included 0-100km/h acceleration, 80-120km/h overtaking and 100-0km/h emergency brake testing.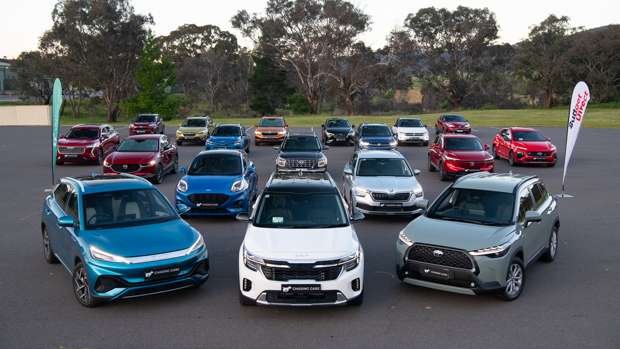 Following the braking test, the Selto's brake lights were jammed on and wouldn't turn off, even if the car was shut off.
The second issue was found during the road lap section of the megatest, where the vehicles are driven at standard pace around a closed road loop.
Here, we found an issue with the SUV's transmission, as it would tend to bounce off the engine rev-limiter while refusing to upshift on its own accord. Instead, drivers were having to use manual mode, but even then, it would be hesitant to shift.
Following the megatest, the Seltos was returned to Kia, and our loan commenced after the issues were resolved. It's worth noting that no other issues hindered the remainder of our loan of the Seltos.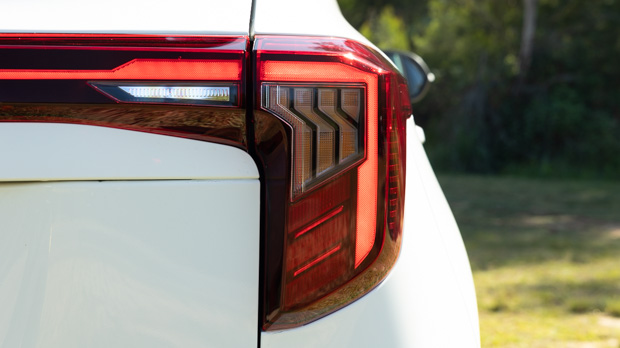 More recently, we sat down with Thomas Wacker and Roland Rivero, who serve as the general managers of service and product planning respectively at Kia Australia, to talk about the issues that we encountered during this megatest.
When quizzed about the brake issue, Wacker mentioned that the brake switch had jammed on, causing the brake lights to stay on, and eventually drain the battery.
To fix this, the internal brake switch was replaced, and the battery was recharged.
Wacker also mentioned that the transmission issue could have been a result of the brake switch being jammed on, as a lot of the drivetrain componentry is linked to the brake system.
"[The faulty brake switch] may have impacted [the Seltos'] shifting, because as soon as the brakes are applied, everything is overwritten. There's no ability for the car to do anything as far as acceleration or anything like that." Wacker said.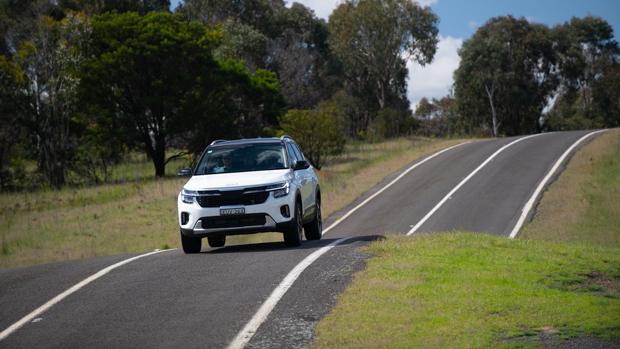 Indeed, once the switch was rectified the transmission performed faultlessly for the rest of Chasing Cars' long-term custodianship of the Seltos.
Happy with the explanation regarding these two issues, we decided to address the elephant in the room regarding the Seltos' active overspeed assist system.
As you can expect, the folk over at Kia Australia didn't need us to go into detail regarding our concerns with the system, as media and customer feedback has been more than enough since the vehicle was first launched.
Roland Rivero was extremely forthcoming with an explanation here, stating that the Seltos is a car designed for the international market, so it's going to have to adhere to strict European NCAP safety standards.
Those in the know will be quick to point out that the Seltos isn't actually sold in Western European countries, but the same standards are still applied across Eastern Europe.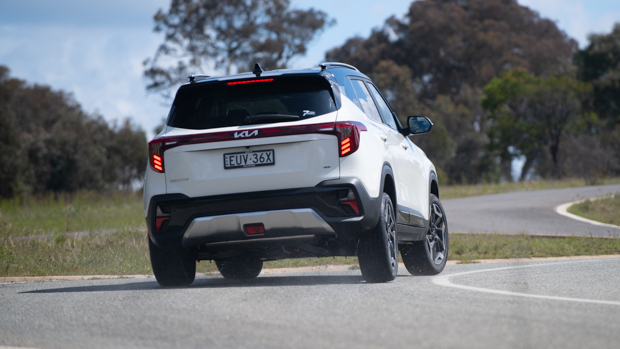 Rivero also explained that complaints have come from Eastern Europe as well as Australia, and have been passed on to the Research and Development head office in Namyang, Korea.
"It's not something that we're just going to simply roll over and say, look, it is what it is," Rivero said.
With this in mind, it sounds like a solution to this issue that can be found across both Kia and Hyundai products might be on the horizon, so owners should hold tight, and potential buyers should keep an ear to the ground.
As for a final verdict on the Kia Seltos GT-Line AWD? I'm in two minds.
It's a very impressive small SUV that should, in theory, be the best performing vehicle in its segment. The styling is modern, the engine and transmission pairing is fantastic (once the brake switch issues were fixed), it's reasonably priced and the interior is, for the most part, lavishly appointed.Unfortunately, there are also some gremlins hidden in this package that will be deal-breakers for some.
Firstly, the speed limit assist system needs to be addressed. The possibility of raising the alert threshold was spoken about on our call with Kia Australia, something that would be a welcome change, and would potentially alleviate all issues.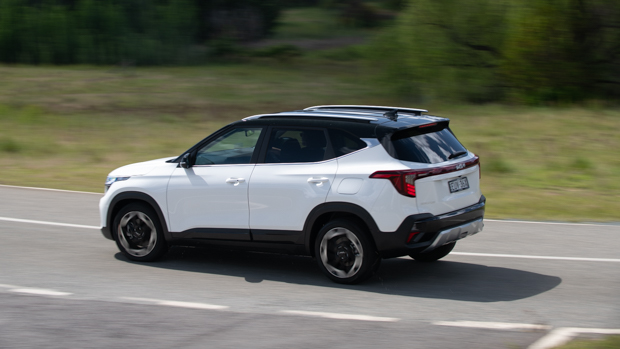 Secondly, the fuel economy just isn't where it should be in 2023 for a small, city-hopping SUV.
With an average fuel economy of 9.2L/100km throughout the five-month loan, the Seltos could be mistaken for a larger midsize SUV or a thirsty hot hatch driven with vigor.
Rivals such as the Toyota Corolla Cross (FWD) with similar power and torque outputs from its 2.0-litre mill can manage an impressive 6.0L/100km, and this drops to just 4.4L/100km in the hybrid.
Then there's the all-electric BYD Atto 3, which not only managed to place second in the Chasing Cars small SUV megatest, but can be had at a similar price to the Seltos GT-Line without having to burn a single drop of fuel.
I'm sure some owners will be able to overlook both of these issues that plague an otherwise fantastic small SUV in the Seltos, but it is for these reasons that I find it hard to justify in the face of an extremely competitive small-SUV segment.
Month 4: road tripping time
This month, deputy editor Curt Dupriez takes the wheel to discuss 'that' annoying issue and what it's like to road trip through regional Victoria.
This month: March 2023
Kilometres this month: 2081km
Running costs: $381.41 (fuel)
Our time with the long-term Kia Seltos GT-Line hasn't been without challenges.
A dicky brake sensor and an initial reluctance in the eight-speed auto to upshift in Sport mode, right in the first days of custodianship, thankfully righted themselves after a quick trip for a fix to Kia HQ revealed the latter was a symptom of the former.
But that speed warning system in the longer-burn experience? Grrr… Having to turn the system off, via clumsy multimedia submenu digging, at every single start-up gets old after a week…let alone at a point four months in.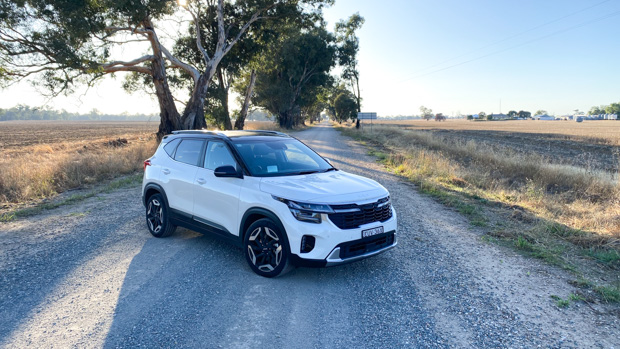 Kia Australia is keenly aware of criticism of the system. Criticism from owners and from the media, both locally and overseas, particularly in Europe, especially – it turns out – in Eastern Europe, where the foulssome feature was mandated for safety compliance.
Turns out, it's a global 'issue' in that everyone is annoyed with it, and Kia Oz, it says, is looking into modifying it to allow a higher, user-defined speed threshold to keep it activated without the constant and incessant annoyances it presents.
Month four with the flagship Seltos is road trip time: Sydney to regional Victoria and back over four days and around 2000 kilometres, mostly pinned to the cruise control but with a smattering of backroad punting across surfaces both sealed and, at times, very broken.
And despite a few other gremlins creeping into the little SUV's experience, it asserted itself well as a long-hauler for a sunburnt nation.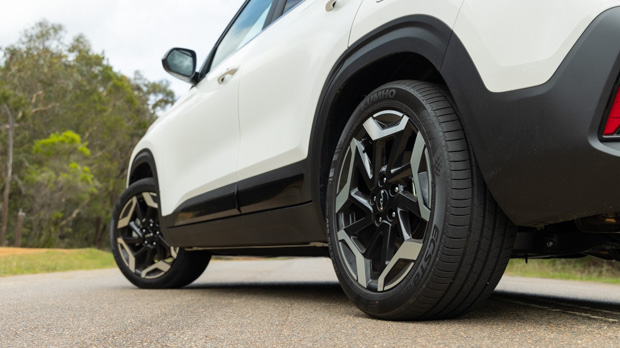 It pulls to the left. Only slightly and possibly ever since it first lobbed into the Chasing Cars garage.
But it's not really noticeable until you settle into The Hume heading south for hours on end the Seltos's recently facelifted nose wants to faintly yet constantly meander towards the passenger's side scenery.
It's nothing more than a mild wheel misalignment, really – not a core Seltos issue – though I do lean heavily on the Kia's handy active lane following to keep both my personal sanity and the SUV's nose from wandering off into the landscape.
The lane-keeping/lane-following smarts work well enough…about 70 percent of the time. Lose line-marking or vehicle-sensing road definition on the kerb side, mostly along regional backroads, and it'll clock off duty.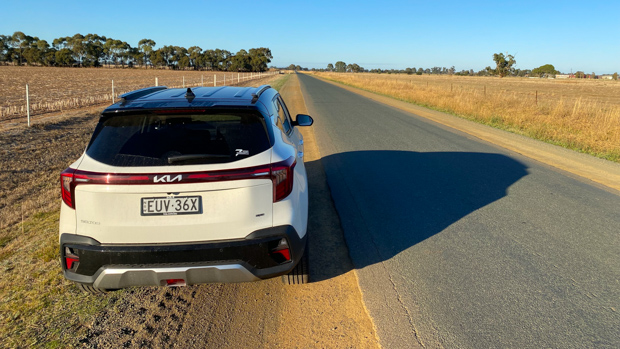 A real plus is that the turbo all-paw Korean simply stonks along while grand touring.
Its ride mightn't be exactly settled at times, but its trade in surefooted stability and dynamic alacrity means that anywhere in the long way to Victoria's (old) gold region can be tackled with confidence, be it wet or dry.
However, once the temperature dips…
First trigger of the tyre pressure monitoring system was the left front. I stop – middle of nowhere – and check. All hunky dory, at least with a couple of firm hand prods.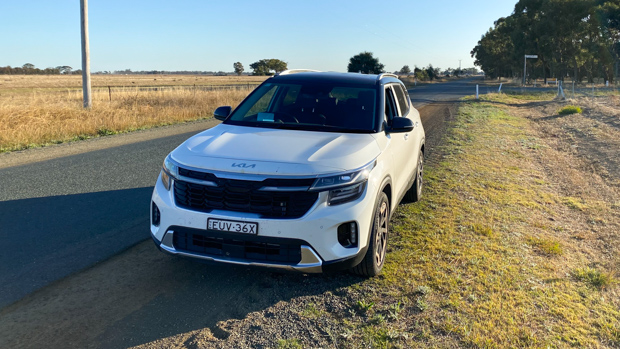 The TPMS indicates to me that pressure is down by one PSI. We should be right. But after a chill overnight stop at my Victorian destination, the driver's screen yells at me that all four tyres are out of pressure whack.
In older Kias, you hold down a TPMS button for three seconds to reset the system. On the current Seltos, there's nothing. At least nothing I could unearth in any multimedia submenu after very extensive fossicking.
I call Kia Australia, who tells me the new design resets itself at the correct tyre pressures. Thing is, in mid-autumn in Oz, you're likely to see, like I do, highs of 28deg C and overnight lows just above zero during long distance road trips between very different regions.
Thus, every restart demands the patience to deactivate the TPMS warnings (about three steps) and defeat the speed warning system (about five steps). And it's more patience than increasingly disgruntled onlookers keen for your vacating supermarket car space are willing to give, I can tell you…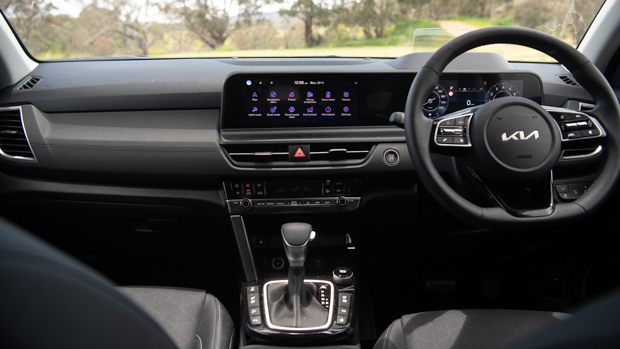 Once sorted and on the move, though, the little Kia largely returns the sort of long-legged driving experience you mostly expect for its handsome circa-$48k on-road ask.
The engine is a cracker and tied to the alert automatic, there's ample punch to swifty merge onto the 110km/h signposted Hume from a sidestreet, or blast past a B-double in an opportune overtake along a ribbon of hot-mix between two regional townships.
As a surrogate hot hatch goes, the Seltos GT makes a pretty compelling high-topped substitute. It can be rewarding at a cruise and downright entertaining in the curves. And the all-paw system certainly brings with it confidence when slipper gravel looms.
But, jeez, it likes to drink. Even ticking along the motorway it's sniffing around the 10L/100km mark and, really, that's quite some consumption for a little 1.6 engine.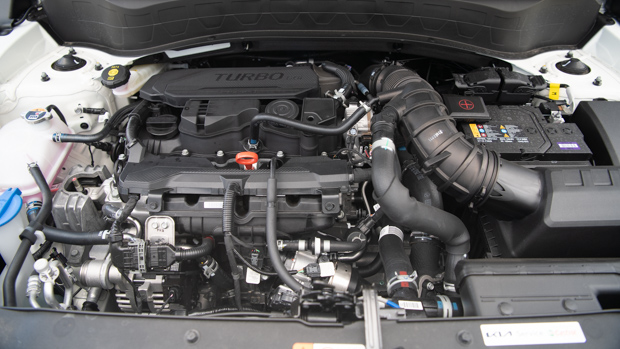 Thirst apart, though, there's little about the Seltos GT that makes it less suitable for regional ownership than it is in fitness for daily duty in the big smoke.
In fact, buyers in hilly regions will find its feisty appetite for curves a real bonus treat. It is a fundamentally great little crossover, if one that sadly letdown some over-nannying in the execution.
Kia Australia is quick to point out that Seltos isn't alone with overbearing mothering – ournwords, not theirs – of its users.
Indeed, it's becoming an increasing trend in motoring, particularly in Korean-sourced machinery with some, but not all, of Kia and Hyundai's current lineups.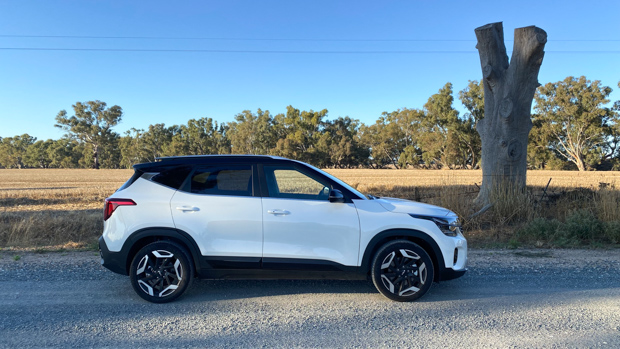 Indeed, the i30 Sedan N, Palisade and Ioniq 6 from Kia's corporate cousin, Hyundai, I've personally sampled in recent times are prone to annoyances akin to petulant children.
You don't have to peer deep between officially stated lines to see that some carmakers are being somewhat begrudgingly led down an unfavourable path less by choice and more by prevailing legislation of some regions global models are sold in.
It's a shame that the user can't assign preferences to an in-car profile and opt simply to keep unpalatable 'help' switched off. Hardly a technological stretch, is it?
I'm not talking about essential modern active safety features, but rather some of that overbearing "keep your hands on the wheel" or "check the rear seat" advice where the vehicle attempts to outsmart the user.
Seemingly small gripes, perhaps, though issues that, as we've discovered, can pile up to what amounts to a potential deal-breaking experience.
Month 3: heeding the warning
This month: February 2023
Kilometres this month: 1156km
Running costs: $237.31 (fuel)
500km round trip to Orange

8.2L/100km

Used speed limiter assist the whole way. Worked well apart from phantom 60km/h zones. 
Going into my second month with the Seltos, I decided that I was going to completely embrace everything that the car had to offer, and drive it as I had just bought it off the showroom floor.
In other words, I decided that I wasn't going to mess around with the speed limiter assist anymore, and see if I still feel the same annoyance towards the system after 30 days.
For the most part, this month with the Seltos consisted of regular commuting in Sydney peak-hour traffic – a scenario where this Kia, for two reasons, feels right at home.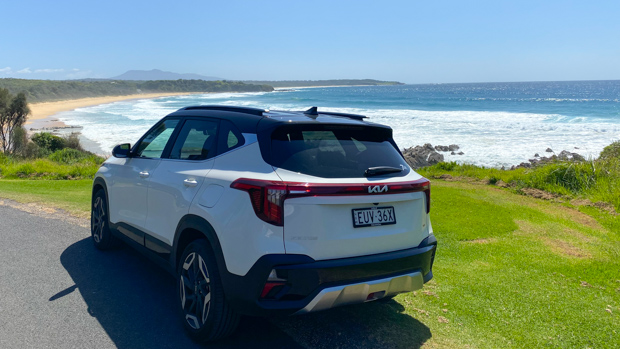 The first is that the adaptive cruise control system is more than happy to come to a complete stop and start again without driver interaction. This is something that's commonly overlooked on the new car market, and I find it particularly helpful when heavy traffic is a common occurrence.
The second reason is down to the Seltos' automatic transmission. Though the old generation's dual-clutch transmission made light work of shifts at speed, stop-start work is a clutch's worst nightmare, and it leads to a somewhat janky experience.
Now that the Seltos GT-Line AWD has a good, old-fashioned liquid-filled torque converter eight-speed transmission strapped to it, stop-start driving falls more confidently into its wheelhouse.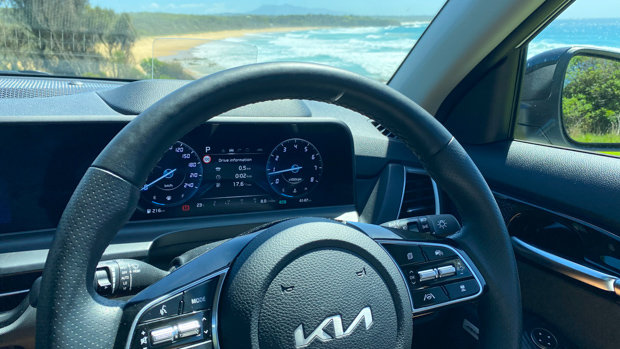 On the topic of the speed limit assist system, urban environments are where this system shines. Since moving to Sydney, I've discovered that this city never seems to be content with its roads, and there is always room for improvement.
As a result, my commute is plagued by a speed limit that is changing almost constantly, between 50s, 60s, and the 40km/h school zones.
Where some drivers might lose concentration whilst navigating intersections and such, the Seltos always seems to be able to spot a cheeky speed sign and keep you on the cheaper side of the law.
Unfortunately, the aforementioned school zones are the true Achilles' heel of this system, as it has no way of working out whether or not the zone is time-of-day active.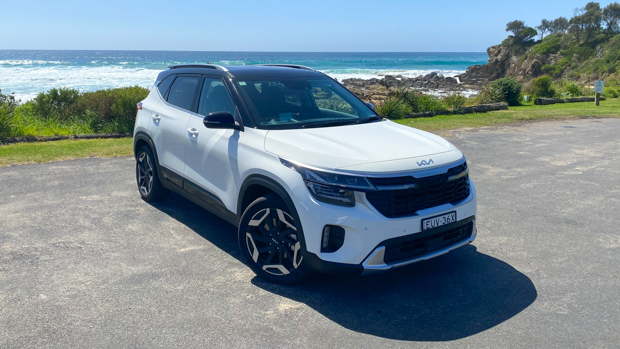 This results in a stressful moment when a driver will think that they've just zoomed by a school at 20km/h over the posted speed limit, when in reality, things are tickety boo.
The only large road trip I undertook this month in the Seltos was out to see the picturesque sights of rural New South Wales via Bathurst and Orange.
Unfortunately, my dreams of lapping Mt Panorama at 60km/h were quickly dashed by the realisation that I visited on one of the only weekends where the track was closed for a non motorsport-related event.
As always, the Seltos' ventilated seats were a game-changer throughout this trip, and were switched on for the majority of the driving stint.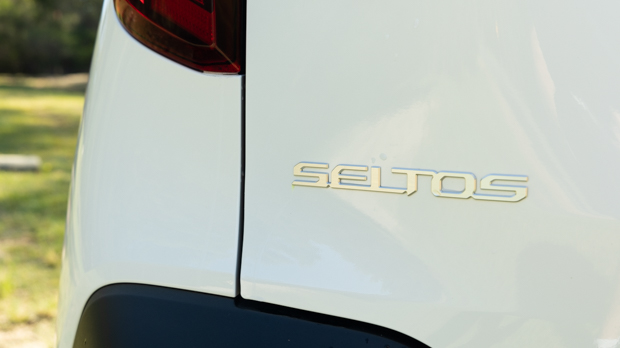 On the open road, I found that setting the adaptive cruise control system to 2km/h below the speed limit would negate the annoying effects of the speed limiter assist.
That buffer of a couple of kilometres per hour meant that even on the declines, where the car would pick up speed naturally, the system would maintain pace below the signposted limit.
This technique comes with the caveat of driving everywhere at least one kilometre indicated under the speed limit – something that doesn't make you the most popular motorist on the highway anywhere but the slow lane. And when you have to overtake, the system triggers anyway…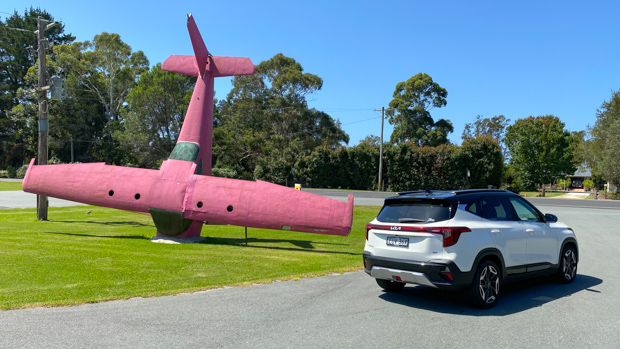 The only other issue that I encountered with this system on the drive was the phantom 60km/h zones that would randomly appear during 100km/h stretches.
I've discovered that there are two between Katoomba and the Blue Mountains, and for some reason, the car will alert you to a change in speed limit, even if no signage is present.
I'd say that this is the most concerning issue I have come across with this system, as it could prove to be dangerous if an unassuming motorist decides to abide by this limit in a hurry, and jam on the brakes.
Month 2: learning the ropes
This month: December 2022/January 2023
Kilometres this month: 1642km
Running costs: $275.77
My first big trip in the Seltos was the standard Sydneysider trip down to the nation's capital, Canberra. With almost 300km of smooth highway in each direction, I knew it wouldn't be the most demanding of long-haul drives, but would be a good way to feel out the vehicle.
With adaptive cruise control and lane-keep assist set, I figured it'd be an easy run down the motorway, but unfortunately, that wasn't the case.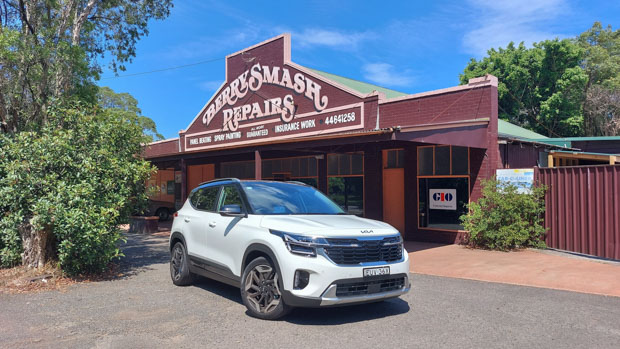 Earlier in the year, I attended the local launch of the Seltos, where turning off the speed limit assist system via the steering wheel was one of the first things we learned how to do. Because of this, I hadn't actually had much experience with the system, so was willing to give it a chance in an open road scenario.
Before I had even reached the outskirts of Sydney, I had already switched the system off, due to its tendency of not working in conjunction with the adaptive cruise control system, and constantly alerting me to the fact that the car was travelling at 1km/h over the speed limit.
Speed limiter annoyance aside, the Seltos provided a fairly peaceful and proficient drive down south.
With just 146kW on offer from its 1.6-litre turbo-petrol engine, you'd be forgiven for thinking that the Seltos GT-Line AWD isn't much chop on the open road, but I know I was surprised.
At highway speeds, passing is completed with relative ease, with the automatic transmission being confident in selecting the correct gear for the overtaking maneuver. Even on inclines and such, the Seltos doesn't seem to be out of its depth and pulls quite impressively with its torque delivery.
Just as the good comes with the bad, this impressive amount of grunt on the road means that fuel economy isn't quite where you'd want it for a small SUV.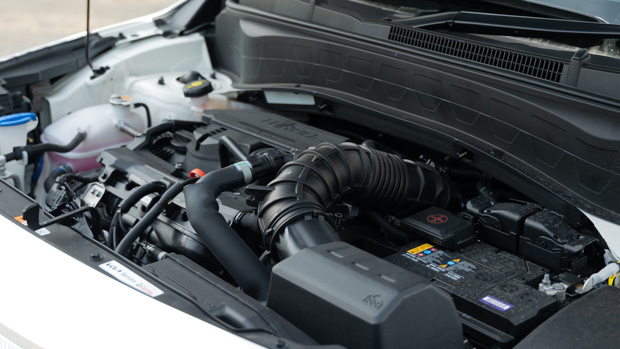 Kia quotes a figure of 7.6L/100km, and already, this is relatively high in the scheme of small SUVs, but you'd be doing well to hit this in a real-world scenario.
During this most highway trip, I found that it's more likely to sit in the 7.9-8.2L/100km region, which pales in comparison to something like the Toyota Corolla Cross Hybrid, which comfortably manages 4.6L/100km in the same situation.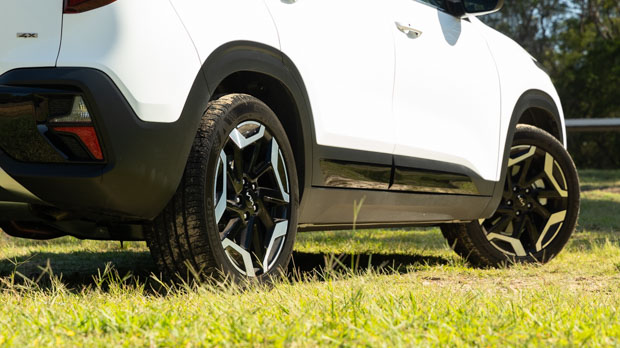 It's also worth mentioning my discovery of the mood sound lighting system, as it's one of the quirkier aspects of this Seltos. With LEDs embedded in the Bose speakers up front, my guess is that it's meant to light up along with the beat of whatever song is playing.
Unfortunately, the system is just a little off, so you end up with sporadic lights bouncing across the cabin of the Seltos. Though it loses points on the rhythmic front, it's a quirky feature, and I can imagine that'd help drivers stay awake during long drives in the dark.
Month 1: welcome to the fleet
Delivery month: December 2022
Delivery kilometres: 788km
In modern times, Kia's GT-Line badge can mean different things. For instance, the Stinger GT-Line is a somewhat lacklustre version of the flagship sports sedan, whilst the EV6 GT-Line has enough grunt to embarrass the majority of hot hatches at the lights.
With this in mind, I wasn't quite sure what to expect when it came to a GT-Line-badged small SUV from Kia, but I was certainly leaning towards the former.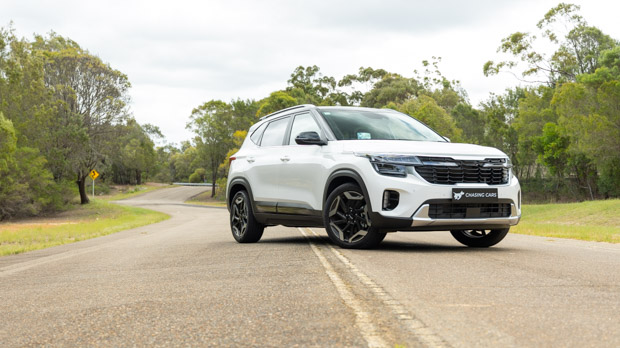 Visually, the Seltos doesn't do much for the performance angle, as it looks identical to every other model in the range.
Sure, it is the only Seltos variant that rides on 18-inch alloy wheels as opposed to the 17s and 16s that other variants get, but considering that the design is shared across the range, you're going to have to be looking at tyre specs to pick it apart.
Our Seltos is finished in Clear White with a Fusion Black roof, a combination that comes as a no-cost option. Buyers actually have the choice of seven solid, and two two-tone colour options on the GT-Line, all at no extra cost.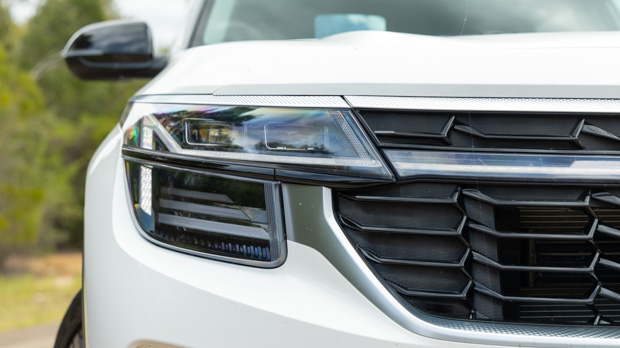 The same goes for the optional sunroof, but this does come with a caveat of not being available with two-tone paint. According to Kia, this is simply a production decision, which drastically simplifies the process. But because of this, our long term test car has a solid roof.
Under the bonnet of the Seltos GT-Line AWD sits the turbocharged 1.6-litre four-cylinder petrol engine that makes 146kW and 265Nm. This is paired with the eight-speed torque converter automatic transmission that sends power to all four wheels.
On the inside, things are relatively simple, with a black leather interior being the only option. In saying this, it's a relatively well-equipped cabin with these power leather seats being both heated and ventilated.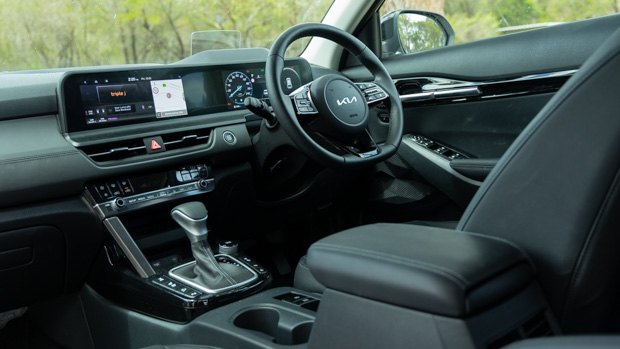 It also gets two large 10.25-inch connected displays on the dash, with one handling infotainment and the other for the digital cluster. It also gets a folding head-up display panel, which displays driving information whilst on the move.
Apple Carplay and Android Auto come as standard, although both systems require a phone to be connected via USB. Beneath the multimedia screen is a wireless phone charger as well as a USB A and USB C charging port.
One issue that I noticed on the launch of the updated Seltos was the speed limit assist system that alerts drivers when the car is over the posted limit. The issue isn't the fact that this safety system exists, but instead, I struggle with how the system reactivates everytime the car is turned off and on again, meaning drivers have to repeat the process.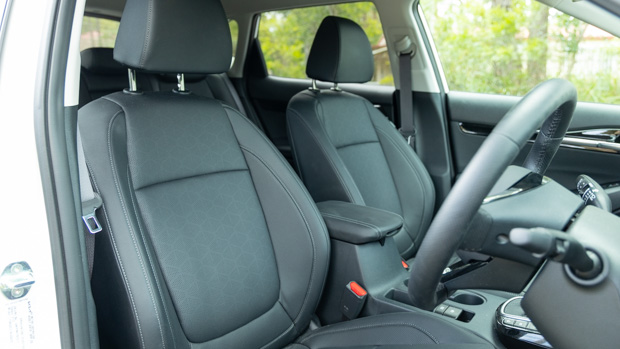 It currently isn't a deal-breaker for me, but it'll be interesting to see how I deal with it over the course of the long-term loan.
Throughout our loan period, we're planning on taking the Seltos on a few decent trips around the country, on and off the tarmac, but hopefully not to the degree we'd need to be using the all-wheel-drive lock button.