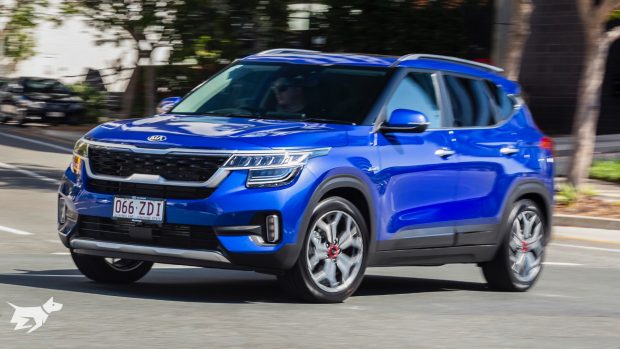 Does anyone remember that Kia was one of the pioneers of the modern compact SUV, even though the vehicle in question – the original Sportage (1993-02) – was more of a light truck than a true crossover? I betcha they don't.
It could be argued that even Kia itself forgot about it, given that it took until 2019 for the Korean outfit to finally field a small SUV in one of its most successful global markets – good old SUV-loving Australia. But that belated arrival – the Kia Seltos – has become such hot property that it serves as a textbook reminder that 'better late than never' still holds true. Kia Australia can't get enough of them.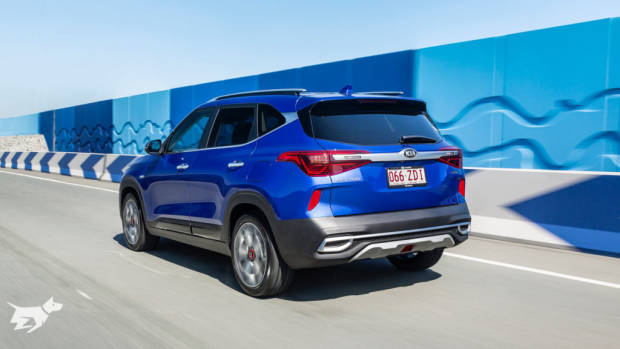 Like everything else in Kia's fast-improving portfolio, the Seltos has a Hyundai-badged cousin – in this case, the depressingly average Kona. But Kia has cleverly expanded and finessed the Kona's DNA, resulting in one of the roomiest small SUVs around, without intruding too much on the Sportage's medium-SUV patch…
… until you get to the fully loaded 2020 Kia Seltos GT-Line, that is. This $42,990 all-wheel-drive range-topper scores a 130kW/265Nm 1.6-litre direct-injection turbo-petrol engine and a seven-speed dual-clutch transmission – enough to out-tech and out-perform its more salubrious Sportage sibling, as well as most of the small-SUV competition. But is the GT-Line really $16,000 better than the surprisingly suave Seltos S base model with optional Safety Pack that sells for $26,990?
What sets the GT-Line – and the cheaper Sport Plus AWD reviewed here – apart from the regular Seltos range is its drivetrain. In place of front-wheel drive and Hyundai-Kia's long-lived 110kW/180Nm 2.0-litre MPi four-cylinder, tied to a CVT automatic transmission, the all-wheel-drive Seltos models bring the aforementioned turbo-petrol/dual-clutch combo shared with all-wheel-drive Hyundai Kona grades and top-spec Hyundai Tucson models.
The engine's 265Nm of torque from 1500-4500rpm produces effortless performance, meaning you can comfortably pilot the Seltos GT-Line with its Drive Mode dial set to 'Eco'. Livelier 'Normal' and 'Sport' settings perk up engine and throttle response, as well as transmission sensitivity, yet the 1.6 turbo doesn't really need to be driven hard, and doesn't deliver a sporting driving experience when you do – not in this state of tune.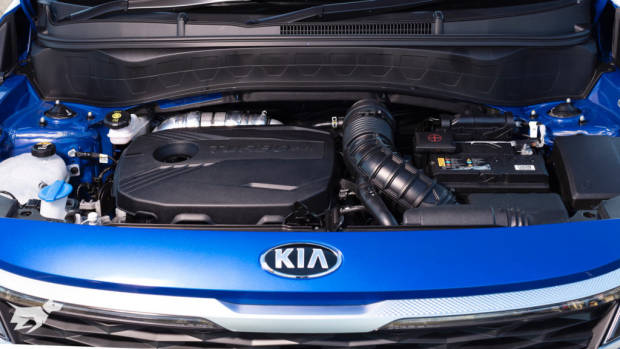 At anything beyond 5200rpm, the engine sounds wincingly intrusive from the driver's seat, and the seven-speed dual-clutch 'box isn't as refined as it could be either. In both cases, there's a layer of slickness that's distinctly lacking. In terms of general urban driveability, the regular 2.0-litre CVT delivers a smoother, sweeter driving experience, though it too is a loud talker when pushed.
Where the GT-Line begins to forge ahead is on a twisty road. Combining its Australian suspension tune with the largest wheel and tyre package fitted to any Seltos (235/45R18 Kumho Ecsta HS51s), the GT-Line feels confidently planted, with loads of mid-corner grip, impressive balance and focused body control. It's adept at punching out of corners too, and it steers accurately, though with hefty weighting attempting to make up for a lack of proper feedback. So while the GT-Line never feels like a hot-hatch on stilts, it does a respectable impression of a warmish one.
Only at slower speeds do the dynamic flaws of the top-spec Seltos become obvious. That planted feel and meaty steering mean the GT-Line often feels heavy in regular driving, and its ride never really settles. It also produces loads of tyre roar on rougher surfaces – all of which diminish the premium feel its styling promises.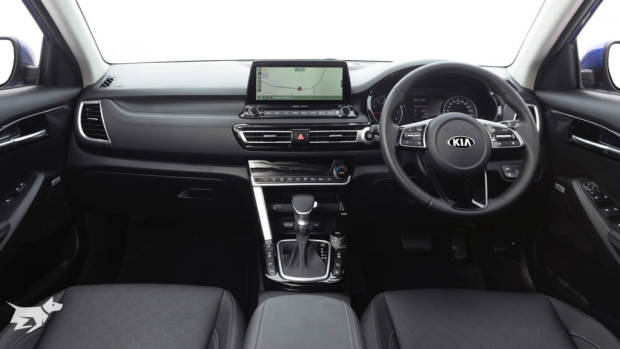 From a visual perspective, there's no doubt the GT-Line's sparkly LED head- and tail-lights, and dazzling 18-inch alloys make the entry-level Seltos S, which runs with wheel covers, seem desperately in need of better wheels. And there's a real sense of design class inside too, as well as some packaging cleverness – though all of that already applies to every Seltos grade.
From its neatly organised and detailed dashboard, to its luxuriously large centre touchscreen and surprising amount of stowage (including proper door bottle-holders in a Korean car!), the Seltos feels a cut above its patchy competitors. Its crowning glory, however, is its back seat, which not only delivers excellent legroom and under-thigh support but also commanding vision. It feels equal (or superior) to most medium SUVs! And while the GT-Line's 433 litre boot lacks the vast spaciousness of the base model's 468-litre cargo space – because of that car's smaller space-saver spare – at least there's a full-size alloy lurking under the rear floor of this AWD wagon.
It's only when you look closely that you start to realise much of what the GT-Line brings is merely tinsel. Sure, it has an eight-speaker Bose stereo and heated/cooled electric front seats, but the Bose set-up is more about muscle than sophisticated music production and the front seats need their fan-cooling, because the trim is perforated vinyl! There's no faulting the GT-Line's stitching quality but this man-made upholstery is not about saving animals, it's about pinching pennies … which is a pity given the pleasant cloth trim in other Seltos models.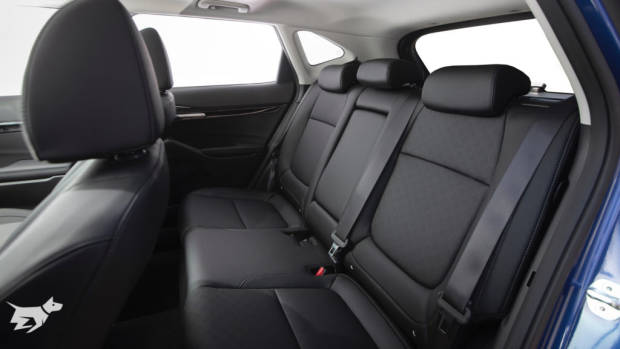 There are other oddities too, such as carpet so rough it feels like 80-grit sandpaper, and while the GT-Line scores fully electric front seats (with proper under-thigh tilt for the passenger), the combination of unyielding trim and electric-motor stowage means they lack the almost sumptuous comfort of the all-manual buckets in lower-grade models.
On the positive side, the GT-Line exclusively brings an electric sunroof (or funky cherry-black roof as on our test car, in lieu of the roof hole), as well as rain-sensing wipers, a head-up display, a heated steering wheel, "sound reflective" mood lighting (that weirdly pulses in time with the audio), wireless phone charging (on a dedicated shelf in the lower centre console), a rear-seat USB port and rear-seat air vents.
But you could argue that's merely box ticking – and Kia's decision to exclude rain-sensing wipers and rear air vents from anything other than a base Seltos is just stingy. And then we get to the GT-Line's price – $42,990 drive-away as of late-September, which is headlight-to-headlight with Mazda's more sophisticated CX-30 G25 Touring AWD ($43,049 drive-away), and dangerously close to some of the best medium SUVs around, such as Subaru's larger, much more refined Forester 2.5i Premium ($44,733 drive-away).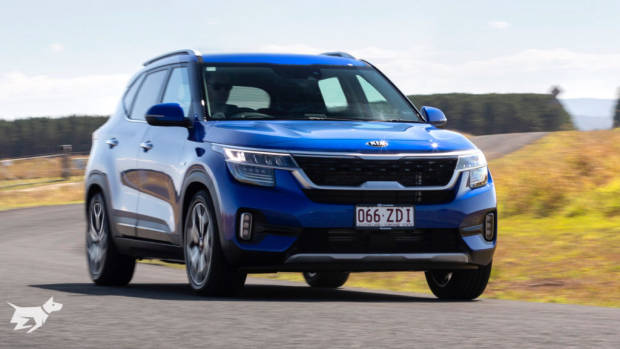 Rear-seat space aside, about the only area where the GT-Line pulls ahead is warranty (seven years' coverage versus five years for the Mazda and Subaru), along with seven years' capped-price servicing with intervals of one year / 10,000km. The average service costs $466, with the cheapest being $282 for the first year, and the most expensive being $640 in the seventh year.
From a small SUV perspective, the Kia Seltos blends most of the packaging flexibility of a Honda HR-V with a good dose of driver appeal, which is why punters and journos alike have been drawn to it. But in the broader SUV context, at GT-Line level, the Seltos is operating some way beyond its comfort zone.
The Kia Seltos GT-Line AWD is a decent car, but it lacks the compelling value appeal of a safety-pack-equipped Seltos S or Seltos Sport and proves that the law of diminishing returns definitely applies the higher you traverse the Seltos hierarchy.