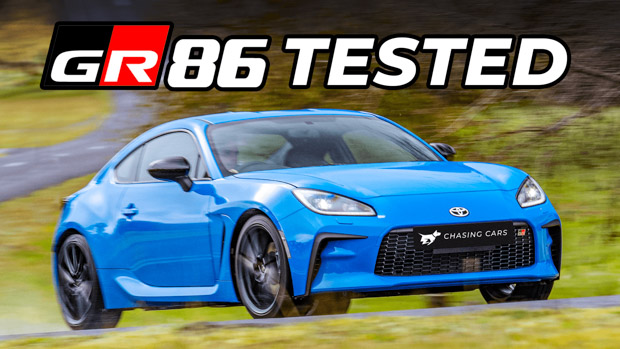 There's a cool confidence to the new Toyota GR86. Like it knows it's special. Like it knows anyone about to clamber into its cosy cabin is going to have A Good Time.
This isn't going to be a difficult second album. No, this is going to be the masterpiece. With us since 2012, the 86 sports car is lauded for its playfulness and simplicity – if not its outright performance – but this second-gen aims to silence all critics.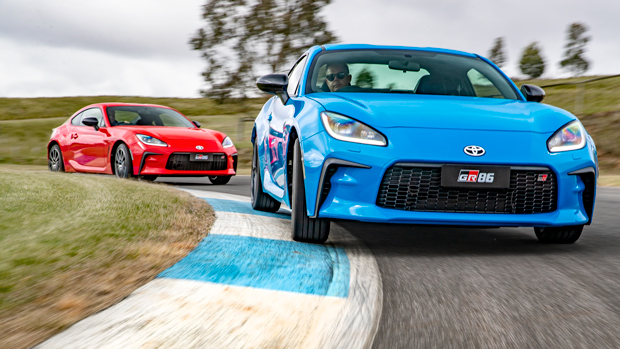 This is our second fun-filled, slidey-sideways, torque-rich trial of the GR86 on both road and track after a brief crack earlier this year. And it's clear Toyota and its Gazoo Racing works have delivered. Basically, if you can't have A Good Time in the GR86 you're doing something very wrong.
It's not as if the ingredients are new, but they're increasingly rare. Front engine, naturally aspirated, rear-wheel-drive, a manual gearbox – same as before, but now there's a larger engine to help fill the mid-range torque abyss; it's more agile, responsive and better equipped.
More mature, too, in both style and drive. Design is more grown-up with the old stick-on rear wing replaced by a classier integrated lip spoiler. There are hints of Toyota's iconic 2000GT and AE86 Corolla to the shape, which is longer and lower than before.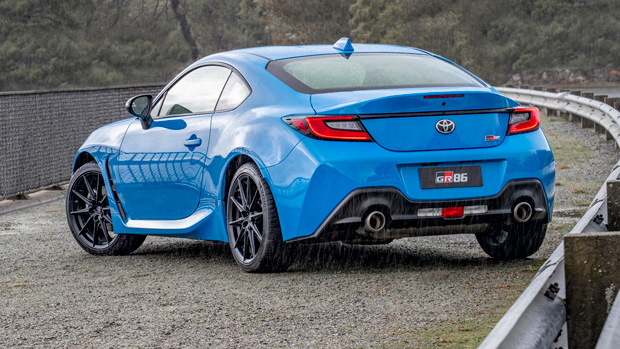 The front end does a decent impression of a Jaguar F-Type (no disgrace there) with the GR86's sleek LED lights, large black mesh grille and prominent front splitter. The Boy Racer image has been toned down, but not abandoned – chunky twin rear exhausts and black 10-spoke 18-inch wheels on the GTS (17-inch silver on the GT) see to that.
Toyota knows it's on to a good thing – the GR86 sold out in the UK in a matter of hours, and allocation is going to be tight and in-demand for our market: 1100 are expected to arrive in the next 12 months.
Perhaps we shouldn't be surprised it's been priced higher than its co-developed Subaru BRZ cousin… supply and demand and all that.
The base GT is $43,240 before on-roads, the GTS we tested $45,390 plus charges. Picking manual or auto doesn't change the price, despite the three-pedal version missing out on AEB, adaptive cruise control and lane departure warning. We asked why, but were simply told – more than once – it still represents good value.
How does the GR86 GTS drive?
As driving introductions go, tackling the sublime Phillip Island Grand Prix circuit proved both thrilling and daunting.
No time for foreplay – my first time sitting in the GR86 is in the pitlane, helmet on, ready to lap a track I'd not driven in a decade. The driving position – low and with pedals perfectly placed for heel-toeing – starts the relationship well.
The 2.4-litre flat-four cylinder makes a decent rumble on start-up, and on first stab of the throttle as I exit pitlane it's clear this new donk offers serious gains over the old 2.0-litre.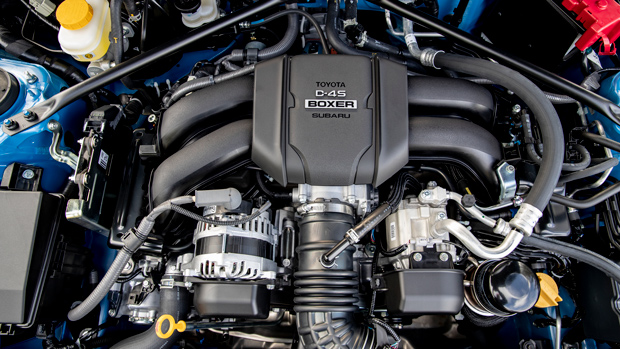 Its 174kW and 250Nm are bumps of 22kW and 38Nm, but it's more than just numbers. There's mighty pull through the mid-range – peak torque arriving at 3700rpm (rather than the near red-lining 6400rpm of before).
The new engine allows the GR86 to sprint to 100km/h in a feisty 6.3-seconds in manual guise; over a second quicker than the old car. Such is the coupe's size and how close your backside is to the road, it feels even faster than the on-paper figures.
But you want to know about the skids, right? The GR86's easy and controllable tail-happy nature is what's got enthusiasts buzzing, myself included. Check out any online GR86 video and invariably there's a grinning driver with an armful of opposite lock.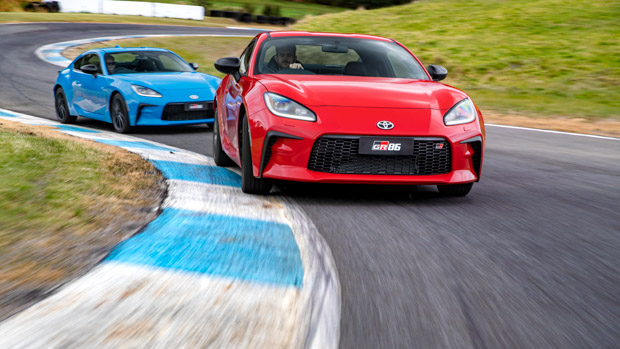 It slides with such ease, the Torsen limited-slip diff-equipped rear communicating expertly exactly what it's up to, or about to do. In Track mode the electric safety net allows plenty of skiddy playtime – it only mops up lack of talent very late in the performance.
Chuck it into a turn, boot the throttle and you're sideways in a way that thrills rather than scares. I'd have loved more track time to hone my skills – the GR86 is a car that is very willing to make you look a hero.
If you're after solid lap times rather than outright fun it does the grippy stuff well too. Aluminium body panels (and weight-saving measures in the engine, seats, mechanical components, etc.) up the agility, while suspension fettling and structural enhancements have boosted lateral rigidity by 60 per cent and torsional rigidity by 50 per cent.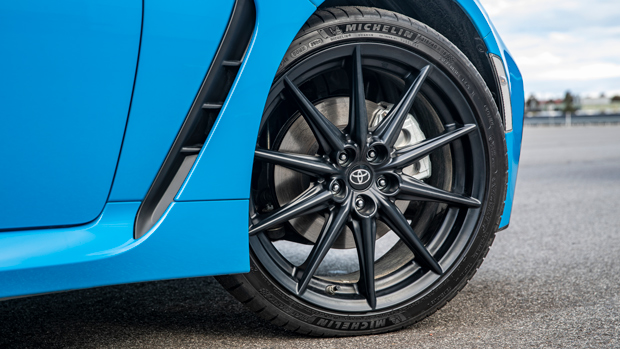 The results show in how planted it feels. Razor-sharp and easy steering help you nail your corner entry point, the front end on Michelin Pilot Sport 4s has ample bite.
It's a joy to feel the rear end rotating with a bit of lift-off, or, when brave enough, powering through to induce that oversteer again. It feels very easy to drive fast.
We only did four laps in each stint, and the 294mm (front) and 290mm (rear) ventilated discs showed no sign of fade. There's only 1291kg to haul up, but how they'll fare on a full track day remains to be seen.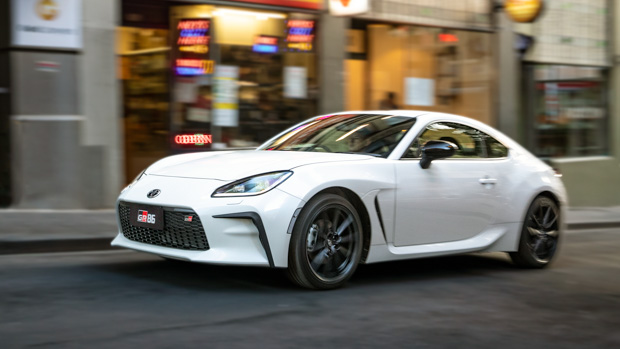 The larger displacement engine really changes the character next to the old 86. Previously you had to rev it to high hell and keep it there when in attack mode, but the 2.4-litre has guts right through the mid-range and the torque is incredibly linear.
The exhaust note just needs a bit more soul when you're on it.
I also found the six-speed manual not as slick as it could be. It's still a lovely box to stir through, but on occasion it wouldn't slot into gear as effortlessly as expected – not in a way the Mazda MX-5's or Porsche 911 GTS's sublime manuals manage.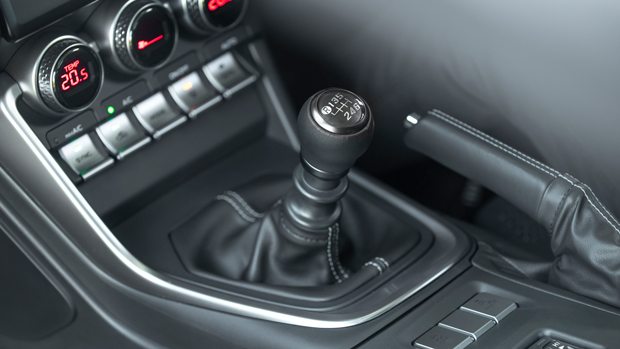 Probably I just needed more time in the GT86 to master it, but I reckon I'd be seeking an aftermarket short shift kit.
The fun didn't stop on road. Show the GT86 a twisty slither of bitumen and that $45,000 entry fee feels incredible value indeed. With the Subaru BRZ and Mazda MX-5 worthy foils for similar coin, affordable sports car buyers are enjoying a purple patch.
The GR86 feels small on public roads, giving you loads of space to set yourself up for bends. Visibility's decent too. Best of all you can have incredible fun without bothering speed limits. Unlike wildly over-powered sports cars, the little Toyota shows off its agility and revvy engine joy while protecting your license.
The stiff suspension is fine to live with except on sketchy bits of road surface. Then things become crashy and uncomfortable, but it's an understandable trade off for its talents.
How is the GR86 GTS's interior?
A big leap over the old 86, but there's still chunks of hard plastic throughout to remind you're in a circa $40k sports car and not a $100k one. But proper leather for the racy, small steering wheel and gear shifter mean your main touchpoints feel right.
There are a few no-brainers. For starters, pay the $2150 premium to leap from GT to GTS. You get a combination of suede and leather for the seats rather than fabric; front chairs are heated and there's welcome soft padded suede for the door tops.
The GTS's rear cross traffic alert and blind spot monitor are the two driver assist systems I find most helpful for everyday driving – GT cars miss out.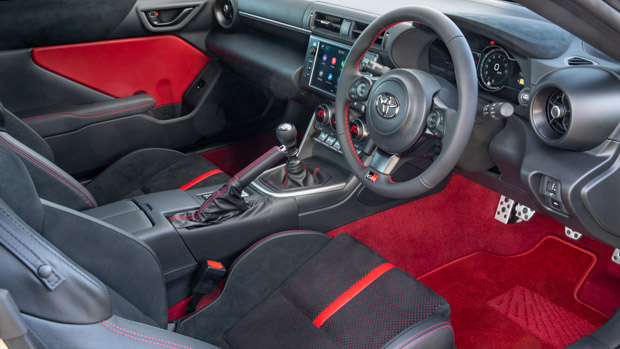 While GT cabins are dour black, the GTS features silver for trim inserts on the doors, seats and floor, plus stitching on the steering wheel, shift boot and handbrake.
Here's your next no-brainer. You can option the GTS with red stitching, trim and carpets at no extra cost. It brings a welcome Peugeot 205GTi hot hatch feel, looking truly sporty rather than tacky.
You're not drowned in tech here; there's plenty of analogue to enjoy. It's nice to see a proper handbrake survive; climate controls are chunky dials and a series of switches keep things clean and simple.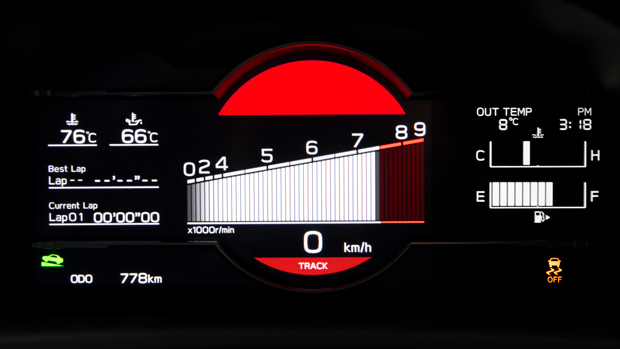 An 8.0-inch infotainment unit runs wired Apple CarPlay/Android Auto and digital radio, while a digital dashboard is nicely unfussy with a large central tachometer. Option Track mode and the tacho appears in linear form "for optimal shift timing" and you can view your lap times and G-force if that's your thing.
Naturally, it's not the easiest car to access and exit – it's very low, as is the seat. Once inside – especially with all the red surrounds – it's a glorious, sporty cabin. You feel well pinned in place with well-bolstered seats, and there's a welcome sense of space – far more so than a Mazda's MX-5's.
Also trumping the Mazda are the +2 rear seats. They remain not much use to anyone with legs – there's genuinely zero legroom with front seats set for a typical adult. Rear chairs are nicely bucketed, but it's so claustrophobic back there they must be seen very much as emergency-only seating.
Fold these down and the boot's reasonable (for a two-door coupe) 237L space is far more practical. So much so Toyota promises you can fit four spare tyres into the luggage area – ideal for track days.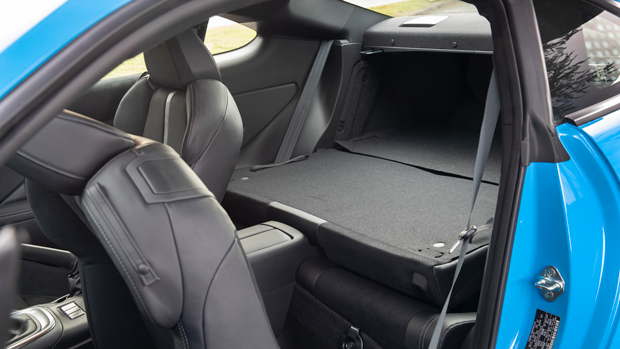 What are the GR86 GTS's running costs?
While a Subaru BRZ S manual costs $41,590, the equivalent GR86 GTS is $3800 more. Toyota insists the co-developed cousins are quite different, thanks to Gazoo Racing breathing on various aspects.
We're told suspension settings – springs and anti-roll bars – are different, acceleration response has been enhanced and the electronic power steering response https://www.chasingcars.com.au/wp-admin/post-new.php?post_type=reviewfettled.
Even so, the price difference is quite hard to swallow. Especially for purists buying the manual for the same money as the better-equipped auto gearbox GR86s. At least clutch-pedal shoppers can comfort themselves their choice is the more engaging and faster offering.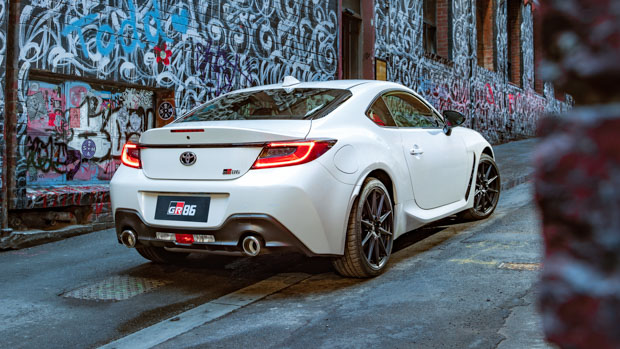 The Toyota trumps the Subaru for service costs – $280 a pop for the first five years means overall it's around $1000 less than a BRZ to maintain.
There's a tax to pay for that larger, zestier engine too. Our test manual GTS is thirstiest in the range, returning 9.5L/100km combined. The auto drops this to 8.7L/100km. Our enthusiastic road test saw just-on 10L/100km, and be warned it only drinks 98RON.
Warranty's five-years with unlimited kilometres. That warranty doesn't extend to track use: surprising with Toyota championing the GR86's track credentials. To be fair, Toyota Australia said should owners suffer problems during or after track use, warranty requests would be considered "on merit and case by case."
The final verdict
It's hard to criticise a car that seemingly exists purely for our driving pleasure. The GR86 is a wonderful package of driver engagement – it's playful yet hugely competent, and the larger, torquier engine combined with a brilliant chassis makes it a big improvement over old.
The pricing may confuse – especially for the less well-equipped manual cars – but Toyota's GR86 remains an absolute bargain of a sports car.