Subaru has today globally revealed its latest performance car concept, calling it the Sport Mobility Concept.
Shown to the public for the first time at the Japan Mobility Show in Tokyo, the Sport Mobility Concept from Subaru debuts a new look we haven't seen before from the Japanese automaker.
According to an official statement, Subaru has said that the Sport Mobility Concept "expresses the enjoyment that Subaru offers in the age of electrification, embodying the pleasure of going anywhere, anytime and driving at will in everyday to extraordinary environments".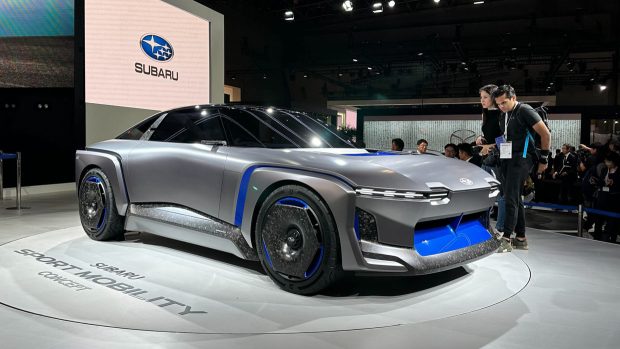 Concept details take Subaru into the future
With a decent smattering of Lamborghini-like carbon-fibre splitter panels, the Mobility concept also features slimline LED daytime running lights and a new light-up Subaru badge front and centre on the bonnet.
At the rear, the concept features a squared-off, boxy design language with the slimline theme continuing for the tail lights. Light up lettering also appears across the boot expanse of the vehicle.
No information has been disclosed regarding battery electric specifics, but being Subaru, a production version would likely be dual-motor in nature.
Many past Subaru concepts, such as the Legacy concept, the STI Performance concept and even the XV concept all became production vehicles eventually, so it's very much possible that the Sport Mobility Concept could become a production model in time.
We look forward to seeing how Subaru will transition into an BEV brand.
The Subaru Solterra will be the kickstarter to this transition, and will be in Australia by the end of 2023.