Subaru has unveiled the STI E-RA concept, potentially previewing a fully electric hypercar designed to take on its motorsport endeavours in the future.
Unveiled today at the 2022 Tokyo Auto Salon, the STI E-RA concept is referred to as a "study model for future motorsport vehicles" in a carbon-neutral era – the bones of which will undoubtedly trickle down into its production car line-up in some form or another.
While most details remain a secret, the concept is driven by four Yamaha-developed electric motors – one on each wheel – that produce over 800kW combined and have torque vectoring capabilities (ala Honda NSX). 
The electric motors are powered by a 60kWh lithium-ion battery that would be well-suited to a production car, though it's unclear how long its juice would last at race-pace.
The name STI E-RA concept stands for Electric-Record-Attempt as Subaru plans to head to the Nurburgring in 2023 and set a blistering lap time of 6 minutes 40 seconds.
Until then, Subaru engineers plan to spend the remainder of2022 testing the EV racecar on circuits around Japan to fine-tune its new technology.
Images of the car show the low-slung racecar bearing a slight resemblance to a massaged BRZ with extensive aerodynamics that include low side skirts and a huge rear wing that could be particularly useful in taming the added mass of electric vehicles.
With no combustion engine on board, the roof scoop will likely serve to bring in fresh air for the driver as well as cooling the batteries during intense use.
It remains to be seen if the STI E-RA will ever appear on a racetrack in its current form, though it's encouraging to see a brand with such a rich history in performance cars and motorsport potentially preparing to push the boundaries for a whole new generation of buyers.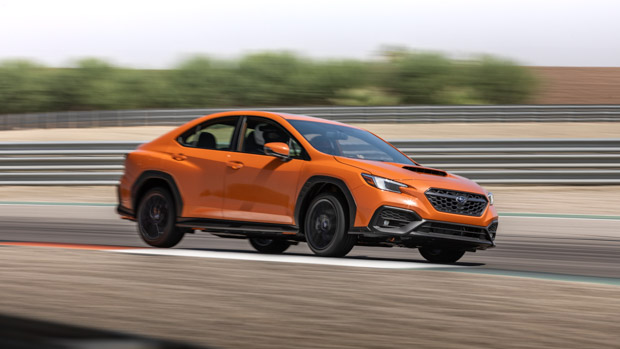 Why go electric?
With many racing series heading away from combustion engines in the medium- to long-term, the STI E-RA would likely function as a flag bearer for the Subaru brand in competitions such as the GT3 racing class held in many countries around the world.
The BRZ has served as Subaru's most common racecar in the last few years, with the company planning to migrate to the second-generation coupe in upcoming competitions.
Subaru says the STI E-RA concept will help it gain experience and training in these new technologies, while taking them to the highest level in competition.