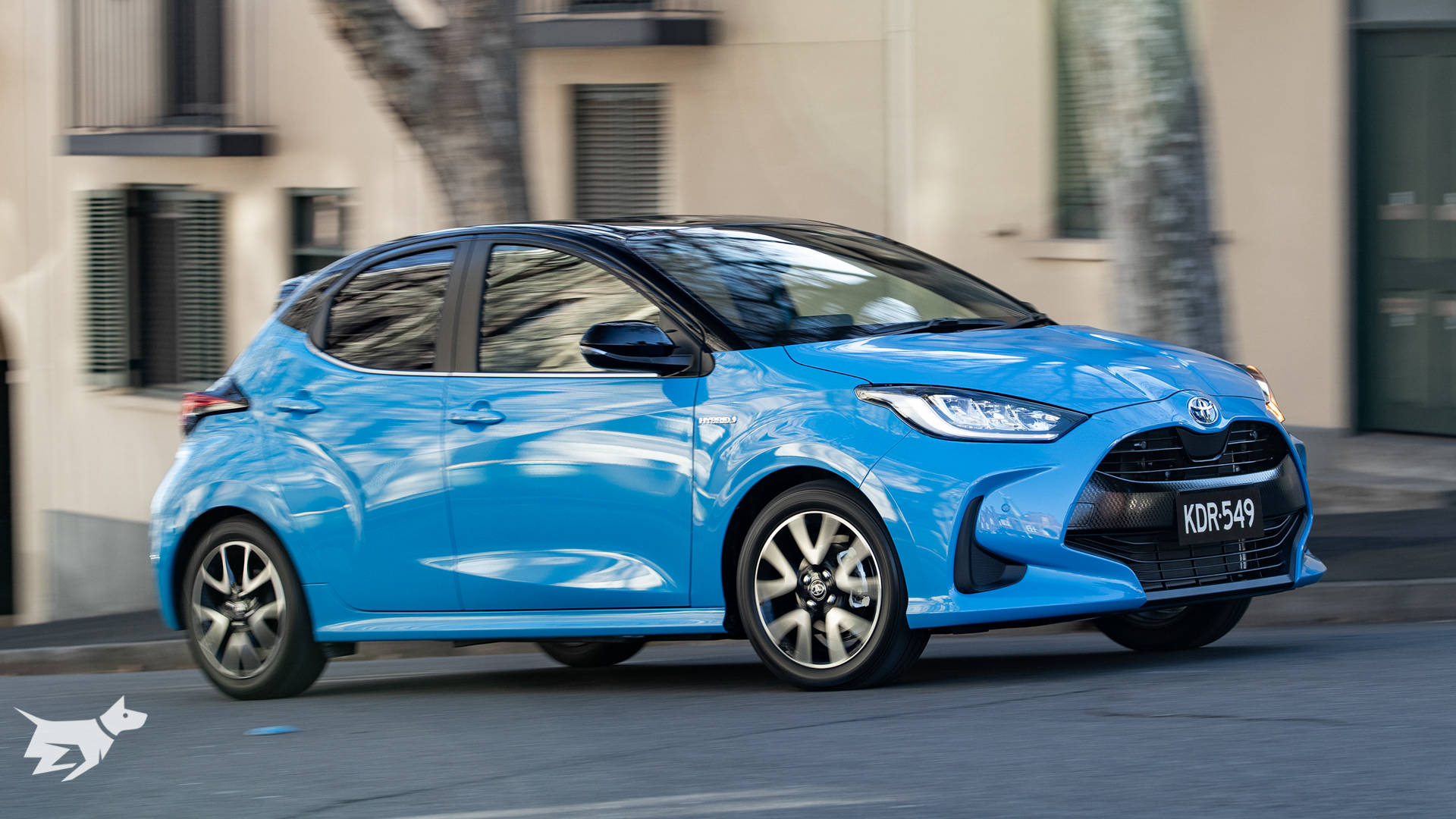 The latest Toyota Yaris is a better city car than ever, with the hybrid powertrain delivering incredibly low fuel use in the real world. But with so much new tech, it's now far more expensive.
Why is the new Toyota Yaris Hybrid priced so highly? Simply, Toyota bosses say, because that's what it costs to bring a car this sophisticated to market in 2020. At least they're honest, and they're also not wrong. Complying with the requirements for a five-star ANCAP rating, which is no longer a measure only of crashworthiness but of how much crash-avoidance tech is on board, is now a very expensive game. The new Yaris starts at $22,130 before on-road costs for an entry-level petrol, heading up to $32,100 for the top-shelf ZR Hybrid.
Five-star safety ratings are critical if you want to sell cars to fleets, and they're important to many buyers too – especially the ones who are about to put their teen behind the wheel alone for the first time.
But a five-star safety rating is now hugely onerous. In 2020, for the new Toyota Yaris to score five stars in Australia from ANCAP, it needed to include not only autonomous emergency braking that detects cars, pedestrians, and cyclists, but braking intervention when crossing oncoming traffic – plus a lane keeping aid, and a new type of airbag that sits between the seats, preventing head clashes.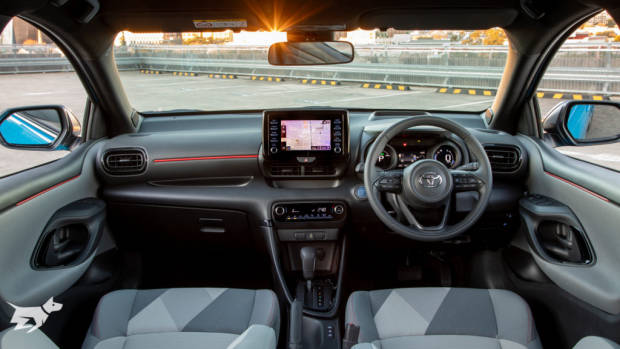 If you'd missed the revolution in crash safety ratings, which now heavily favour on-board sensors and software, you're not alone. Nor are we suggesting that it's a bad thing: instead, ANCAP and their European counterparts, Euro NCAP, are driving the biggest step-change in automotive safety since seat belts.
It's a vexed problem: ANCAP's requirements are undoubtedly creating safer cars for first drivers, while simultaneously pricing first car buyers out of new small cars. Expect to see much more of this in future: the new Toyota Yaris is just the tip of the iceberg.
The cost increases behind the scenes are made very plain by the pricing of the new 2021 Toyota Yaris, which sees a near 50 per cent increase in the cost of some variants. We have no doubt that Toyota would have preferred not to do this, as they have made clear, time and again, that market share is the name of the game.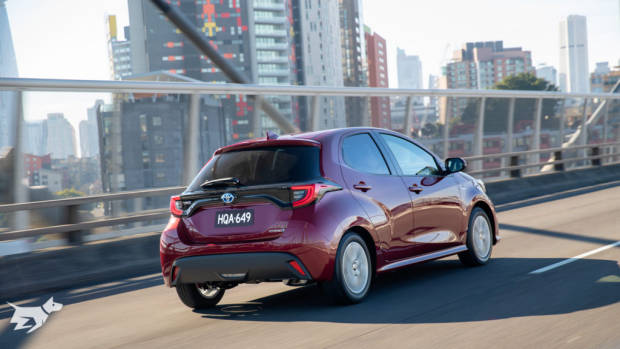 For the launch of the 2021 Yaris in Australia, we drove two variants: a mid-spec SX petrol ($27,020), and the highest-spec ZR hybrid ($32,100). Like all Yaris variants, they received all the safety tech as standard. But they disguise the fact that the cheapest Yaris Ascent model (petrol only, from $22,130) still looks very much like a base model despite the price, wearing plastic hubcaps and sporting a plastic steering wheel and shifter.
This is no premium small hatch: while the driving dynamics are a vast improvement over the previous, forgettable Yaris, thanks to a move to Toyota's modular TNGA platform, the 2021 Yaris is still, first and foremost, a mainstream city car, more comfortable in town than driven to the ragged edge on a country road. That said, the forthcoming Yaris GR performance hatch, which shares some components with the regular car, will fulfil that brief. But at what price?
The cost of the ZR Hybrid sits alongside peppy hot hatches like the Volkswagen Polo GTI and Ford Fiesta ST. To be fair, the VW and Ford didn't have to comply with 2020 five-star rules – in future, their prices may escalate dramatically, too. But in the here and now, we simply don't see comparative value for money in the new Yaris.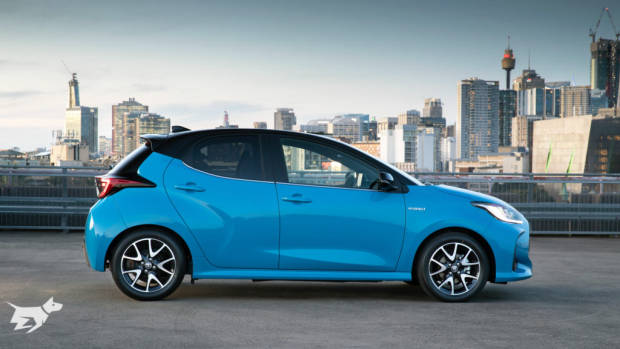 And that's a shame, because under the skin, this new Yaris is a tremendous achievement. The hybrid powertrain is a triumph of real-world efficiency, the ride and handling are improved, and it is a funky, well-styled thing with a pleasant interior.
Even the petrol-only Yaris, which thrums along with a cheerful three-cylinder naturally aspirated petrol engine making 88kW / 145Nm, moves off with pep and achieves good real-world economy of 5.5L/100km in our hands.
But the same engine is transformed if you tick the $2,000 Hybrid option, only available on the SX and ZR grades. The combined power output is listed as 85kW, but this disguises the fact that the Yaris Hybrid has much more low-end torque thanks to the assistance of the electric motor and small battery. That makes the Hybrid easier to drive, and zippy in town – but it pays huge dividends in the fuel use stakes.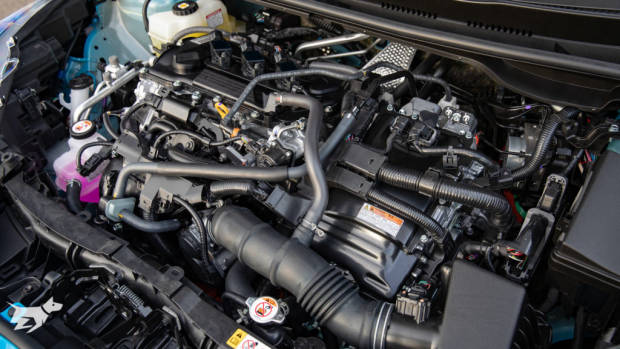 The petrol Yaris is hardly thirsty but the Hybrid is near-teetotal. Toyota claim 3.3L/100km, making it Australia's most frugal combustion vehicle, and we managed to match that claim without even trying too hard. That actually betters our long-term RAV4 Hybrid ownership result where we found it easy to approach, if not match, that hybrid SUV's published economy.
Quite simply, Toyota hybrids actually deliver on their promises, and allow you to use less fuel – and therefore produce less CO2 – without having to change your driving style or adopt currently-cumbersome cable charging habits. We give Toyota plenty of credit for driving real environmental benefits, right now.
Similarly, the lifeless steering and soggy dynamics of the previous version have been banished to Toyota's past, with the Yaris now joining the Corolla, C-HR, Prius, Camry and RAV4 on the company's TNGA platform. TNGA has done wonders for the ride and handling of all those cars, and the Yaris follows suit.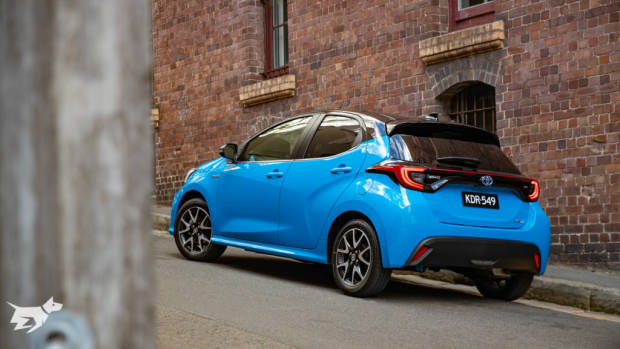 The ride is absorbent and perfectly suited to Sydney's chopped up roads – with even this cheapest Toyota's lesser torsion beam suspension setup managing to soak up bumps well, even if a Corolla's independent rear suspension is better again.
There is some body roll while cornering, but it is manageable. With good feedback from the steering and decently high grip levels, the Yaris Hybrid approaches the Volkswagen Polo for on-road sweetness – even if it does not beat that turbocharged, dual-clutch VW for overall cohesion. That said, Toyota's three cylinder actually sounds more refined than the Polo's, despite having to work harder.
Outside, Toyota have poured much more effort into the styling of the Yaris, and it works especially well with the optional two-tone black roof on the ZR grade – though our red wine-coloured SX was also a smart looking vehicle. Avoid the base car's hubcaps and you'll be buying a presentable, attractive city car.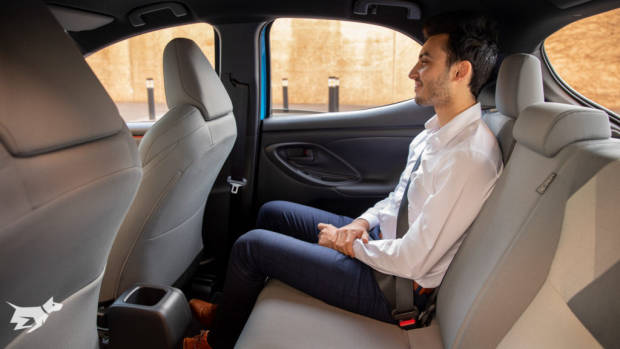 Stepping down into the cabin reveals a totally different approach to the old Yaris. Gone is the cookie-cutter Toyota dash of the last 20 years, replaced with funky shapes, clever tech and better software.
There is evidence of some cost-cutting in the fact that the Yaris's dash-top touchscreen has bigger bezels than the Corolla's – oddly, it's downsized from eight inches to seven but in the same housing. But Toyota's navigation and media controls are simple, and there is wired Apple CarPlay and Android Auto. Just one USB port in any new car in 2020 feels like a silly oversight, though.
However, we do have to be quite critical on technology given the pricing of this vehicle. A premium stereo, a properly digital cockpit presenting a map, and a larger touchscreen are all unavailable – despite the Volkswagen Polo offering these as options. If you're looking for the wireless projection of CarPlay sported by the new Kia Picanto – you won't find it.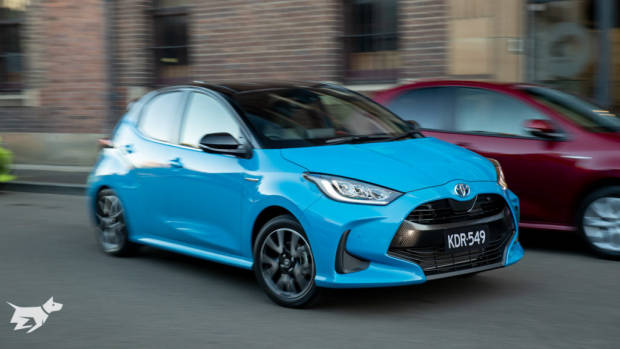 Nor is there an armrest between the seats, even on the circa-$35K driveaway ZR Hybrid grade, which is a terrible oversight – not only does it leave your elbows dangling, it also robs the cabin of closed storage aside from the small glovebox.
At least the manually-adjustable seats are comfortable enough, with good leg support and a great, low driving position. Those sitting in the second row will complain for kneeroom only if they're six foot or taller. Really, this is a Yaris, so it's likely that those wanting a bigger car would opt for Toyota's C-HR or another SUV. Behind them, there's a clever 270-litre boot with two floor heights, and a space-saver spare on all variants.
Ease of ownership is a Toyota high point. A five year, unlimited kilometre warranty applies to the new Yaris, and if you maintain it on schedule with Toyota, the initial five-year warranty on the hybrid system and battery will be extended annually, up to ten years' total – but the amount of old Camry Hybrids still plying a trade on Sydney roads gives us good confidence in these cars. Service pricing hasn't yet been finalised, but it's likely to be one of the most affordable vehicles in class to maintain.
No doubt, Toyota have gone out on a limb with the new Yaris. It's engineered to be the world's safest city car – and given how clearly a five-star ANCAP rating has been targeted, it is clear that collision avoidance is now a huge priority for this vehicle. Whether or not the target audience can still afford one is the great unknown – we'll be watching the sales results closely.