Toyota are developing a range of high-performance vehicles under the Gazoo Racing sub-brand – so, in anticipation of GR arriving in Australia, we got a taste of what's to come in the Europe-only Toyota Yaris GRMN.
GRMN? That's Gazoo Racing, Meister of Nurburgring – really. That name is perhaps a little lost in translation, but Toyota's new performance sub-brand is a go-fast effort that is more European than Japanese in character.
Like the big German brands with performance arms – Volkswagen R, BMW M, Mercedes-AMG, or Audi Sport – Toyota is about to embark on building a range of cars that have bona fide engine and suspension upgrades and wear prominent GR badges. GRMN will be worn only by limited-run special editions of GR cars.
It's all part of the strategy to 'unboring' Toyota, led from the very top: the Japanese brand's president, Akio Toyoda, is a seriously competent racer who has led a wholesale rethink of driving dynamics at the company over the last decade.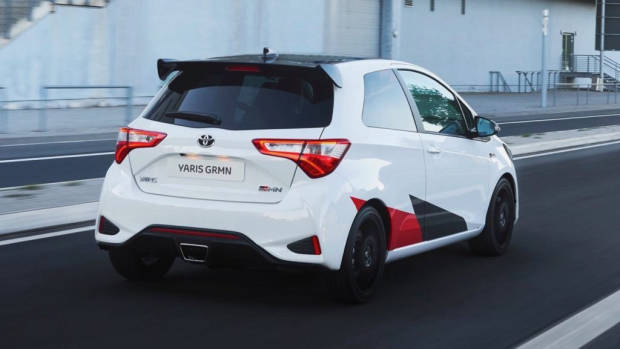 But while the run-of-the-mill Toyotas of recent years – the new Corolla, the new Camry, the new RAV4 and others – have substantially better chassis than their timid predecessors, properly athletic versions are said to be waiting in the wings.
So, what's with the Yaris? In Europe, the first toe dipped into the waters of GR is based on the brand's familiar city car. By the way, 'MN' in GRMN – as opposed to just GR – means a limited-run special edition GR vehicle. In the case of the Yaris GRMN, just 400 were built to be sold in Europe last year.
While the Yaris GRMN isn't a brand-new car anymore, Toyota says this car heralds some of the characteristics we can expect in future GR products, that Gazoo Racing president concedes could include a Corolla GR.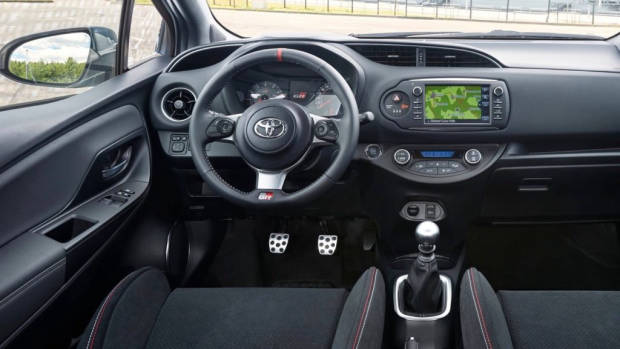 Under the bonnet of the Yaris GRMN sits a direct injected and supercharged version of the 1.8-litre 2UR-ZE petrol engine from the previous-shape Corolla, tuned by Lotus. The Eaton supercharger upgrades the outputs considerably, to 156kW at 6,800rpm and 250Nm at 4,800rpm. With a weight of 1,135kg, the Yaris is seriously light and this results in an impressive power-to-weight ratio of 137kW/tonne.
A Torsen limited slip differential helps channel the torque to the front wheels, by way of a notchy, close-ratio six-speed manual – no automatic is offered. While the straight-line performance isn't scintillating, a 6.4s 0-100km/h sprint time feels quick enough. The engine isn't underpowered – it feels right for a car this small and nimble.
The powertrain, however, is probably the least representative element of the future of GR. While we'd love to see this precise powertrain dropped into the current Corolla, the supercharged 1.8-litre kicks out 170g/km of CO2 which just doesn't work at all with Toyota's dedication to low-emissions motoring – even in performance cars. In fact, the CO2 figure is particularly bad, given the new three-litre turbo Supra also produces 170g/km.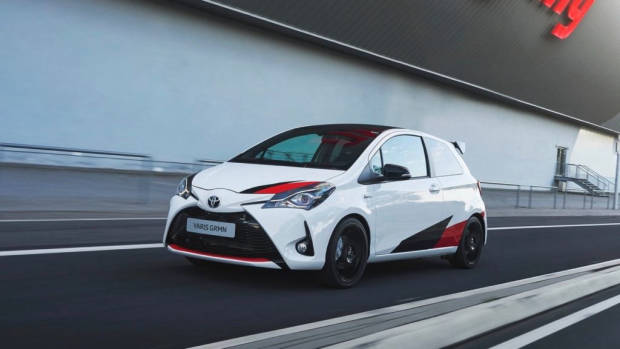 Before driving the Yaris GRMN, we witnessed Toyota Gazoo Racing take out its second consecutive win at Le Mans with a hybrid hypercar – and we think it's no coincidence that the Le Mans campaign was swathed in Toyota-Hybrid-Gazoo Racing badging.
If you accept the likelihood that Toyota, Gazoo Racing and hybrid are fellow travellers, it's likely that future GR products will use petrol-electric hybrid combinations, though Shigeki Tomoyama – GR's president – made no bones in confirming that the powertrains would need to be properly dynamic to compete.
Side note: the first GR production car to come to Australia will be the new Supra, which was co-developed with BMW and sports one of BMW's inline six-cylinder engines. Speaking with Chasing Cars, Mr Tomoyama said future GR cars will be in-house Toyota projects.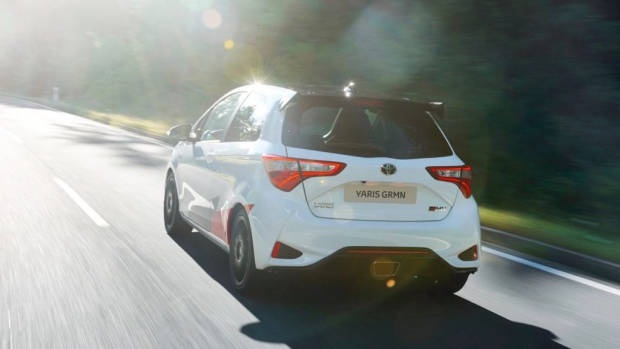 That fact means that the Yaris is better evidence of where Toyota may take GR in terms of ride and handling tuning. In one word, the Yaris GRMN is focussed. In six words, it's way stiffer than a regular Yaris!
On Europe's glassy-smooth roads, this recipe works an absolute treat. With very few Australian-style potholes or ruts to slam into, the stiff, centred little Yaris bowls into, through, and out of corners with only limited body roll but plenty of grip from the sticky Bridgestone Potenza RE050 tyres that measure 205/45R17 all round.
A rare imperfect road showed the lowered GRMN's suspension to be firm but reasonably compliant on lower-frequency bumps, though the bump stops were encountered very roughly if you allowed a 17-inch wheel to sink into a pothole. This suspension tune would just be way too stiff for use in Australia. Maintaining body control while allowing greater compliance on future cars will be challenging for Gazoo Racing.
Toyota's newer front-drive TNGA platform, which underpins the new Corolla, C-HR and others, will make this task a little easier.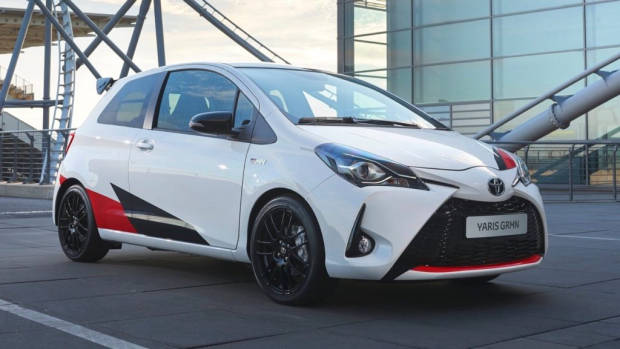 The steering doesn't require too much more effort: it's mid-weighted, direct, and communicative of what is happening at the front wheels. Mid-corner surface changes are evident through the rack and the small-radius steering wheel is a delight.
We also like that the stability control programme has been backed off quite a bit in the Yaris, allowing keen drivers to engage the rear end through lift-off oversteer. It's easy to induce, given this car's super-short wheelbase and light weight. Fun!
The brakes – with discs measuring measure 275mm at the front and 278mm at the rear – are large but felt merely adequate through the GRMN's rather wooden stopper pedal.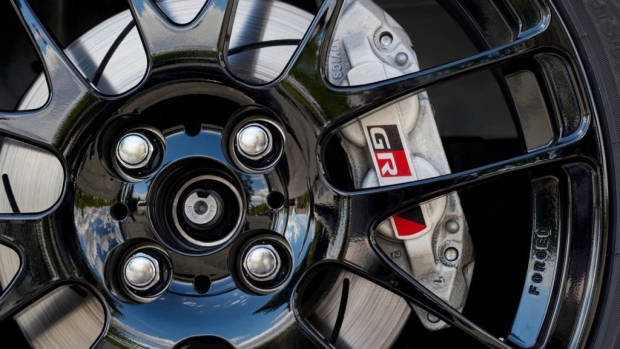 We love that the Yaris GRMN has a manual gearbox, but this manual isn't particularly good. It's notchy but sometimes vague – the 4th and 6th gear gates were almost blended – the manual didn't reward the way a Mazda MX-5's does. Between this and the manual in the Toyota 86 – which is not a GR vehicle – Gazoo Racing has some work to do.
That may well be a moot point, because a manual gearbox and hybrid powertrain mix is rare. Toyota did do it in the CR-Z, but if future GR cars go hybrid, they may well sport CVT automatic transmissions. It would be a real shame if a manual did not appear in some form on a future Toyota GR car.
Inside, Gazoo Racing transform the Yaris by including a set of Boshoku bucket seats, trimmed in double-stitched ultrasuede. The bolsters are very tall – they wouldn't fit all body sizes – but they do grip slender drivers very well in the corners, as we tested in the winding mountain roads near the Spa circuit in Belgium.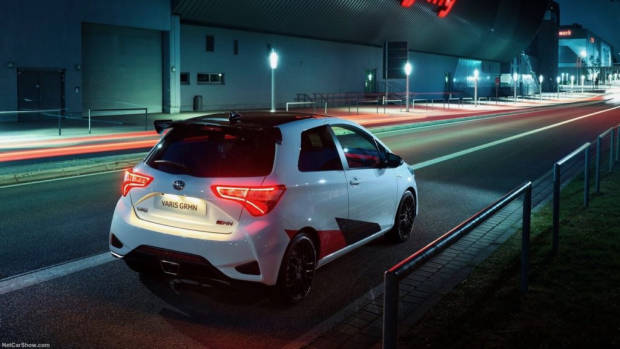 Unfortunately, the seats slot into the poor driving position of the underlying Yaris hatch. Given the superior placement of the driver in newer Toyota product like the Corolla and C-HR, we'd expect future GR cars to improve in this area.
Other than the seats and steering wheel, though, the Yaris GRMN – like the Hyundai i30 N – featured the same old drab interior as the car it sits underneath. Brightening up various components in future GR cars will be important in helping to form a sporty persona, and justify the price.
Speaking of price, the Yaris GRMN may not be coming to Australia, but in Europe, it's pretty expensive. In the UK, they're £26,295 (currently $50,000 in Australian dollars). At fifty grand, it's a huge ask. However, if you look deeper, 26 thousand quid is double the price of a base Yaris in the UK. Based on that formula, a hypothetical Australian price would be $30,780 in Australian dollars, which is at least closer to where pricing would need to sit.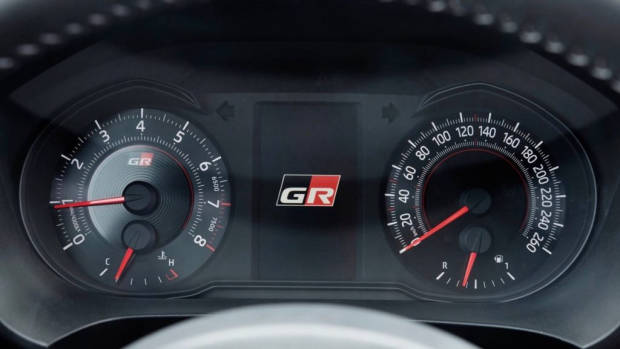 If it were sold in Australia, we're not sure a Yaris GRMN ought to be priced higher than the outgoing Ford Fiesta ST, which cost $27,490 when it was last sold. As for a Corolla GRMN? Rampant speculation, but if it was more expensive than a Golf GTI, it wouldn't have a chance.
When Akio Toyoda announced that Toyota wouldn't produce another boring car after he took the reins at the company, we were cautiously optimistic. We've been satisfied that this promise has been kept in the regeneration of Toyota's most important models, which, thanks to TNGA, have all displayed remarkable dynamic improvements.
The next step – the development of dedicated sports models, sitting on the TNGA platform and wearing the GR badge – will be even harder. Thankfully, the Yaris GRMN shows that Toyota's thinking is heading in the right direction.