Mercedes-AMG has confirmed that their brutal four-litre twin-turbo V8 engine will return to the brand's biggest SUVs in the shape of the GLE 63 S and GLS 63 S. Both wagon-bodied, unlike in the more compact GLC 63, there will be no sloping roof 'coupe' variants for now.
Australian deliveries of both large SUVs will start arriving later this month, and go on sale from $220,600 for the AMG GLE 63 and $255,700 for the AMG GLS 63 – both prices are before on-road costs and options.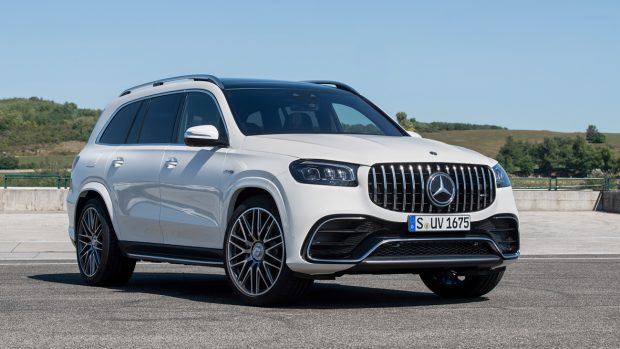 The GLE 63 S is the latest iteration of a line that spiritually started with the ML 55 AMG of 1999. Since that point, the fast-SUV category has grown considerably: nowadays, BMW's X5 M Competition is this AMG's major rival.
The bigger GLS 63 – the fastest iteration of "the S-Class of SUVs", as Mercedes refers to the GLS – targets the opulent new Audi RS Q8. With BMW opting not to build an X7 M – at least not yet – there is no direct Bavarian rival for the quickest GLS, though Alpina will sell you an X7-based XB7 with a GLS 63-besting 457kW of power…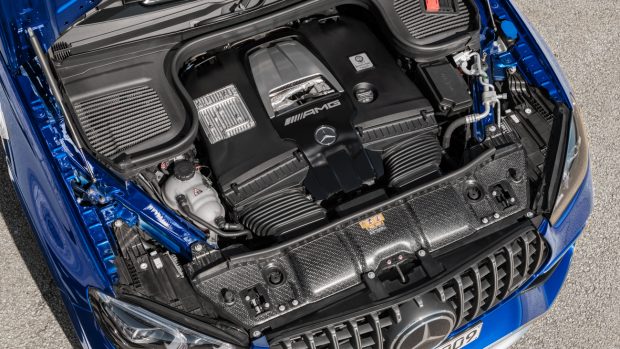 Starting with the slightly more compact AMG GLE 63 S: sitting above the six-cylinder mild-hybrid GLE 53, this beast packs the venerable twin-turbo 450kW/850Nm V8 that's also found in the latest AMG E63 S. There's a mild-hybrid system which both helps cull fuel consumption (but you don't care about that in an AMG) and boosts with an extra 16kW and 250Nm for short stints. 
Combined with a nine-speed automatic gearbox and an AMG-tuned all-wheel-drive system, the GLE 63 S will rocket to the speed limit in just 3.8 seconds. To stop the behemoth, Mercedes-AMG specifies a carbon composite brake setup as standard.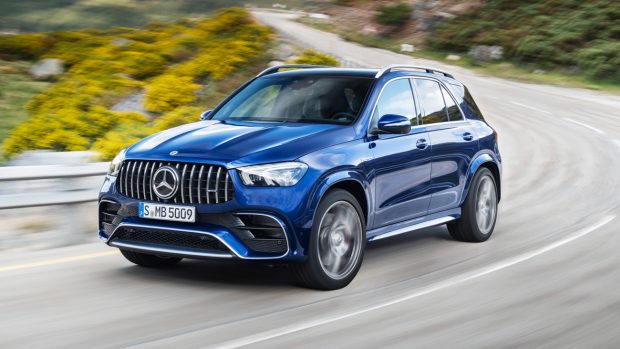 Typically, Mercedes-AMGs are all about theatre, and the GLE 63 should deliver with a switchable exhaust system which can be configured separately to drive modes. For example, the ability to keep the adaptive air suspension in comfort with the exhaust in 'loud' to impress your mates around town.
That 48-volt MHEV system also powers an active roll stabilisation system to keep the big FUV cornering flat on those 21-inch five double-spoke alloys. The suspension lowers by 10mm when Sport, Sport+ or Race modes are selected. A multitude of dynamics programs can be chosen, depending on driver skill level and conditions.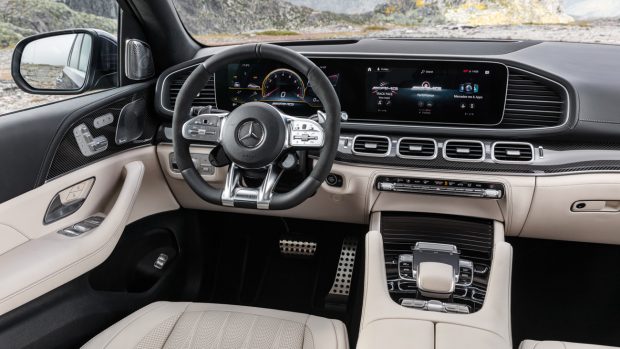 Although the GLE is the more affordable of the two vehicles being launched – though, at $220,600 before on-roads, it's not cheap – occupants are well taken care of. A Burmester premium sound system, four-zone climate control, heated seats are appointed in a mix of leather and suede-cloth, and there's even a heated armrest.
Naturally, the AMG boasts the latest Mercedes interior technology including the latest MBUX system with dual digital readouts – one for the infotainment control that is a touchscreen, and the other a customisable digital driver's display. It's opulent, that's for sure.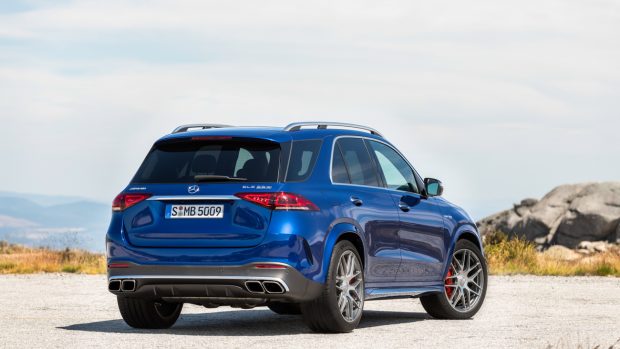 However the GLS 63 steps the game up further – you'd expect that for $255,700 before on-road costs, though. Inside the seven-seat SUV, you'll find five-zone climate control, augmented reality navigation functionality, seven electrically adjustable seats (yes, seven!) and the luxury of even more space.
Underneath the GLS 63 4Matic+ boasts the same twin-turbo V8 with MHEV system, active roll control, adaptive air suspension and all-wheel-drive system. The GLS's extra weight results in the 0-100km/h time growing slightly to 4.2 seconds, but the ability to do that with seven occupants on board is rather exciting. Both go on to an electronically limited top speed of 280km/h.
The biggest Mercedes-AMGs are on-sale now, with deliveries arriving later this month.