Details of Alpina's new top-dog, the XB7, have been revealed. A super-luxury adaptation of the full-size, three-row BMW X7, Alpina have confirmed their V8-powered flagship SUV will be coming to Australia with an arrival 'slated for early 2021', according to a brand spokesperson.
Largely based on the BMW X7 M50i xDrive that is already sold in the Australian market, the XB7 promises to be truly potent family transport. Where the X7 M50i is an example of BMW's sport-oriented M Performance range, Alpina typically strikes a pace-to-grace balance further toward the comfort spectrum – but the XB7 will be no slouch.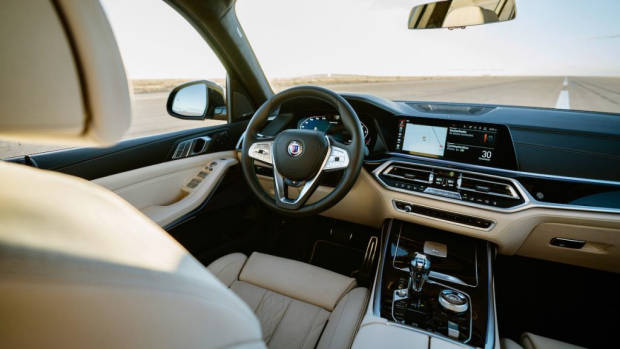 In fact, the numbers on offer from the XB7's 4.4-litre twin-turbocharged petrol V8 have swollen from their status in the X7 M50i. The Alpina version of the car will produce 457kW of power and 800Nm of torque – increases of 17% and 6% respectively. It's a tractable beast, too, that muscular wall of torque is available from as low as 2,000 rpm.
That torque is sent to an Alpina-fettled xDrive all-wheel-drive system through an eight-speed torque converter automatic sourced from German gearbox maker ZF. This combination will result in a 0-100km/h sprint of just 4.2 seconds, according to Alpina – for reference, that's quicker than an E92 BMW M3.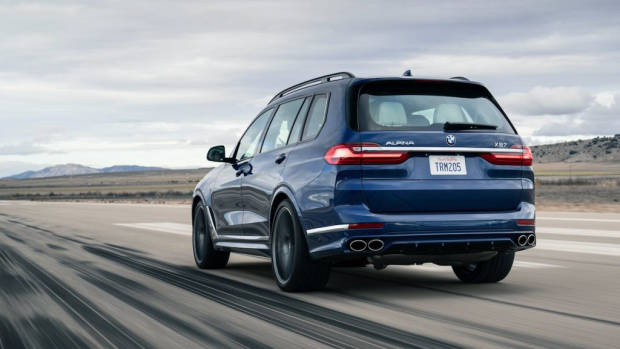 Sitting at the pinnacle of the abilities of a BMW-derived SUV, the Alpina XB7 is a fairly unique vehicle. The most obvious rival comes in the form of the super-exclusive Mercedes-Maybach GLS 600 that is coming to Australia later this year. This opulent crossover uses a mildly electrified iteration of AMG's four-litre twin-turbo V8, producing 410kW/730Nm. The Alpina should leave the Maybach GLS in its wake: the big Merc makes the 0-100km/h run in 4.9 seconds, 0.7 sec adrift of the XB7.
As one would expect where Alpina is concerned, impressions of the XB7 commence with a more exuberant presentation outside, where this SUV wears signature Alpina side skirting and a lower front bumper wearing the German manufacturer's logotype. There is plenty of chrome brightwork, appropriate to the status of a vehicle likely to cost well north of $200,000.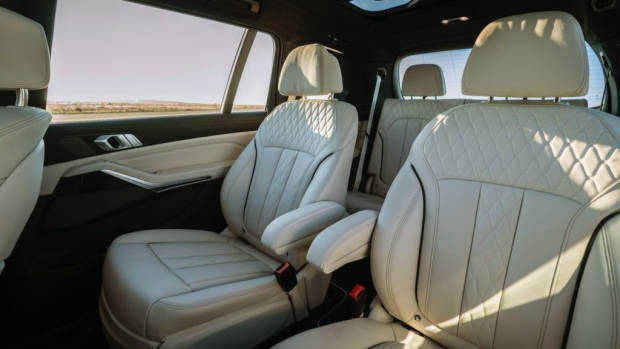 Large 21-inch multi-spoke alloy wheels are standard, while buyers will be able to upgrade to a truly massive set of 23-inch wheels shod in bespoke Pirelli ultra high-performance tyres. The combination of 23s, rubber-band sidewalls and Australian roads would typically make one's teeth hurt just thinking about it –  but there's a good chance Alpina will have this covered, given the uncanny ride of the B5 Touring we drove recently.
Like its X7 M50i brethren, the XB7 is delivered with front and rear air suspension as standard. In the case of the XB7, the on-air ride is tuned by Alpina specifically, while the vehicle also packs in an active roll stabilisation system. When in comfort mode, Alpina promises a flat and unflappable ride.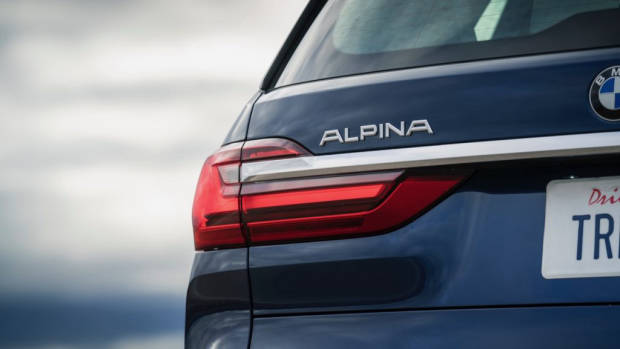 Selecting sport mode lowers the XB7's ride height by 20mm, providing a lower centre of gravity. Up the pace further – deep into licence-loss territory at 160km/h – and the XB7 will actively lower the body by a further 20mm. This function is primarily designed to optimise aerodynamics for autobahn travel. Sadly, we don't imagine the Hume Highway will offer many opportunities to to experiment with the forty-mill drop.
Another signature Alpina touch is the opulent interior detailing. Alpina's own highest-grade hide, dubbed Lavalina leather, trims the cabin extensively. In a further differentiation from this car's more common Bavarian sibling, Alpina emblems are also found on the steering wheel hub and head rests while also being digitally integrated into the infotainment system. Provisions can also be made for further, more distinctive interior configurations.
Sitting at the pointy end of the Alpina range, we don't expect the XB7 to be affordable, per se. Within the BMW lineup, the X7 M50i costs $175,900 ($188,850 driveaway), making a prediction of the mid-$200,000 range fair for the Alpina before any further customisation. The XB7 arrives in Australia early next year.