For the last three years, Mercedes-Benz has been on the "largest product offensive" in its history, in the words of Stephen Cannon, President of the company's American division. Part of that offensive is launching plenty of new models – as we've seen with the new A, B, CLA, C, GLA, and S-Classes in recent years. Another side of it is rationalising the various names of the Mercedes models "to make it easier" for buyers to understand all the niches.
Benz SUVs will now all be known as "GL" (after Gelandewagen, the proper name for the brawny G-Class truck), with the last letter indicating what platform they sit on. GLA? Sits on the A-Class platform. GLE? Well, that's the old ML-Class, which sits on the E-Class platform.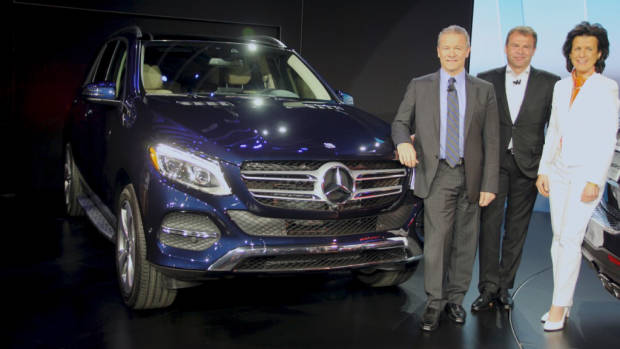 We saw the GLE-Coupe debut at Geneva, and today at the New York Auto Show it was the regular GLE-Class's turn. Rolling out a GLE250 diesel, GLE500e and GLE63 AMG in the big Apple, Mercedes brought an important refresh to a staple SUV in its lineup both in the United States and beyond.
Highlights of the updated model include the availability of a new nine-speed automatic on several engines and better fuel economy across the board, including a low 5.4L/100km combined for the diesel GLE250.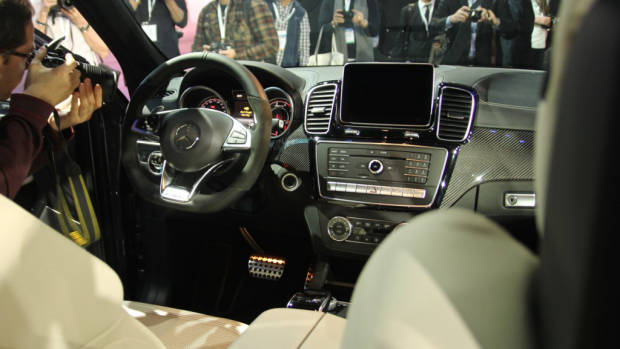 Cannon told us that in 2015 we will see a "feeding frenzy" for SUVs in the American market. We're likely to see a similar effect continue back home in Australia, where SUVs represent the only healthily-growing segment in the new car market. The GLE update will ensure that Mercedes-Benz remains competitive with the BMW X5, as well as the brand-new Audi Q7 and repositioned, upscale Volvo XC90.
Tobias Moers joined us to discuss the specifics of the Mercedes-AMG GLE63, which replaces the ML63 AMG as the flagship conventional SUV in the lineup. The 5.5-litre biturbo V8 remains, but it's had its performance turned up. There's two models, a regular AMG and the AMG S – in Australia we're likely to only receive the S. That car will spit out 430kW and a terrifying 760Nm of torque achieving 100 in 4.2 seconds. Look out X5 M.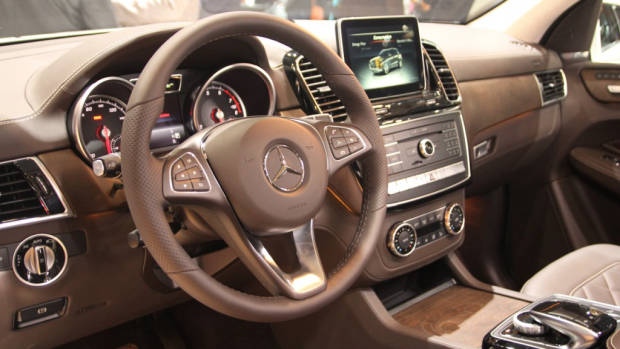 A variety of assistant features are standard on the AMG GLE, including an AMG-specific 4MATIC all-wheel-drive system with adjustable dampers and an active curve function.
The interior of all GLEs has been refreshed over the ML, with a larger tablet-style display replacing the inlaid satellite navigation screen, as well as new leather trims and finishes.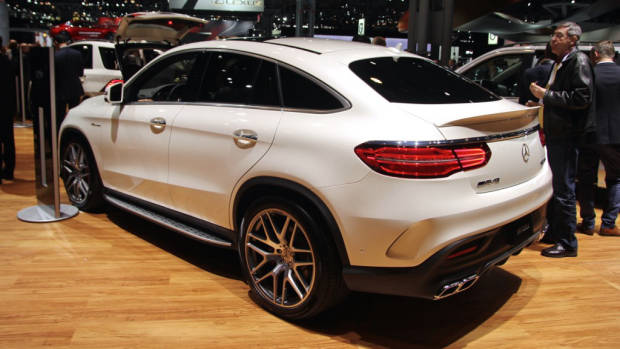 The GLE-Coupe made a second appearance in both GLE450 AMG Sport and GLE63 guises.
We can expect the GLE in Australia around the mid-year.