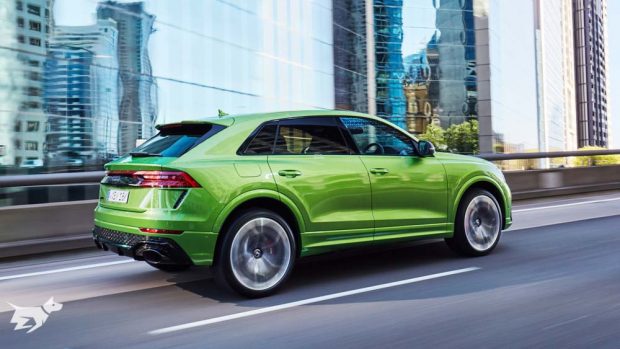 Audi has already made one attempt at a fast mega-SUV – remember the Q7 V12 TDI with 1,000Nm? But it was nothing like this! That old lump barely revved beyond 4,000rpm and weighed an astonishing 2,635kg, though the force of its rolling acceleration was startling stuff, and its handling ability could turn six passengers white quicker than a flour bomb.
A decade later we have the 2021 Audi RS Q8, which turns its back on fast-diesel stonk and employs a whopping 441kW/800Nm 4.0-litre twin-turbo petrol V8 instead. Hitched to an eight-speed auto, Audi claims the RS Q8 is buff enough to hit 100km/h in 3.8 seconds, and this 2,240kg mother-trucker recently lapped the Nurburgring in 7mins 42sec! That's a new SUV world record — at least until Porsche catches wind of that time and wheels out a pumped-up Cayenne Turbo S Coupe, or something.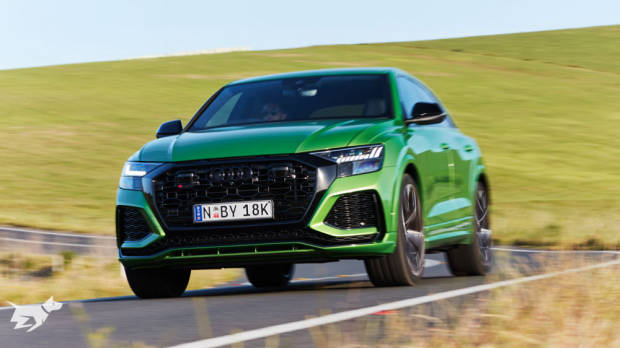 It'll be no surprise to anyone who loves cars that the RS Q8 shares hardware and oily bits with Porsche's flagship SUV, as well as the Lamborghini Urus. In fact, you could almost call the RS Q8 a half-price Urus seeing it shares so much with the Lambo SUV, including its three-metre wheelbase. The Urus puts out more grunt (478kW/850Nm) and pips the RS Q8 to 100km/h (by 0.2sec), but so far, the ballsy Audi has its measure on a fast racetrack.
Optional carbon-ceramic brakes (for $19,500) expand front disc diameter by 20mm (to 440mm, with 10-piston calipers) while lowering unsprung mass by a massive 34kg, but this also provides a side benefit – a raised 305km/h top speed, which again matches the Urus. Audi also claims the RS Q8's optional brakes are the largest fitted to any production car in the world – a boast also shared with the Urus. You get the drift.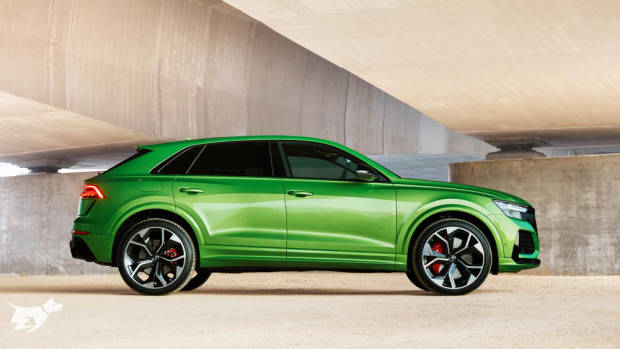 Anyhoo, where the Urus looks like an outrageously styled RS Q8, the RS Q8 looks like the most out-there Audi there is. I particularly love the size of its protruding front grille and the retro-cool black panel between its techy rear lights – both of which can be constructed of carbon fibre for a meagre $9,100 more. And the idea of standard 23-inch alloys (with 295/35ZR23 tyres) will always make me giggle. Especially if they're Continental Sport Contact 6s (or optional Pirelli P Zeros) and not the squealy Hankook Ventus S1 Evo 3s that are also available.
On the road – especially narrow, challenging Aussie ones like our launch route – the RS Q8 mobilises every piece of trick mechanical hardware in its exquisitely crafted pouch. We're talking adaptive air suspension with seven drive modes (comfort, auto, dynamic, efficiency, all-road, off-road and individual – as well as RS1 and RS2 pre-set modes) and 90mm of vertical lift. There's also dynamic variable-ratio steering (with 2.3 turns lock-to-lock), four-wheel steering and electro-mechanical active anti-roll bars, as well as a quattro sport rear differential. On paper it's no wonder the RS Q8 clocked that lap time!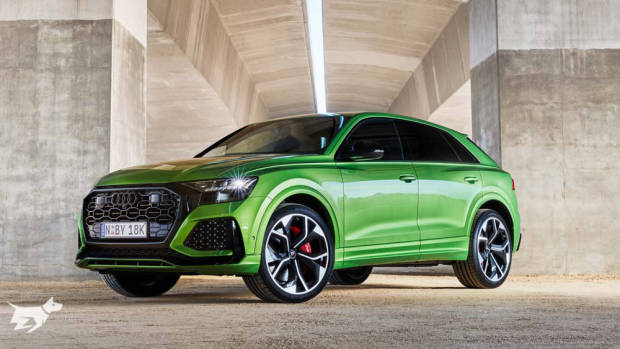 In reality, it's only when you're looking at it that you truly get your head around the RS Q8's size. It's basically a Q7 leaning over a bit. So when you're caning it down a narrow, twisty road, you need to defer to the physics of making this beast do what it does. For all its mechanical trickery, the RS Q8 still feels big.
But this elephant can dance if you ask it to, and feels surprisingly chuckable up to a point. You do find yourself driving on what you can feel at wheel level though because the steering doesn't really relate a whole lot to your fingertips. Keen and reactive? Yeah. Chatty and connected? Not so much.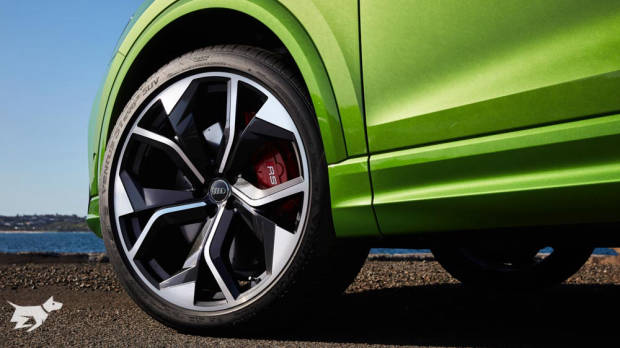 The RS Q8 I drove didn't have ceramic brakes fitted – just the 'stock' 420mm front discs with 10-piston calipers and 370mm rears with six-pistons – yet those who did try the optional set-up said that pedal travel was quite long. In the stock RS Q8, not only do you need to depress the brake pedal more than you should, there's also unexpectedly wooden feel.
On the dynamic upside, the RS Q8 keeps both body roll and body control neatly in check, and it's nicely balanced, sending more drive to the rear than the front. More agreeable, though, is its ride quality, which is bloody impressive given the size of those hoops filling its enormous guards. And for most people, this is what matters.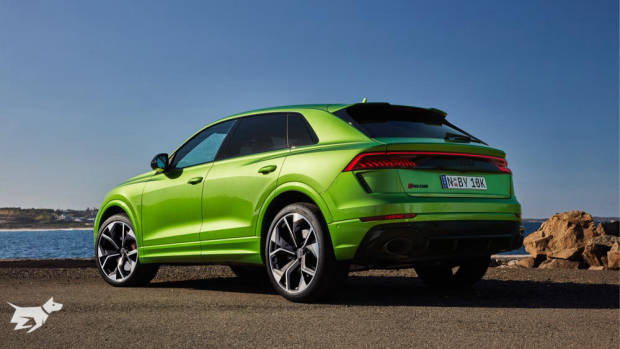 When it comes to cruising, the RS Q8 is a wafting supremo. All that engine torque (800Nm flat from 2200-4500rpm) makes it exceptionally tractable and its transmission is flawless. I only wish that the twin-turbo V8 packed more thunder. The Aussie car has an RS sports exhaust standard but if you told me it was the stock system, I'd believe you. Maybe Audi is leaving room for a 'Performance' version…
Speaking of room, the RS Q8 has truckloads of it – all drenched in Nappa-leather lushness, including the entire dashboard. The seats are Premium Valcona leather (with intriguing honeycomb stitching) and they're stunning too. The huggy front buckets are the perfect complement to the active anti-roll suspension tech, while the rear seat is as comfortable and adjustable as you'd hope in a mega-SUV as grand as this.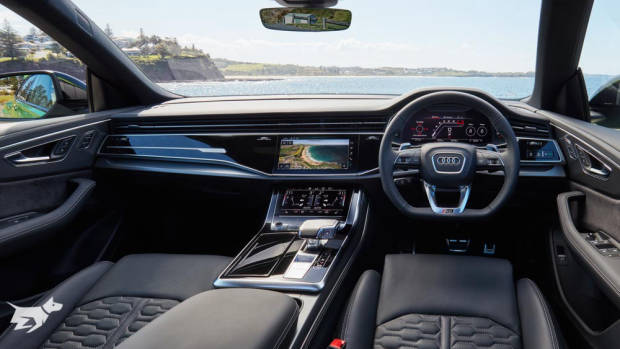 There's so much tech to cover in the RS Q8 that it's easier to go through what's optional. I would personally start with the Sensory package ($9,700) because it brings the transcendental joy of a 23-speaker, 1920-watt Bang & Olufsen Advanced 3D surround-sound system, as well as front-seat massage function and black Alcantara headlining. But you'd also go the RS Design Package (in red or grey, for $2900) that coats the steering wheel and gearknob in Alcantara (stitched in either of the aforementioned colours), adds Nappa leather armrests, Alcantara down the sides of the centre console, coloured edging on the seatbelts and trick floor mats with RS logos.
Add every option I've mentioned, plus black badging ($700) and you're looking at $252,700 for an RS Q8. But you can have a 'stock' one, which is already overflowing with gear including a vast panoramic sunroof, for $208,500. That's significantly cheaper than every competitor. And remember the Urus? It starts at $391,000…
In terms of bandwidth, the RS Q8 brings something new to the Audi RS stable and neatly bookends the broad 13-model line-up. I'm pretty sure you can have more fun in a Porsche Cayenne Turbo but there's a feel-good vibe about the RS Q8 that supports the fact it's more of a supersonic wafter than a hip-swinging mover.