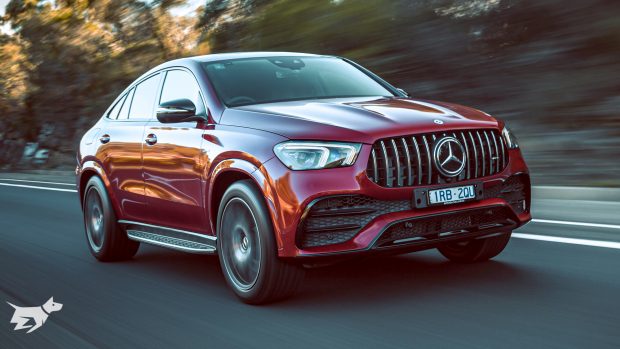 It's been tough to nail down the strategy of AMG, Mercedes-Benz's in-house performance specialists, in recent years. Two decades ago, AMG lightly modified stock Benzes to go quickly without looking too suspect – but in the last few years, the sub-brand has been all about bellowing V8s, matte paint, and exaggerated aero. That latter look-at-me mix isn't going away – but AMG is bringing more subtle options back into the fold. One such option is the new 2021 Mercedes-AMG GLE 53 Coupe.
Wearing tasteful Hyacinth Red paint and wearing a body shell not vastly different to the standard 'Mercedes-Benz' iteration of the second-generation GLE Coupe, AMG's new '53' grade isn't crying out for attention. The wheels aren't ridiculously huge; there are no stickers or stripes. Only a small smattering of AMG badges and neatly-integrated quad tailpipes around the back give away that this $171,800 GLE 53 is a performance SUV.
Hand over $222,700 plus on-roads and Mercedes-AMG will sell you an audibly and visibly louder GLE 63 S equipped with the now-signature four-litre bi-turbo V8, producing 450kW/850Nm – but while that car is a true muscle-SUV showpiece, the one you want is actually the GLE 53, which packs not eight but six cylinders – inline – under its long bonnet.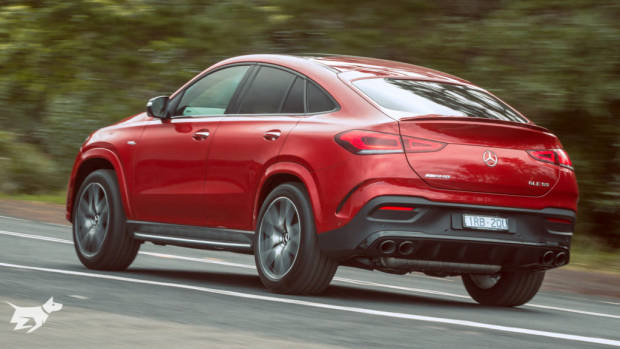 Far from feeling like the GLE 63's poor cousin, the GLE 53 instead feels like its smart cousin. The new straight-six makes 320kW/520Nm on its own, sounding lusty and silky-smooth as it revs cleanly – but it couples with a sophisticated 48-volt mild hybrid system that adds in an additional 16kW/250Nm of assistance, effectively acting as a second, instantly-available turbocharger.
Combined with the intuitive nine-speed torque converter automatic gearbox, it's a blend that produces effortless progress on congested city roads and flowing, sinewy terrain in the country alike. Nine gears might sound excessive but the GLE 53 swaps cogs so smoothly you're hard pressed to notice unless you're driving the paddles yourself.
Find a backroad and you'll discover that the GLE 53's powertrain is devastatingly effective. The 5.3-second 0-100km/h time (despite this vehicle's kerb weight of 2,447kg) tells part of the story, but the overpowering takeaway relates to how the mild-hybrid six's torque is available everywhere, all the time. The '53' is so usable in the real world that you struggle to think of how you'd justify another fifty grand on the bent-eight.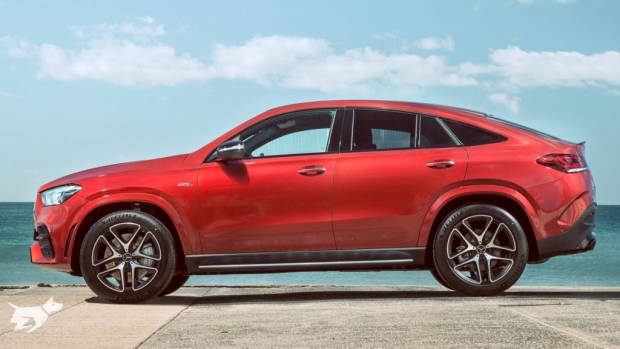 You're not missing out sonically. The GLE 53 is quieter, but in place of the V8's brutish percussion is a classic inline-six soundtrack, symphonic and pleasant to the ears. It's accompanied by subtle pops and bangs if the exhaust is switched into 'Pronounced' mode – but it isn't loud for loud's sake. The highly customisable drive modes are accessible via a dedicated toggle on the beefy, nappa-leather steering wheel.
And you're certainly not missing out athletically. The GLE Coupe is a heavy car no matter the engine, but the 53 lops almost a hundred kegs out compared to the 63, while adding some truly brilliant agility technology into the mix. The 48-volt architecture doesn't just allow reasonably frugal economy (13L/100km on test!) – it also powers high-intensity like active anti-roll bars that keep this hulking SUV remarkably flat in fast direction changes.
We were able to attack one of our favourite sectors of road in NSW almost as quickly as we would in a sports car of similar performance largely because of the high-tech anti-roll system. Place the GLE 53 in Sport Plus suspension and you awaken the 48-volt tech and tighter body control – but surprisingly, you don't awaken the overly harsh ride quality that has plagued heavy AMG cars in the past. In fact, the ride from the air suspension is liveable in Sport Plus before becoming almost plush in Comfort.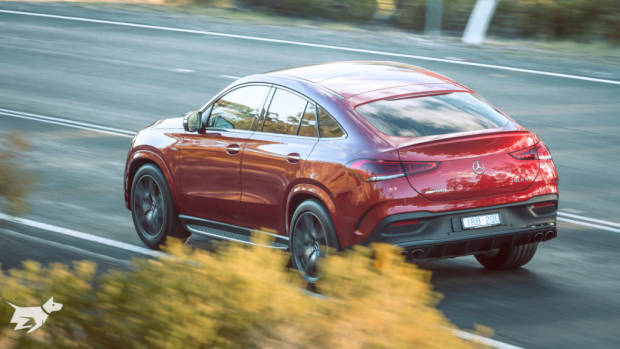 Ultimately, your connection to the GLE 53 is limited by the slightly remote steering and the sheer scale of the thing: just shy of five metres long and over two metres wide, while this barge can go around corners far better than it has a right to, a barge it remains. While the AMG GLE is equipped with many technologies that allow it to push back on the laws of physics, there is a natural limit to how hard you can comfortably push an SUV.
Buyers who are keen on the combination of AMG know-how with 48-volt technology are still far better served by an E-Class of the same engine, badged the Mercedes-AMG E53 and available in sedan ($173,436), coupe ($179,335), or even convertible ($188,235) forms.
However, Mercedes-Benz say that if you're interested in a GLE Coupe, you aren't looking at an E-Class. In fact, AMG GLE buyers know precisely what they want when they walk in the dealership door – moreso than nearly any other buyer set for this brand. The shape and size of this coupe SUV are part of the deal.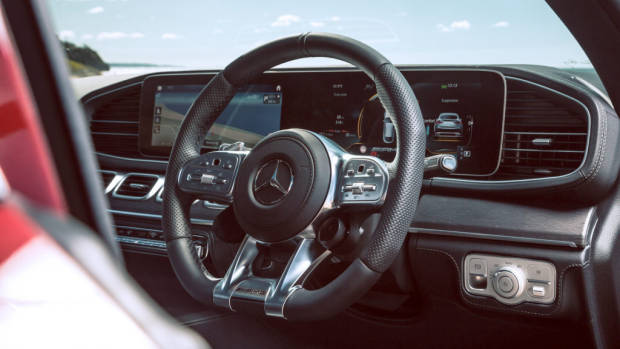 Compared to the faintly ungainly first-gen GLE Coupe, the second generation arrives wearing more cohesive styling. The lines are still quite soft – a counterpoint to the Audi SQ8's hard-edged crispness – but it's a better looking car, and even more so for the five-spoke star-style 21-inch wheels fitted to our tester.
Those wheels – which despite measuring 21 inches still manage to sport a decent sidewall – are wrapped in staggered Michelin rubber: 315/40 at the rear, and 275/45 at the front. Be aware: the harder you lean on the GLE 53's staggering handling capability, the more voracious this performance SUV's appetite will be for tyres – the rears from power delivery, and the fronts from digging in turning in with vigour. The brakes, too, are very capable but are under stress.
When you aren't locating the GLE 53's limits on a great road – and even when you are – a number of safety technologies are scanning the road. This car sports adaptive cruise control, autonomous emergency braking, front and rear cross traffic alert, blind spot monitoring, traffic sign recognition, and an active lane change function that will move lanes accurately with just a bump of the indicator stalk.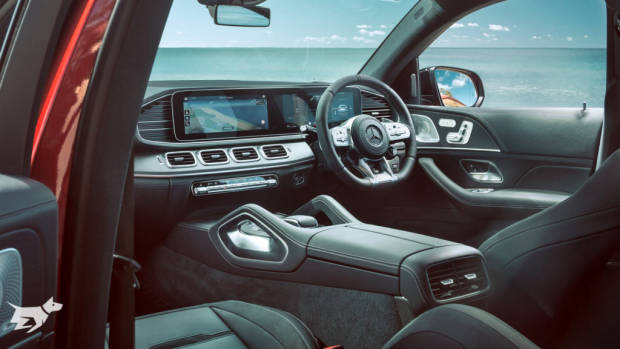 Inside, there are changes to the cabin – and these go beyond skin-deep. Certainly there's a new interior design, based around striking twin 12.3-inch displays running Benz's latest MBUX infotainment system – and there is a handsome mix of leather, open-pore wood and real, cold, metal. But more importantly, quality is considerably better than the previous generation of GLE Coupe.
Tight seams and joins, a complete absence of rattles and vibrations and real depth to the sumptuous materials make us think that Mercedes-Benz is surfing a wave back to another high point of quality.
Standard specification is generous, with the GLE 53 bundling the 'entry' GLE 450's Burmester stereo, panoramic opening sunroof, 64-colour ambient interior lighting, wireless smartphone charging, full keyless access and an electric tailgate with an AMG Night Package, a performance steering wheel in nappa leather, and illuminated AMG door sill panels.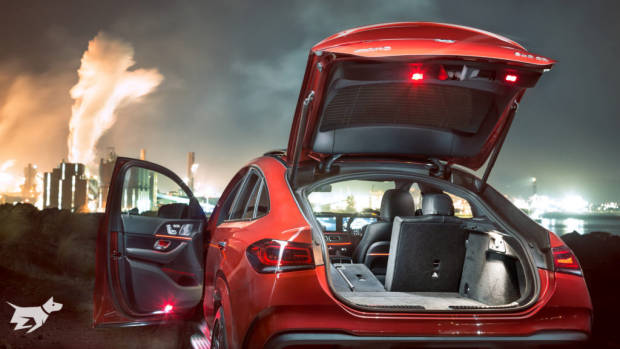 The front seats are upholstered in a mix of leather (black in our car) with alcantara detailing. These heated and ventilated chairs feel classy – though they lack adjustable bolsters, meaning slimmer frames will roll about a little in athletic cornering, and we did think a massage function should be standard at this price, particularly as the GLE 53 makes for a great long-distance cruiser.
The back row isn't as bad for headroom as you'd expect, given the swooping coupe roofline, but parents of tall teenagers will still want to opt for the more traditional wagon-bodied SUV version of this vehicle, which handily also costs about $11,000 less, at $166,336. The standard GLE 53 also sports a bigger boot: 825 litres plays 655 litres in the Coupe.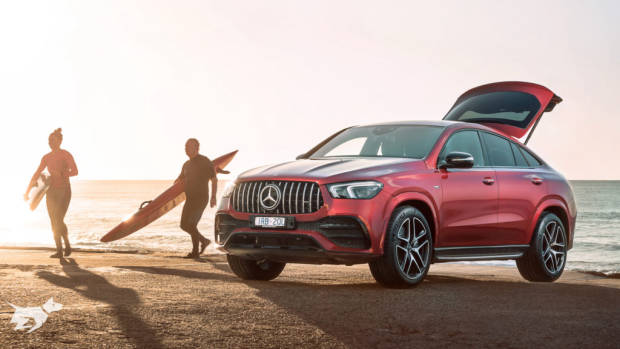 What the pair share is Mercedes-Benz's five-year warranty, which remains a standout among the traditional German luxury brands in Australia: Audi and BMW are yet to match this commitment.
If what you're after is a sumptuous, technologically advanced and genuinely athletic coupe SUV, the Mercedes-AMG GLE 53 has a lot going for it. Yes, there's the V8 if that is a must-have: but when the inline-six 53 is so good – and $50,000 more affordable – why wouldn't you?