Pricing indicators and performance data are the latest updates in the drip-feed of information on the 2016 Alfa Romeo Giulia.
We've seen the Italian brand focus on the high-performance Giulia QV since the car was debuted earlier this year. That continues now: Alfa Romeo have announced that the QV will be priced in Italy between 79,000 and 95,000 Euros.
In Europe the Mercedes-Benz C63 AMG is priced between 76,000 and 84,000 Euros. That's an aggressive pitch from Alfa Romeo, who are banking on performance-car shoppers to choose the Giulia QV over a C63 or a comparable BMW M3.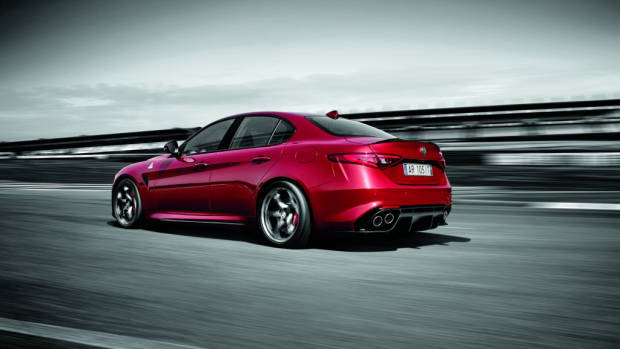 That shouldn't be hard to do, with Alfa Romeo revealing that the 2016 Giulia QV will be faster than both the Mercedes and the BMW. Around the Nurburgring, the Quadrifoglio Verde model (meaning four-leaf clover) clocks 7 minutes and 39 seconds. That's faster than a Porsche 911 GT3—not to mention a huge nine seconds quicker than the BMW M4 coupe.
Helping to achieve that time is a relatively low weight of 1,524kg, a slippery drag coefficient of 0.24, and straight-line acceleration to 100 in 3.9 seconds onwards to a top speed of 307kmh.
The Giulia QV won't just attain those speeds quickly, but it will wipe them off fast, as well. Carbon ceramic brakes see the QV pull up from 100 in under 32 metres, while Alfa's Chassis Domain Control system keeps the chassis, powertrain, suspension, steering, brakes and torque vectoring systems working in concert.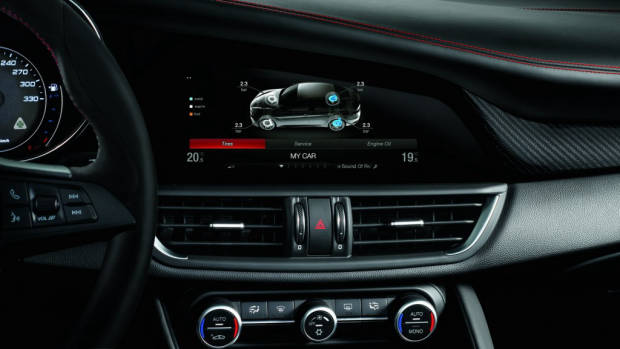 It won't just be the high-end Giulia QV that is an impressive performer. Alfa Romeo have made the claim in Frankfurt that all Giulia models—including four-cylinder diesels and petrols—will be the dynamic leaders in the small premium sedan class.
The first sneak peak of the interior has been afforded to us, as well. A nine-inch touchscreen will feature in a much more contemporary cabin than that seen on other recent Alfas, with a wraparound dash with driver-focussed controls.
On the Giulia QV, the speedometer will also go right up to a blistering 330kmh.