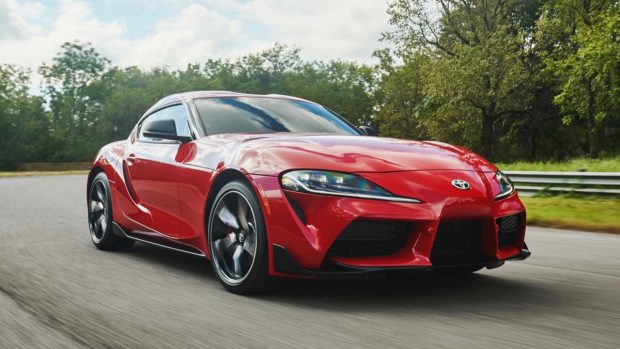 Five years after the FT-1 concept heralded plans for the revival of a famous Toyota badge, the 2019 Toyota Supra has been unveiled overnight at the North American International Auto Show in Detroit.
Officially known as the Toyota GR Supra – this is the first global production car to be designated as a product of Gazoo Racing, Toyota's motorsport badge – the new 'A90' generation is the product of a close collaboration with German manufacturer BMW.
The new Supra coupe shares many components with the 2019 BMW Z4, including the Bavarian roadster's modular Cluster Architecture platform, as well as BMW's hearty 250kW/500Nm 'B58' turbocharged inline six-cylinder engine. The B58 is a very familiar unit, used not only in the new Z4 M40i but also in the well-known M140i hot hatch and M240i coupe and convertible.
This is not a rebadge of a BMW, however. Much like Toyota's collaboration with Subaru on the 86/BRZ coupe, this was a co-development and Toyota's Gazoo Racing have completed substantial dynamic work designed to ensure the new Supra feels like a continuation of this famous lineage.
In particular, BMW's CLAR chassis has been adapted to fit Gazoo's requirement of a 1.55:1 ratio between the wheelbase and track width – what Toyota calls the 'golden ratio'. The centre of gravity is lower than the well-liked Toyota 86 coupe and the weight distribution will be 50:50 front to rear.
2002 was the last time the world saw a production Toyota Supra, with Japanese production of the previous 'A80' generation ceasing in August of that year largely due to tightening emissions regulations. This time around, the A90 Supra will be built on contract by Magna Steyr in Graz, Austria.
The A80 was famous for its use of the 2JZ-GTE twin-turbocharged three-litre inline six-cylinder that, in its final form, produced 243kW of power. The new Supra has the benefit of similar displacement, along with a standard fit adaptive differential seen on several BMW products that can lock from 0% to 100% near instantaneously.
An eight-speed torque converter automatic gearbox is the sole transmission. Controversially, a manual gearbox is not available, though sources at Toyota have not shut the door on future development of a Supra manual in this generation.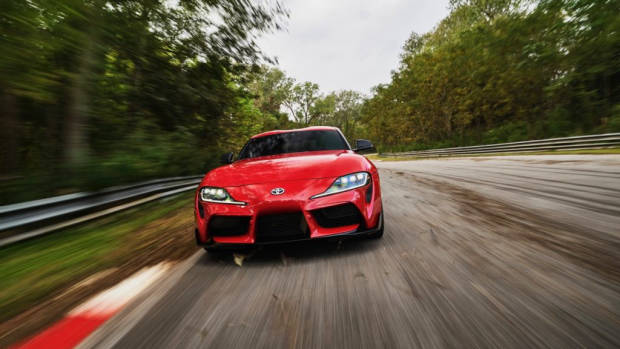 Equipped with the 250kW engine and automatic gearbox, Toyota say the new Supra will complete the 0-100km/h dash in just 4.3 seconds, with the help of a launch control function.
The dramatic aesthetic of the new Supra stays relatively true to the FT-1 concept of 2014, sporting similarly distinctive (and Supra-like) headlights and bulging fenders. The production version, happily, sports a double-bubble roof, a low-mounted third brake light. We also love the whimsical ducktail.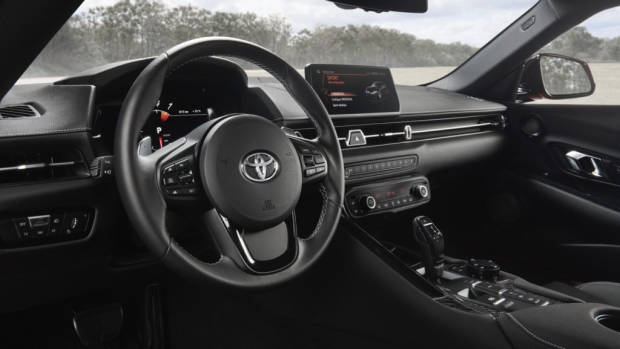 Inside, the Supra plays a straight bat, adopting many components straight from BMW, including the iDrive touchscreen and rotary controller, climate control switches, and even steering wheel buttons. Toyota provided the seats, air vents, lower dash and door design and finishes, and the steering wheel fascia.
In other markets, a four-cylinder will be sold but it is not yet known whether Toyota Australia will sell the new Supra in both four- and six-cylinder forms.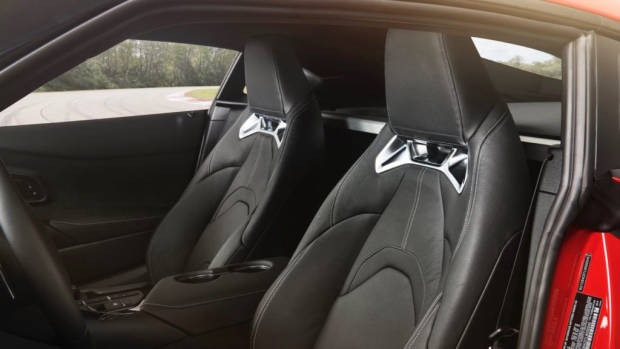 All that is firmly known about Australian Supras is that the 250kW six will be offered; the adaptive differential will be standard. Likely to be standard are adaptive dampers; 19-inch forged alloy wheels and high-performance brakes are also likely to be standard on a high-specification car. We believe that two grades of Supra will be offered, starting around $80,000.
Australia's initial Supra allocation is 300 units, with the first production cars arriving here in 'late 2019', Toyota say. It's fascinating to contrast Toyota Australia's allocation with that of Toyota Europe – the whole of Europe, that is, who only receive 900 cars, despite having a population 30 times larger than Australia's. Shows how many sports cars we buy.