The Kia Sportage launched in Australia last week with the choice of 11 models and three engines: a 2.0-litre aspirated four-cylinder, a 1.6-litre turbo petrol and 2.0-litre turbodiesel, but no hybrid option.
Previously we reported that Kia Australia was considering adding the series-parallel hybrid engine to the Sportage – making the midsizer a true competitor for the Toyota RAV4.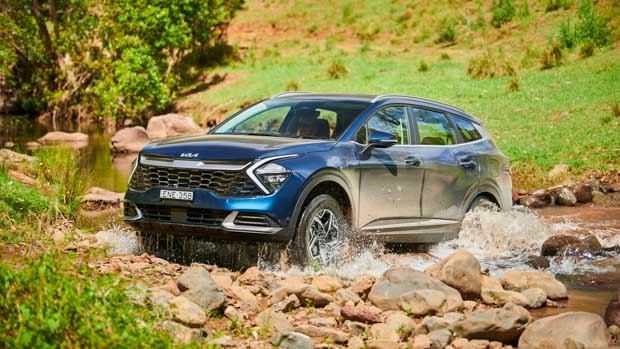 It's something sister-company Hyundai is also considering with its closely-related Tucson, though for now both vehicles are still under consideration for our market.
Both companies have cited a lack of long-wheelbase hybrid production from their South Korean factories as the reason for the delay – but speaking with Chasing Cars this week, Kia has revealed that a solution may be imminent.
In Europe, the Sportage is available with a series-parallel hybrid powertrain combining a 1.6-litre turbo petrol four-cylinder with an electric motor for 169kW of power, and combined fuel consumption figure around 6L/100km.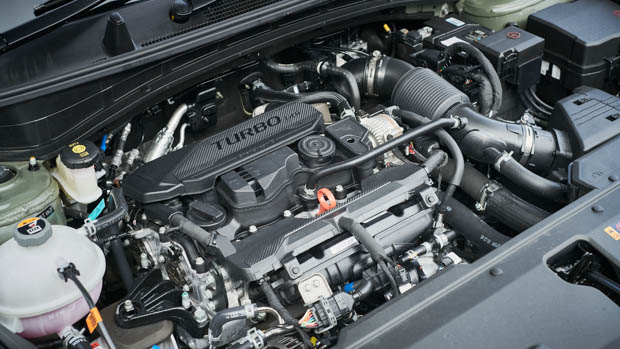 Speaking to Kia Australia chief operating officer Damien Meredith at the launch of the fifth-gen Sportage, it's clear the marque is still keen to offer a hybrid Sportage in Australia.
Mr Meredith said "we've informed [Kia] headquarters that we desire [the hybrid]" and that a hybrid Sportage reaching Australia will be a matter of " business plan first, then the cost".
Sportage hybrid: where will it be produced?
Australian buyers get a very different Sportage to European markets, both in terms of looks and specification. A long-wheelbase (LWB) version is built in South Korea for the Australian market, measuring 4660mm long (145mm longer than the short-wheelbase European version), while riding on a 2755mm wheelbase that is stretched by 75mm.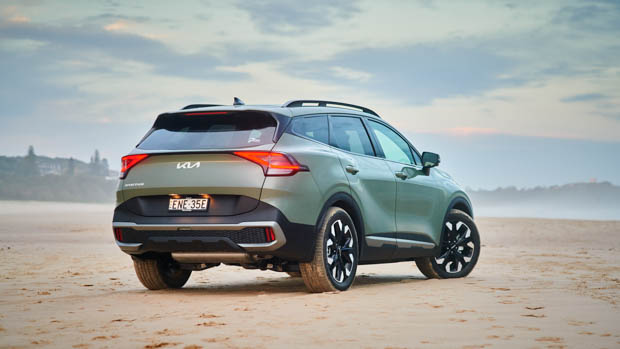 The European SWB Sportage is built at the Zilina plant in Slovakia, which caters for both left and right-hand-drive markets with petrol, diesel and hybrid powered Sportages.
The Slovakia plant does build right-hand-drive Sportage hybrids in short-wheelbase guise destined for the United Kingdom.
Initially, the Gwangju plant in South Korea was not tooled up to produce hybrid Sportages with the long wheelbase, though according to Roland Rivero, Kia Australia's general manager of product planning, that has changed.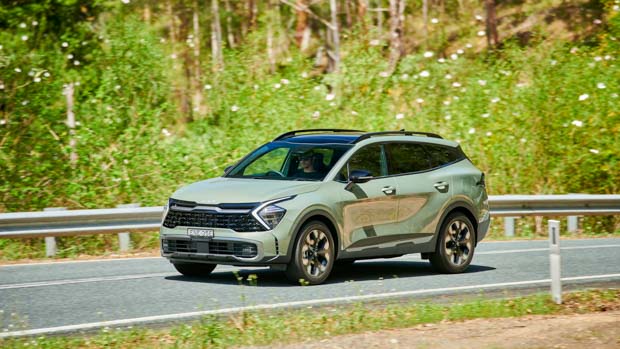 Mr Rivero confirmed that LWB Sportage hybrids are now being built at the Gwangju factory alongside right-hand-drive Australian cars, continuing that "at this stage, we are still working on the numbers and the business proposal with headquarters."
Sportage hybrid: plug-in or self-charging?
Discussing hybrid plans with Kia Australia, there is a clear focus on bringing the series-parallel (or self-charging hybrid) to Australia, despite the larger Sorento SUV recently launching with a plug-in hybrid powertrain.
The self-charging system is simple to understand, and requires no recalibration of driving style or expectations, so buyers get to enjoy lower fuel consumption without changing their habits.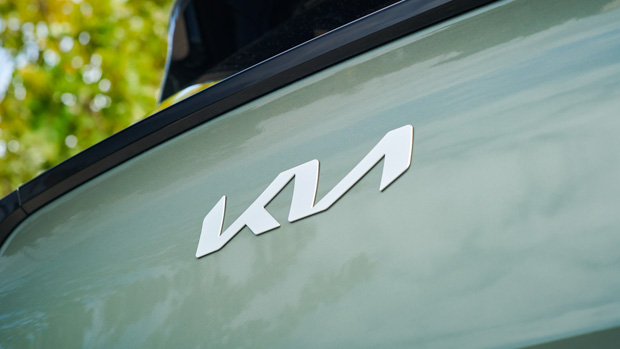 It would also provide a direct competitor to the market-leading Toyota RAV4 Hybrid, and recently hybridised Subaru Forester.
Sportage hybrid: power and efficiency
It's likely that only the self-charging Sportage will make it to Australia, and that it will mirror the powertrain available in Europe and the United Kingdom.
To reach total outputs of 169kW and 350Nm, the Sportage hybrid employs a 1.6-litre turbo petrol four-cylinder (found on its own in Australia) and 44.2kW electric motor. Departing from the industry norm of slushy CVTs, the Sportage hybrid instead shifts through a seven-speed dual-clutch automatic.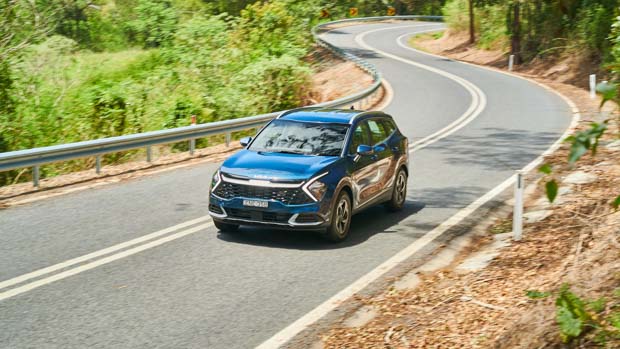 Holding charge is a small 1.49kWh lithium-ion battery designed to be swiftly discharged under acceleration, and recharged under braking. Although the Sportage hybrid is yet to complete a WLTP cycle, the marque anticipates its combined fuel consumption will fall between 5.2-6.6L/100km.
Europeans are offered the choice of front or AWD, but following Australia's penchant for high-spec cars it's likely only the all-paw Sportage hybrid will make it.
When might Australians see a hybrid Sportage?
Unfortunately, the hybrid Sportage is still some time away, with Kia's Australian arm focusing on the business case initially, before evaluating the cost benefit.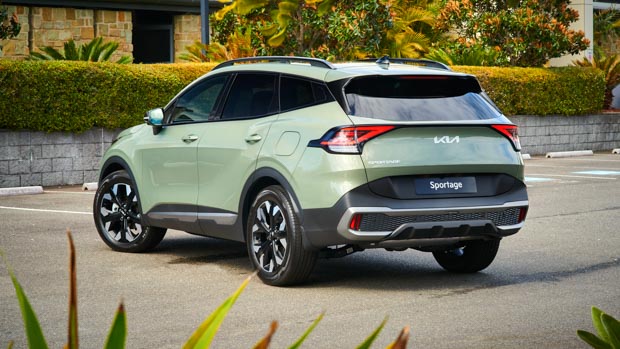 Mr Rivero summed up the Sportage hybrid proposition eatly, saying "when we hear the official feedback we'll have something to say, but at this stage [the hybrid] is TBC (to be confirmed)."
What could the hybrid Sportage cost?
Pricing for Sportage hybrid is unconfirmed, but we can look to its Tucson cousin in the UK to get an idea of what the premium may be for Australians. In the UK, the range-topping Tucson Ultimate hybrid costs £37,450 driveaway (AU$68,353 at current rate).
That's expensive for a Tucson, but it's still £195 (AU$356) cheaper than the 132kW 1.6 48V mild hybrid Tucson in the UK due to lower road tax attracted by the hybrid's tiny grams of CO2/kilometre figure.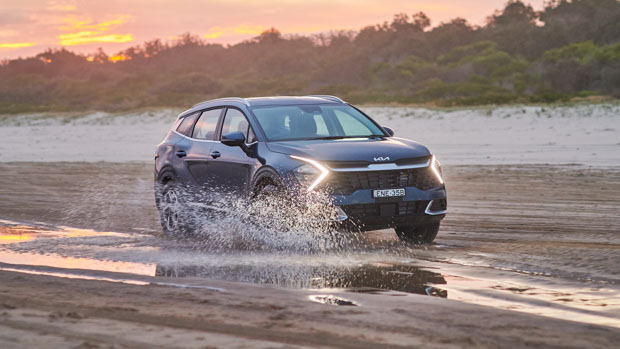 From that, it isn't immediately obvious how much a hybrid Sportage will cost in Australia, but it looks like it might be a smaller increase than anticipated. Think around a $3000-$5000 premium over the 1.6-litre turbo petrol sold in Australia.
That would see the upper mid-spec Sportage SX+ start from $50,000-$53,000 driveaway with a hybrid powertrain, putting it on par with an equivalent RAV4 Cruiser hybrid AWD ($50,861 driveaway).
For now, the Kia Sportage is available with three engine choices in base model S guise and range-topping GT-Line trim, with mid-spec SX and SX+ variants landing in late January or early February next year.
Kia Sportage 2022: prices in Australia
All listed are before on-road costs, with national driveaway prices in brackets.
S 2.0 petrol manual: $32,445 ($34,690)
S 2.0 petrol auto: $34,445 ($35,690)
S 2.0T diesel auto: $39,845 ($42,690)
SX 2.0 petrol manual: $35,000 ($37,490)
SX 2.0 petrol auto: $37,000 ($38,490)
SX 2.0T diesel auto: $42,400 ($45,490)
SX+ 2.0 petrol auto: $41,500 ($44,490)
SX+ 1.6T petrol DCT: $43,500 ($46,990)
SX+ 2.0T diesel auto: $46,900 ($49,990)
GT-Line 1.6T petrol DCT: $49,370 ($51,990)
GT-Line 2.0T diesel auto: $52,370 ($54,990)